14 AC Teams (?) & Umpiring Redux
The official count is ten challengers, but entries to America's Cup 34 remain open until midnight, California time and there are a few mysteries still floating out there in the ether. Today I heard a figure of 14 teams, out of the mouth of the chairman of ACOC. But first—
It had to start somewhere, or you could say it had to end somewhere—those long nights in "the room," the protest room, haggling over the fine points with never enough evidence to establish the facts and you know that much is true because if you had the facts the hearing would be over in a minute.
On-the-water umpiring revolutionized the high-end game, and that's what got Arthur "Tuna" Wullschleger to reminiscing today. Here is the world's most-famous Tuna, in his own words: "In 1987 I was the CEO of America II, the New York Yacht Club's challenge for the America's Cup in Perth, Australia, and the protest hearings would start at 7:00, 7:30, 8:00 at night and go till 3 in the morning. That meant I had to send the skipper, John Kolius, or the navigator, and they'd get back to our compound to get a couple hours sleep and then turn out at 6 a.m. to exercise with the team. It was a bit rough. Tom Ehman was also part of the syndicate, and we kept saying, There has to be a better way."
At 93, WullSchleger is serving this week as an International Judge at the BVI Spring Regatta & Sailing Festival. It's an avocation he took up "as a way to stay active" when his sea legs began to fail him. Apparently, it's working. The judges at Tortola in 2011 have a match racing event (surprise, Peter Holmberg is the early leader) and some 40 cruiser-racers to watch over in this 40th edition of the event.
Australia, '87, was a bit more high-pressured.
"The America's Cup jury agreed, we all agreed, there had to be a better way." But nothing could happen right there, right away. The rules of engagement for the 1986-87 America's Cup were already set, but Wullschleger and others carried the problem home.
Tuna again:
"Ehman's claim to fame was that he was a hockey player and a hockey referee, so he knew umpiring and refereeing. One of the big questions was, how do we start'em? Then we came up with having them enter, one from each side. But the first time we put umpires on the water was late that same year, 1987 in Newport, Rhode Island.
"We had Jim Kilroy's Kialoa, Bill Koch's Matador, little Russell Long with some 72-footer or other, and George Koumantaros' Baccarat. For tenders we had my 55-foot Hatteras sportfisher and a 58-foot Hatteras. On the people side we had me, Ken Ryan from Ireland, Cy Gillette from Honolulu, Tom Ehman and Göran Petersson, who is now president of ISAF.
"And that's where on-the-water judging began. A true story."
For the record, Arthur Wullschleger grew up through the Larchmont Yacht Club in New York, was an outboard racing champion in his college years, and got serious about sailing when he came out of the Navy at the end of WWII. A veteran of 18 Newport-Bermuda races and much more, he lives now in Fort Lauderdale, Florida with a view of Hatteras sportfishers by the acre.

FOURTEEN AMERICA'S CUP TEAMS (?)
The official count is ten challengers, but entries to America's Cup 34 remain open until midnight, California time and there are a few mysteries still floating out there in the ether.
Today I heard a figure of 14, from the chairman of ACOC.
(And no, the mysteries do not include North Korea)
The scene was Justin Herman Plaza, in front of the Ferry Building at the foot of Market Street, where city officials presented the opening salvo in their People Plan for AC 34. It's all about how we will move people about, with an emphasis on walking, biking, and public transportation. Acting as master of ceremonies, America's Cup Organizing Committee chairman Mark Buell looked at Craig Thompson in the audience and asked over the microphone if it was okay to give out a number of twelve teams. Thompson replied that the number was higher than that, fourteen. Buell exclaimed, "It's gone up since we talked this morning?"
Left unclear: Does that number include Oracle Racing or not? And I repeat, ten remains the official count, if you go through channels to ask about that sort of thing. The formal process is this: At midnight or a few minutes after, the Golden Gate Yacht Club, sixth trustee of America's Cup, will notify the Event Authority of the number and identities of its challengers. Last-minute filings may not be fully-vetted and official at that point, and I observe that it's a lot easier to get enough seed funding to enter a challenge that it will be to get a 72-foot catamaran to the start line of a World Series event in 2012, or the Louis Vuitton Cup/AC Finals in 2013.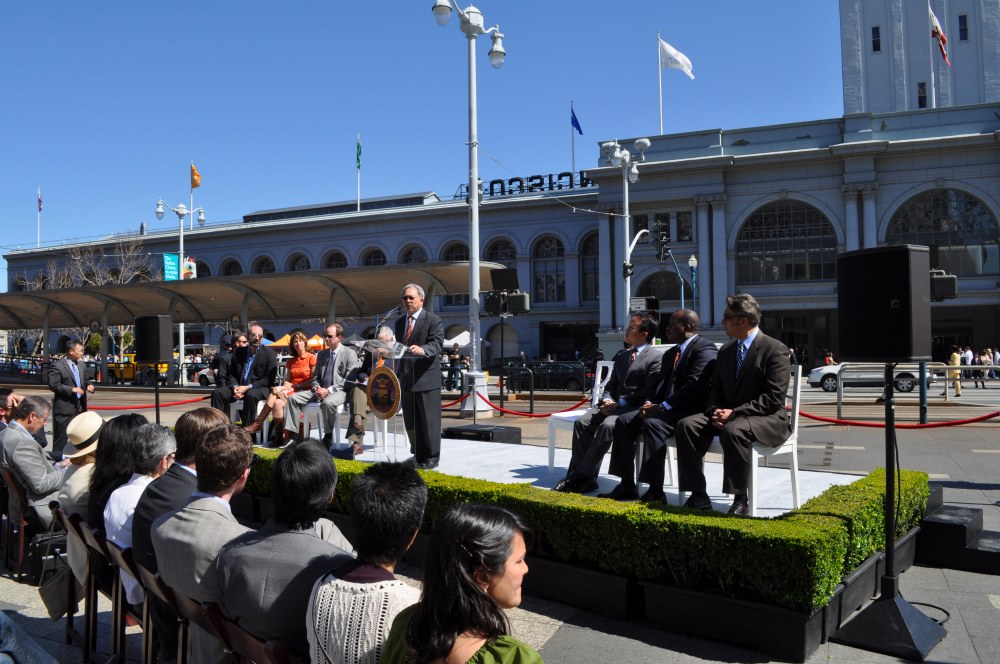 San Francisco Mayor Ed Lee announces his People Plan for AC 34
I haven't had time to absorb San Francisco's People Plan, but it is suitably ambitious, aimed at leveraging lasting benefits for the city from event-driven developments. Mayor Ed Lee declared, "The challenges that AC 34 presents to the city are exactly the sort of challenges that are good for San Francisco. There are things we must do if we're going to invite 200,000 people a day to come to the races.
"The People Plan will be open for public comment for at least two months," Lee said. "Please engage with us on this."
Two key AC supporters from the Board of Supervisors spoke, Board Chairman David Chiu and Ross Mirkarimi, who understands the Cup thoroughly, having grown up in Rhode Island where, he jokes, he is no longer welcome. So how ambitious are we? "I believe San Francisco can do what no other city has done," Mirkarimi said. "We want, not a carbon-neutral event, but a carbon-negative event. San Francisco is poised to be the first."
Click here to read San Francisco's People Plan for AC34
The official statement:
On March 31, 2011 the City delivered the People Plan to the America's Cup Event Authority outlining the City's plan for transporting the spectators and participants to and from the northeastern waterfront for the 2012 World Series and 2013 America's Cup sailing regattas on San Francisco Bay. Also submitted were the Waste Management Plan, Advertising Plan, and Ambush Marketing Plans. We welcome your comments at americascup@sfgov.org or here.