Shop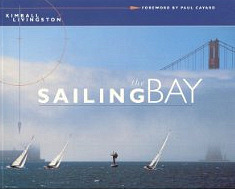 Sailing the Bay
by Kimball Livingston
It's the little book that packs a punch.  Enjoy it for the read, but Sailing the Bay in 128 pages contains most of what an already-made sailor might take years to learn, coming fresh to San Francisco Bay. It's high protein.
The currents, the breeze, the topographical shifts, the lefty puffs off Crissy Field, the starboard-tack lift that's almost always there on the ocean on the approach to the Southeast Farallon, the folkways, mores, bruises, beauty and the inside line—all put together in the heat of a passionate love for San Francisco Bay.
Put together by one who has stood on the shore, looking out to that beautiful bay with a prayer, Lord, transport me there.
Why are the waters off L.A. so much warmer and milder? (It's not just about 300 miles of southing.)
Why are currents more predictable in San Francisco Bay than in Puget Sound? (It might be the weather.)
What exactly is the Oreos Test?
Sailing the Bay is also an orientation manual.
At the standard price of $29.95, we'll cover the shipping costs, signed and inscribed as you want, if you want. But if you want a personalized inscription, after you have made your purchase, send a note to publisher@blueplanettimes.com and tell us exactly what you want.