5 Hulls, 3 Helmsmen, 1 Match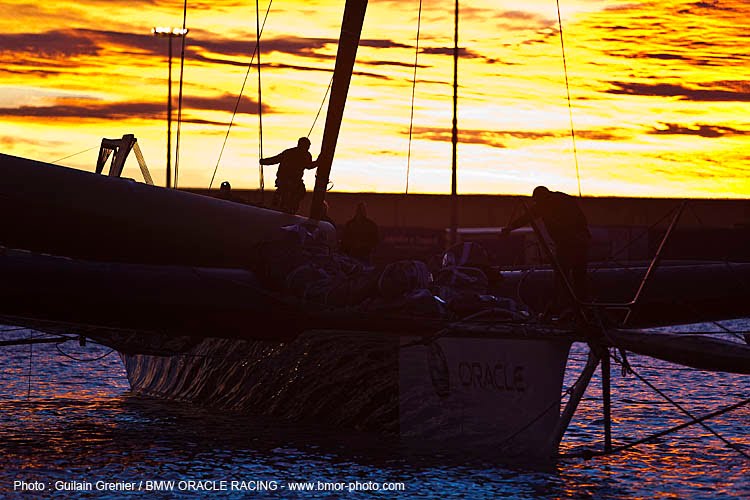 Both boats left the dock early on Sunday. Guilain Grenier shot this at dawn.

I said a few columns back that I knew the race was on when I saw a TV sked. There would be no moving the date now, and here we are counting down by hours instead of days and suddenly the room is jumping and there are TV people walking around the media center sticking microphones into reporters' faces—if you can't talk to a sailor, cover the press—and both boats went out for last-ditch practice which in these boats means last minute development because the crews are still learning the boats. We are about to consummate this nightmare which may yet prove grand and memorable or—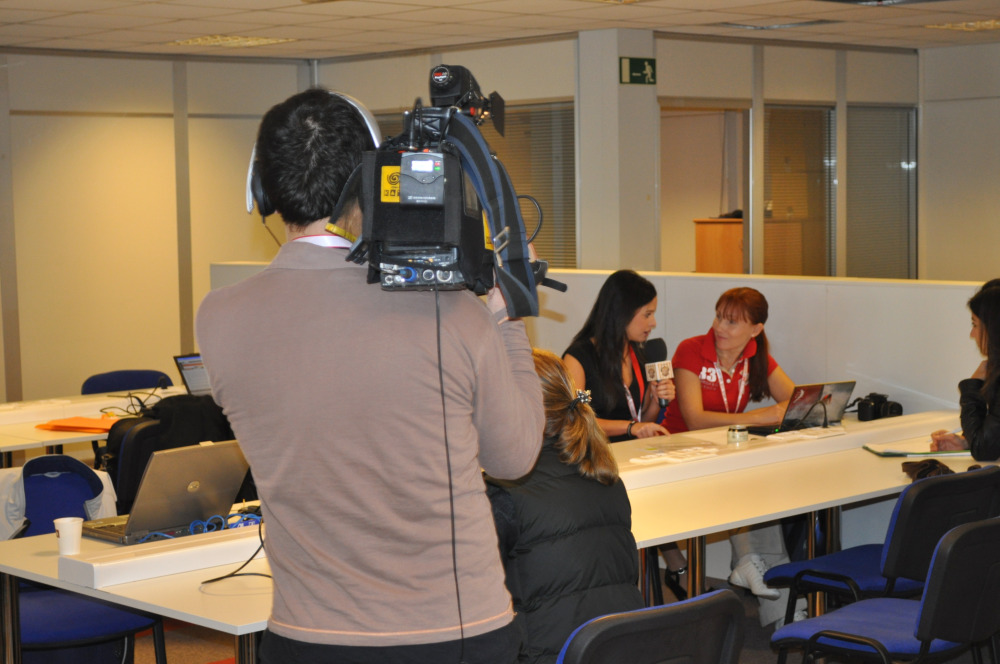 Action at the other end of my desk
Can we put this into scale?
When BMW Oracle Racing's trimaran still had its mast and soft sails, the sail area was barely less than the 16,000 square feet of Reliance, the 1903 Herreshoff cutter that was 144 feet long and carried 72 crew. USA, as the tri is known, carried 16 crew for soft sails and may sail with as few as six on Monday. The mast and sails were traded out for the largest wing ever built—period—and that was when it was only 190 feet tall. After some time with that configuration, and facing a catamaran that presumably favors light air, they went to 223 feet.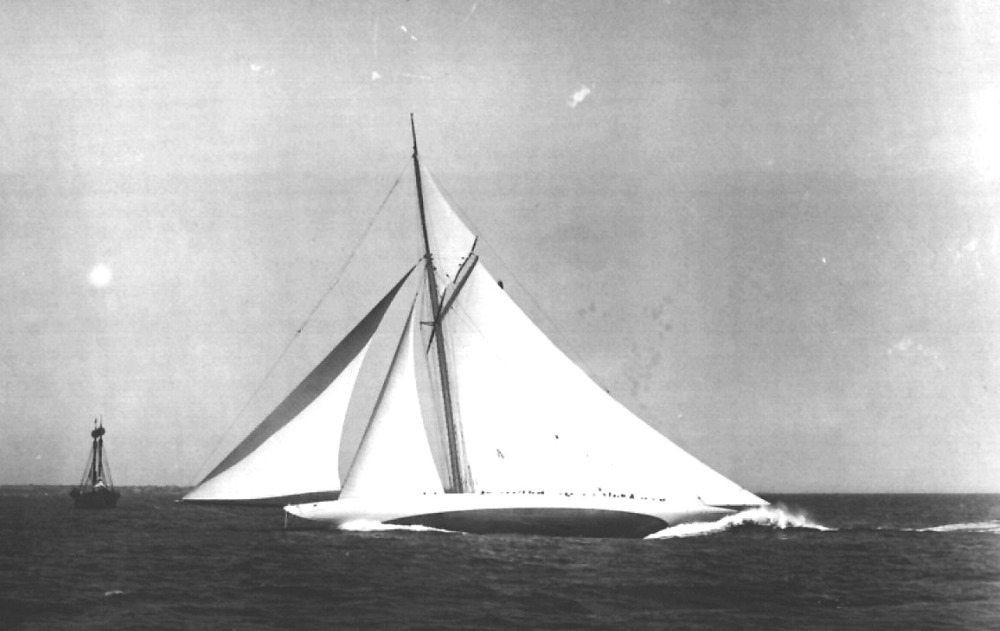 Reliance, 1903
The outlook is for light wind(s) so they'll need all of that, and we can't pass up the fact that USA sails for the Golden Gate Yacht Club, on the shores of San Francisco Bay, and this boat would not fit under the Golden Gate Bridge. The keynote, says BOR design director Mike Drummond, is not the technology but "the frightening scale of the project."
Reliance was built with the newest materials available and fearless innovations. The spars were lightweight steel, and the topmast retracted into the mainmast when it wasn't needed, to lower the center of gravity. She had the first winches ever on a raceboat, with ball bearings and automatic shifting. Two wheels. A hollow rudder that could be pumped dry to adjust the helm for skipper Charlie Barr. John Rousmaniere once wrote, "an intricate web of steel frames tied the keel, the bronze hull, and the aluminum deck into a sleek ramrod of electrolysis." Two months after she defended the Cup, the lovely beast was sent to a wrecking yard.
Drummond comments, "Like Herreshoff with Reliance, we settled for a short-term boat for the sake of performance."
Larry Ellison, the Oracle software guy who can actually afford to play this game, says, "For the first time in a long time, the America's Cup represents the apex of technology."
The BOR team lists a surface area of 7,000 square feet for the wing and a weight of slightly more than a pound per square foot for the wing's carbon fiber/Kevlar frame and cover of shrinkable aeronautical film. It is soothing to have facts like these with the two teams still pissing and dissing over who got invited or disinvited to a press conference and why. On the water, all of that will wash away, and on the water is where I will be for Race One, Monday. I've signed up for a boat, on principle, though in truth the best view will be through the —We interrupt this narrative for an update. When they briefed us at 1600 on what to expect on the press boat I changed my mind. Their cattle boat has room for 100 and seats for 60 and can't keep up with the raceboats and doesn't have internet and no one is allowed outside or on the upper deck and we're required to stay 4 miles away except at the start; I just scratched my name from the number six position on the signup list—internet broadcast, where, to finish this sentence accurately, I will be joining the rest of you. I'm disappointed, but not stupid.
Dock-out is scheduled for 0700. Warning signal 1000. Start time 1006. Twenty miles to windward and return. They'll be going halfway to Ibiza to lay the course. (Well, almost.) Come to think of it, I always wanted to go to Ibiza . . .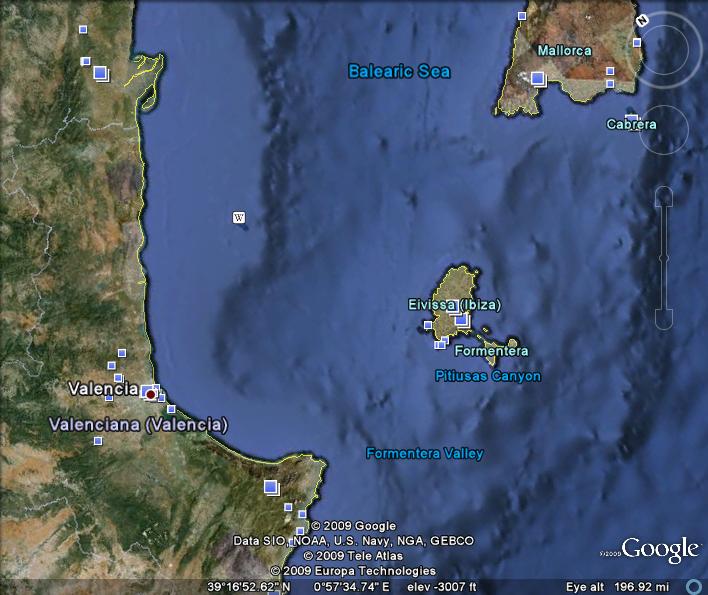 The closest point to lay a starting line is 25 miles off Valencia. The potential race area covers 400 square miles. Cam Lewis, round-the-world catamaran veteran who is sharing EuroSport commentary duties with Paul Cayard, notes, "The boats have microphones, but the crew has the option to switch them off."
There's a likelihood the start will be in about 300 feet of water, irrelevant since the plan, regardless, is to forget about anchoring marks and instead use powerboats holding station. The Challenger won the coin toss for starboard entry—the one real piece of business in an opening ceremony that blew off enough ear-damaging fireworks (una mascleta, an essential ceremony to Valencianos) to light up a cloudy day—and starboard entry presumably holds an advantage. Driver Jimmy Spithill notes that, "Match racing is usually about the first cross, but this may be about fighting for a side of the course."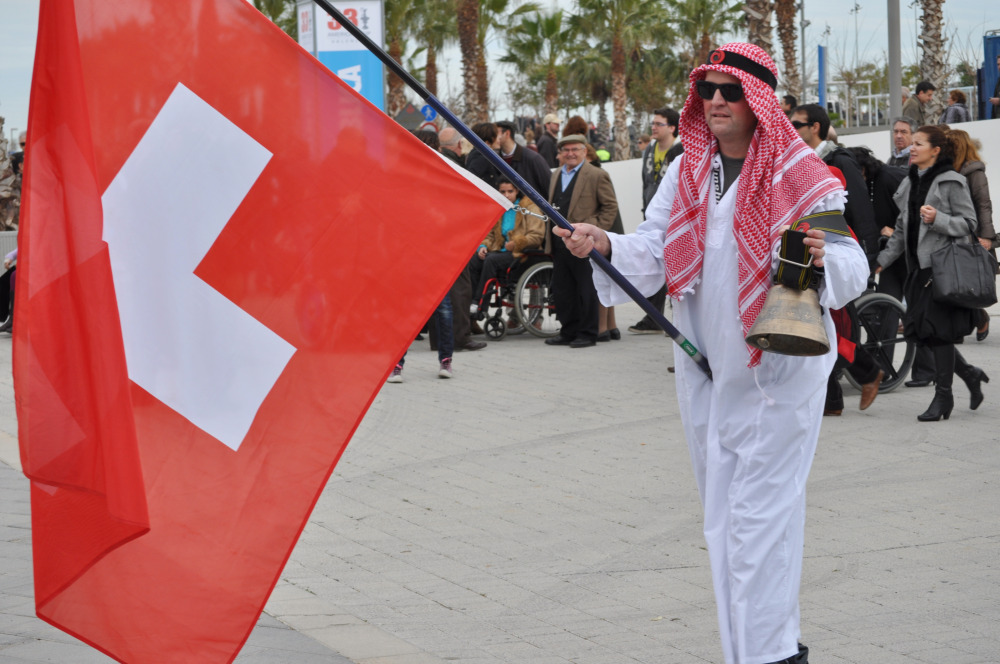 This sight'em had an Alinghi flag above his Swiss flag; don't miss the cow bell
In a rare outburst of mutual agreement, the two teams agreed to modify the start box by creating a port-tack entry zone between the port-end mark and another set directly to leeward. The goal is to lessen the likelihood of a head-on meeting, the stock in trade of America's Cup match-race skippers circa 2007.
For all I know (and don't know) Spithill could be under orders to keep as much distance from Alinghi as possible in the pre-start, but there would be no reason to put that on the table, would there, so we have Coutts saying, "There's no reason to be afraid to mix it up."
Britain's voice of yachting, Bob "Fish" Fisher believes the trimaran is so much more maneuverable that Spithill will want to mix it up rather than keep a distance. "The America's Cup is a match race," he says, "and if you build a multihull for a match race, you build a trimaran."
Australian native Spithill at age 30 is sailing in his fourth Cup, an amazing run. In 2007 he was the driver for Luna Rossa and made a name for himself as an aggressive, precise and dangerous opponent in the pre-starts. His tactician, an authentic American on an American challenger, is Olympic silver medalist and Volvo round-the-world race winner John Kostecki.
Alinghi 5 has two helmsmen, Alinghi boss Ernesto Bertarelli and Loick Peyron, the ocean racing legend who won the last solo transatlantic race, for example, and I'll stop there because the list of accomplishments runs on till Tuesday. Peyron casts a long shadow, even in the company of such famed sailors as his tactician and team skipper, Brad Butterworth, who has this to say about the prestart: "I think you will see the boats pass each other on the entry and eventually come back together and line up. I guess there could be some pushing."
I am one of many who have speculated that the first five minutes of the first leg will tell the story, but BOR skipper Russell Coutts—who may or may not sail aboard and becomes less likely to be there every time the forecast goes down a knot—won't have it so simply. This is more of an ocean course than we're used to in match racing," he says, "The first five minutes may represent a tiny fraction of what happens out there, but you really want to be going the right way."
Probably, whoever feels faster will have one strong instinct on such an open course with so many unknowns in the relative performance of the boats: Cover. Don't give the other guy any leverage.
It's cloudy today and it's going to stay cloudy, probably brightening in the afternoon Monday. I have in hand one forecast for 7 knots at 1000 Monday, decreasing late morning, with a sea height of one foot. I have another forecast for 5 knots, increasing to 9. The outlook is complex and you get it that the models disagree.
[I failed in my attempt to discuss SI 8.6 (see earlier post) with PRO Harold Bennett. I guess he's busy on race day minus one. He was listed for the 1400 briefing I told you about, but sent someone else instead.]
One of the big-picture differences between the teams is that Larry Ellison's BOR team challenged and then set to work building a boat. Ernesto Bertarelli hoped to prevail in court against Ellison's suit, contesting the viability of his lapdog Challenger of Record, CNEV, so he didn't start designing/building right away. Then he failed in court. But an existing trimaran is a target. Bertarelli and many on his team have significant time in catamarans, and the one they built is a highly-stressed machine. That's why they don't want to sail in anything except light wind and smooth water. Think 100 tons of compression on the base of the mast, 50 tons on the genoa track.
The BOR team keeps a solid and upbeat face on the fact that parts of the wing have broken. Components, they point out, not the whole wing. And they lost one day of practice with motor failure; they had no power to drive their powered winches.
Butterworth says, "This could be a shore-team contest, to see who can keep their boat working."
At the moment, it appears that Alinghi will get the conditions they want.
And the beat goes on. There are many painted smiles around here, but Mayoress Rita Barberá seemed to enjoy the opening party. She's a professional . . .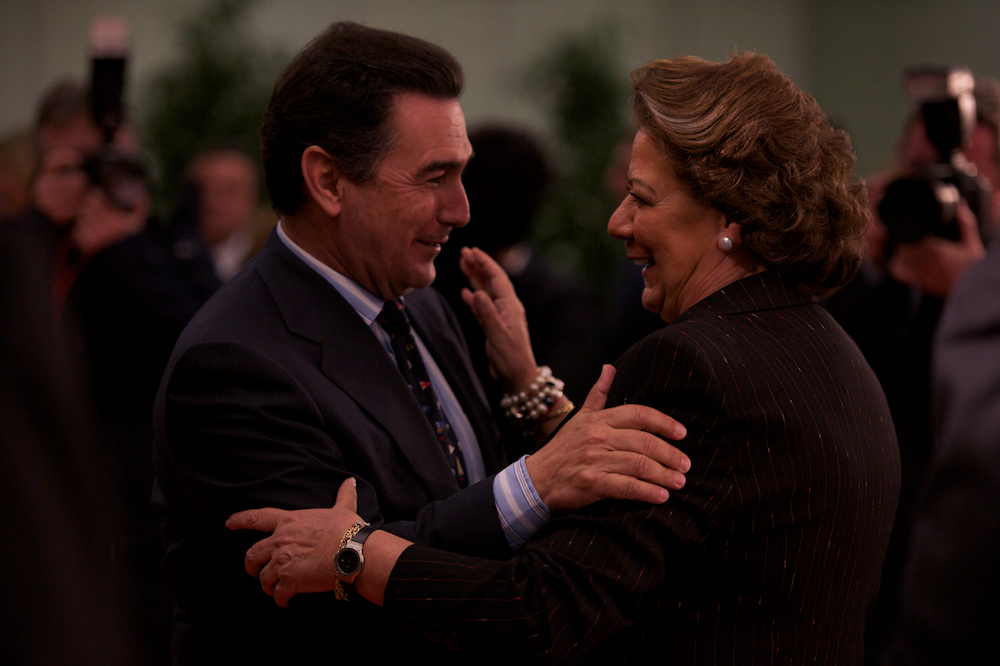 Photo by Linda Wright