300, No Foolin'
The Worrell 1000 once was a hero's arena for small cat racing on the Atlantic coast. When the Worrell blew away, a 500-miler replaced it, for a while, but now the only long distance, beach cat race to be found happens south of the heart of Texas.

Jeremy Leonard, Surf City Catamarans, shares his story and his pics:
The Great Texas 300 is a four leg, 300 mile beach catamaran race from South Padre Island to Galveston. The "GT" is currently the only distance beach cat race in the country, and this year 10 boats competed. This grueling race tests the mettle of sailor and boat, with conditions on all points of sail and a range from a benign 5 knots of breeze to howling lump. One consistent danger is the through-the-surf launches and landings. This year the swell was smaller than in previous years, but still there were broken rudders, crashes, and a broken mast.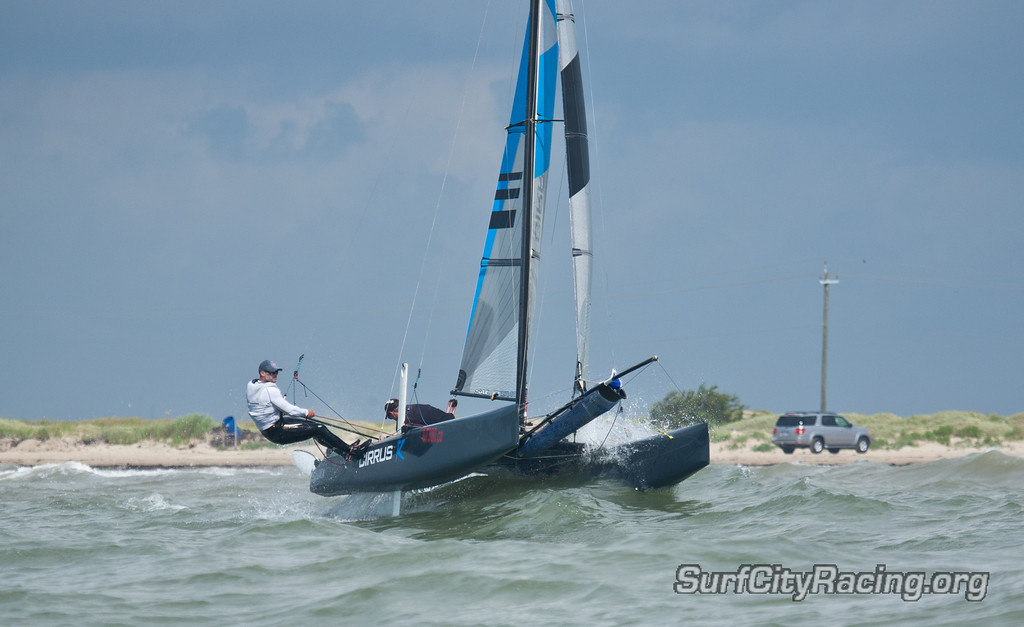 John Casey and Dalton Tebow launch through the surf
There's a litany of items that the GT300 requires its sailors to carry aboard in order to be able to participate in the race. The GT folks take safety seriously, and in addition to a presentation from the local Coast Guard, they have a dedicated person, Trey Garrison, who is in charge of the safety check list. Garrison makes contact with each team, and meticulously catalogs each piece of safety gear.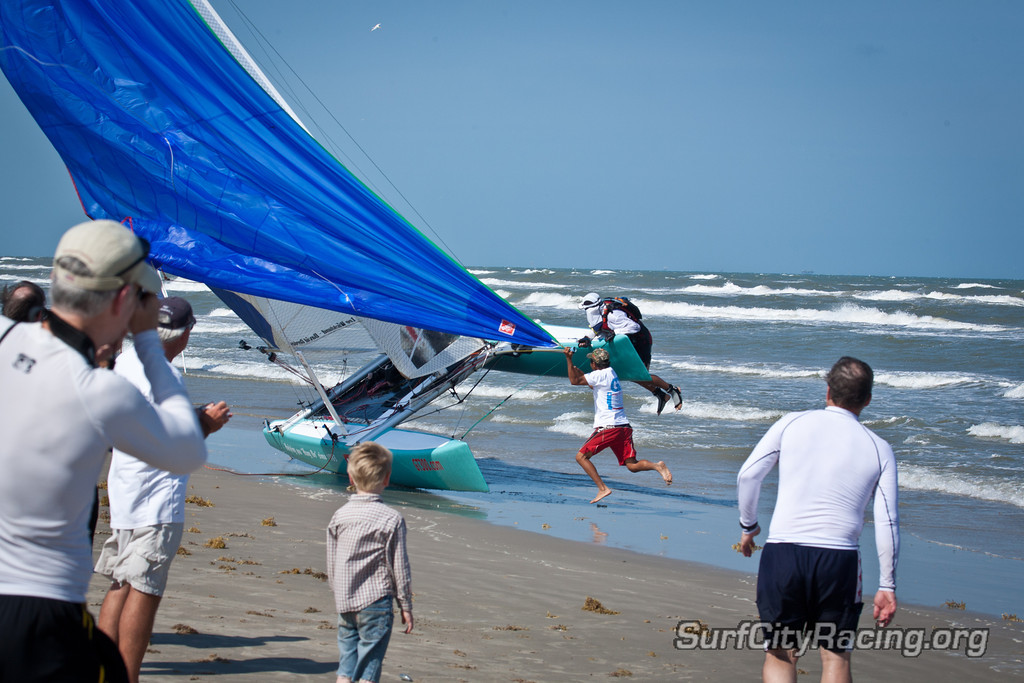 Chums almost loses it on the beach
Leg 1 from South Padre to Mustang Island was an epic day of racing. South Padre is a remote barrier island, and just north of the launch site, there isn't much but wetlands, sand dunes and beach for about 90 miles. John Tomko and Ian Billings claimed the first spot, but not without a fight from John Casey and Dalton Tebow, who finished just 1:33 behind after almost 100 miles of open ocean racing. The two leaders legged out way in front of the rest of the fleet, and the third spot was filled 31 minutes later by Steve Piche and Juke Ball of team Monkey Business. The breeze was puffy and in the upper teens for the length of the course.
Tomko and Billings didn't finish the race without damage. They broke a rudder on the way in to Mustang Island. The day's racing wouldn't be complete without some drama on the beach. Team Chums came in hot, spun up and almost lost it. If it weren't for the quick thinking of their beach crew, they most assuredly would have gone over. That's not all. Steve Piche fell off of his boat just inside of the surf line, and his crew Juke Ball had to manage a powered-up spinnaker on his own into the finish line.
Leg 2 was another great day of racing from Mustang Island to Matagorda! At around 90 miles, this leg was only slightly shorter than leg 1. John Tomko and Ian Billings took another first and John Casey and Dalton Tebow scored the second spot just 6 minutes later. The closest racing during leg 2 was between Steve Piche and Juke Ball aboard Monkey Business who scored the 3rd spot, and Philippe Bettler and Mike Beuerlein of Team Quicksilver who finished a mere minute behind to take the fourth position. That's some very close racing over a 90 course! The most exuberant spectator on the beach was John Tomko's young son, who when he saw his daddy's sail coming in toward the beach, he began running and shouting excitedly. The Great Texas 300 is truly a family affair, in the spirit of the beach cat racing of the late '70s and 80s. In a sad turn of events, Beau Kersey and his son George were rolled in the surf and broke their mast. Incredibly they were back in business for leg 3!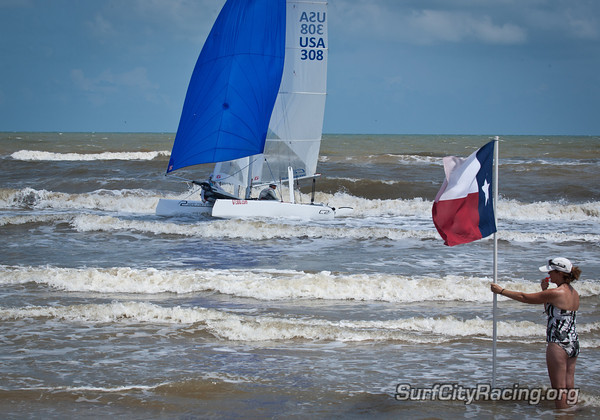 John Tonko and Ian Billings coming in to win Leg 2
Breaking John Tomko's winning pattern in legs 1 and 2, John Casey took the first place spot in leg 3, but only by a miniscule 4 seconds. That's pretty incredible racing since it's almost a 50 miles course. Casey had some damage in his rudder system, which made it so that he sailed pretty much the entire leg with one rudder. They were trading tacks over the entire 50 mile leg! The breeze lightened up for leg 3 and the surf was pretty small, yet still there were several teams that sustained rudder damage. Team Chums broke a rudder casting during the start, and were able to repair it and complete the leg with a 7th place finish.
Thanks to racer Lee Wicklund, I had the chance to follow the fleet from Surfside to Galveston for the 50 or so mile leg 4 of the Great Texas 300. My driver Karl Brogger and I launched Wicklund's Zodiac about 8 miles north of the start line. As we prepared to launch, a powerful thunderstorm rolled through and drenched our kit, drenched us, drenched the world around.
We set out through the San Luis Pass, motored underneath the Blue water Bridge, and hit open water. The wind was patchy and light, and the sea was confused from the storm that was overhead. We could see huge squalls, and a lot of visible precipitation in cells all around us. It was a bumpy ride.
We reported positions via cell phone to our media colleague John Williams, who was on the beach broadcasting live to the Great Texas 300 Justin.tv channel. The light breeze and 2-3 foot wind chop created a tough beach launch. The fleet leaders, John Casey on the Cirrus R and John Tomko aboard a C2, both got poor starts, while Lee Wicklund and David Cerdas of Team Chums and the Mike Rohrer and Chris Holt aboard Team Sailboat Shop, scored big! Team Chums and Team Sailboat Shop shot for the outside, and as things progressed, Chums wound up several miles ahead of the entire fleet. Meanwhile, south of these two leading teams, Tomko stayed on the beach in more pressure, and Casey headed for the outside. In a post-race interview, Casey told me, "We headed straight toward a big storm cell. We knew the wind direction would be favorable on the other side." That type of tactical call is one of the reasons that Casey and his crew Dalton Tebow win so many events.
We followed the leaders northward, approximately 1 mile offshore. Tomko was on the inside, Casey on the outside and Team Chums and Sailboat Shop ahead but right in the middle. It was light and lumpy, and only occasionally would any team be trapping. On the outside, approximately 5 miles, we saw the huge storm cell that Casey and Tebow were gunning for. We felt the first few drops of rain, and Team Chums doused and headed offshore. Casey was gaining on Team Chums, and Sailboat shop was falling back. Tomko was in toward the beach in light air, and falling back as well.
When the north edge of the cell hit the front three boats, we were nearest Casey and Tebow. They immediately double trapped, and shot off like a rocket. They passed Chums, and we didn't see them again until just a few miles north of the finish at Galveston. Karl and I hid our electronics from the deluge, and didn't update the FB page for about an hour. When we did reconnect, Dalton's mom had inquired via FB what position her son and Casey were in. We were immediately able to post a pic of them off of the Galveston Pleasure Pier, and told her that they were at least 3 miles ahead of Team Chums in 2nd place.
After 40 or so miles, in choppy conditions, aboard the Team Chums RIB, Karl and I were feeling beat up, and welcomed the lighter conditions off of Galveston. Casey and Tebow hit the beach way ahead, and needed only 8 minutes to beat Tomko in the overall standings. Sailing an incredible race, Mike Rohrer and Chris Holt aboard Team Sailboat Shop finished a mere 31 minutes behind Casey, putting them solidly into 3rd place overall. It was great to watch Team Sailboat Shop sail a competitive race aboard their older design Hobie Tiger! Just over a minute behind Team Sailboat Shop, Team Chums rolled onto the beach, followed 10 minutes later by Tomko.
The Great Texas 300 is one of the most incredible sailing events that I've ever attended. It meshes Texas hospitality, hardcore racing, and old-school beach cat good times. If you do one big event each year, put this one on your calendar.