Suddenly Lighter
You met Ronnie Simpson in this space as a young, former Marine, medically retired following a shoot-up outside Fallujah, prepping for the Singlehanded Transpac. He had a good race—finished second—but Ronnie lost the keel off his 30-foot Warrior's Wish 800 miles short of completing his return trip to San Francisco Bay. The word now is, "Wish us luck."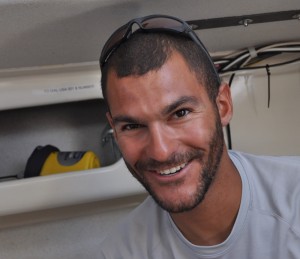 As of Friday, Simpson and crewman Ed McCoy have kept the boat upright and continued to make miles toward the coast—life raft and ditch bag at the ready–since losing the keel on Wednesday night.
It's dicey. Steering is hampered by the lack of a keel, and the boat was never meant for long distance motoring. Before the incident, Simpson had said, "The little one-lung Yanmar only makes four knots at cruising rpm, and I really don't like motoring at all." That was when sailing, even in light air, was still an attractive option. Suddenly, light air is good news that probably won't last.
Simpson and McCoy have a contact schedule with the Coast Guard, and the Horizon Hawk, a 728-foot container ship owned by Horizon Freight Lines ("our newest unofficial sponsor") rallied up with them to make a gift of diesel fuel. "They dropped a bunch of drums of diesel fuel into the water with little orange markers on them," Simpson writes. "Like some bad carnival game, Ed and I drove around in our wounded boat, picking them up with a boat hook. I had to jump in to retrieve a few. A line from one of the drums got wrapped around the prop, but Ed cut it clear."
Horizon Hawk was outbound from Oakland. Here is the ship at the Port of Oakland on an earlier visit, photographed by Alan D. Cochran of MarineTraffic.com . . .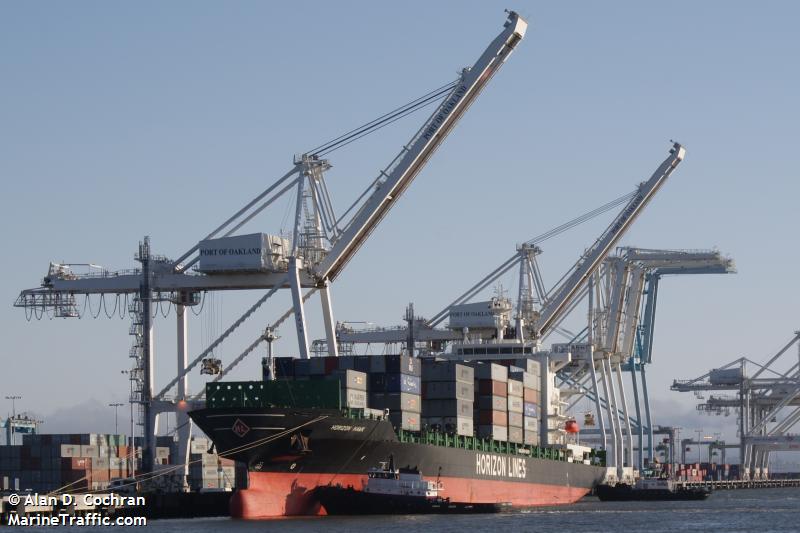 At least part of the time, Simpson reports, they are able to carry a small jib, "just trying to keep the heavy side down. Oh never mind, that saying doesn't apply to us anymore."
The special irony in this tale is that Ronnie Simpson lost his own boat in the Pacific on his first attempt to go voyaging, and finished his circumnavigation on a bicycle. Warrior's Wish is a loaner, generously offered so that Simpson could fulfill his desire to race in the name of the wounded veterans support foundation, Hope for the Warriors. The backstory, RPGs and the Big Ocean, is right here, and Ronnie's own posts live here.
A PERKINS DAY AT THE RACES
Past champion Chris Perkins won Race 7 of the International Knarr Championship today on San Francisco Bay, but with one Saturday race to go, his kid brother Jon, a two-time IKC champion, is looking good to make it three. Jon climbed from a bad start to second place and has a seven-point lead over two skippers tied for second, Chris Perkins and Denmark's Soren Pehrsson.