A Boundary Every 90 Seconds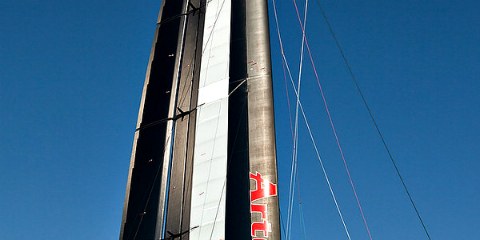 © Sander van der Borch/Artemis Racing
.
Nonstop
EMERGENCY
That's the prospect for Louis Vuitton Cup racing and then the America's Cup, as the competitors imagine it, and that would include Artemis Racing skipper Terry Hutchinson. If I could summarize what the man had to say, on the phone from the Artemis base in Valencia, it would go:
It's not what you got, it's what you can use.
Terry posed the question, "How do we maximize the talents of Juan K and the rest of the design team but keep things reasonable when you're going to be running into a boundary every 90 seconds?"
That's a heap of tacks and a heap of gybes. I think I heard Emirates Team New Zealand boss Grant Dalton somewhere estimating 60+. I think I heard Terry estimating 40+. Either way, it's more than I have fingers and toes, and they're each going to come up mighty fast. How fast can you say, "Hurdles in hurdling?"
"The challenge will be to build speed well out of a tack or a gybe. Or build speed out of a bottom-mark rounding and get into upwind mode. The boats will be going upwind at 20 knots and dropping to 6-7 knots in a tack," Hutchinson said. "The team that can solve those problems will probably be the successful team."
While maintaining approximate verticality, of course.
Meanwhile, as the first team to trial a full-scale wing for an AC72, Sweden's Challenger of Record sailors have gone their own way, mounting the wing on a modified ORMA 60 tri. "It's awesome to be out first," Hutchinson said. "This thing is on a scale that I don't think anyone fully thought through."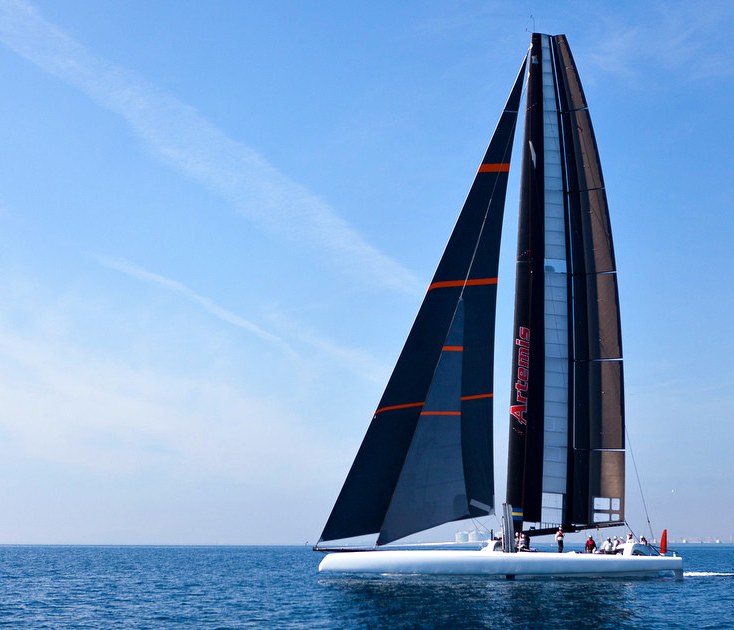 © Sander van der Borch/Artemis Racing
The team is sailing as much as possible, but:
"For every hour on the water, there are 3-4 hours of work ashore. We're being as methodical as we can, to understand the structural side. Data collection is not to be taken lightly, and gaining experience with the wing before we launch the 72-footer as close as possible to July 1 [the earliest allowed-date] reduces what we have to think about when we go AC72 sailing. This also is an opportunity to start working as a full team, to show ourselves where we're exposed.
"We're out here in a moderate breeze going two to three times windspeed," Hutchinson said, "I put myself on San Francisco Bay in a lot more wind and I just imagine where that's going to go."
Artemis plans to launch in July in Valencia, while Oracle Racing will launch on San Francisco Bay. In each case, that's a matter of logistics. Oracing Racing is home on SF Bay. Many of the individuals of Artemis Racing are at home there too, but the team has been based in Valencia, and everything's working there so far. Given a regular diet of big wind on San Francisco Bay, Hutchinson said, "It would be risky to sail on San Francisco Bay straightaway. We need to be fully ready to put the boat on the racecourse when we get there."
The Artemis Racing wing is presumably unique, not in being a three-element wing—we're expecting all the AC72 wings to have three elements, unlike the two-element AC45s—but unique in having 38 hydraulic cylinders controlling the wing components, actuated by a CAN-bus, with hydraulic pressure maintained by nonstop grinding. We took a close look at it HERE.
Wings open the door to so many new ways of doing things, and I just had to ask, since a three-element wing can be used to generate more power than a two-element wing (that's useful when you want power), can it also be used to depower more effectively than a two-element wing? That capability might be useful, for example, on a day when San Francisco Bay is in full cry. Terry's answer was not exactly technical, but it was intriguing: "Yep. When you depower the control elements, to a degree you can add stability to the boat by going the wrong way."
We first explored this topic more than a year ago, without resolving whether we were talking about just spoiling some of the heeling moment, or actually "lifting" the whole structure —it works in theory—to weather.
Heh. Nobody has more fun than us. The wing—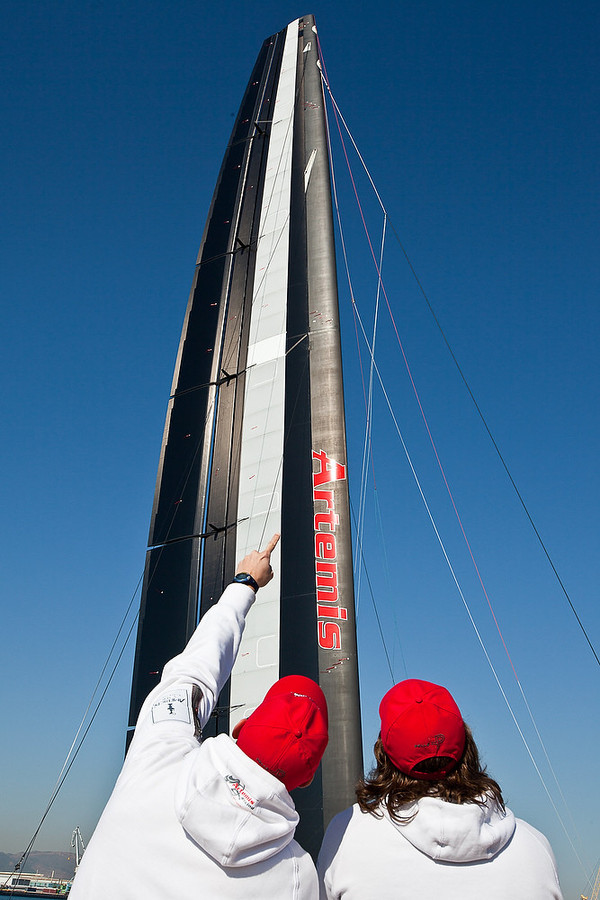 © Sander van der Borch/Artemis Racing