A Challenger-Driven New AC Class?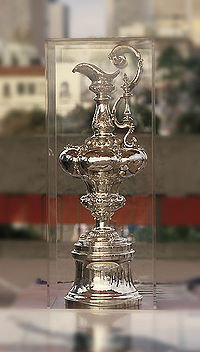 No, you can't park it in your driveway yet, but the 19 designers who met today in Valencia put rubber on the road toward a decision on what kind of boat we'll be racing in America's Cup 34, monohull or multihull. Beyond the tradeoffs, priorities and passions that might pop up in any barside conversation anywhere, these people were concerned with matters such as the ease of shipping these new boats—plug and play keel technology would be welcomed by the monohull set—and how to make the racing and the boats television-friendly. Yes, the likes of Juan Kouyoumdjian, Marcelino Botin, Patrick Shaughnessy, Mani Frers, and Rolf Vrolijk engaged in discussions of boom height, gunnel height, and deck height, all with cameras and camera angles in mind.
This was merely an opening round, of course. Ten nationalities were represented. Fresh Burns (BMW Oracle Racing design coordinator) moderated. For a starting point, the meeting had conceptual designs presented by Bruce Nelson (a monohull up to 27 meters LOA) and Morelli & Melvin (two multihulls at 20 and 25 meters LOA). One matter that hasn't been made clear–if it's even been decided–is whether we'll have an interim announcement regarding the number of hulls per boat, ahead of the no-later-than-end-of-September announcement of the boat itself. But the "consensus" theme rolls on. From my foxhole in California I skyped-up Tim Jeffery, in the Communications wing of BMW Oracle Racing in Valencia, and he said, "The World Sailing Teams Association has been asked if they want to take on the rules writing. We don't want it in our four walls."
This is, ah, not trivial.
World Sailing Teams Association is WSTA, the usual-suspects challengers plus Louis Vuitton, which is to say the folks now gathered at breezy La Maddalena for Louis Vuitton Trophy racing that begins on Saturday. Larry Ellison may be trying to give the America's Cup a 21st-century restructuring, but this seems a clear offer to maintain the historic and fundamental challenger-driven character of the event.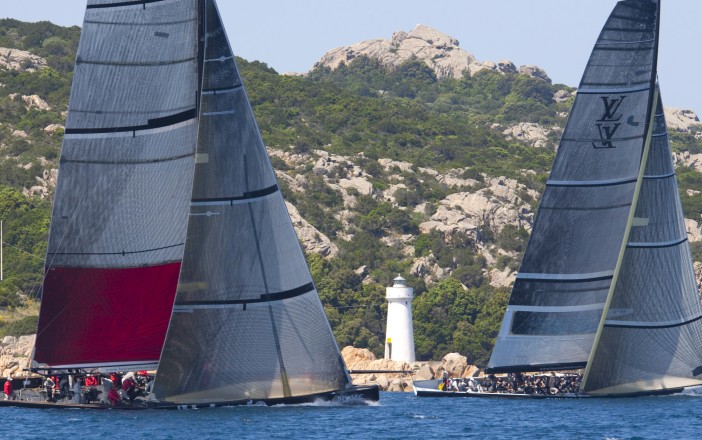 La Maddalena practice by Bob Grieser/outsideimages.co.nz
It is also a reminder of events post-1988 (post Big Boat/catamaran debacle) when the players sat down, analyzed the situation, and developed the class of boat that served Cup matches 1992-2007 and is still on the water at La Maddalena.
Here is how WSTA explains itself:
The World Sailing Teams Association (WSTA) was founded in 2009 by a group of professional yacht racing teams to develop regular high-level match race regattas in large and complex racing yachts. The WSTA is jointly owned by its nine shareholders (the teams) and represents the interests of those teams in the pursuit of fair and highly competitive racing. The WSTA, in conjunction with title partner Louis Vuitton, co-organises the Louis Vuitton Trophy.
And here is the full text of today's release from BMW Oracle Racing:
Designers focus on new America's Cup Class
A significant step was taken towards creating the next America's Cup boat when 19 designers met in Valencia.
Central to the deliberations was whether to develop a monohull or a multihull for the 34th America's Cup.
The conference was held at the home base of BMW ORACLE Racing during its successful 33rd America's Cup campaign.
"The teams want a new boat; the fans deserve one too," commented Russell Coutts, four time winner of the America's Cup.
"It will not be a 'defender's boat'. It will be the product of genuine discussion and dialogue," Coutts added.
The Valencia meetings were chaired by BMW ORACLE Racing's design coordinator, Ian Burns.
Around the table was a 'who's who' of yacht design: 10 nationalities were represented, with winning records in every level rating class from Quarter Tonners to TP52s as well as the Volvo Ocean Race, Jules Verne Trophy, classic races such as the Fastnet and Sydney-Hobart and, the America's Cup.
Structural and performance experts also attended as did those with experience of creating rules for the ACC, Whitbread 60 and Volvo 70 classes.
Two different multihulls (20m and 25m LOA) were discussed as was one monohull (up to 27m LOA).
The new concepts were conceived by eminent designers Bruce Nelson and Morelli/Melvin, creators of previous America's Cup winning yachts.
Besides their expertise, Nelson and Morelli/Melvin were chosen because they are unaligned with either BMW ORACLE Racing or the Challenger of Record, Club Nautico di Roma/Mascalzone Latino.
High performance is fundamental to all three concepts. The monohull proposal will give significantly faster speeds upwind and downwind compared to boats used in 2007.
"The America's Cup is the pinnacle of our sport, so the boats should be physically demanding to race well and produce fast, competitive racing to engage new fans," said Burns.
Requirements for all three concepts are:
• fast, dynamic and close racing
• high levels of athleticism required to race the boats to their optimum
• advanced, efficient and cost-effective technologies
• logistical efficiency to facilitate transport to a regular series of regattas
• distinctive to the America's Cup
• versatility, enabling racing in any venue in winds from 5-35 knots
Versatility is seen as essential to minimise disruption to racing.
"Delays and postponements kill interest," commented Coutts. "America's Cup boats shouldn't be the last to start racing and the first to quit whilst other classes are still racing. They also need to be designed from the outset to unleash the full potential of television."
Television specialists will provide expertise and advice before the rule is written so that media requirements are incorporated at the outset.
The World Sailing Teams Association has been asked if it would manage the rule drafting. Non-aligned experts will be used to ensure fairness to all teams.
The rule-writers will report back to all teams equally and frequently. And teams will have the chance to review the new rule before it is finalized.
Publication of the new class rule will be no later than 30th September.