A Consummation Devoutly Wished
When Larry Ellison was studying at Cal, the sailing club had Lido 14s.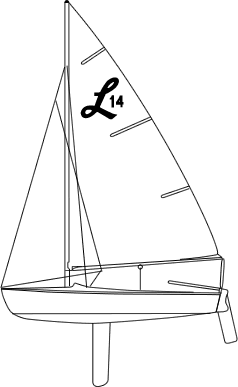 A Lido 14 is (duh) fourteen feet long. Fortunately it is a good little boat, capable of surviving in a sea state well outside the boundaries of its intended use. Fortunately, because a Lido 14 is what a young Larry Ellison sailed all the way across San Francisco Bay from Berkeley, under the Golden Gate Bridge, and out into the Golden Gate Strait, a patch of water notorious for serving up sea states that gnarly sea tales do make. I could have titled this, The Day That Larry Nearly Died. Beyond the bridge you can go in the space of a few hundred meters from a difficult chop (inside the Bay) to a roiling white mayhem (out in the Strait). Which was the state of affairs, Ellison said yesterday at City Hall, San Francisco, when he offered up a little pact: "I said, if God will just let me make it back under the bridge, safe in San Francisco Bay, I will never do this again."
He once had a lousy experience racing his Maxi, Sayonara, in the Sydney-Hobart, and he never did that again, either.
But this America's Cup thing, with that, he's been quite persistent. Back in the day, Thomas Lipton challenged five times and came close once. Ellison challenged and failed twice, in 2003 and 2007, then won the Cup in 2010 in what we might call in business parlance a hostile takeover. His warm reception by yesterday's audience at City Hall dispelled any notion that the home town crowd wouldn't forget and forgive a little jawboning in the negotiations between the city and the team. However, the strongest applause of the day went to the mayor's AC project manager, Kyri McClellan.
Free advice: Don't be in Kyri McClellan's way when she has her working hat on.
Certain parts of the day were inevitable. Start with Larry Ellison and Still-Mayor/Lieutenant Governor Elect Gavin Newsom striding down the stairs, down a red carpet, with applause all around. Not inevitable, but pretty cool, Jonny Moseley taking on the roll of emcee. (Sure, he won his Gold Medal upside down and sideways on the side of a mountain, but his family's roots in sailing run deep.) "This is a big deal," Newsom said. "I confess at my peril, I didn't recognize what a big deal it was when we began."
The racing is expected to bring ten million visitors to the San Francisco Bay Area over the next three years, if you need a definition of "big deal." The signing of the Host City Agreement was a consummation devoutly wished.
The plan for the World Series tour is to kick off in June-July in Europe in the 45-foot, one design catamarans now in-build in New Zealand, with further racing in Europe and the USA in September-October. Come December and February, there will be racing in a "winter venue," which could be in the Middle East. 45-foot racing probably continues into 2012—with both racing teams and the race committee going to school—but the summer of 2012 also sees the first races in AC 72s, on San Francisco Bay.
And I said ON San Francisco Bay. Some people still ask if the racing will be outside, on the ocean, but it shouldn't and, practically, couldn't. That's an essay in itself regarding local sailing conditions, but, please, the "clear of headlands" rule of the Deed of Gift comes into play only in a grudge match, if challenger and defender cannot agree. Here, all agree to race on the Bay.
Aussie Iain Murray, CEO of America's Cup Race Management, brought 18-foot skiffs from Australia to San Francisco back in the 1980s. The skiffs were the hottest machines of their day (and they're not bad now), but the former skiff champion now has his hands on something even hotter. Envisioning flexible course layouts to fit different needs, wind patterns, and wind strengths, Murray would just love to send the boats under the Golden Gate Bridge and out perhaps a mile to really soak the camera angles.
Which would have to be subject to sea state, of course, and for my part, I can't imagine that these race boats could share the shipping lanes with commercial traffic except for a very short window. Maybe it could be a course option for the semis and the finals. I can't see it for two months of eliminations racing. But the fact is, all of this is still being invented. We're still in the stage of tossing out ideas.
One thing seems sure, as Ellison put it, "The America's Cup is the oldest international sporting event in the world, but very few people have ever seen it. That's about to change."
As Ellison wrapped up, someone yelled, "Larry for interim mayor!"
I doubt he wants the job.
What else . . .
Ellison said something about 14-16 teams ("We know of five more that are entering shortly"), though 14-16 still seems optimistic, unless the last few are teams that come in for the 45-foot circuit, then fade. Iain Murray wants 45-minute races [television friendly] with a grab-bag of courses to choose from and the ability to adjust course length to achieve the time frame. To a question about handling a large wind range, Murray noted that the AC72s have two wing sizes; furthermore, sea state is just as important as wind strength. On San Francisco Bay, where a ripping ebb tide can hit four knots in a low-river-flow summer, that outbound current meeting an inbound seabreeze builds a huge contrast to the sea state you experience when wind and water are moving in the same direction.
Faces in the crowd . . .
An 11-0 vote of the Board of Supervisors aside, one of the extraordinary features of this America's Cup project is the support of environmental organizations. I caught David Lewis, executive director of Save the Bay, in the crowd. America's Cup stalwart supporter Lucy Jewett was there, also some (not all) of the Supervisors who voted unanimously for the Host City deal and spent yesterday and yesternight in-scrum over the choice of an interim mayor to fill the last 11 months of Gavin Newsom's term. Something about Donkey Kong, but I don't play. Ross Mirkarimi was there; he grew up with the Cup in Rhode Island. Former mayor Willie Brown came in late. City Attorney and mayoral hopeful (2012, not interim) Dennis Herrera. 1963 Mallory Cup winner Jim DeWitt, on the balcony in a red coat, blurry . . .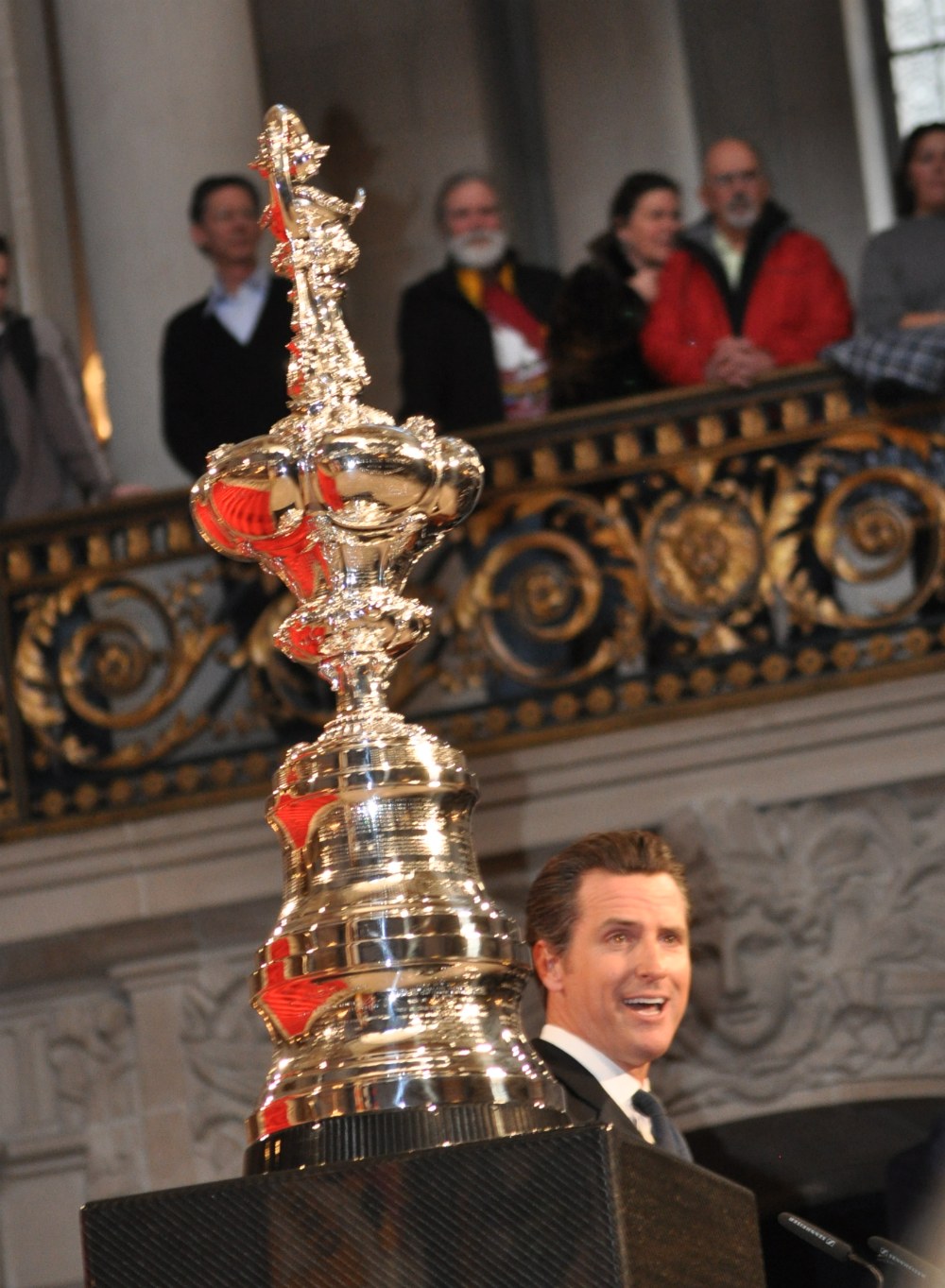 Director of the Port Monique Moyer with Jonny Moseley . . .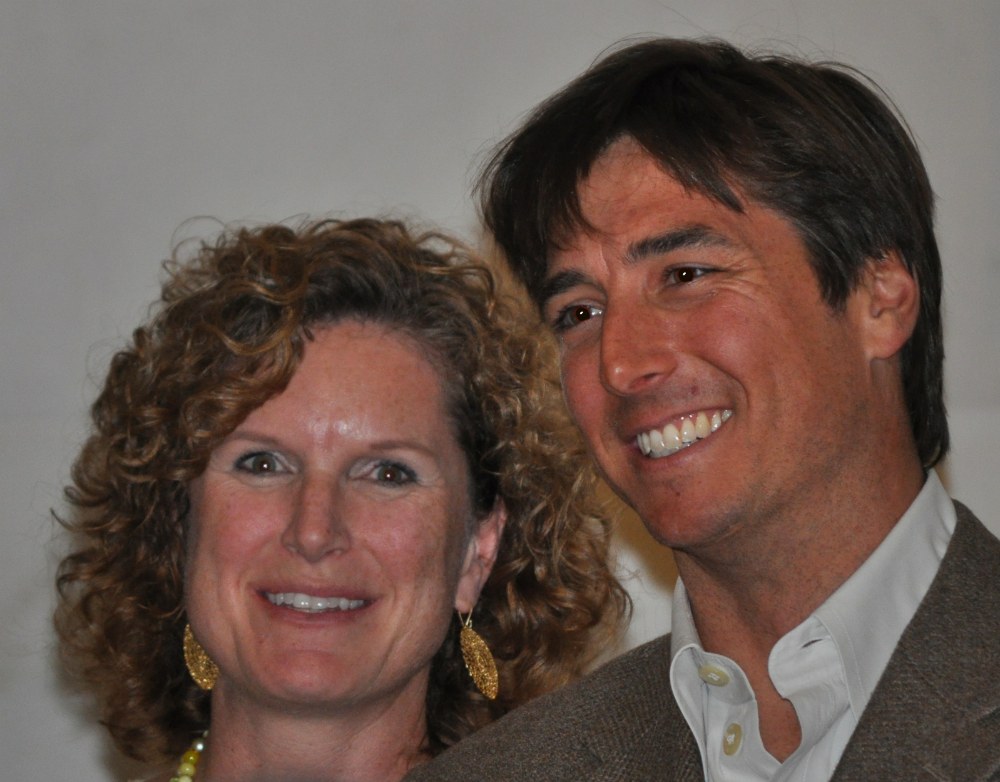 Golden Gate Yacht Club Commodore and Commodorable Norbert and Madeleine Bajurin . . .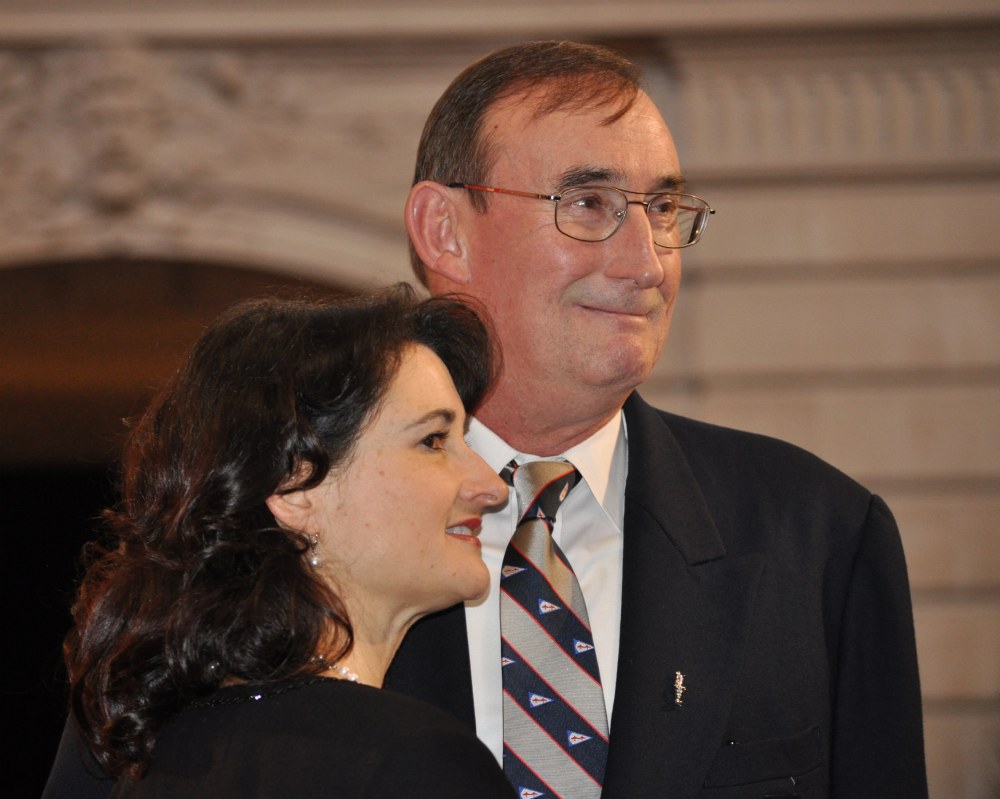 Winning Cup tactician John Kostecki at right, Brad Web at center, and new Rolex US Yachtsman of the Year—announced same day—Stan Honey at left, enjoying the moment . . .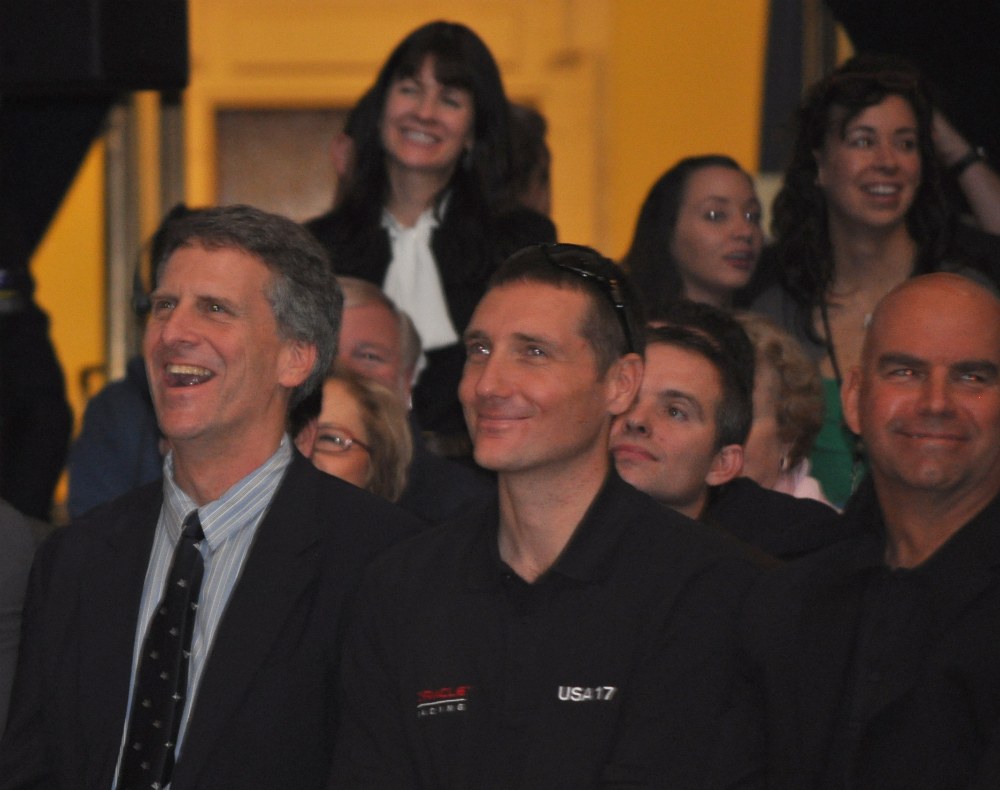 And an anonymous individual proving that it's lonely at the top. Or maybe not. Ask Larry, he should know.