Above it All
The 18-foot skiff class is doing nicely in 2010, and they have sent their largest delegation ever to race an International Regatta on San Francisco Bay. Considering that most of them come all the way from Sydney, Australia, a showing of 13 boats looks good.
Naturally, they came here for the big breeze, and naturally, Northern California served up a heat wave, so for the first two days, we didn't see the big breeze. Hot weather has been so rare in 2010 that it's made people rather giddy to see the sun. For example, this Presidio gardener who was clowning for her cohorts . . .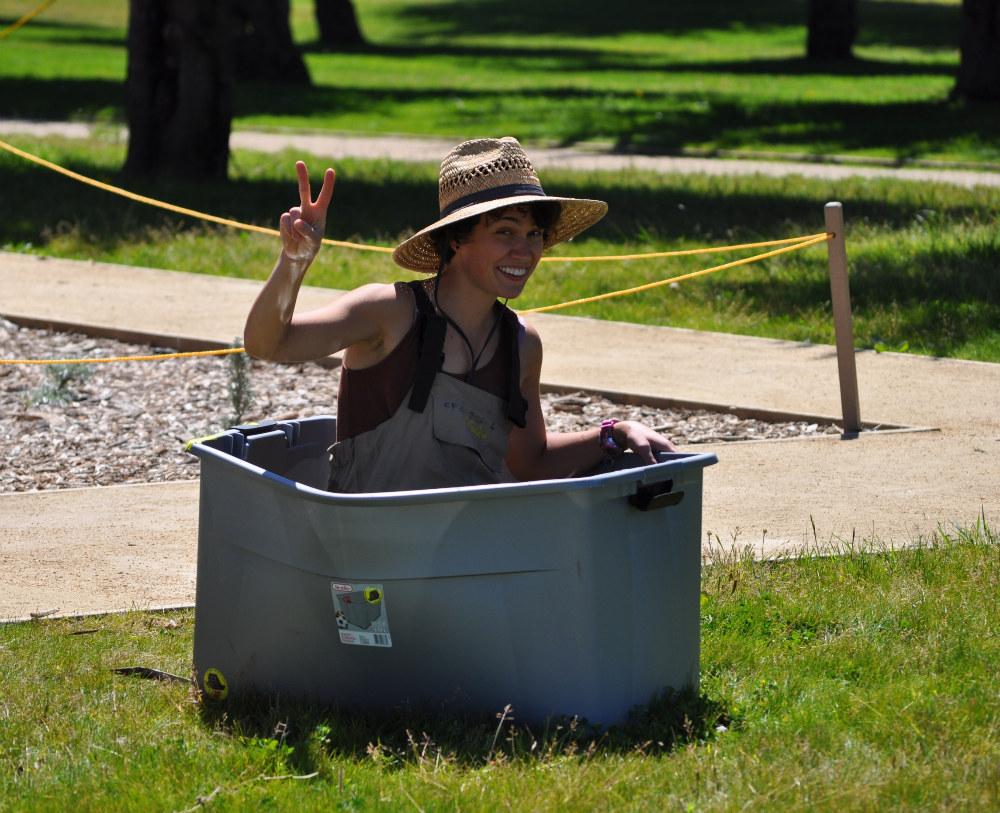 Photographs by Kimball Livingston
Waiting for the breeze is about conserving energy. I have to repeat this shot of John Winning's boat, painted to look like plank on frame . . .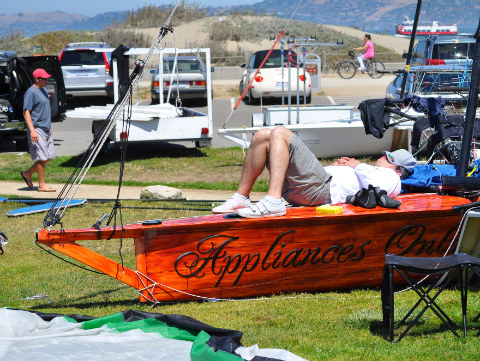 If only for the contrast to the same boat, all on . . .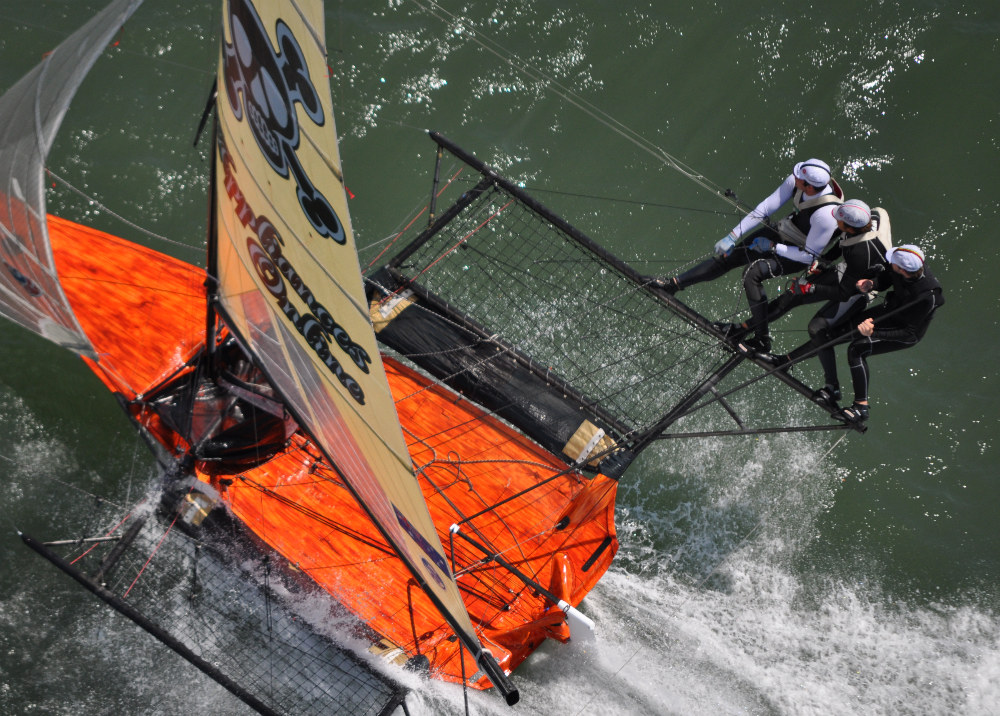 Like several other folks around here, I got a ride in Howie Hamlin's flying motorcycle (with the left door removed for photography, that's how it feels) to check out the skiff races and whatever else caught my eye. The ship is an R44 II made by Robinson. Looks like this, as shot by Erik Simonson . . .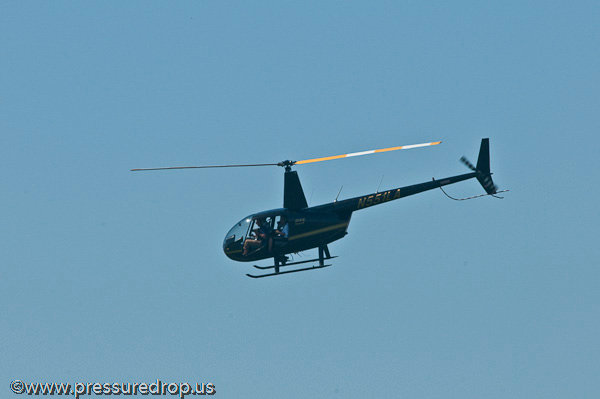 We lifted out of North Field, Oakland over the Oakland Shipping Channel and the former Naval base . . .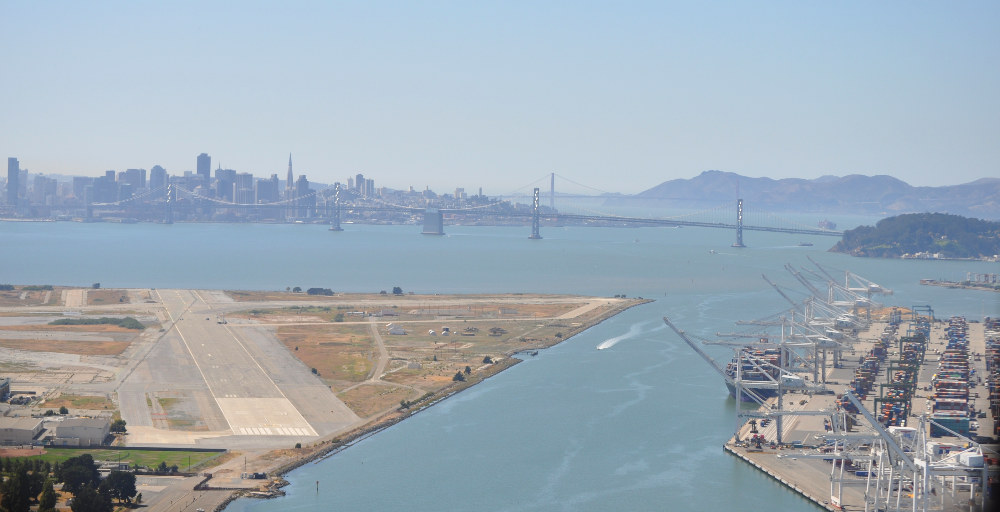 Being local, I had to check out the new Bay Bridge in progress . . .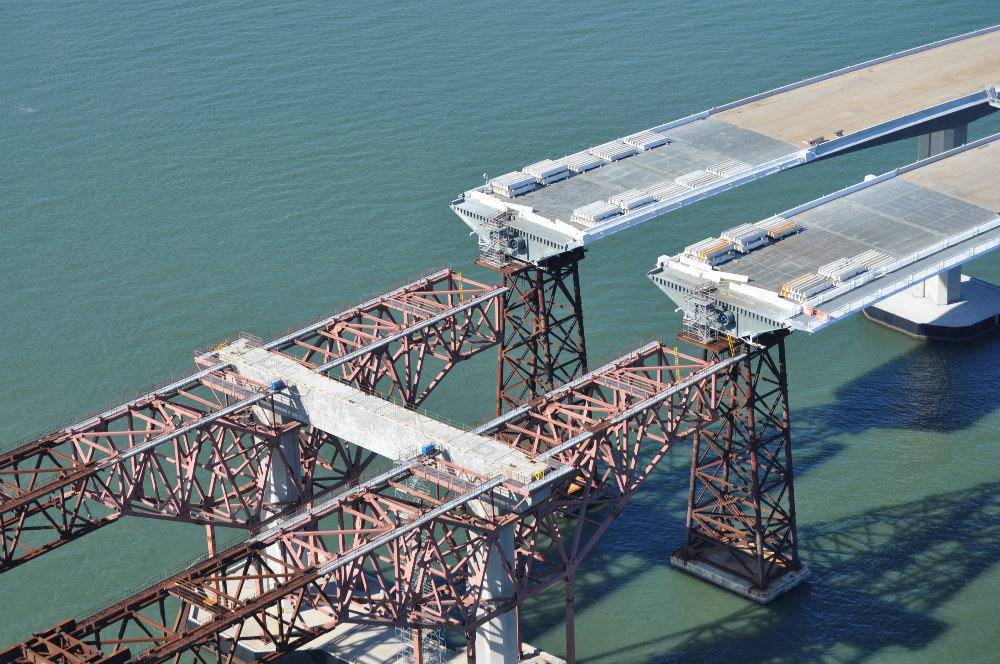 And the worksite . . .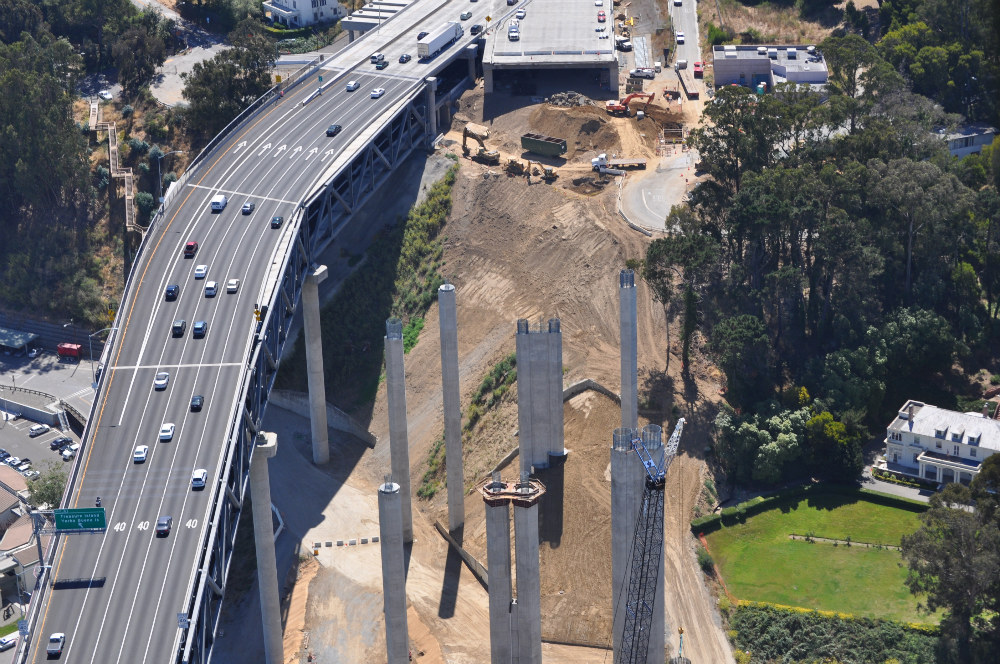 With parts that are fetching in the abstract . . .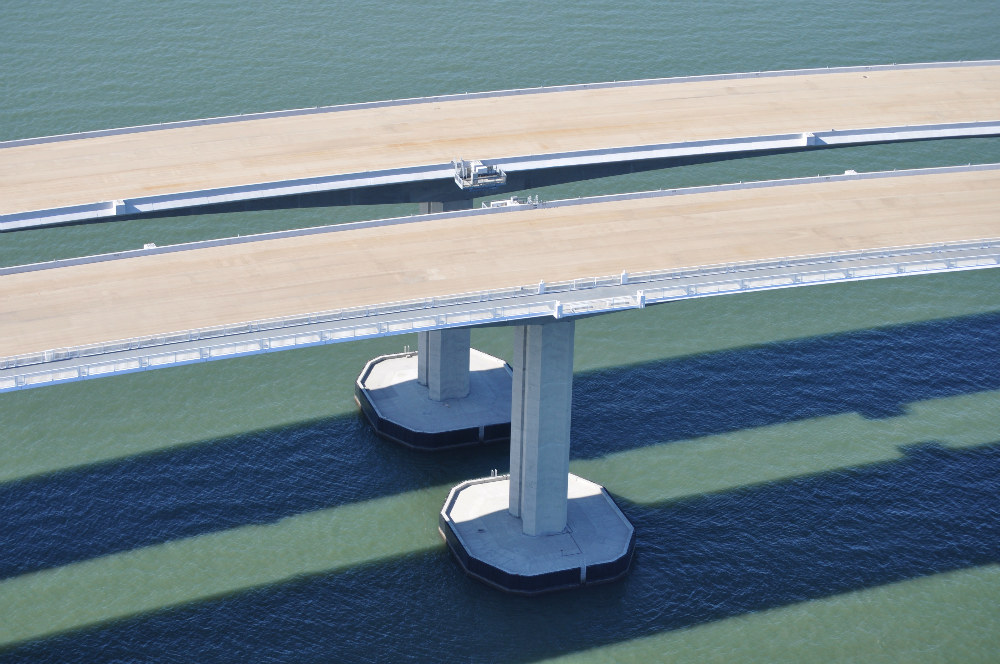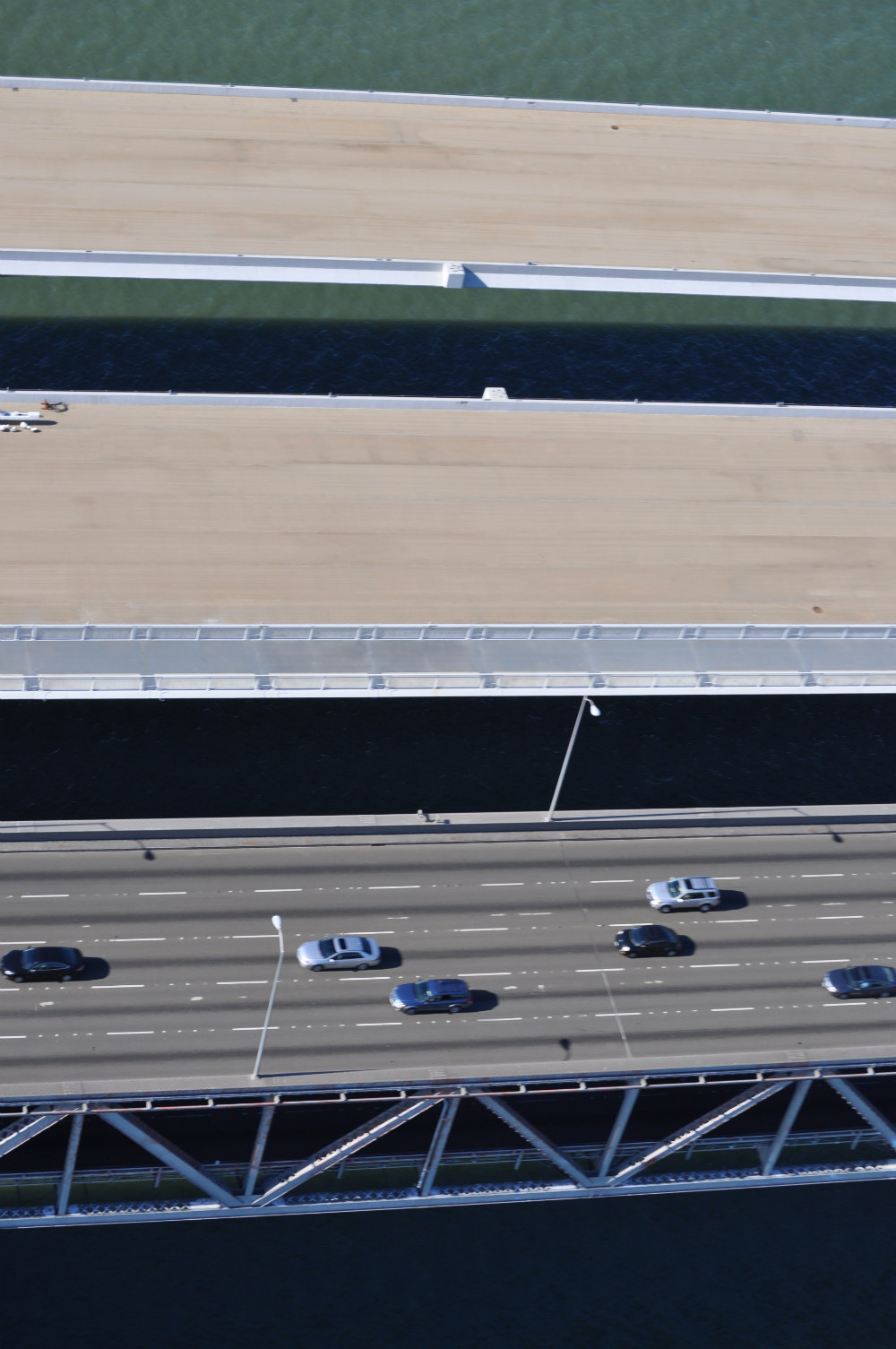 At Crissy Field beach, the fleet was out and the sun crowd was in . . .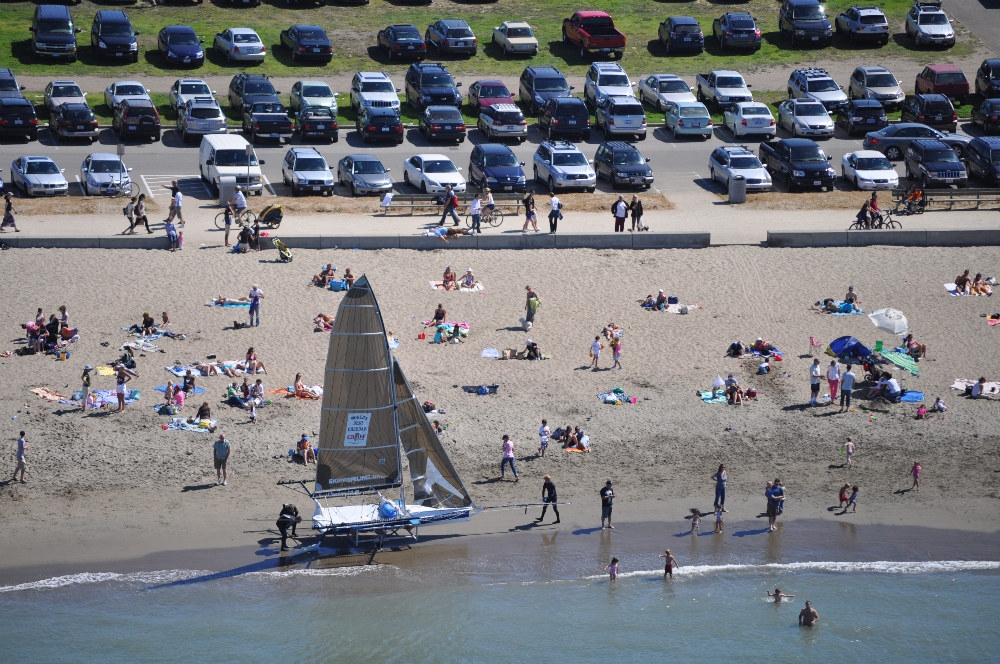 And soon the race was on . . .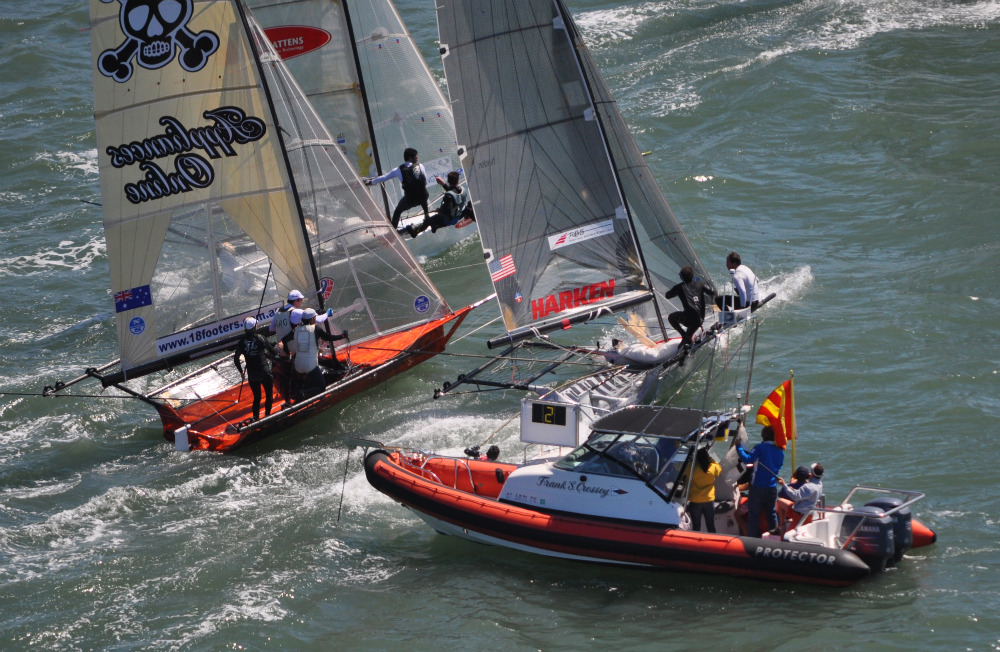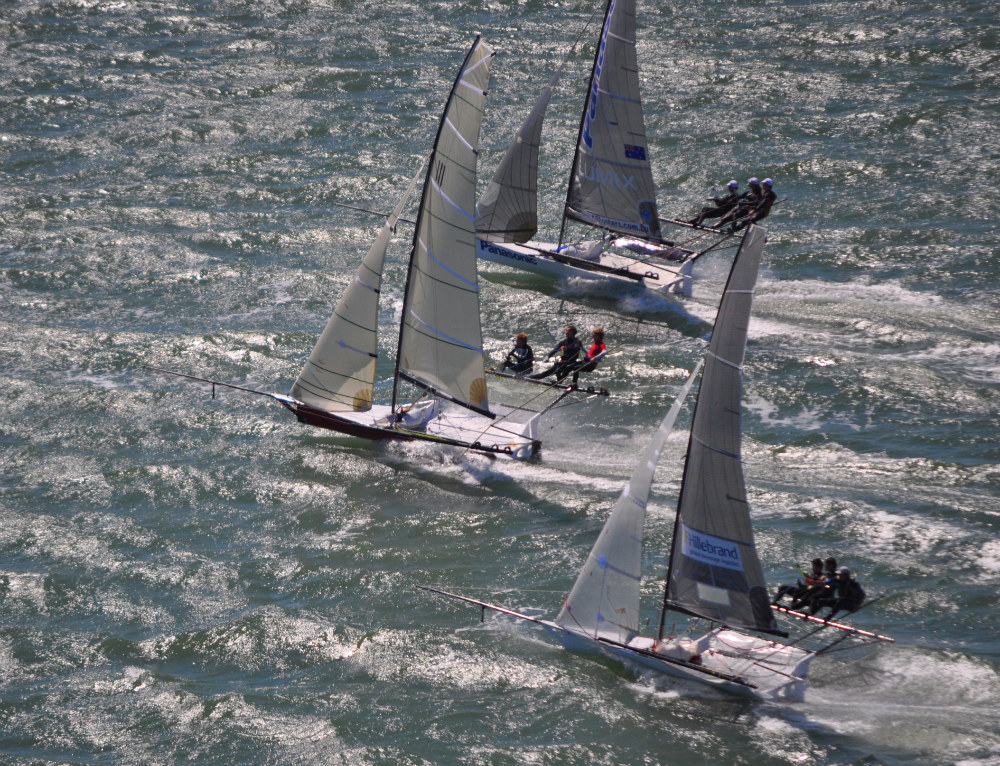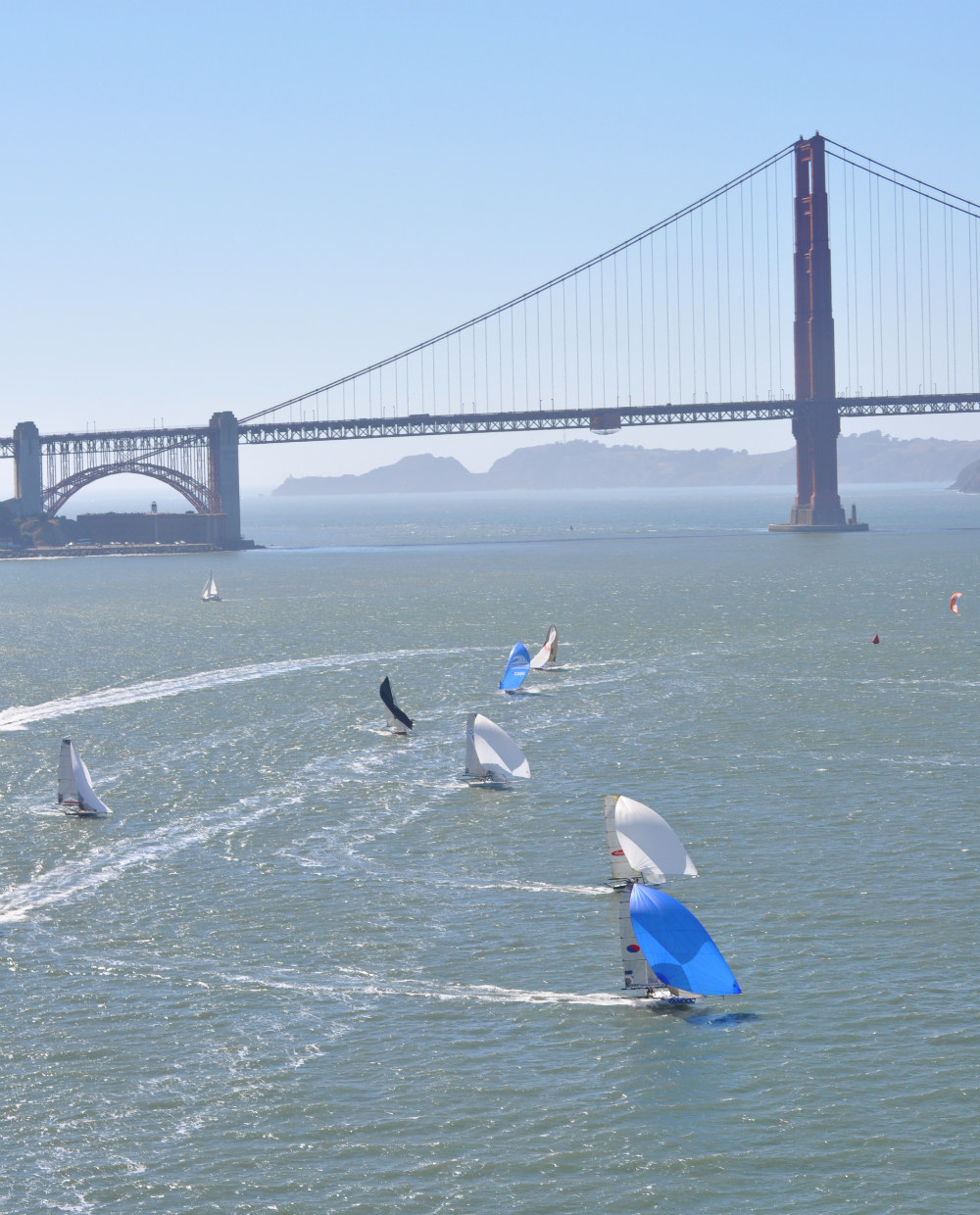 Almost never has a high pressure system been powerful enough to shut down the Venturi of the Golden Gate. In a heat wave on San Francisco Bay, you're likely to have the race delayed, but you're not likely to get skunked . . .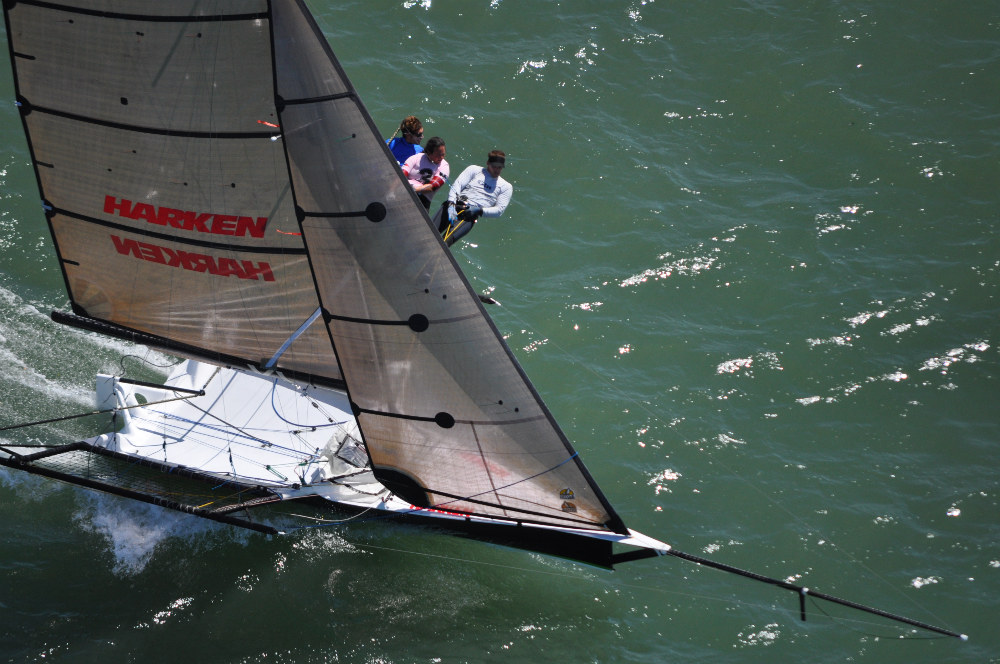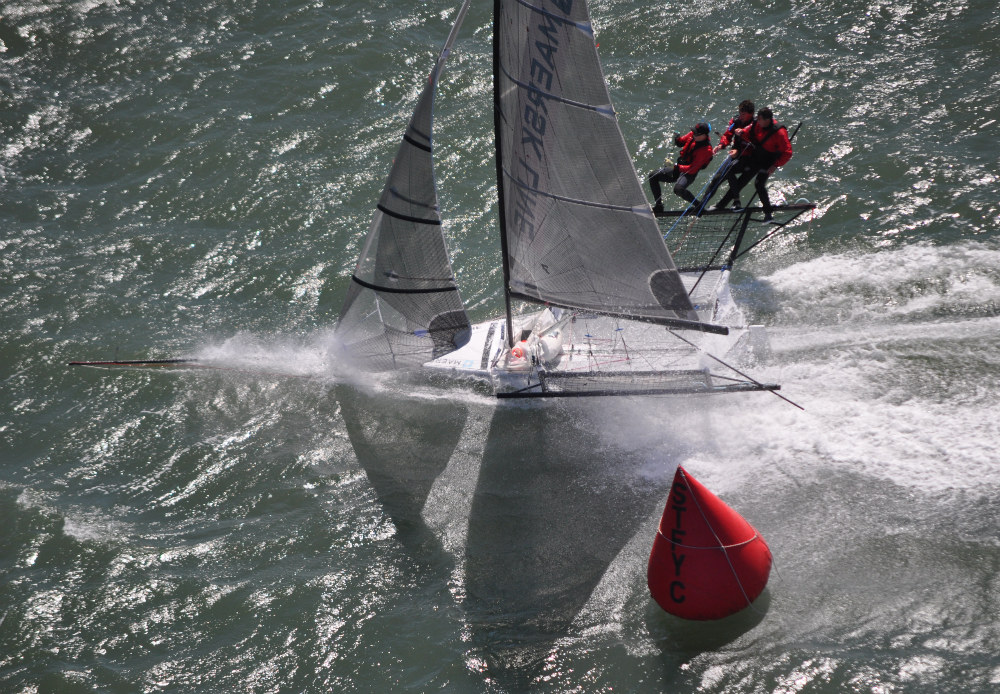 Pure vanity—a self portrait . . .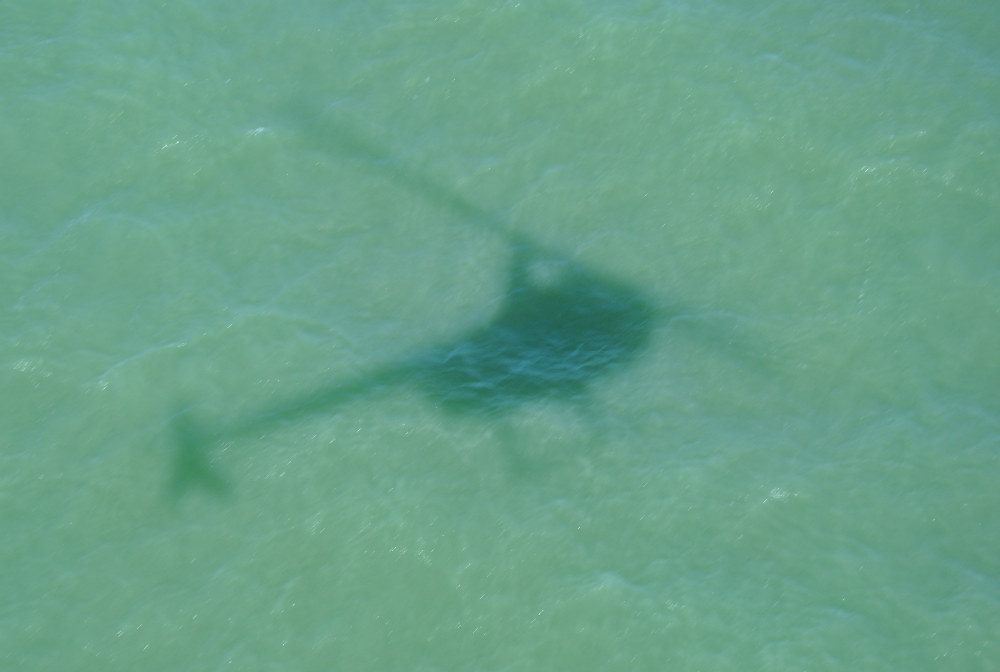 Between races we checked out Andrey Melnichenko's 394-foot "A" that's been hanging off Sausalito. I don't see an anchor rode, so I assume she is being held on station the new way, with a combination of gps and power corrections . . .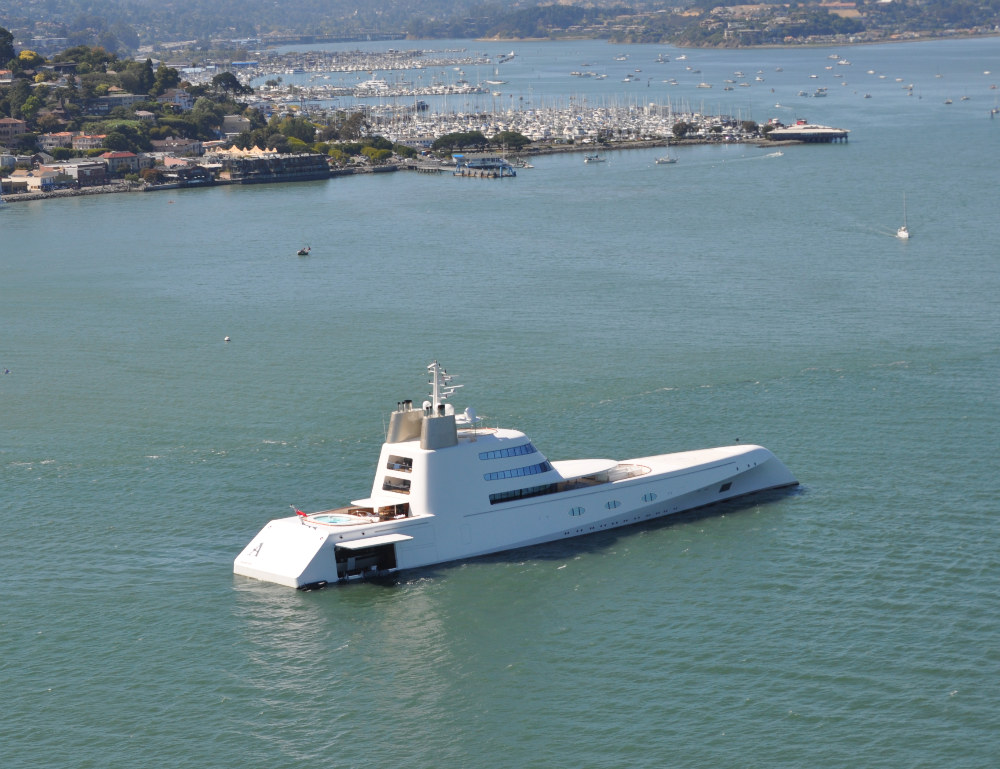 Not being part of the Monaco-St. Barth megayacht circuit, San Francisco Bay does not have many visitors on this scale . . .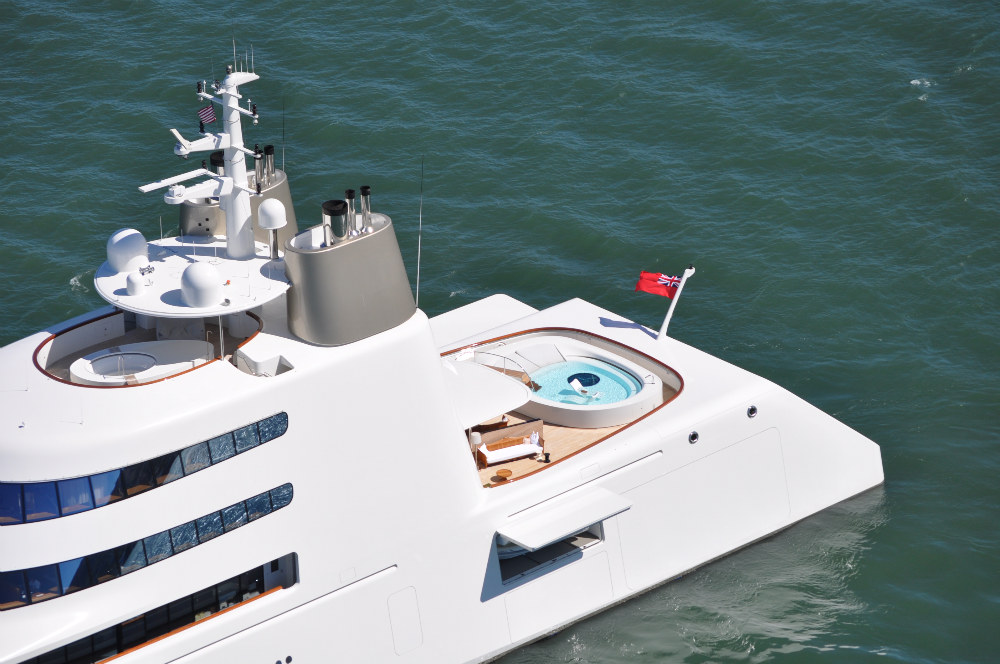 While we're not on the subject, you have four more days to buy a raffle ticket to support the Project Kaisei research into Pacific Ocean plastic removal. The ratios are good, the tickets are $50 apiece, and the prize is a week on a 50-footer in Polynesia, flights paid for, with $2,500 spending money. It's a good cause and a good prize. Check it out at Dream Sail Raffle.
Later, we saw the A's tender headed for the docks of the St. Francis Yacht Club, which is running the skiff races. Our gossipy tidbit of the day, Melnichenko took a skiff ride himself a few days ago.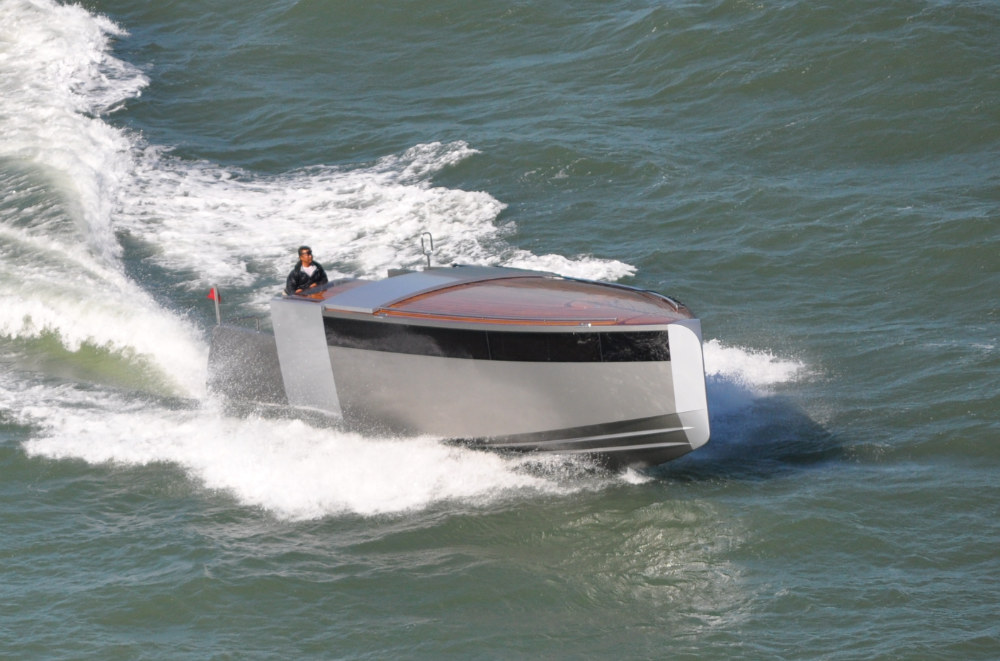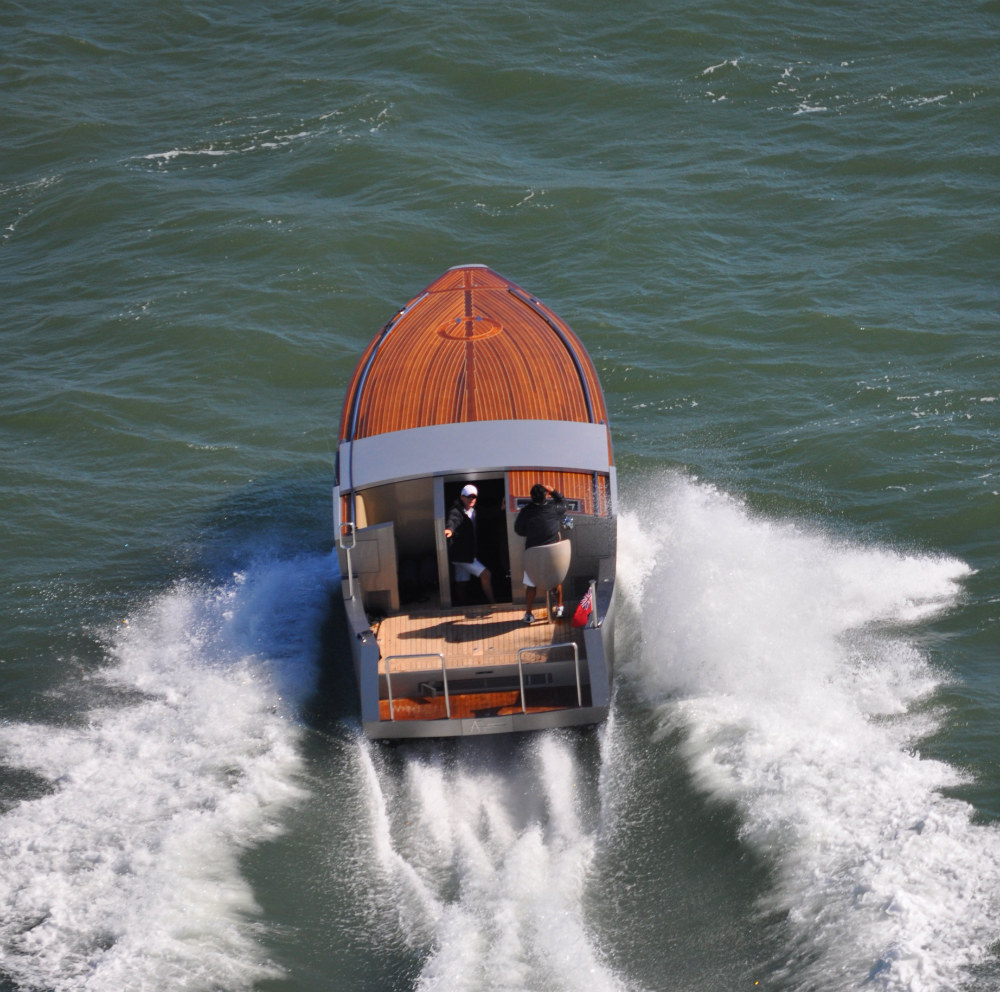 It was a rare day on San Francisco Bay. Even as the breeze picked up to 12 knots, there was none of the biting chill that locals know as daily reality. But there is one thing we know about a heat wave in San Francisco. It won't last any longer than a passing wake . . .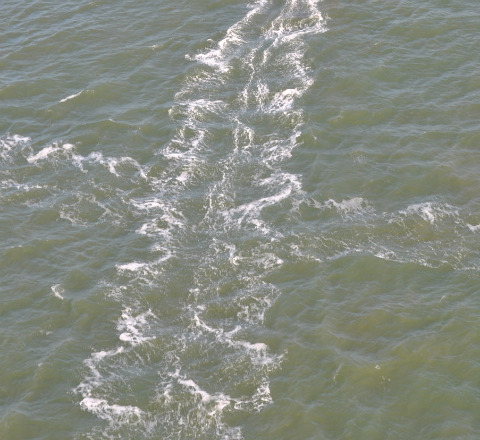 Now it's Wednesday, getting on, and the Ronstan Bridge to Bridge Race is set for 1730. Skiffs, windsurfers, and kiteboarders all in one big bull run from the Golden Gate Bridge to the Bay Bridge. I've added another layer and I'm wishing for one more. The breeze is up, the waves are up, the whitecaps are up, and it's looking perfect for the Bridge to Bridge.
By the way, no matter what you've read, my spies at City Hall tell me that dropping the CEQA exemption plan was anything but a capitulation. The BMW Oracle team will be back in San Francisco next week, and we're still talking AC-N-SF.