AC72s on Foils?
"We're all going to have to try it"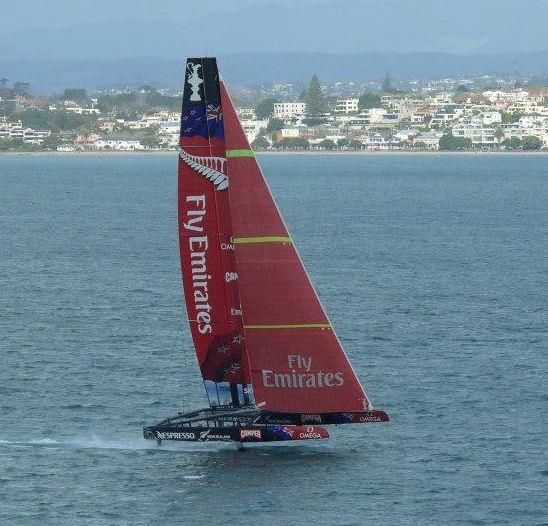 ETNZ's AC72 apparently on foils. First look via Facebook/Sail Racing Magazine
Oracle Team USA was the first to tease us with a full-foiling catamaran, months ago, when it revealed an AC45 flying above the water on test-version-only foils . . .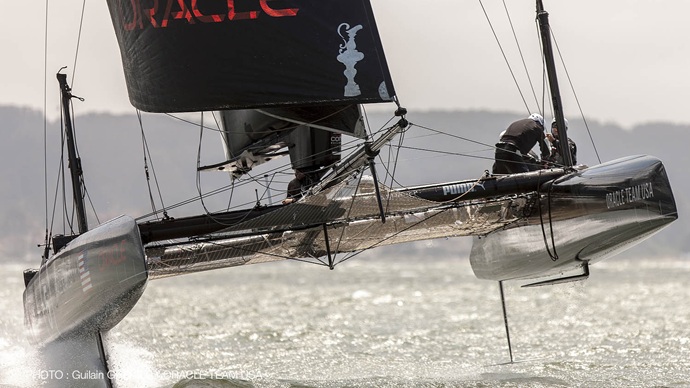 It is widely expected (conservative statement) that Oracle's first AC72—to be revealed next week, if preparations stay on track—will be a flyer. The AC72 rule prohibits the trimmable rudder winglets that would be a first-thought method of controlling pitch, but you can bet your bippie and your thingie too that the best brains in the business have been working on the workarounds.
Luna Rossa AC72 development boss Matteo Plazzi remarked during the America's Cup World Series in San Francisco, "We're all going to have to try it. This isn't really a secret. The question is, will it be a faster way around the racecourse? Will what makes you fast downwind make you slow upwind?" (We should note that Plazzi, a veteran of every Luna Rossa campaign, spent his Luna Rossa-takes-a-break time navigating USA 17 to win the 2010 America's Cup in Valencia.)
From its gingerly beginnings after first launch, Emirates Team New Zealand has now gone adventurous and aerial, if we can believe the pic. Sail Racing Magazine was first to offer photographic evidence and post it on Facebook. PhotoShop? I don't see it, but not everyone is believing this pic. It's easy to get people excited . . .
Worth noting: Assuming it's legit, ETNZ sailed quite a few days without showing this stuff. Oracle Team USA will probably do likewise from first, careful launch. Friday was the original day for it, and then came this announcement on Wednesday:
The first dry-fit of the 12 story-high wingsail on the platform of the ORACLE TEAM USA's AC72 boat was completed at Pier 80 today.
The AC72, the first of two yachts to be used in the 2013 Defender Trials and America's Cup, saw the hook-up of the myriad electrical, mechanical and hydraulic systems as the engineers, boatbuilders and designers worked through the extensive 'pre-flight' check-list.
The complex process of commissioning the AC72 is continuing, but because of the scale of the project and inevitable uncertainties, the team has decided to delay the Media Day until after the Labor Day weekend. The date and details will be confirmed early next week.
The AC72 builds in a lot of restrictions, which then, of course, become challenges:

9.4 The lowest load-transferring bearing shall not translate relative to the hull.
9.5 A daggerboard shall not translate longitudinally more than 0.020 m within the bearing referred to in 9.4 above.
9.6 Daggerboards shall not have components such as trim tabs or moveable winglets that can be adjusted while racing; however, a movable or retractable device the sole purpose of which is the removal of weed or debris is permitted.
9.7 At all times when racing, daggerboard cases or trunks shall effectively drain within ten seconds of the hull being lifted above the water level, and shall not be designed to retain water when not immersed.
9.8 Fairings are allowed within the area defined in 6.7(c); they shall not be controllable and shall move only passively as the result of the permitted movement of daggerboards and their bearings. Attention is drawn to rule 5.14.
9.9 Daggerboards shall not be designed or used to generate force for the purpose or or effect of increasing righting moment when used on the windward side of an AC72 Yacht.
9.10 When fully retracted, daggerboards shall extend no more than 0.500 m below MWP.
Note: The full-foiling record-setting trimaran l'Hydroptere DCNS continues to make fast runs on San Francisco Bay (locals, look for it near the Gate at or soon after 1330 today), but l'Hydroptere's huge foils are fixed at 45 degrees and do not retract. It's not by any means a one-way machine—the crew sailed it up the coast from Long Beach to San Francisco—but maneuverability was never part of the design brief. l'Hydroptere backs down to tack. That probably wouldn't do on an America's Cup racecourse. Completely different problem, my dears. Different solutions. But what a ride. They're probably (almost certainly) skunked on a weather window for a Los Angeles-Honolulu record attempt in 2012, so the likely plan is to sail it back to Long Beach, put it on the hard, and look to 2013. But don't rush out of San Francisco, guys, please.