An Eco Stunt That Matters
I was relieved to come away from visiting Plastiki with the sense that, yeah, this can come out OK. It might even be important.
Most people have heard something of Plastiki by now. Being heir to a name like Rothschild confers an automatic celebrity and resources, and it's not just any old eco stunt that David de Rothschild has in mind. The up-front premise of Plastiki is that single-use plastic is evil and that sailing a 60-foot catamaran across the Pacific—with 68 percent of the boat's buoyancy derived from a matrix of 12,500 recycled plastic bottles—will dramatize that message and capture hearts and minds.
It would make engineering sense to skin those bottles over, but then we lose the ready-made visual.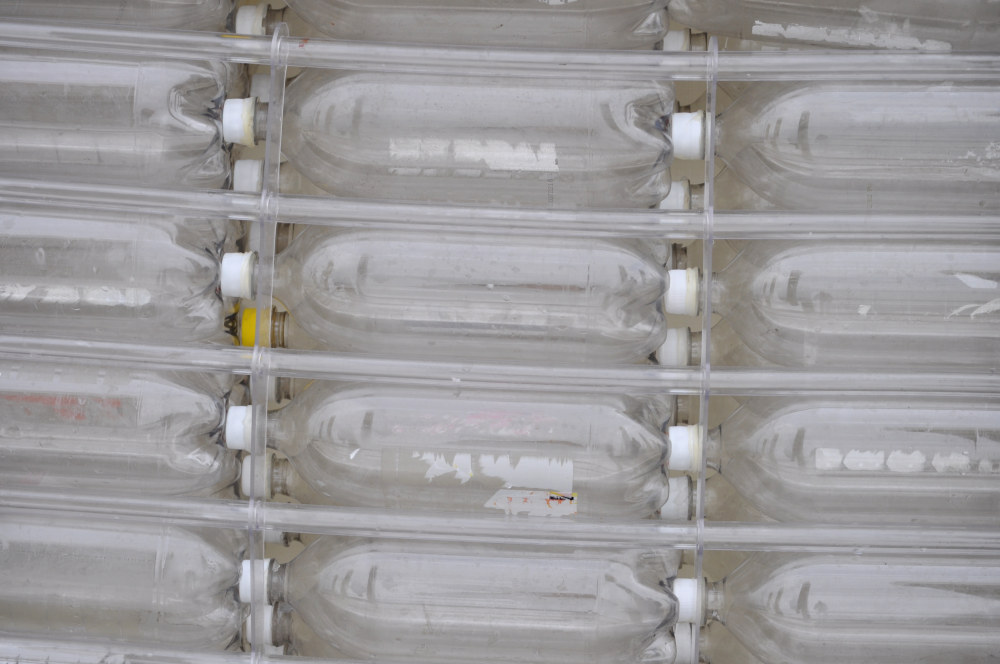 Each bottle is packed with a dry-ice charge for rigidity. Photo by Kimball Livingston
Now, if you stop at this point, especially if you remember that the boat was supposed to have sailed out through the Golden Gate a year ago, you could easily add, "hoo boy." Rothschild, who has trekked the Arctic and Antarctic and made environmentalism his career, does not profess to be a sailor and claims to get seasick in a bathtub and admits that his mother doesn't like the Plastiki idea at all. Surely there are other ways for a 30-year-old to spread the eco gospel? But when you hear the man out, there's more going on. What began as an attention-getting stunt for a good cause evolved into . . .
A NEW WAY TO BUILD
What first seemed a roadblock—there was simply no way to engineer a boat out of fully-recycled post-consumer materials, as envisioned—turned out to be an opportunity. Answers came slowly, but they came. When you look at the boat that resulted, Rothschild claims, you're looking at something you've never seen before: Boat construction using a thermoplastic, srPET. The "sr" stands for self-reinforced in the big name, self-reinforced polyethylene terephthalate, a composite in which the matrix component is reinforced with fibers spun from the same polymer.
Rothschild says, "Self-reinforced plastics have been around since the 1980s, but nobody's taken them out of the laboratory for this kind of use. There are no resins in this boat. The parts are heat-welded together, or in some cases they're joined with a glue made from sugar cane and cashews."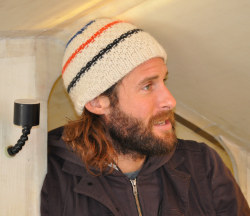 He doesn't wait for the raised eyebrow.
"High Modulus was one of our consultants on the glue. Nobody was breathing toxins while we built Plastiki."
The boat's skipper, Jo Royle, drives the point home: "This entire boat could be tossed into a chipper and recycled."
Their hope is very simple. They're hoping this is revolutionary.
"There is no point being anti-plastic," Rothschild says. "What we have to do is eliminate dumb uses of plastic. Thirty-eight billion plastic bottles went into landfill last year."
So will srPET replace fiberglass? That's what the man has in mind. Me, I'm a reporter. In an article that the technically-minded will want to check out, project manager Matthew Grey is quoted by Composites World to the effect that srPET has 75 percent of the strength of fiberglass at half the weight. Plastiki was vacuum-bagged and heat-cured, and the boat has evolved quite a bit since this rendering was created . . .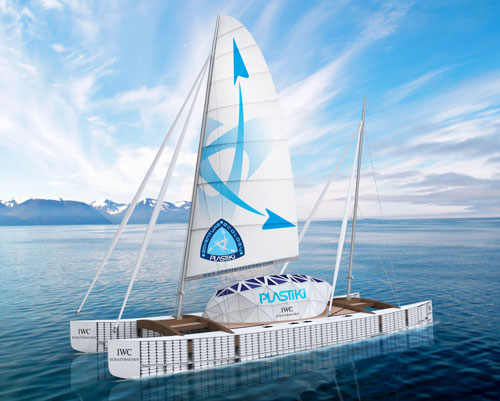 As for the Pacific voyage, Royle's résumé includes skippering an Open 60 for Pindar. She brings ample experience to the enterprise and her own longtime passion for environmental causes. We spoke in the boat's cozy cabin, designed by Architecture for Humanity volunteers as "the ultimate off-grid house," egg-shaped as a form of biomimicry.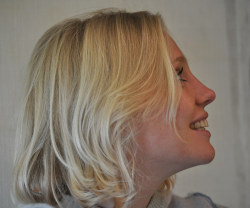 At 6 feet 4 inches, Rothschild is too tall to stand fully upright in his own boat, but he's OK with that, and his skipper has probably had her share of people who failed to see through her soft blond looks to a capable strength. Early on, Plastiki announced an ambitious route through the islands of the Pacific, but Royle has tempered those expectations. "We have an offshore-capable boat," she says. "The challenge will be maneuverability. We'll probably make 100 miles a day, but we don't point efficiently above 90 degrees, so we're not advertising a route."
South is the logical direction, if they leave soon—it's off season in the Pacific—and they do hope to leave soon. Then hang a right at Baja, probably. It won't be wrong to stay coastal for some proof-of-concept mileage before striking out across the Pacific. Plastiki, if you haven't got it already, is a reference to Kontiki, Thor Heyerdal's raft expedition undertaken in 1947. This will be a first sea voyage for de Rothschild's small furry friend, Smudge.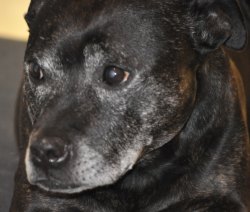 Plastiki has a tiller and a Monitor wind vane. The 57-foot main mast and 37-foot mizzen started as irrigation pipes made from 98 percent recycled aluminum. The sails are made from recycled PET.
WHAT'S FOR DINNER?
Plastiki carries a propane stove and a pressure cooker ("A pressure cooker is very important at sea," Royle says) and a hanging hydroponic garden from Inka Biospheric Systems that will support 90 plants. According to Inka: "Our 'rotating cylinder garden' was developed to grow as many plants as possible on a small footprint and still expose all the plants to sunlight. The garden is clamped onto the mizzen, and the cylinder is enclosed in a clear covering of srPet to create a greenhouse effect. The top was designed to capture rain water to help replenish the reservoir. The garden will grow chards, kale, spinach, bok choy, mustard greens and other leafy greens. The message is that you can grow food without soil, without land space and with very little water. For the billions of people who are experiencing 'hydraulic poverty' and food insecurity from depleted soils, this is a way to produce clean safe food. In third world applications these gardens can be built from coconut fibers, bamboo, hemp fibers, grasses, etc."
Plastiki carries its own water for a crew of six or eight, plus an emergency hand-pump watermaker. A larger desalinator was considered and rejected, Royle says, "because it wasn't energy efficient." The boat's solar panels are good for 600 watts, and a recumbent exercycle is rigged to produce 7 amps.
My question: Why aren't all exercise machines in all gyms designed to generate power for the grid while they're being pumped, pedaled and pushed?
There is more about Plastiki and crew at plastiki.com (though the web site is buggy) and at David de Rothschild's other web site, Adventure Ecology. In our conversation I was struck by Jo Royle's comments about being motivated by "seeing accumulated debris on remote beaches in Antarctica and South Georgia" and remembering almost identical words from Ellen MacArthur as she turned her focus from round-the-world competition to environmental awareness—after seeing debris on beaches in Antarctica and South Georgia—"because it's just too important not to."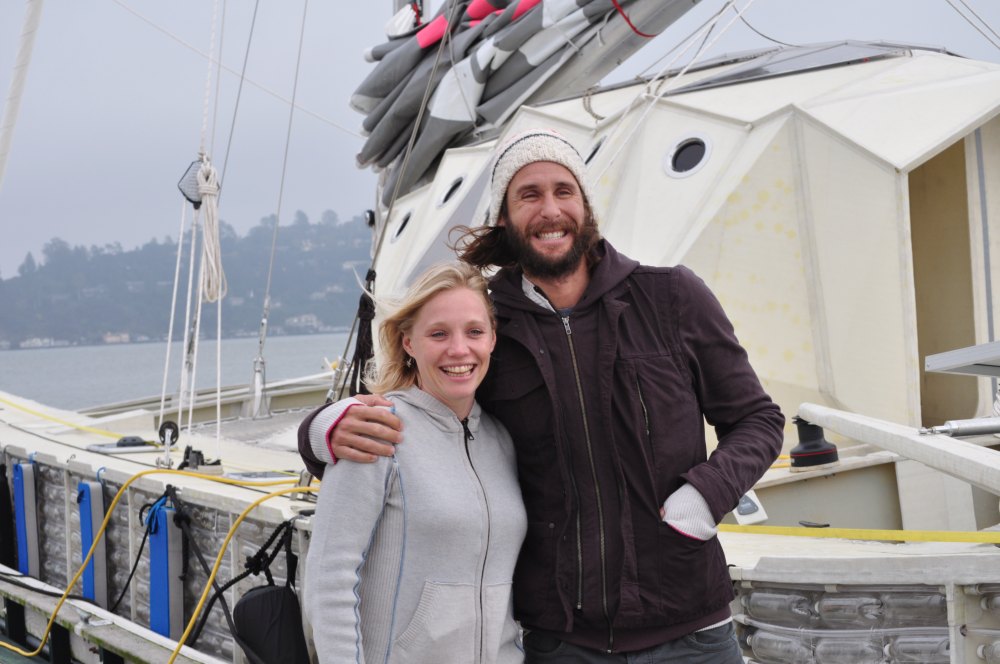 Jo Royle, David de Rothschild, and Plastiki. Photo by Kimball livingston
Plastiki is berthing in Sausalito until departure, but the boat was built in San Francisco at Pier 31, in space made available at the behest of the Mayor of San Francisco, Gavin Newsom, and it occurs to me that someone else of late has approached the mayor with a need for waterfront space. I hope that he will be as successful, though there is quite a contrast in the mission, as Jo Royle points out (while underestimating the dollar figure; go higher, Jo, much higher) in her comment about a recent radio interview —
"A fun half hour hosted by KQED public radio; funny how our slot got cut in half so they could spend the other half hour talking to Larry Ellison about the America's Cup – $100 million for 2 races. Obviously as a keen sailor I love to see the development of technology that results from the Cup, but on the other hand . . ."
SUCCESSFUL SO FAR, EH?
I've avoided writing about youth playing the "youngest circumnavigator" game because it's not a trend I want to see continued until the odds catch up with somebody's kid. Which doesn't mean I don't occasionally check in to see how the kids are doing.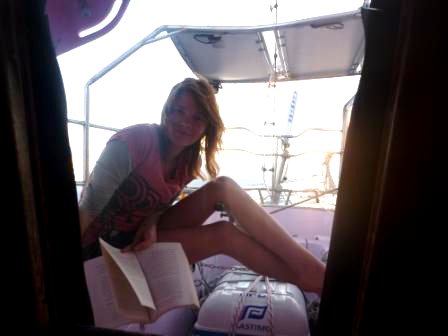 Jessica Watson was braggish about her day at 40 South with shorts, sunshine, a book, and footie steering. © jessicawatson.com.au/
Jessica Watson (born : May 18, 1993) has been at sea four months out of Australia, and she has now cleared both capes. With Africa's Cape of Good Hope over the horizon to her left and fading, and even with a lot of sailing ahead, her S&S 34, Ella's Pink Lady, and the crew you see here, can smell the barn. Considering what you get in most teenagers' journals, I can't hold back a nod of approval at this —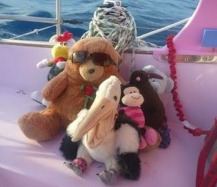 "I'd like to say that I'm not doing this to prove a point, but that wouldn't be completely true. For almost 6 years my family lived on our motor boat at different marinas on the east coast of Australia. When you live on the water, it's an unwritten law that when another boat is pulling in, you give a hand and take their lines. But being a 'little girl' meant that more often than not, my offer of help would be completely ignored, while the line was passed to the grown man next to me. I found this incredibly frustrating as I knew that I was just as capable as anyone else. I hated being judged by somebody's expectations.
"So yes, I want the world to know exactly what 'little girls' are capable of!"
LEFT TURN AT CABO
San Diego Yacht Club's Puerto Vallarta Race fleet has cleared the Baja peninsula and is crossing to mainland Mexico and a finish line at Punta Mita. That final leg after Cabo is about 300 miles, but as we see in the iboat track from mid-Tuesday afternoon, the leaders are well along. I point it out because most of these boats will stay for the Regata Copa México, which kicks off with a 25-mile Governor's Cup race on Sunday, and because one facet of Mexico's bicentennial festival is a Guiness Book of Records attempt by Laser Olympic rep Tania Elias to sail those 300 miles in a Laser. With escort, of course. There's been plenty of breeze for the PV entries, and both Akela and Peligroso still have a shot at a record. But folks, while you're doing those last few hundred miles, imagine sailing Cabo to Vallarta on a Laser.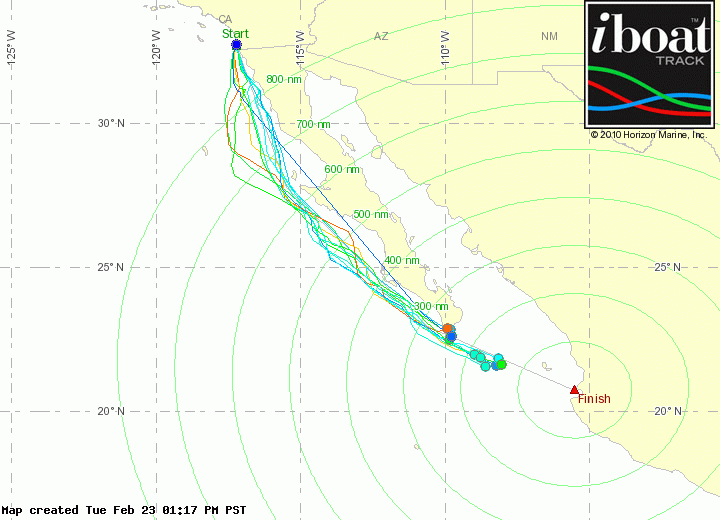 PARKED AT CABO
John MacLaurin's team raced to the race—to get his spanking new, late-delivered Davidson 69, Pendragon VI, to the start line of the PV race. Unfortunately, they dropped out with "a boat issue" at Cabo. (Craig Leweck advises that it's cavitation in the twin rudders.) We hope it's a problem than can be resolved before the Governor's Cup race. MacLaurin has been a stalwart supporter of MEXORC through the years, and MEXORC is the backbone of the Regata Copa México, expanded to include J/24 competition, kite racing and stunting, an Opti regatta, and beach volleyball. I'm for the beach volleyball, myself. Pendragon VI looked great leaving San Diego . . .