As the Losers See It
If you're looking for an epicenter of excitement about the future of America's Cup racing, I suggest you look to—
Newport, Rhode Island.
Huh?
Their bid to host America's Cup 34 may have come up short, but the citizens of Newport figure that even a pre-event will be bigger than the AC matches sailed there before the wing-keeled wonder whisked the Cup off to Australia.
The quote on that comes from the executive director of the state Economic Development Corporation, Keith Stokes, who is plenty stoked. He believes that a pre-event on the AC World Series tour will be "much larger in scale than the last America's Cup match here, or the ones before that."
So the "America's Cup RI 2013 Planning Committee" kept right on rolling, and kept the name, even after the big event slipped away. Their redefined goal is not to stage just one regatta but to leverage an AC pre-event to build new shoreside facilities and create what Stokes calls, "a long-term, sustainable, sailing events center. The AC World Series tour provides that opportunity. What we saw developing in Auckland and Valencia gives us the sense that the future of America's Cup is going to be much larger, with more public interface. What Newport hasn't had in the past is a dedicated facility to support events of this capacity."
No venues have yet been named for the tour, but Stokes' people have been assured that Newport is high on the list. It is, after all, a capital of international yachting and steeped in history. Stokes says, "I'm bullish."
Fort Adams, a state park occupying a peninsula on the periphery of downtown, is already home to the very active community sailing establishment of Sail Newport. The park commands a 180 degree view of the harbor, and in this scheme, the location would be further developed with docking for large boats and a "yachting village with public activities." Newport's practiced ability to shuttle hordes of visitors from outside to downtown would be augmented with increased water taxi services to the park, keeping autos from choking off the already-crowded streets. "We're a colonial village," Stokes says. "Our roads weren't even meant for the horse and buggy."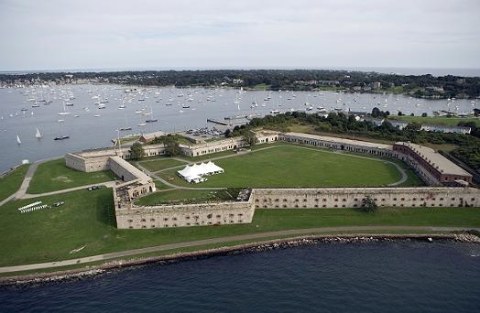 Likewise key to the thinking, I suspect: To get to Fort Adams by car, visitors would have to drive through a part of Newport's tony residential district, which already draws heavy tourist traffic. Water shuttles are the way to go.
The payoff? For example, an estimated 90,000 visitors per day and, per the AC Event Authority's requirement, a minimum of 30,000 hotel-room nights for teams, management, and visitors. That is to say, a minimum of 1,000 rooms over 30 days. Losers? Not exactly.
Among the members of the America's Cup RI 2013 Planning Committee, btw, are Halsey Herreshoff, Sail Newport director Brad Read, and New York Yacht Club commodores David Elwell and Dyer Jones, Jones being the regatta director of AC 31 and AC 32 in Auckland and AC 33 in Valencia. "Straightforward" and "honorable" are the sort of words these people use to describe Larry Ellison, looking back to their negotiations over venue.
And, in an email earlier today, Dyer commented, "There is no question in my mind that should San Francisco stumble in its efforts to finalize the deal for the Match, etc., Rhode Island would jump at the chance to reopen discussions."
ROCKIN' THE CITYFRONT
Once again the local Big Game between Cal and Stanford provided an excuse for the Big Sail to pack the St. Francis Yacht Club . . .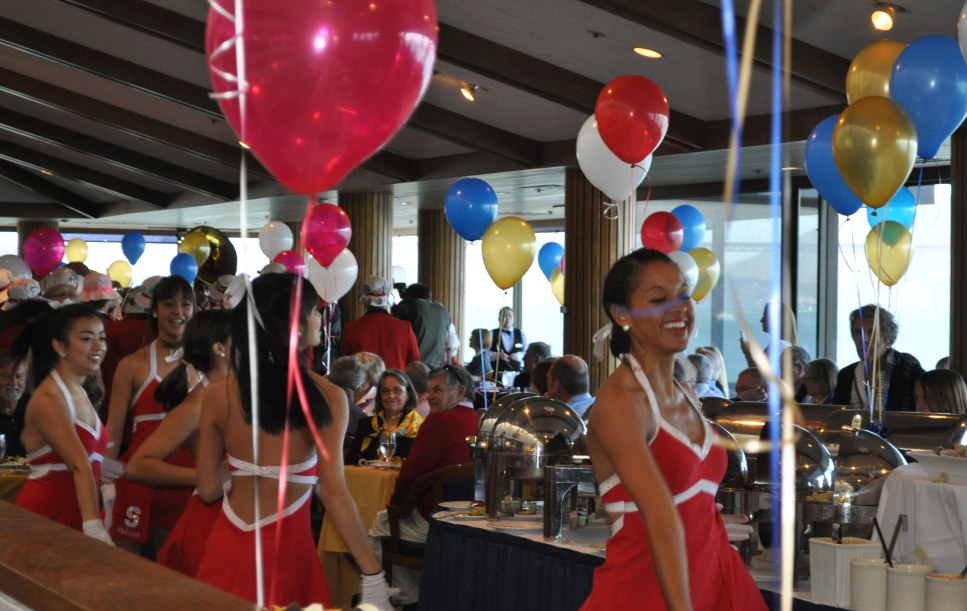 And an excuse for the bands to play . . .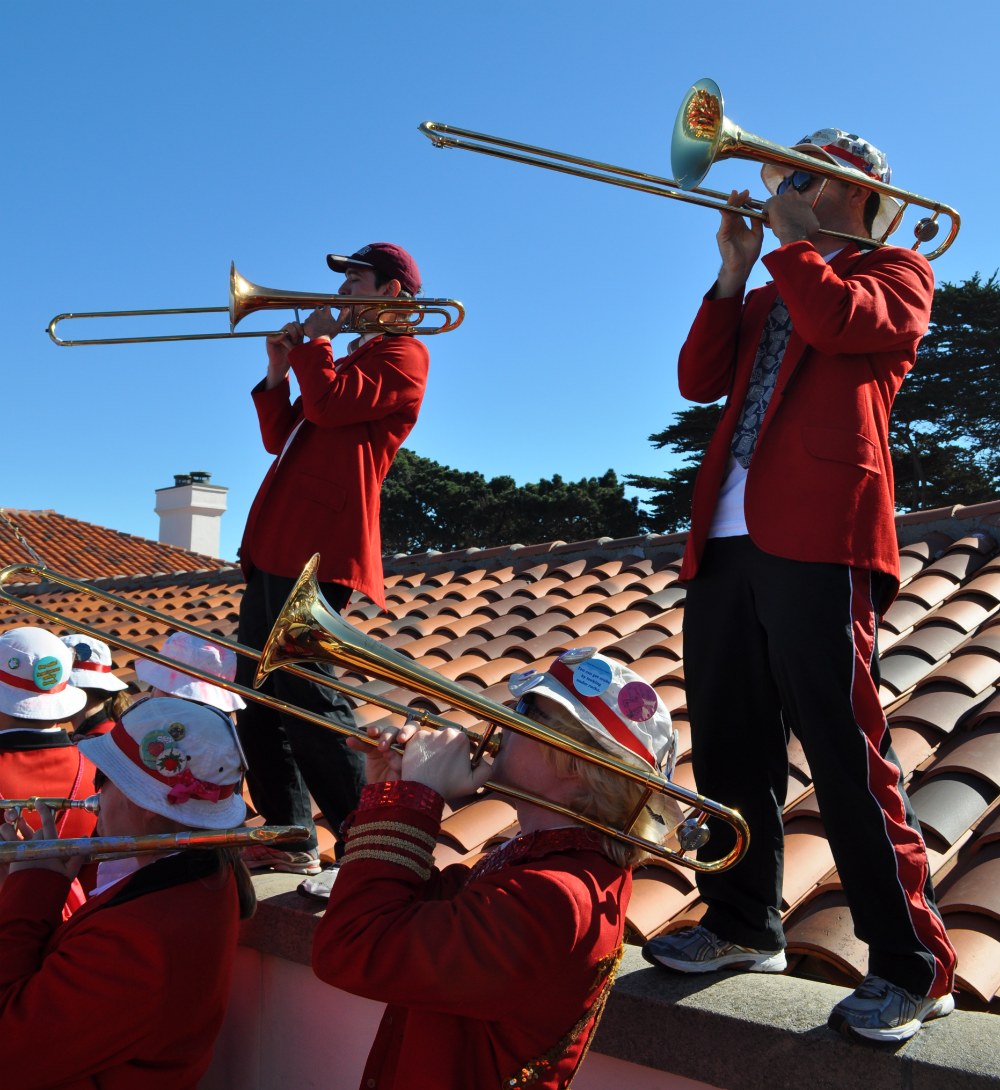 And an excuse to hold some match races on a perfect November day.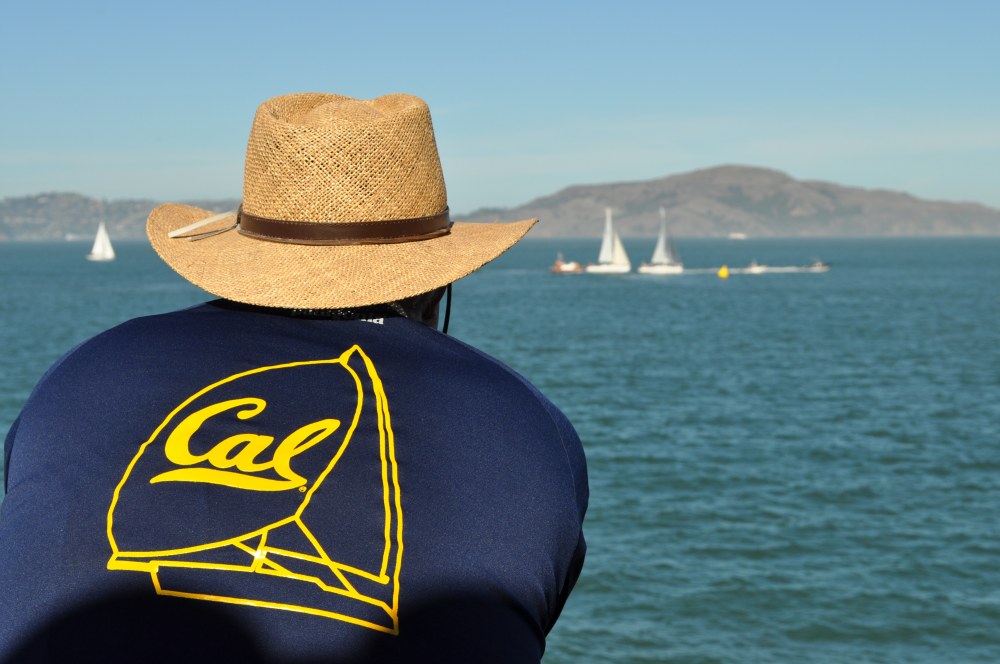 There is racing for varsity, junior alums, and senior alums. It's loopy, it's tremendous fun, and it's all about recognizing the opportunity to make something happen. This year, as in most years, each school won a few.
KUDOS
A good while back, 2003 to be exact, I sailed the Baja Ha-Ha Rally, and among the people I got to know were Chay, Katie, & Jamie McWilliam, outbound on their first long voyage, with the Kelly-Peterson 46, Esprit. Jamie was six—seven years later he's as tall as mom and dad—and I seem to recall stepping up and finishing a lunch that proved too much for him. (Bet that wouldn't happen today.)
I've followed this threesome on their voyaging since, down the coast, through the Pacific, and into Asia, with timeouts back home in the states. Now comes word that they've reached the half-way mark of their voyage around the world. Congratulations are in order, and I'm still fond of this four-year-old photo and Katie's thought that came with it. It's such a truth of the cruising life. When we enter a new harbor, she wrote, we are no longer the McWilliams family . . .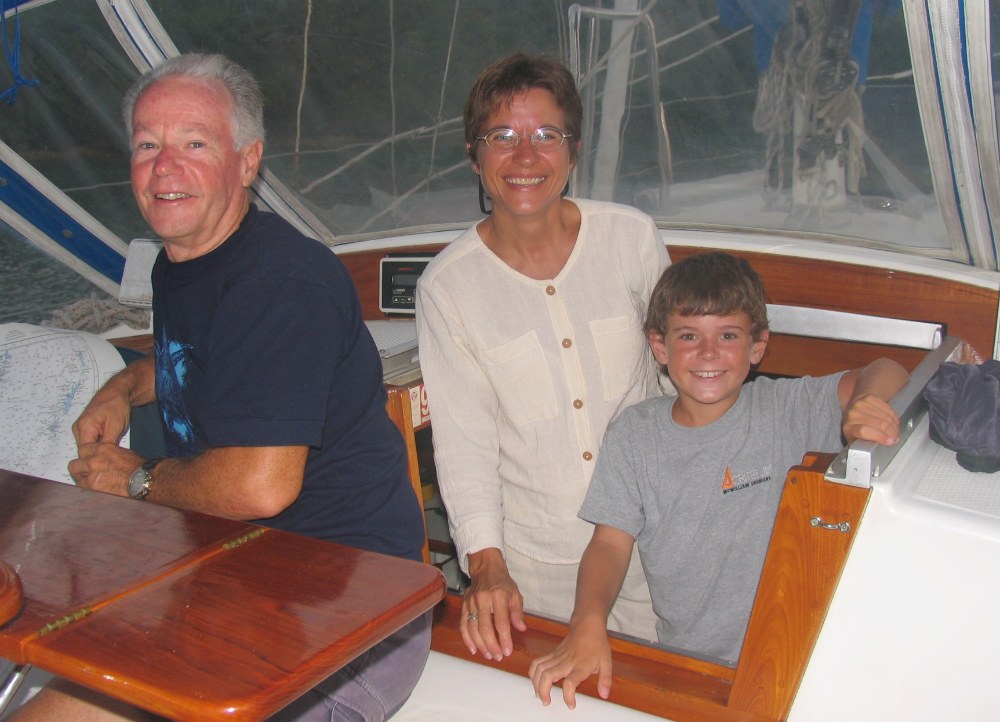 "We are Esprit."