The Only True Real Enemy
After fielding three challengers for the 2007 America's Cup match in Valencia,
Italy seemed ripe to play the role of Challenger of Record until the European
economy went
off
the
cliff
and Vincenzo Onorato could not come up with a solid sponsor
and so
announced today:
"Dear Friends and Supporters, with deep sorrow I have to announce my decision to withdraw my team from the 34th America's Cup."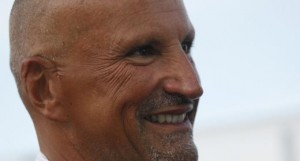 Which comes as no great surprise. Onorato's Mascalzone Latino team put up a good showing in 2007, and they have been a fixture in other racing including the RC44 class, but he said months ago that he was struggling to find adequate sponsorship and would not compete without the bucks to be competitive and not merely, to be.
In today's announcement Onorato refers to the international economic crisis as, "The only, true, real enemy of the next Cup."
So who steps into the breach? Who becomes the next Challenger of Record? Grant Dalton, the round-the-world race winner who runs Emirates Team New Zealand is already on record as believing the mantle will fall to Artemis. He believes that Torbjorn Tornqvist's Swedish team, which has Paul Cayard as its CEO and Terry Hutchinson on the helm—and scads of Bay Area locals in the ranks—has the comfortable relationship with Oracle Racing and Larry Ellison that make it the natural choice. He wouldn't expect the Defender to look toward the Kiwis, he told zerogradinord.net, "because we would challenge everything that they do."
An additional factor in favor of Artemis: Under Tornquist, they are, like Oracle Racing, fully funded.
Though it would make great buzz if the Defender looked toward a wild card like China Team, or Korea . . .
And I wonder, with Oracle Racing bringing two AC45s to begin training on San Francisco Bay by mid-June, is it a coincidence that a replica of the schooner America is now docked in front of the Golden Gate Yacht Club?