Brave New World

I witnessed two moments of beauty at the awards lunch for the sailor of the year awards, AKA the ceremonials for US Sailing's Rolex U.S. Yachtsman and Yachtswoman of the Year.
In one moment, it was Johnny Heineken distilling this kiting thing by describing how "all the power goes straight through you." Compared to the familiar directive to feel the boat, which, as a skiff sailor, Johnny also can do rather well, thank you—
"Under a kite, you … are … the … direct … connection."
So just, feel.
Just be.
"This," Johnny declared, "is sailing in its purest form."
He grew up with prams and the family C&C, did the college sailing thing, won a 29er North Americans—you can't say he ain't one of us, pioneer though he be in this brave new world.
It was appropriate, considering, that the ceremonies took place at the St. Francis Yacht Club, looking out at the waters where kite racing was first thrown out as an experiment and, and since they couldn't go upwind, Johnny recalled, "We always raced on an ebb." Meaning, on San Francisco Bay, upwind legs received a push from the currents. Now, in less than ten years development, but spurred by that competition, kites beat most other high performance sailing machines on every point of sail.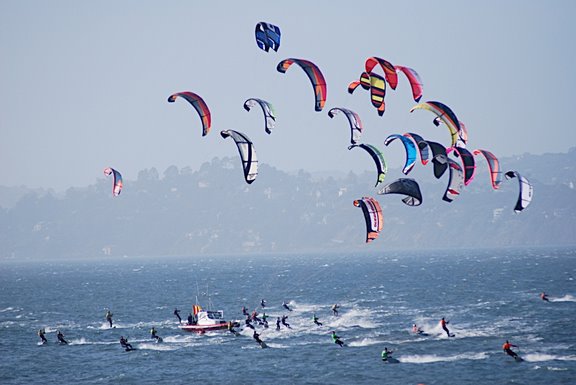 Photo by Boriana Parvanova
And, right before Johnny received his award as the sailor of the year—
I saw Jen French stand up.
I like saying that. I can't abandon the Johnny Heineken thread without mentioning that his world champion sister, Erika, was a nominee—what a day, from a local perspective—but
I saw Jen French stand up.
Paralyzed from the waist down by a snowboarding accident, dedicated to scientific research and working as a human guinea pig, implanted as the sixth human with neuroprosthetics— an implanted muscle stimulation system—Jen French is empowered to stand and walk, with a walker, in defiance of paralysis.
Yes, she won a silver medal at the Paralympic Games, and that was a proud moment, and now she is US Sailing's Rolex Yachtswoman of the Year, but
I saw Jen French leave her wheel chair, and stand tall in this brave new world where sailing is her freedom. I saw Jen French stand up.
Latitude 38 was out in force, and they saw and heard pretty much what I did . . .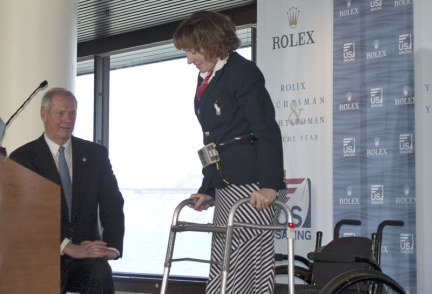 Gary Jobson presenting Jen 2.0 Photo Chris/Latitude 38
HIGHLY RECOMMENDED
Saturday is Sail a Small Boat Day at Richmond Yacht Club, one of the nice little big traditions on San Francisco Bay. It's a chance for anyone who wants a boat ride to show up and have a go. Owners bring their boats to share. Discoveries are made. Fleets grow. Happiness is shared. And hot dogs are free. 'Tis a lovely world, eh? But dress for it.