Can America's Cup Improve SF Bay?
What a fright. Imagine if all the landfill planned for San Francisco Bay circa 1961 had been carried out.
(ooo, creepy)
(and I hope you "had" a HAPPY HALLOWEEN)
In 1961, Cadillacs had tailfins. . .

. . . bigger was better, and the city of Berkeley, for example, was planning to expand via landfill into a huge chunk of what San Francisco Bay sailors now know as the Olympic Circle, Berkeley Circle, or just "the Circle." A body of water where, in the fifty years since 1961, legendary figures have sailed, and legends have been born.
Fifty years after Berkeley's expansion plans were blocked by public outcry, many years after the blocking of a host of other landfill plans (read garbage dump with dirt on top, then housing and the like), the organization that sparked that public outcry—Save the Bay—is throwing itself a 50th birthday party. And, it is one of the environmental watchdogs that have pitched themselves into the fray in support of America's Cup on San Francisco Bay.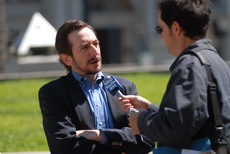 Save the Bay Executive Director David Lewis spoke recently to a forum on the San Francisco cityfront, and he told his audience, "We have two opportunities, and they are enormous opportunities. We can demonstrate what we're doing here, in this very eco-conscious community, to take care of our part of the marine environment. That could become a model for others, and it should become a model for others. The America's Cup World Series is an export vehicle. We also have an opportunity to create a huge event that can actually leave the environment better off, and leave the city and the economy better off. What a wonderful opportunity to have, and what a wonderful legacy to leave."
Save the Bay, btw, itself became a model for organizations around the country and around the world.

As a member of the America's Cup Organizing Committee and an advisor to the event, Lewis is one of a group of leading environmentalists who have rolled up their sleeves to make "sustainability" more than just a buzzword in connection to AC34. Cut the fuel burn and emissions of America's Cup 2007 in half? That's one stated goal. Raise awareness and develop new, greener ways to interact with the bay? Why not? So you see, this is not window dressing. If sailors don't care about the waterways and the ocean, who does?
The Draft Sustainability Plan runs 38 pages. You're forgiven if you don't make it all the way through, but with so many regattas and sailing organizations taking on ocean-health causes, it is heartening to see the big one going the extra mile.
Save the Bay's birthday bash happens Wednesday evening, in downtown San Francisco, and you're invited. This is a fundraiser, as well it should be. And if you can't go, this is one of the outfits worth your support, anyway, anyhow. Otherwise we could be looking literally at what I like to joke about, when I talk about SF Bay tides and currents, as the San Francisco River.
A note to the reader: Some of you have wondered if I got a bit lost after my sojourn in Tonga. Just busy, and nothing's changing. This post feels like hasty pudding. But I thought you should know, and now I gotta go . . .