China sans Chinois
Or at least, with less Chinois.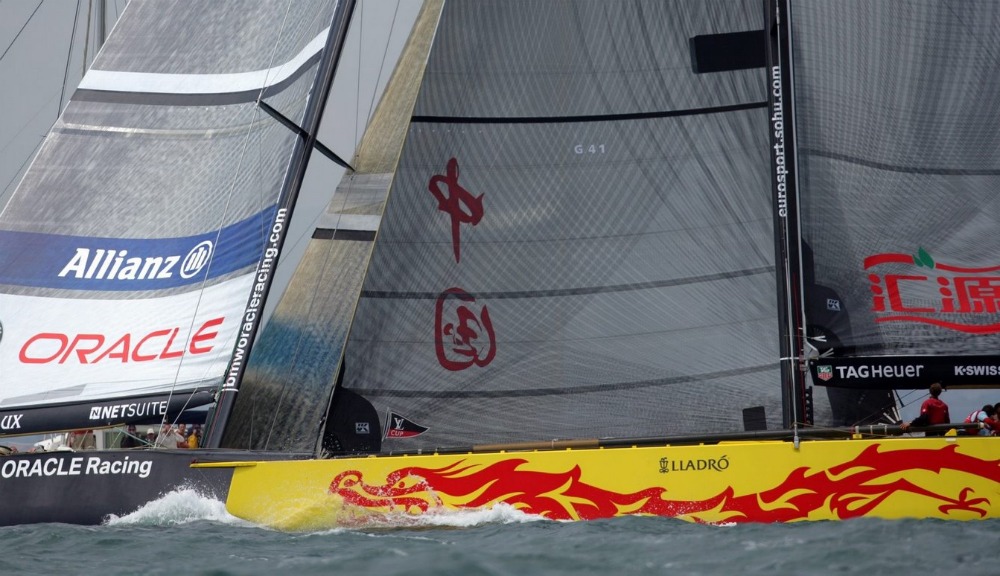 Photo by Gilles Martin-Raget/Oracle Racing
We don't have to expect the newly (finally) announced China Team to be the most competitive 2013 America's Cup challenger to make China Team worth watching.
Think "serious" circa 2016 after a 2013 learning experience?
Perhaps.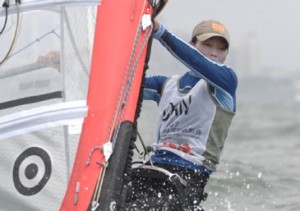 In Valencia in 2007 this was essentially a rebranded French team and pretty hapless on the racecourse. But China has been on the March in sailing and we are promised that the new incarnation will be much more Asian, much less European. And in the long run it could be tougher to beat. The government in Beijing has thrown its weight (money and expectations) behind Chinese Olympic sailing—or maybe you don't remember the results of the women's RS:X in Qingdao, with Jian Yin taking the gold. Four years ago, Beneteau joined in a partnership to introduce ocean racing (lite) via the China Cup, and boat manufacturing has been moving to China for the same reasons that manufacturing in general has made the move.
I note that the official announcement of China Team's entry asserts "the full support of the Chinese government."
San Francisco being a city with a Chinese-American interim mayor and a Chinese-American chairman of the Board of Supervisors, etcetera, I'd say that an America's Cup on San Francisco Bay just got a lot more interesting for a whole group of people who didn't even know they were a potential fan base.
And as for China itself, well, people there are curious about this strange phenomenon of sailboat racing. The 2010 Hobie 16 worlds were sailed in Weihai, with a mostly Australian and Asian contingent in the 220 entries from 22 countries. Jerome Le Gal and Enrick Obert of France were the Open division winners and not threatened by anyone local. But the local press let the citizens of Weihai know that something was happening down on the beach, and urged them to turn out, and turn out they did. Go ahead, tell me it's like this in your home town when the boat races drop in. Photos courtesy of Hobie . . .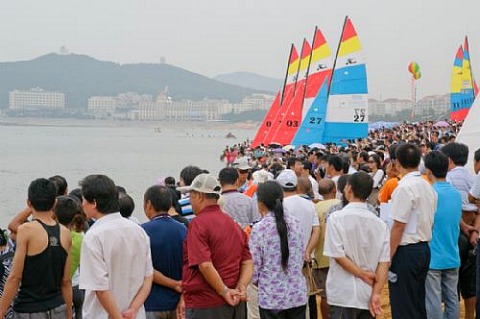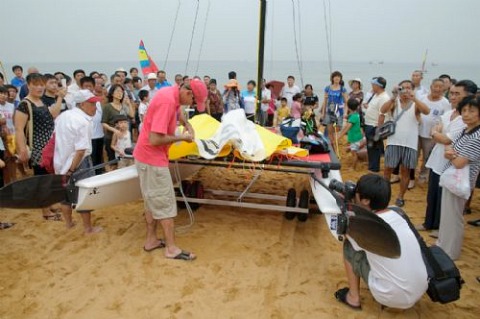 Crowd upon crowd is the kind of response that San Francisco is hoping for, come 2013, and I am reminded that when America's Cup Race Management CEO Iain Murray brought his Color 7 skiff to San Francisco in the 1980s (a first for the "Eighteens") we ran a major promo photo on the front of the Chronicle Sporting Green and the response from the public was, um, a few nice ladies walking their dogs on the beach, wondering what these strange contraptions were for.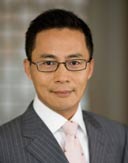 Wang Chao Yong, Executive Chairman of Origo Partners PLC, returns as China Team's big man. Here is what Origo has to say about itself:
"Origo Partners PLC is a Beijing-based private equity investment company, focused exclusively on growth opportunities created by the urbanization and industrialization of China. Origo is listed on the London Stock Exchange (LSE: OPP). Origo's investment strategy is focused on the natural resources and renewable energy/clean-tech sectors. We generally prefer Chinese profitable expansion-stage companies; we also consider earlier stage-opportunities, particularly in the metal and mining space. Origo has developed a significant presence in Mongolia to supply Chinese demand for natural resources. In Mongolia our focus is on coking coal, copper, gold, iron ore and related infrastructure opportunities."
The following is excerpted from the official announcement at AmericasCup.com that China Team is the eighth challenger for America's Cup 34—
Mr. Wang Chao Yong, chairman of China Team, is delighted to lead the challenge for the second time and believes that he has put in place a team of experts who will lead China Team to greatness.
"All boats need to be designed by the team, and built in country. We have been working with some of the best worldwide designers for hull and wings for a few months already, in partnership with top Chinese Universities. This is an opportunity to showcase China's talents in the leading-edge hi-tech areas of both hydrodynamics and aeronautics. Our boat will then be built in China, and ready to sail by February 2012," said Mr. Wang.
"This America's Cup will feature the best sailors on the fastest boats, so we're very happy to be part of this adventure with China Team, a boat which will truly represent China, as most sailors will be Chinese", Mr. Wang added.
Thierry Barot, CEO of China Team has been busy recruiting the worldwide and Olympic champion sailors who will be responsible for training the sailing team. "Our boat will be powered mainly by Chinese sailors, and we are very fortunate to have an elite team of international sailors to come to China and train our Chinese team".
Full disclosure: I have a soft spot for China Team. They sold me the bike that made Valencia, 2007 so much more tourable.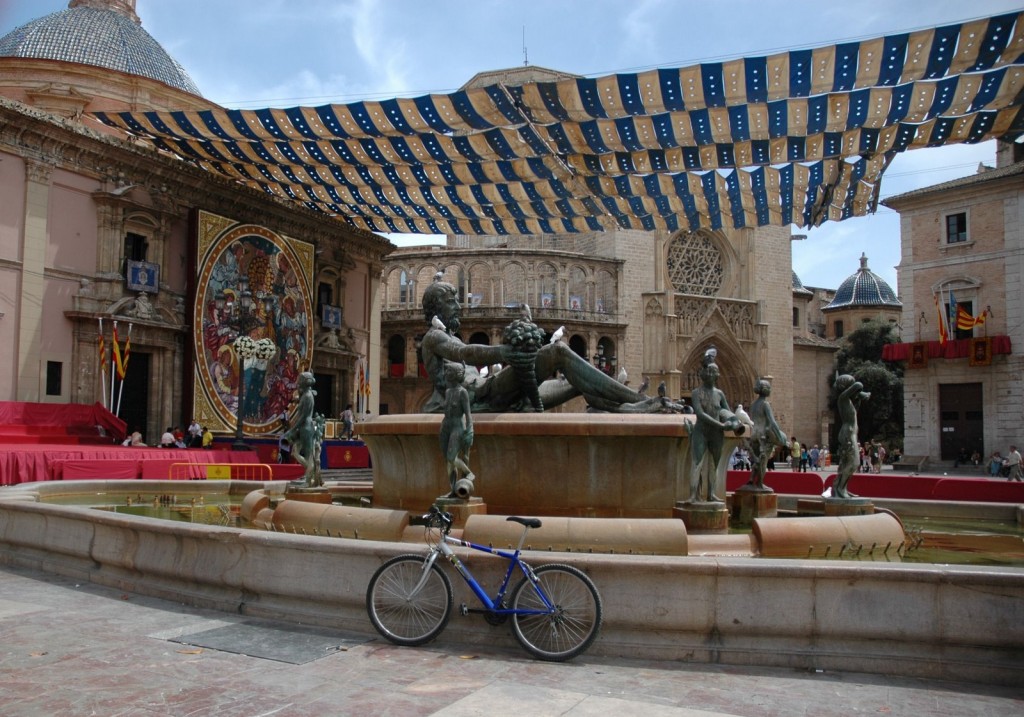 Had to leave it behind in the evacuation, sadly.