Choices
There's a line by the poet, Theodore Roethke, "I learn by going where I have to go."
It applies doubly to the sailing life.
When the ketch 4-P.A.C.K. set out from California on Valentine's Day, 2007, Karl and Andrea Matson-deKay knew the sailing life inside and out. Before kids, they had spent two years exploring Mexico in a Westsail 32. Now as they crossed the border a second time, planning to wander from anchorage to anchorage, they had no idea that two years of such wandering would lead them to the village of La Cruz de Huanacaxtle, where they would find themselves "inside" at a marina and kinda sorta settled down, happily, in Mexico.
With two kids in school after years of home schooling.
Home being the boat, of course.
Like most cruiser kids, 15-year-old Casey and 10-year-old Patrick are engaged and engaging and as comfortable in their skins as humans get to be. After two years of wandering the Sea of Cortez and the Mexican mainland, the kids are also the language leaders. Karl relates, "When Spanish comes at me too fast, I turn to them."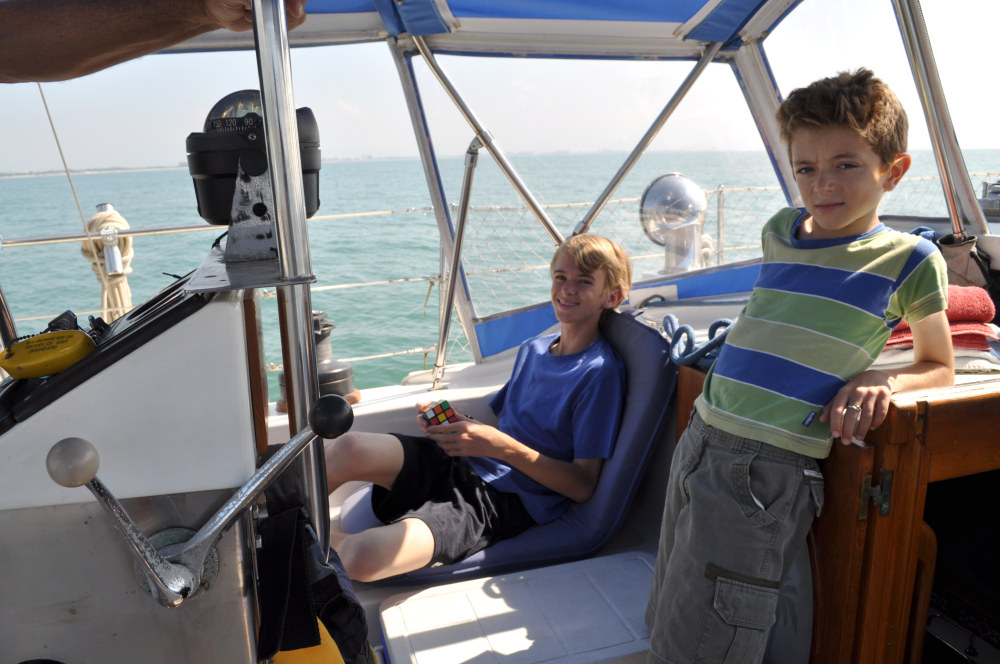 Casey with his Rubik's Cube, and Patrick
Kids who, we might add, were not Spanish speakers when they left California.
Who, we might also add, are the reason that 4-P.A.C.K. presently resides in Marina Riviera Nayarit instead of swinging to the hook.
Who attend a bilingual school in nearby Bucerias where nearly all the other students are locals learning English as a second language. Credit Casey. At a certain point in the wandering, his version of the universal teenage freakout was to announce—
"I want friends . . . who . . . don't . . . sail . . . away."
Can you spell cruise-has-hit-a-crisis?
On occasion I have written cruiser-family stories where the glow was all about continuing on, and occasionally bumping into old kid-friends in surprising places or—this happens a lot—building traveling communities around the kids' friendships. Which, just because it happens "out there" doesn't make it so very different from the way that families ashore network around kids and schools.
Andrea says, "Casey had his needs, and we thought, is it over? The cruise? The sailing life? Do we have to go back to the States?"
Nope.
Choices.
Like many Norte Americanos who take the time to experience Mexico, and not just visit, these people like the place. They like the people. Karl makes occasional excursions to California to work as an aerospace program manager, to replenish the kitty, so Mexico is conveniently close. The boat has been home for five years. Casey moved aboard in California at age 11. Patrick has hardly known another home. And yes, it's different, being tied to a dock, but they haven't lost the life. In the marina, from across the water, came a cheerful voice and an invitation familiar to anyone who's ever been out cruising, "Pot luck dock party tonight!"
Andrea grinned: "You should see it. There'll be kids running all over the place."
For their wedding 20 years ago, Andrea and Karl registered at West Marine. They're serious about the sailing life, and they really wanted out of California this time, away from the daily predictables, to share their personal vision.
Andrea frames it this way: "We saved like demons to be able to go cruising on the Westsail as our last wild, crazy thing to do before we had kids, before we'd be focused on the college fund. After two years, it was time to have babies, and we wanted to do that near family. So we did it. We had kids and jobs and a house and a life that would look familiar to lots of people. But cruising kept tugging at us. In time, we realized that the kids weren't the reason to stay home. They were the reason to go. You can talk to kids about where water comes from, where electricity comes from, how to know how much you have and be mindful of your consumption. You can talk, but when water and electricity just keep gushing out of the wall, they don't get it; they can't possibly get it. Living in a house, we assigned chores, but we didn't really need the help. We wanted to live in a way where we truly needed the kids as partners, and the four of us could be a team."
Karl fine-tuned the point this way: "When you're at anchor, the dishes have to be washed and dried and put away, not because I said so. I don't know how many times we've had to shake out at 3 a.m. when the weather turned around and we needed to hustle ourselves off a lee shore. The boat has to be ready to go. The people have to be ready."
Leaving California, then 13-year-old Casey wrote in his journal, "So far the most annoying thing is that I don't know any Spanish, so if someone comes up to me I will have absolutely no idea what they're saying." Now his Spanish is so good that the school plans to pull the support plug soon and pitch him into the Spanish-speaking pool.
But I've just made things sound too easy. For a reality check, let's drop into Casey's Facebook posting of last September 21, soon after the opening of the fall semester. There we find him telling his friends, "I wish I could wake up tomorrow and know Spanish." A simple declarative sentence, that, but I suspect it is meant to be read IN CAPITAL LETTERS WITH A TWIST OF AGONY! Because nothing comes easy.
The must-have item in Casey's grade is the Rubik's Cube, and you won't beat Casey at that game. He's the master of the boat's systems too ("good to have around," says mom) and he's a Mexico cruiser-net's go-to guy for computer issues. Or let me put it this way. He's no longer doing a blog, but when he was, he launched with voice-recognition software.
Fifth-grader Patrick discovered a while back the pleasures of a good swordfight with another boat kid, and his stick collection has since become a major storage issue. Patrick leads all hikes, with stick/sword in hand to clear the way. He also fights imaginary enemies on board, battles that involve dodging, lunging, and dying. All on a pitching deck. Prompting Casey to ask, "Mom, should we be more worried that he's fighting imaginary enemies or that he seems to be losing?"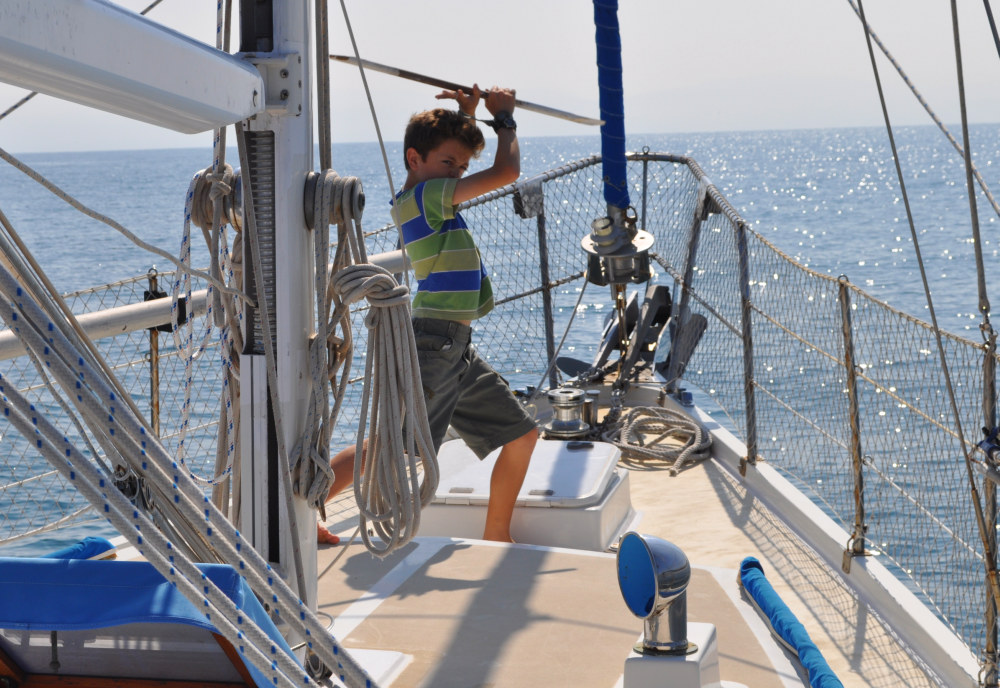 Patrick on duty
The sun was bright at 20 degrees north, and the Valle de Vallarta was heating and drawing in the seabreeze right on schedule. We could look across the whole of Bahia de Banderas, from Cabo Corientes on the south to Punta Mita on the north, and the sweep of the shoreline between. Away over yonder somewhere was artsy, counterculture Yelapa, where the hip live semi-outdoors in palapas and that's all anybody needs after two sips of raicia. Mismaloya, where the Elizabeth Taylor-Richard Burton scandal put Puerto Vallarta on the map during the filming of Night of the Iguana. The towers of the modern city of Puerto Vallarta itself. The towers of pristine, secured Nuevo Vallarta. Blue mountains backing all.
I was the family's guest for a day on Banderas Bay, easily one of the finest places in the world to sail, and this was the maiden voyage for the new mizzen.
4-P.A.C.K. is a Bruce Roberts-designed ketch named for Patrick.Andrea.Casey.Karl. A team, doing the international thing, their way.
Karl cast off the lines.
Casey had the helm. Tomorrow would be a school day, but not today.
The Waking
Theodore Roethke

I wake to sleep, and take my waking slow.
I feel my fate in what I cannot fear.
I learn by going where I have to go.
We think by feeling. What is there to know?
I hear my being dance from ear to ear.
I wake to sleep, and take my waking slow.
Of those so close beside me, which are you?
God bless the Ground! I shall walk softly there,
And learn by going where I have to go.
Light takes the Tree; but who can tell us how?
The lowly worm climbs up a winding stair;
I wake to sleep, and take my waking slow.
Great Nature has another thing to do
To you and me, so take the lively air,
And, lovely, learn by going where to go.
This shaking keeps me steady. I should know.
What falls away is always. And is near.
I wake to sleep, and take my waking slow.
I learn by going where I have to go.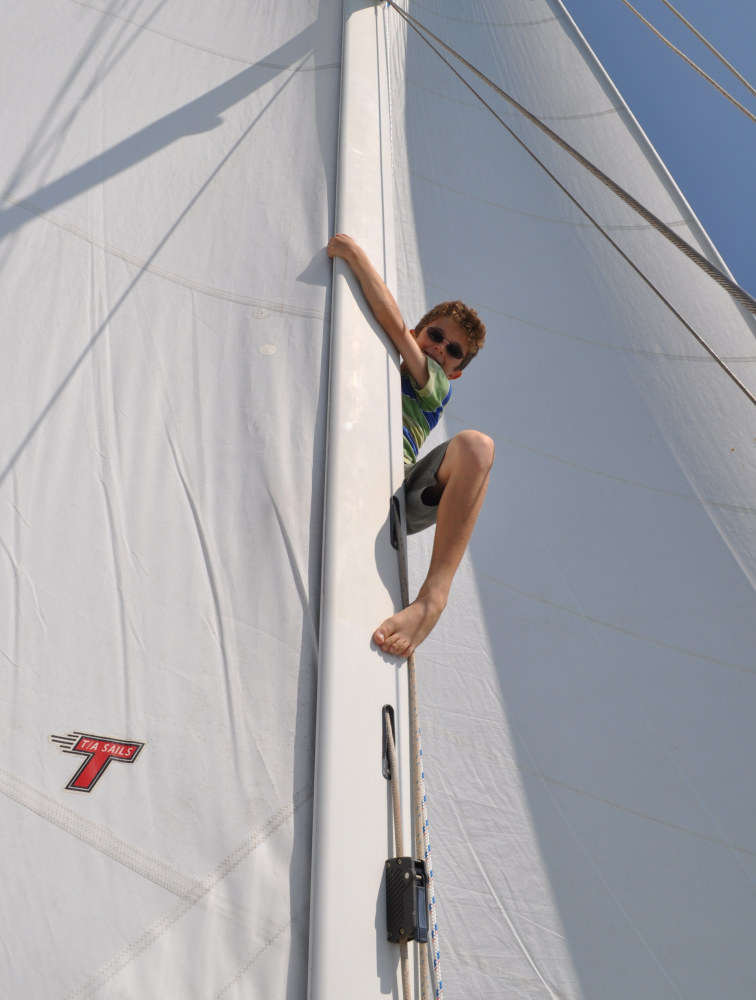 "What I like about the cruising life is that it's the National Geographic for real. People say they'd love to swim with the dolphins, well, look over the side of the boat and there are the dolphins. You want to see whales? Look over the side of the boat and there are the whales." Patrick Matson-deKay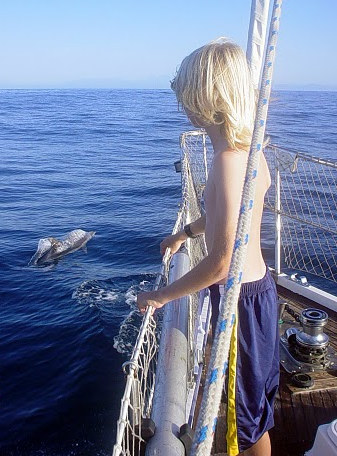 Photo by 4packsailing.com