Digging Deep for MEXORC
MEXORC has always been a moving target, and for 2010 it's being redesigned yet again. This is your looking-ahead checkup, because there's been a concern and maybe we can clear that up. But first—
The essential West-Coast-of-Mexico-biennial is now a featured component of the inaugural Regata Copa México, intended to celebrate the country's bicentennial and then build from there. Some pretty smart people are promising the best-ever Mexican Ocean Racing Circuit, and I'm ready to believe them. When MEXORC is on target, my world is a better place. Nextel has stepped up to sponsor, so late February sees the opening of the Edición Nextel Bicentenario.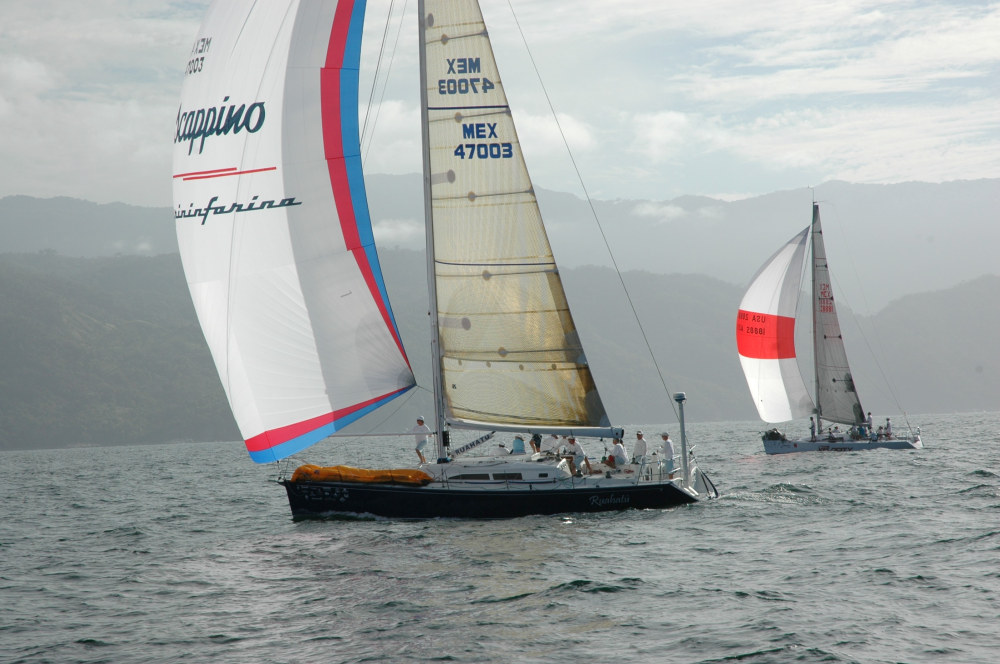 MEXORC racing in 2008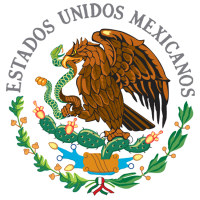 All year long México is honoring both the 200th anniversary of the birth of its independence movement—think 11 hard years from birth to independence—and the 100th anniversary of its revolution. The big dates come up in the fall, but now is the season for sailing in Bahia de Banderas, the Bay of Flags, so that's just what we're going to do. What MEXORC veterans will notice is a new location, some extra hoopla, and the connection to races for J/24s, Optis and kites. Oh, and some major beach volleyball.
"Major" meaning they expect thousands of people.
Also on the 27th of February, Mexico's two Olympic Laser sailors, Tania Elias Calles and Pablo Rabago Dorbecker, will set sail from Los Cabos to cross the Sea of Cortez for Bahia de Banderas—from the Baja peninsula to the mainland—on their Lasers. With escort, yes. They'll enter the Guinness records if they succeed. Probably this is a 48-hour deal, so check your watch on the 27th and then check it again from time to time as the big hand goes round and round and round and think of Tania and Pablo, still hiking.
Here was Tania rigging up to sail when I passed through La Cruz. "This time, 2012," she said, regarding the medal thing.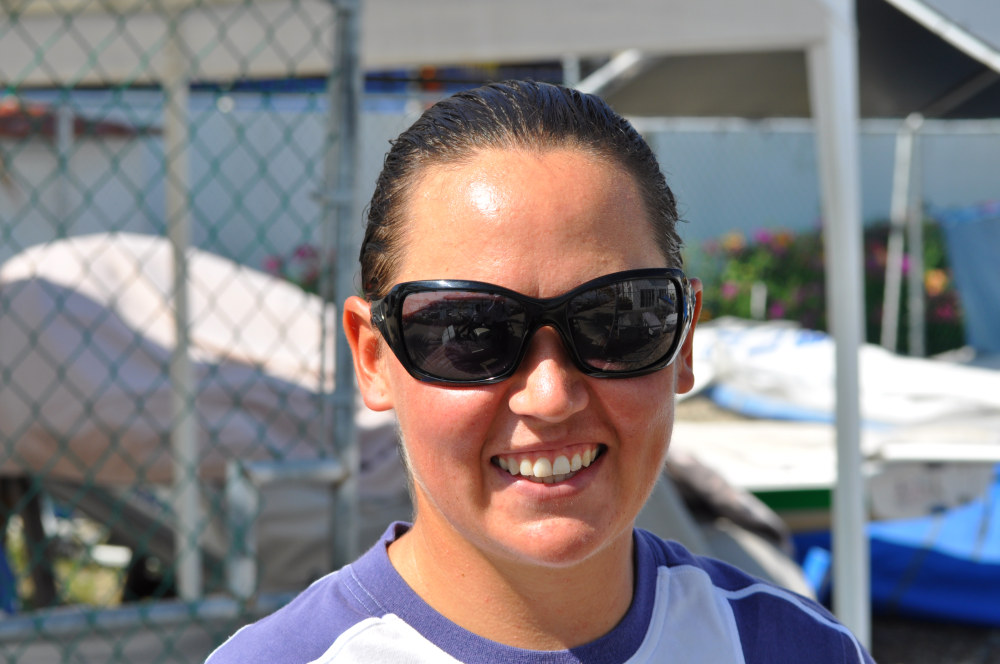 The Name That Won't Die?
The Mexican Ocean Racing Circuit was born 32 years ago as a genuine circuit; however, the logistics of moving from port to port often outweighed the attractions. For a long time now MEXORC has been a series of day races from a central location, but if you've read this far you've noticed that the original name stuck. My guess is that we'll still be hearing about MEXORC long after the Regata Copa México comes of age.
For 2010 the fleet is being relocated north from Nuevo Vallarta (2008) to the village of La Cruz de Huanacaxtle and the harbor of Marina Riviera Nayarit. No bones about why. Two years ago, even though Bahia de Banderas is one of the best places in the world to sail, there were people who were unhappy because they could not get their boats into the harbor at Nuevo Vallarta. Dredging had been promised, but—
The bigger boats anchored out, requiring attendants and requiring crew to make a daily hippity-hop from dinghy to deck, deck to dinghy. Nothing horrific, but not right, the only blight on an otherwise ambitious and shining event.
It's fair to say that no one was more unhappy about that than the architect of the regatta (who is also an architect, professionally) Ernesto Amtmann. Officially he is president of the regatta. He is also the skipper of a class winner in 2008, the Frers 43, Bandido, and he recalls, "They promised they were going to have the depth, but I draw nine feet, and I couldn't get in. So that left us with an issue, and it left people wondering, and we intend to deliver."
What he promises to "deliver" at La Cruz is depth. I passed through in December, and at low tide I did some probing for depth and determined that they still had work to do. The worst was an eight-foot reading at a bump right outside the jetty. Amtmann confirmed as much. "We're on it," he said. "We intend to go to 15 or 16 feet."
I saw the dredge . . .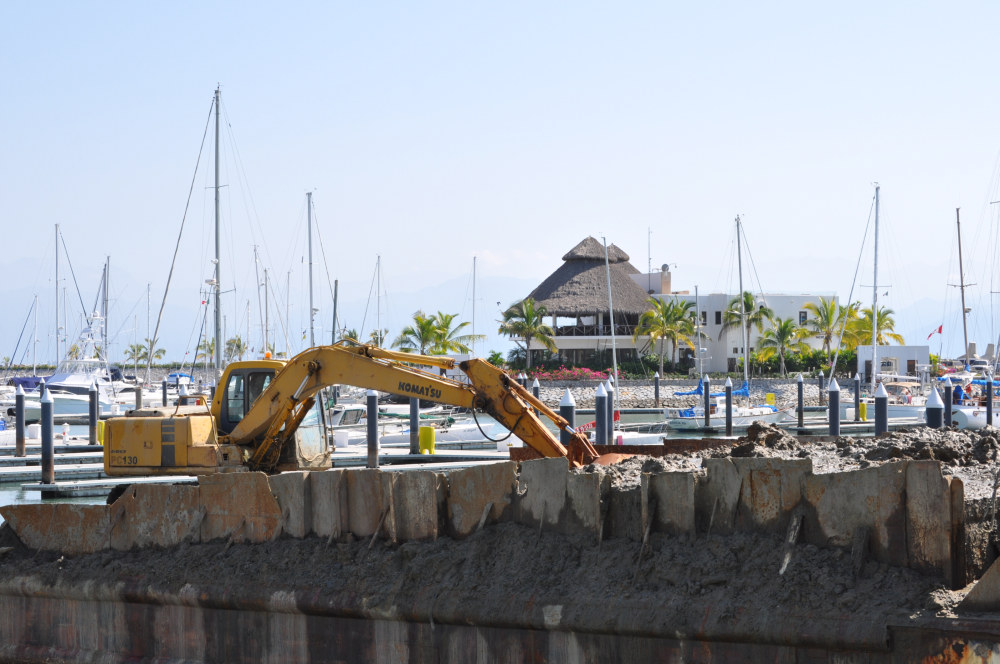 More recently, Marina Riviera Nayarit harbormaster Rafael Alcántara Luarte supplied the image below, with low-tide depths marked by the race organizers.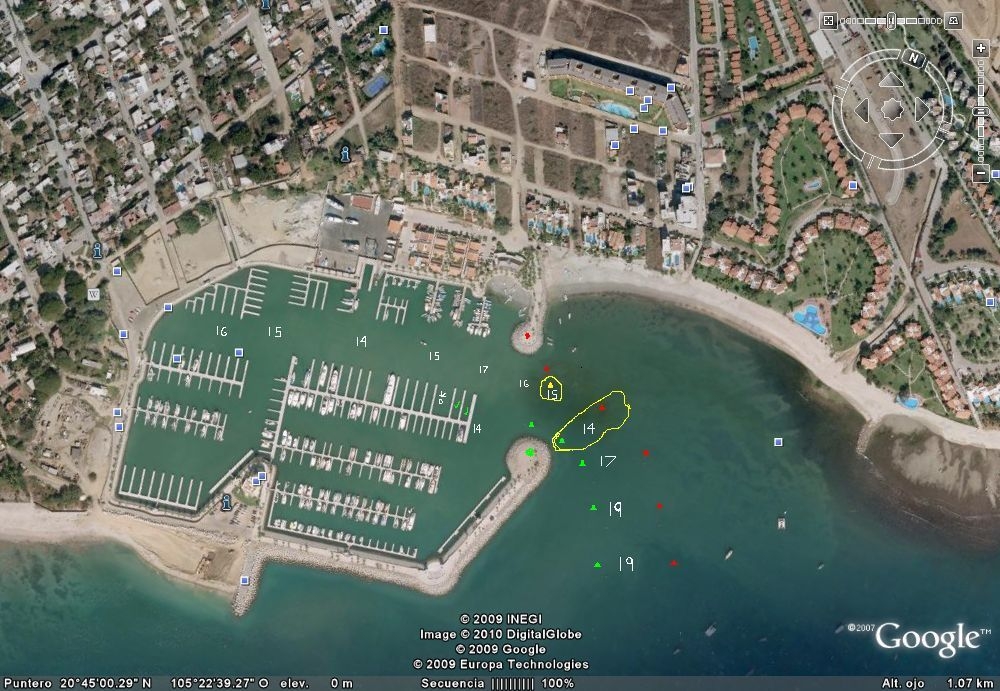 The marina is modern, almost chic, but the village of La Cruz de Huanacaxtle, while not exactly undiscovered, still feels like a Mexican village of old and it's a short walk to the watering holes. This place is a cruiser's favorite. Here's a view from the roof of marina headquarters, with cruisers riding to the hook outside the harbor. You're looking south across Bahia de Banderas, toward Mismaloya, Yelapa . . .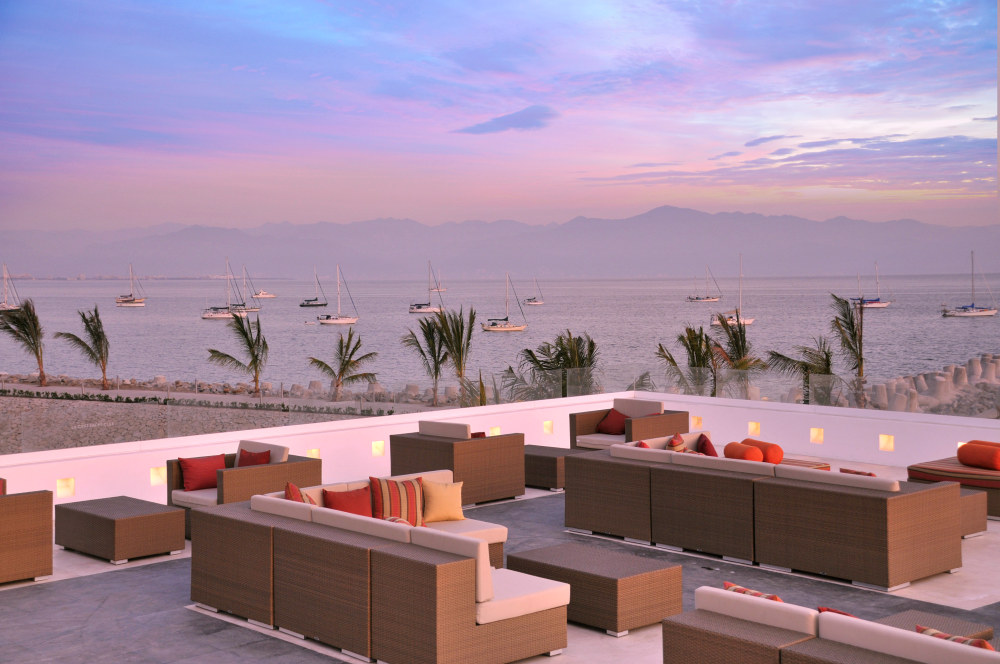 On the fishermen's side of the harbor, things look like this . . .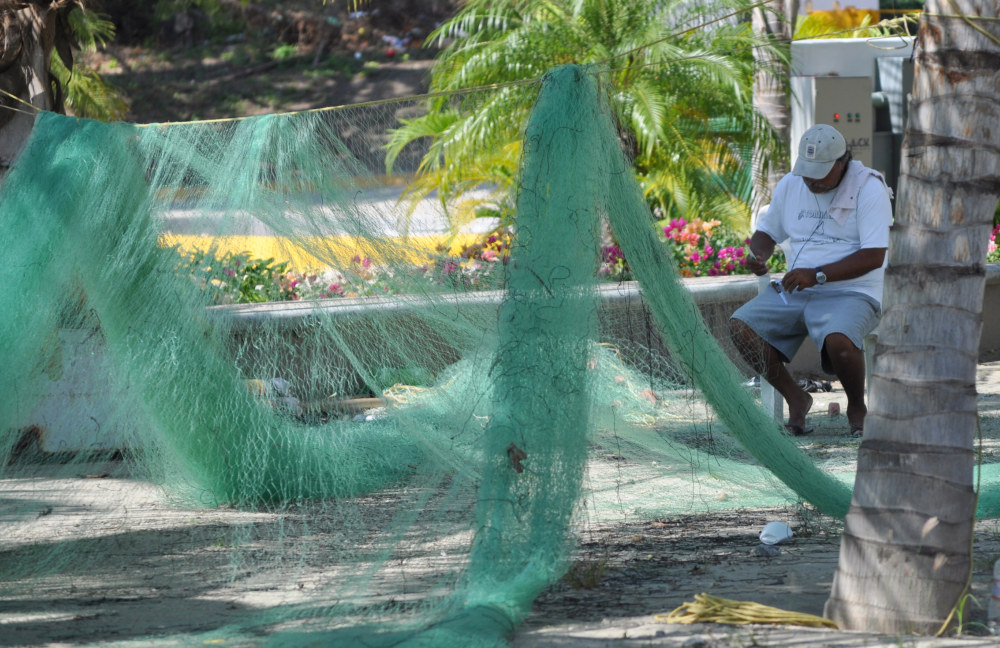 And if you have never sailed in Bahia de Banderas, you are missing one of the blessings of the sailing life. The official competitors' hotels are at a distance from the marina, but there will be shuttles running back and forth. It's hard not to like La Cruz. Amtmann and Alcántara Luarte toured the West Coast of the USA last fall, making calls on yacht clubs and past competitors such as John MacLaurin, who hopes to be there with a new 70-footer but has for now officially entered both the San Diego-Puerto Vallarta Race and MEXORC with his dear, only slightly-old, 52-foot Pendragon IV. "p4" as he would call it. When I asked if that meant that the new boat was a (temporarily) dead duck, John emailed back, "nope. backup. p6 is on a freighter due the 9th."
Wow. His division of the San Diego-Puerto Vallarta leaves San Diego Yacht Club on the 20th. Even the talent that MacLaurin can put on the case will have their hands full prepping a 70-footer and delivering it to the start line ready for a 1000-mile coastal race and ready right away after that to race around the buoys, but dang, I hope it happens. Boys, if you can pull it off the beers are on . . .
Wait. I'm not that stupid. Talk to John. But—
Good luck and good hunting. The California coastal races are an essential MEXORC feeder, and with or without the new boat, they're going. Of Amtmann and Alcántara Luarte, MacLaurin says, "They came to me, and that was persuasive. We expect exciting, interesting racing just as in the past."
And Amtmann is bringing in top international talent, to run the race committees to support that expectation.
The MEXORC portion of Copa México runs February 27-March 6, identical to the schedule for kite racing up the road a bit at Bucerias. Mexico has a world champion kiteboarder in Sean Farley—yes, I know how it sounds, but the guy was born in Colima, Mexico and that's home and that's the way it is—and Farley will make the scene along with a big slice of the world's best.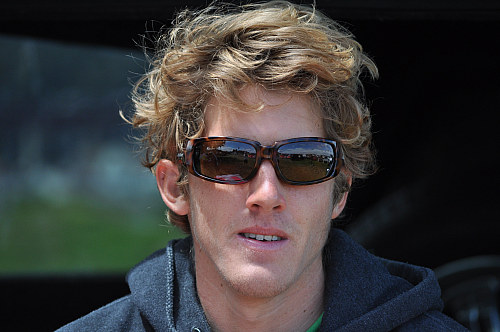 Kite champion Sean Farley
There's also a freestyle kite competition March 4-6 that should be well worth the spectating. Farley explains Bucerias as the windiest spot on Banderas Bay. In the morning Bucerias often has a regional breeze flowing over the mountain from the north, but as the day warms and the Valle de Vallarta heats up, the breeze switches around to the west, turns into a seabreeze and funnels like a champ.
Regata Copa México is meant to grow and evolve, Amtmann said. "We intend to change the venue every two years depending on the bidding of local governments. We'd love to be racing in the Sea of Cortez in a couple of years. Then we'd need to think of a joint venture with the Cabo Race. We like to race against the American fleet, so tell us 'where' next time and we'll be there."