Down to Reality
In just a few days, San Francisco will have a new mayor and California will have a new lieutenant governor (the former mayor) and the new mayor and the city and all our little elves will be rolling up their sleeves to make this America's Cup scheme work work work.
There's a year's worth of environmental review to accomplish, and then some piers to overhaul, and meanwhile in New Zealand we're closing in on the launch of the first of the one-design 45s that are supposed to kick off the America's Cup World Series in Europe early next summer.
It's a race to the race, on every hand, but come 2013 we will be six years on from the last "proper" match for the greatest prize in sailing—one year longer than it took Auckland to get ready after New Zealand took the Cup from San Diego in 1995—so I hope the persistent rumors of "2014" are just that, rumors.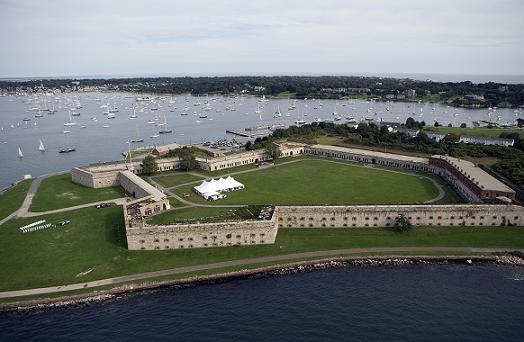 Fort Adams State Park, Newport, Rhode Island
Back in Newport, meanwhile, they're still eager to play host to a roadshow event. The Oracle Racing Team's director of external affairs, Tom Ehman, was in San Francisco last Wednesday for the celebrations at city hall and at Golden Gate Yacht Club, but he was on a plane headed east in a rapid turnaround and, bingo, once again in Newport to work out details for bringing catamaran racing to Narragansett Bay in September. That will be the first American stop in the World Series tour, en route to a final 2011 event in 45-foot cats on San Francisco Bay.
Here's what Newport is starting with . . .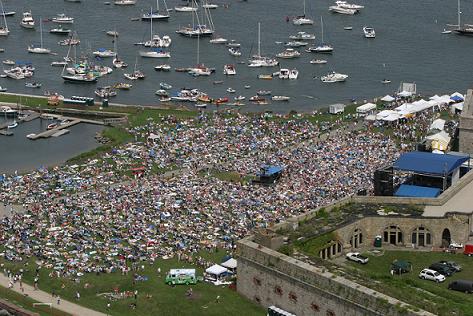 Providence Journal reporter Kate Bramson writes, Ehman said he traveled to Rhode Island this week with "two asks" for Rhode Island: Could the state be ready to host an America's Cup World Series event this September and could the state be the Cup's backup plan for the final Match races in 2013 if, for any reason, the deal with San Francisco falls apart?
"We don't think there are any problems in San Francisco," Ehman said. "But if for any reason it falters … we need — as prudent sailors, businesspeople, event organizers — we need a backup plan and from what I've heard today from … the governor and on down, everyone has said, 'Yes, we think we can figure out a way to help you on the small chance that happens.'
Rhode Island hopes to leverage a World Series stop to enhance Fort Adams as a sailing facility. That will have longterm advantages for the state, which already is an attractive destination for sailing events but needs better shoreside access. It's not a done deal, but we can figure it will happen.
The state of play . . .