Excuse Me, It Takes a Sailor
On mark roundings, tacking drills, gybing drills and kites
As a longtime member of what some people imagine to be a stuffy yacht club on the San Francisco cityfront, I am pleased to share a few thoughts regarding the skill sets of the racing sailor and the place of kiting in that community. The thoughts, that is, of fellow club member Johnny Heineken, second place skipper at the US Youth Sailing Championships of 2006, first place skipper at the 29er Nationals that year and at the same time a key member of UC Santa Barbara's sailing team. More recently, podium number one at the 2011 kite course-racing world championship. Number one, as in crushed the fleet. As in, fell all the way to second twice in twelve races, and that includes come-from-behinds in which he lost sight of marks in high winds and high waves and had to turn around and chase down people who had been lucky enough to blunder into the right patch of water.
And the point is, he is (still) a sailor.
At the peak, waves to three meters, according to the race committee. Six to eight feet, I heard from the sailors. What we know for sure, race committee work was an exercise in survival (thanks, guys), and photographers couldn't get out, much less do their thing. There is no visual record of those races.
The worlds wrapped last week in Sylt, Germany. Now it's time to think this through.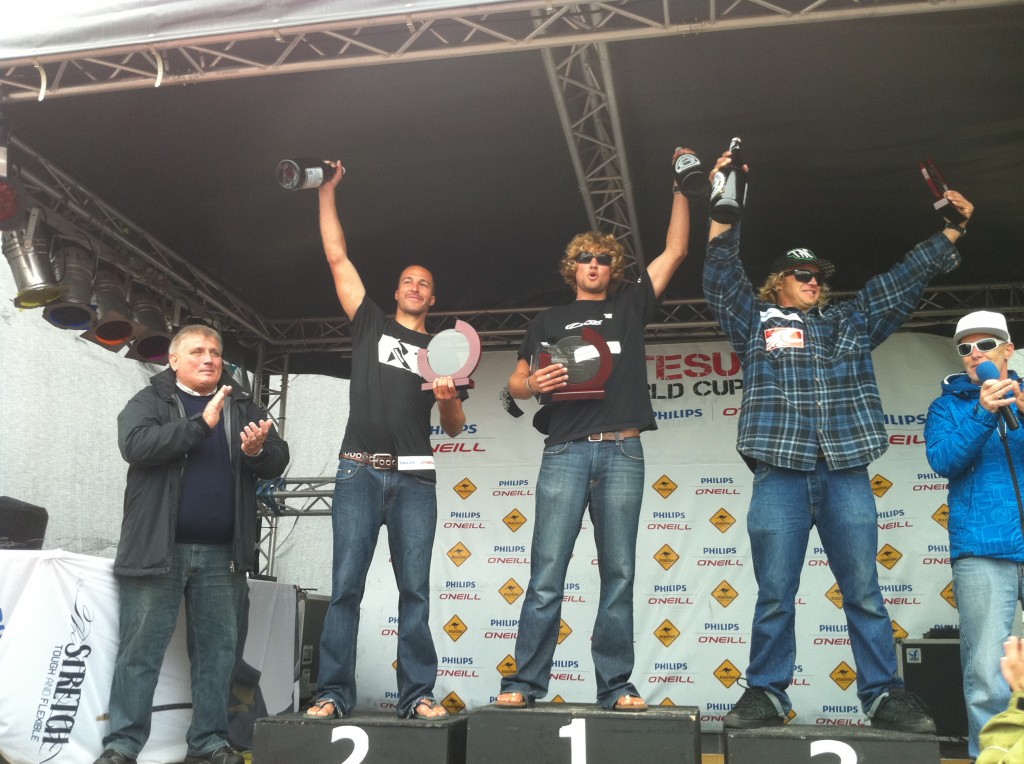 Johnny Heineken standing between second-place (2010 champion) Adam Koch, left, and third-place Bryan Lake, right, in Sylt, Germany. Photo courtesy flyozone.com
First off, I reckon my fellow yacht club member's blue blazer was a mite crumpled from travel, and he was embarrassed to wear it on stage. No doubt, his club tie is somewhere in lost luggage, but it will turn up. We should note that Mr. Heineken had been going to school and later interning while a lot of his competitors were full-time kiting, so even he may have been surprised by so much success.
And here is what I get from our UC Santa Barbara graduate and Team Ozone sailor. As they used to say in late-night TV, Heeere's Johnny . . .
Two weeks ago a contingent of Bay Area kiters left SFO with our boats in our bags, headed for Europe. The crew included 2010 World Champion Adam Koch, his brother Andy, San Francisco Bay legend Chip Wasson, Bryan Lake, Joey Pasquali, and me.
Coming from the Bay Area, we fancy ourselves big-breeze sailors, but Sylt took us to the next level plus. Over the six-day Kiteboard Course Racing World Championships, this tiny German island in the North Sea provided us with the gnarliest conditions I have ever experienced under sail. But the boys from San Francisco Bay held it together, taking first, second and third. In fact, six of the top thirteen sailors were people who regularly race in the Thursday night series at St. Francis Yacht Club, where kite course racing was invented. For us locals, it's the equivalent of "beer can" racing, but, considering the evidence, it is just possible that these Thursday night races are as competitive as any international event, anytime, anywhere.
All the Bay Area guys have boat-racing backgrounds. Yes, "the sail" is flying, and yes, "the boat" weighs 12 pounds, but really, this is just another form of high performance sailing (and I would argue, the most fun). Having good starts and calling good laylines is just as important as in a 29er or a Club 420.
Even as San Francisco Bay/Northern California sailors, it's not every day that we can sail in winds of 30+ knots, with giant waves. Truth-to-tell , there were moments when I got that same scared s***less feeling that goes with pulling the tiller toward you on a 49er bear-away. And maybe I should just say that we were more prepared than the rest of the fleet of 65 sailors, but there were things we did that made a difference. Two in particular:
1. We worked together on technique and designs, sharing everything, always pushing the performance envelope and improving as a group. Bay Area board designer Mike Zajicek shaped and built all our boards and worked with our feedback to refine and improve them. Fin and kite designers were actively, I should say fervidly, engaged. We had no coaching or group funding a la the French team. But as I said, we trained together and shared knowledge. The French were caught up in their own competitive bubble. We sailed past them as a group.
2. We trained hard and effectively. Living in trailers at Sherman Island and sailing 2-3 sessions per day on the river got us the sailing time we needed. I sometimes carry a GPS, and after one day of sailing a while back I had covered more than 75 miles, averaging 16 knots upwind and high 20's downwind, with a top speed of 34 knots. That's a lot of sailing. But we didn't just grind on boat speed for hours on end. Short courses, mark roundings, tacking and gybing drills—that was the most valuable practice. Our comfort in maneuvers and around other kites allowed us to get our heads out of the boat and into the racing.
What are the lessons? Again, two:
1. Kite course racing is ready for prime time. Visually, it is spectacular, featuring crossing speeds of 30 X 2 knots and very close competition among superb sailors and athletes. We even have our controversies, and if you're a racing sailor, they might have a familiar ring. For example, our raceboard "box" rule is working well, producing boards a little over six feet long, and board development is moving too fast, in my opinion, for organizers to anoint a production class. Nevertheless, a production rule is scheduled to go into effect in 2012 (a minimum run of 50 boards) and everyone will have to be on a production board. Also, the rules allow us to register only three kites per event. This is well-intentioned, but it doesn't change the number of kites that most competitors buy, or carry to an event. It just sends them out underpowered or overpowered because they had to guess too far ahead. It lowers the quality of competition, it can be a safety issue, and I guess we'll be talking about it for a while.
2. San Francisco Bay has yet another claim on being the high performance center of the sailing world. J.H.
AND THIS JUST IN
MAYOR LEE ANNOUNCES MILESTONE IN PLANNING FOR THE 34TH AMERICA'S CUP EVENTS AND CRITICAL RELATED PORT PROJECT
Public Comment Period Opens for Draft EIR for Events, Related Port Cruise Terminal Project; Represents a Key Step Forward in Meeting the Challenge of Hosting America's Cup Events
San Francisco, CA—Mayor Edwin M. Lee today announced the issuance of the Draft Environmental Impact Report (EIR), a critical milestone in the planning for the America's Cup events in 2012 and 2013 and the associated construction of the James R. Herman Cruise Terminal at Pier 27 by the Port of San Francisco.
"This is a major milestone for our efforts to bring the excitement of the America's Cup events here to San Francisco," said Mayor Lee. "The Draft EIR represents a significant and thorough effort by the City and its partners at the America's Cup Event Authority and America's Cup Race Management to analyze the impacts of the events. Now, with the help of further community input, we look forward to refining those plans even further in advance of the project approval process later this year."
The economic impact of San Francisco hosting the 34th America's Cup is significant, and includes an estimated 8,800 jobs, distributed widely across occupations from food and beverage to hospitality, transportation, and the construction trades, and nearly $1.4 billion in economic impacts to San Francisco and the Bay Area region.
The San Francisco Planning Department, pursuant to the San Francisco Administrative Code, Chapter 31, has determined that an EIR is required for both projects based on the requirements of the California Environmental Quality Act (CEQA). The Draft EIR presents an analysis of the physical environmental effects of implementing the proposed 34th America's Cup project and the proposed James R. Herman Cruise Terminal project. The Draft EIR addresses the full range of environmental topics required under CEQA, describing the environmental setting, assessing impacts, and identifying mitigation measures for potentially significant and significant impacts.
As set forth in the Draft EIR, the America's Cup events in the City are proposed to include two separate nine-day America's Cup World Series regattas in late summer 2012, followed by the Louis Vuitton Cup, The America's Cup Challenger Series and America's Cup Defender Series (if necessary) in July-August 2013 and the America's Cup Finals from September 7-22, 2013.
If the proposal is approved as described in the Draft EIR, the core and shell of the James R. Herman Cruise Terminal would be constructed to house America's Cup hospitality functions as part of the larger America's Cup Village at Piers 27-29, before completion of the remainder of the facility following the America's Cup events. Other key event locations would include Piers 30-32 (racing team bases), Pier 80 (racing team industrial bases), and park lands along the City's northern waterfront where spectators would be expected to congregate.
"With our partners, we've focused on building a plan that will deliver the greatest America's Cup ever seen, connecting millions of global fans back to the sport while respecting the needs and values of our host city and its residents," said America's Cup Race Management CEO and Regatta Director Iain Murray. "The proposal in the Draft EIR really supports that vision, and with further input from community, will enable us to stage an event that showcases San Francisco on the world stage as a top international destination and model for global sporting events."
"The energy and commitment shown by the City and its America's Cup partners with respect to the CEQA process has benefits even beyond the events," said Planning and Conservation League (PCL) Executive Director Bruce Reznik. "By upholding the engagement process around these key environmental issues the America's Cup is bolstering the commitment of the state of California to the thorough vetting of environmental impacts prior to the approval of projects."
"We are witness to an incredible effort by the City to mobilize planning and environmental resources and expertise under a microscope of public scrutiny and compressed time frame," said San Francisco America's Cup Organizing Committee Chairman Mark Buell. "This feat makes our job of raising the funds necessary to pay for the environmental review a little easier as our donors will be honored to support the City's herculean effort."
The Draft EIR was issued by the Planning Department today. Interested persons may obtain the document at the Planning Department Public Information Counter at 1660 Mission Street, 1st floor, or go to: http://tinyurl.com/meacases.
Oral public comments on the Draft EIR will be heard before the Planning Commission on August 11, 2011 where comments will be transcribed by a court reporter. Written comments will be accepted by the Planning Department until the close of the 45-day public review period on August 25, 2011. Written comments should be sent to Bill Wycko, San Francisco Planning Department, 1650 Mission Street, Suite 400, San Francisco, CA 94103, or sent by email to Joy Navarrete, the CEQA coordinator for this project, at joy.navarrete@sfgov.org.
After the close of the comment period described above the Planning Department will prepare a Comments and Responses document that will respond to all oral and written comments received. It will be published in Fall 2011 and then brought before the Planning Commission for final certification as required prior to any project approvals.
About the America's Cup
Nearly 160 years old, the America's Cup is the oldest trophy in international sport. The America's Cup has evolved into one of the world's leading sporting competitions – featuring the best sailors on the world's fastest boats, the wing-sailed AC45 and AC72 catamarans. The new America's Cup World Series begins its inaugural season August 2011. In the summer of 2013, the 34th America's Cup begins with the Louis Vuitton Cup July 4- September 1, followed by the America's Cup Finals September 7-22. For more information, visit www.americascup.com