Flags on the 49-Mile Drive
So I have my country flags, and historical flags, and for sports seasons —
I have my Giants flag . . .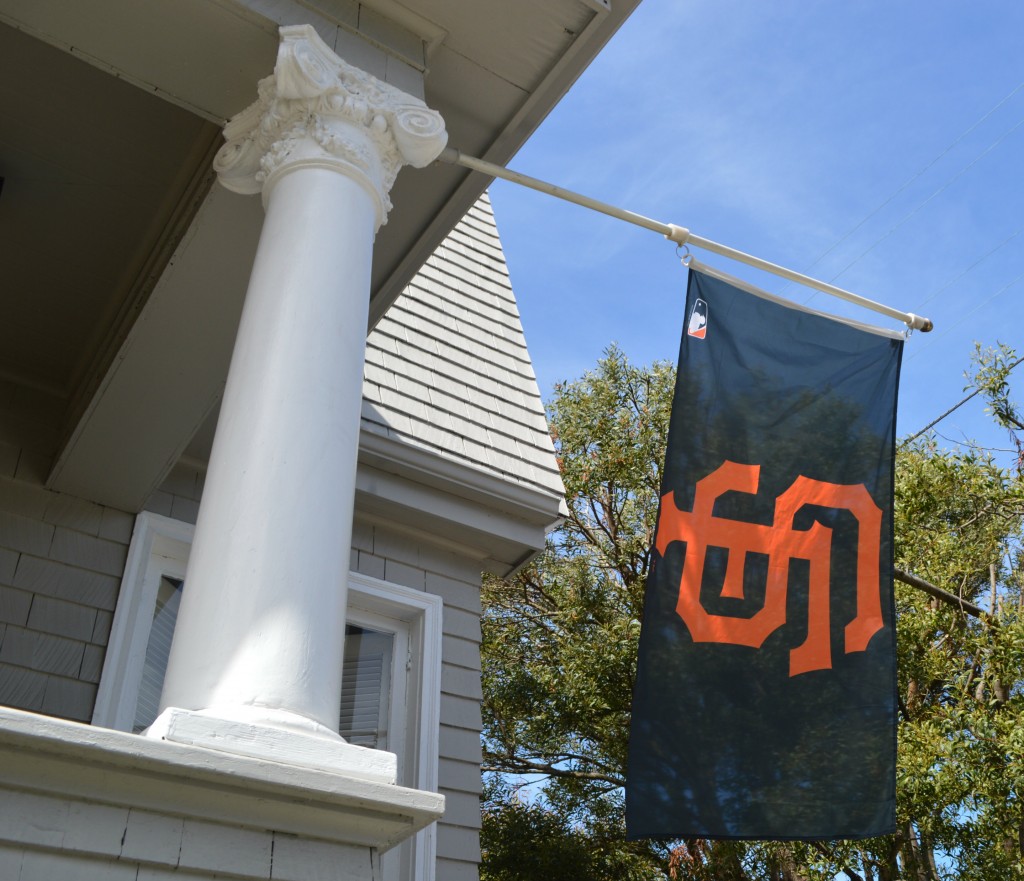 I have my 49ers flag . . .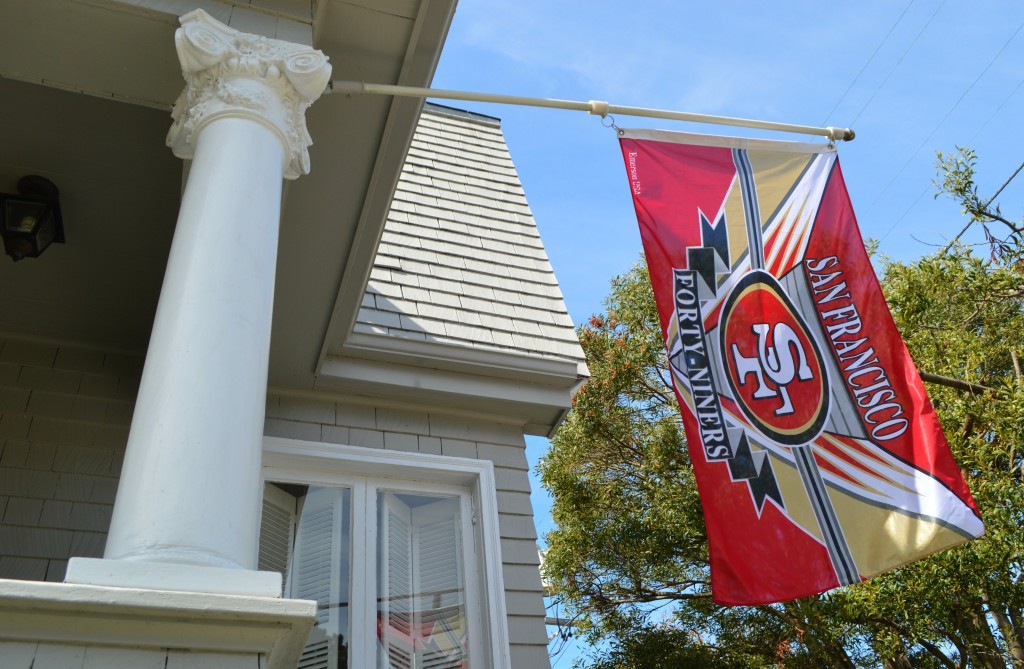 And of course my favorite, my America's Cup flag. But wait!
What's wrong with this picture . . .
Hallooo, marketing department. Hallooo.
WHILE WE'RE NOT ON THE SUBJECT
I can't count it as good news regarding Team Korea's prospects that Nathan Outteridge has moved out of the Team Korea camp and into the Artemis Racing camp. No doubt that means more salary and more certainty for Outteridge, but it's imaginable that this year's 49er gold medalist would have stuck with Korea if he saw himself at the helm of an America's Cup challenger in 2013.
To say that in another way, four participants in the Louis Vuitton Cup is qualitatively more than the quantitative difference between four and three.
Slotting in behind Outteridge on the Team Korea helm is this year's 49er silver medalist, Peter Burling.
One thing remains the same. With Outteridge hailing from Australia and Burling from New Zealand, the Anzac thing is humming right along.
And Oracle Team USA is back on the water with their AC72 . . .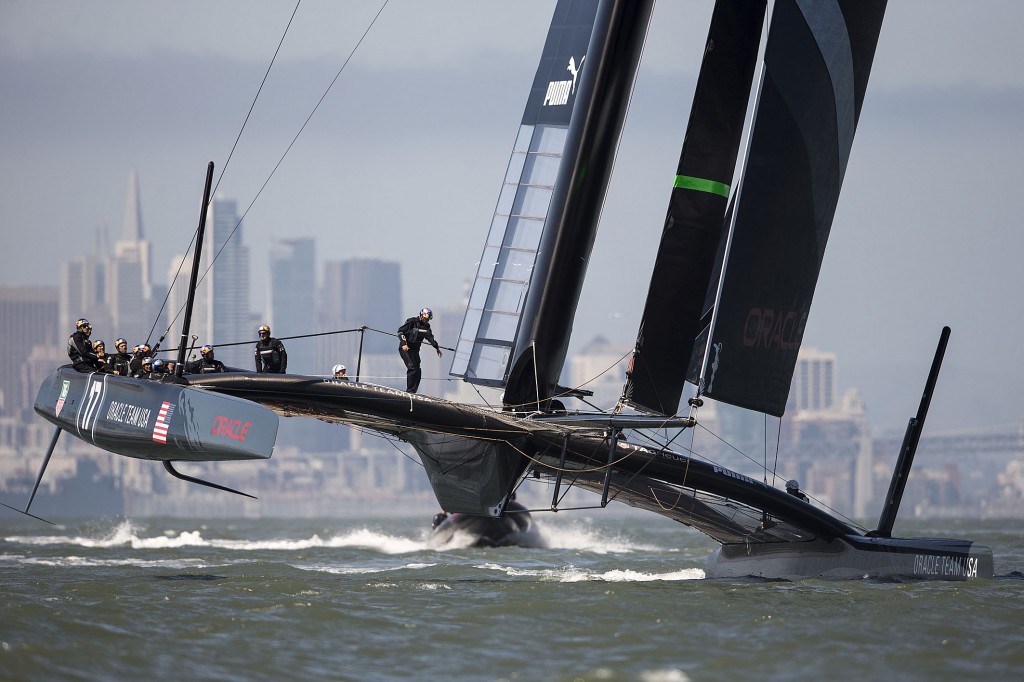 Photo © Guilain Grenier
And we'll soon be back on the water with AC45s, mixing it up with the Fleet Week Air Show. Feel the need for speed?
Racing Schedule, America's Cup World Series, October 2-7
Tuesday: Free practice, 4-6 pm
Wednesday: Match race qualifiers, 4-6 pm
Thursday: Match race quarterfinals, 12-1 pm & fleet races (2) from 4-6 pm
Friday: Match quarterfinals & fleet races (2) from 4-6 pm
Saturday: 4-6:30 pm Match race semis, fleet races (2) and match finals
Sunday: 1:50-2:30 pm Final fleet race, broadcasting on NBC
THE LAST SHUTTLE HAS LANDED
It was a thrill, and it was sad, to see the Endeavour off to her final mission as an exhibit at the Californa Science Center in Los Angeles. The crowd had a long wait, but nobody was leaving. And then, above my favorite bridge . . .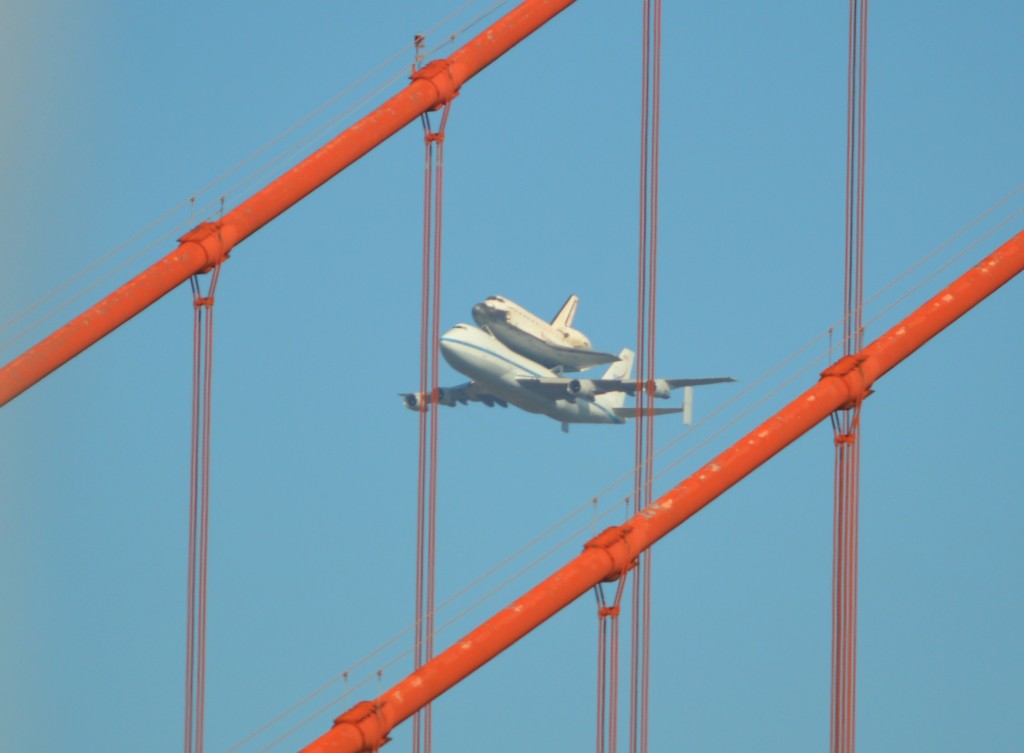 Photo © Kimball Livingston
She flew 25 missions, none of them routine because there is nothing routine about lifting out of the atmosphere. As I told my Facebook friends, I was part of NASA's Journalist in Space program, back in the day, and I was absolutely certain, right down to my toenails, that NASA would pick me to fly.
Then Challenger blew up (Endeavour was the replacement) taking away seven astronauts including the First Teacher in Space, and with that the program blew up. But even with a 3 percent failure rate, I'd still go, I'd still go . . .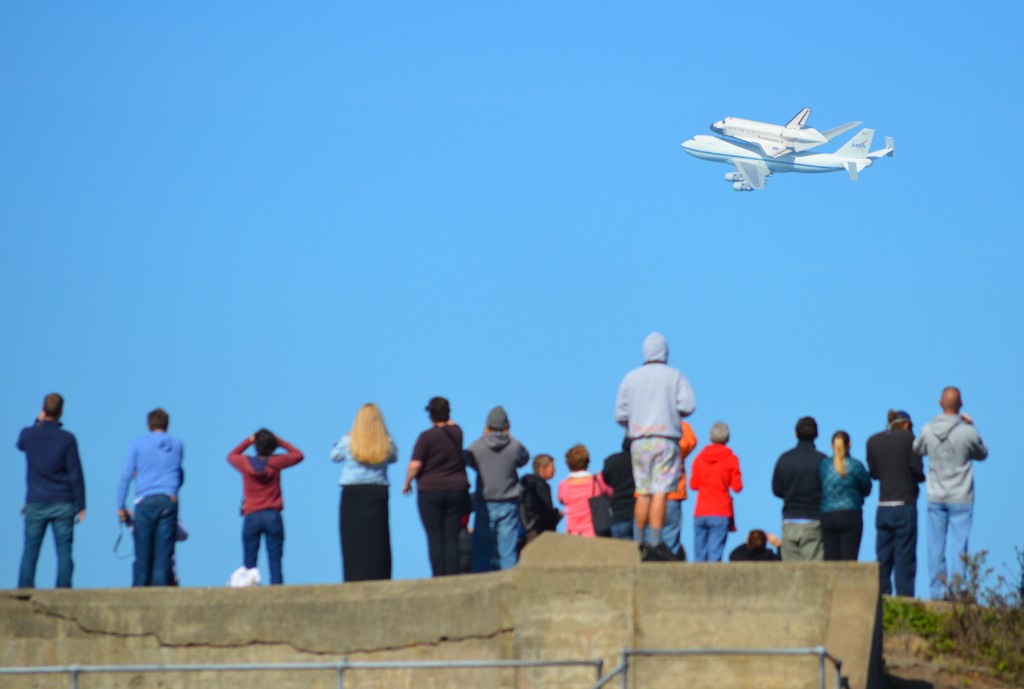 Photo © Kimball Livingston