Fortunes of War
I know this feeling . . .
I know this feeling . . .
It was February 12, 2010 and Jimmy Spithill had just stalled the giant Oracle Racing wing on the starting line of the 33rd America's Cup, race one. Alinghi was romping away. Alinghi was a quarter-mile gone . . .
I can't live with this, I was thinking.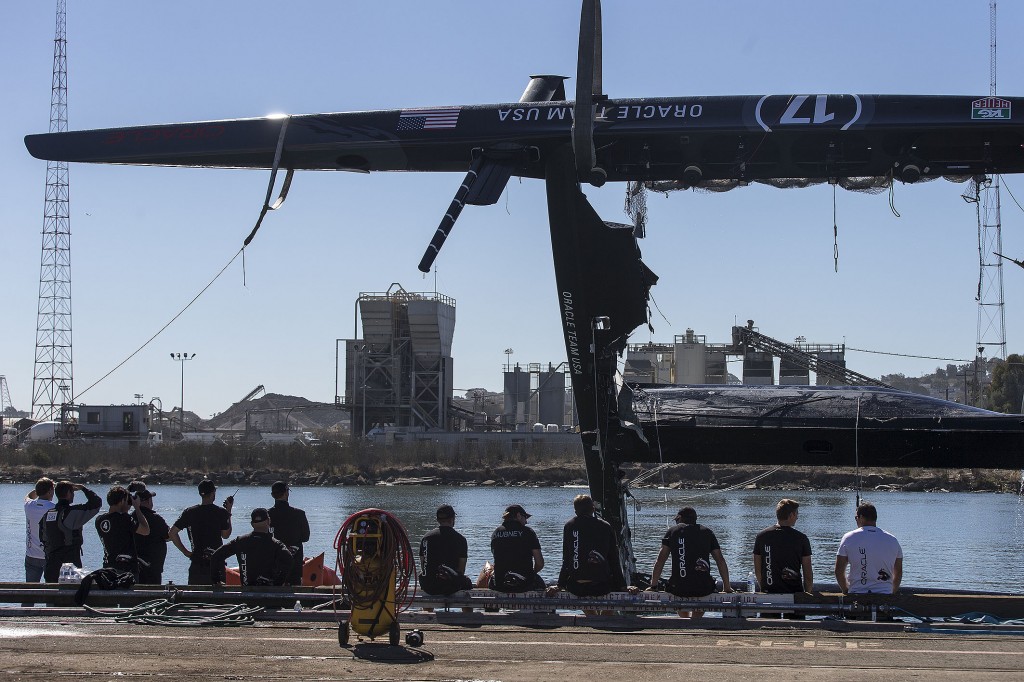 Photo by Guilain Grenier/Oracle Team USA
Now here's that feeling again. What I tell people, half joking, is true. Going into the 34th Americas' Cup is like sitting down to a poker game with aces, deuces, one-eyed jacks, tens, sixes and fours wild.
So Oracle stuffed it in an ebb tide? One sixth of San Francisco Bay goes out, and in, twice a day. That's a lot of adjustment to the chessboard. That's a lot of outbound water fighting seabreeze. That's one washboard wave after another.
That's home.
BTW, nice job, homeboy John Kostecki, being away for induction into the National Sailing Hall of Fame. I've heard it said that timing is everything. Now we know.
What we don't know: Is it what you got, or what you can use that will decide the matter, come September 7, 2013? Or perhaps the fortunes of war.
Sheesh, after reading the quotes, I can't help wondering what Ted Turner could do with a microphone if HE was a guy who had just survived an epic, crushing, multimillion dollar capsize and been friggin' swept out to sea with the wreckage. We miss you, Ted. Turner is, of course, the featured speaker this Saturday at the San Francisco Yacht Club's Leukemia Cup Regatta. 66 boats for Sunday's race, and Dorade will be the queen of the fleet, and thank you, San Francisco Yacht Club. Let's beat cancer.
Emirates Team New Zealand boss Grant Dalton came off the boat today in Auckland, having heard about Oracle's self destruction. His word for it was, "Terrible. That's the thing about these boats; you're living on the edge. I guess we sort of eased off a bit after that. We really worry about these things."
On the Bay Area Multihull Association forum, C-cat veteran Joe Siudzinski offered this perspective, albeit from the point of view of a smaller platform: "When racing a wingsailed cat, hey, we have no choice to reef; the sail area is fixed. When coming around the weather mark and starting to bear off and accelerate, it becomes a balancing act of proper wingflap and wing angle, building up boatspeed, and then continuing to bear off and lowering the apparent wind to keep that wing from shoving that leeward hull down. The trouble is, you often don't have the room to do this, and you need to turn the boat sooner
rather than later to get down to the leeward mark or avoid other boats, so there are lots of variables to play with, especially if a gust comes along at just the wrong moment. Only lots and lots of practice will refine crewskills to match reactions to conditions."
Spithill and team corrected the starting line stall in minutes. This will drag on a bit, methinks.
PAELLA, MARGARITAS AND MYRON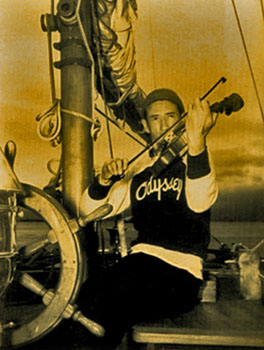 The Spaulding Wooden Boat Center is a gem. It's part of the fabric of our history as sailors on San Francisco Bay. It's part of what makes us "us." It also is fragile, and it needs all the help it can get to survive, and Ted Turner's talk at SFYC is already sold out, so come on. Help out and have some fun this Saturday evening at the boatworks of Sausalito's cantankerous genius.
You will enjoy . . .
Traditional Paella, Margaritas, and other culinary treats
The premiere of John Korty's film "Myron Onward"
"Jazz of the Sea," performed by the BOOKTET Quintet, featuring trombone, and in homage to Myron Spaulding, violin
A silent auction of unique nautical treasures. Seriously cool stuff. .
Saturday October 20 5 PM
Spaulding Wooden Boat Center
Foot of Gate 5 Road
Sausalito, CA 94965
(415) 332-3179
Join us while we honor Spaulding Center's past, present, and future!
Tickets $75. Please purchase your tickets in advance, here.