FutureSailing – Dirk Kramers
PartThree of a series of conversations with people who are driving profound changes in the way that we are able to sail. Once the opportunities are clear, how will people choose to sail?
"You start on these projects," says Dirk Kramers, "and you never know where you'll end up."
Meaning the Alinghi catamaran.
The man was in an airport—somewhere in Europe, I guess I never heard him say which—bound for Newport, R.I. and the holidays, but he was doing his Alinghi-engineer thing and talking via cellular to the journo guy and being a good sport about the topic I foisted upon him.
Because, the new AC boats are using engines to generate stored power to drive the winches. Some people are outraged by that. Meanwhile, the fastest big monohulls are using engines to generate power to cant their keels, etc. I'm doing this series that I call FutureSailing, and a big chunk of the come-back has to do with automating sailing. So Dirk, where could we go with this?
A pause.
A think.
"Well, ninety-nine percent of the boats out there have engines, so why can't the auxiliary be integrated into sail-control systems? There are a lot of possibilities. Right now if you go racing in your 37-footer you need to round up maybe eight of your buddies. If you could get that down to two or three that's a worthy goal.
"I guess."
I could hear the man thinking on his feet, with a touch of ambivalence. This is not a Dirk Kramers agenda item.
"We felt forced into automating the catamaran," Kramers says, "but then it opened a lot of possibilities. It looked as if the other guys were going to throw every legal technicality at us, one of which was to sail under the club rules of SNG, and the club allowed powered winches. The catamaran was not originally designed for it, but if BMW Oracle showed up with powered winches and we showed up without them, what then? Knives to a gunfight?"
And the possibilities opened for Alinghi in AC 33?
"There's not a lot I can talk about."
Of course.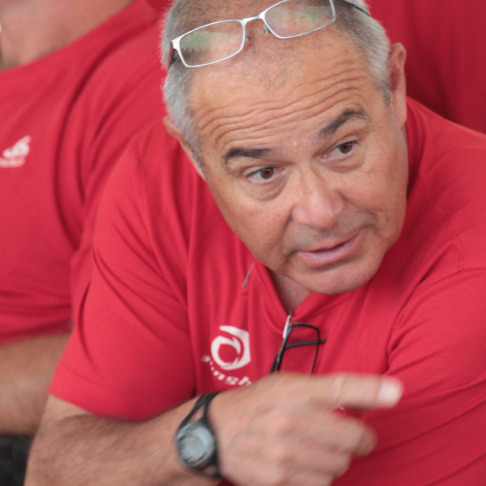 Photo by George Johns/Alinghi
Most of us by now have had occasion to use an electric winch to raise a halyard or trim a winch, and it wasn't a bad thing. Quite a few of us have played with hydraulic systems, and this is just the tip of the iceberg when it comes to new possibilities—our first two interviews in this series, with Mark Ott and Bob Johnson, were about automating sailing—but then come the complications. If the complications involve running a motor the whole time we're sailing, forget it, but it's not going to be like that. We're coming to a revolution in how power is generated and stored, and most sailing does not impose the energy-drain demands of a giant AC boat. Kramers says, "Open 60s employ a wide range of technologies. They have windmills, underwater propellers, solar panels. I see a lot of work on all these systems in the next decade or so. It's exciting. "
When you look at how many crew it takes to race some boats, cutting that number has a ring to it.
On the other hand, it's pretty well agreed that when you get to the deepest, truest value of the sailing life, it's all about the people.
On the other-other hand, one of the ongoing challenges is keeping nonprofessional crew keen and active. Or paying the pros. "In any program," Kramers notes, "the people are the biggest cost, more than fifty percent in a Cup campaign."
At Alinghi, Kramers says, "We looked at the state of the art, the Alfa Romeo's, the Wallys, and we could see that we just needed to go lighter and better. And now, naturally, we can think of ways we could make improvements. It's not sailing; it's pure engineering. There are maxis like Leopard that use diesel engines, but we chose a gas engine for the way it feeds the needs of the hydraulics, for the way it revs from idle. And it's lighter. If you applied hybrid technology you could go farther."
Already. Farther.
Netherlands-born Kramers first worked on a Cup campaign in 1977, designing masts for Ted Hood and the Independence-Courageous Campaign. He made Newport his home in 1980 and has been deep in the America's Cup game ever since, working in the controversial catamaran defense of 1988 and then as chief engineer for America3 in 1992. He signed with Alinghi in 2000, and that's getting to be quite a while ago.
So, parting thoughts?
"There's incredible development in foils right now. It's a wonderful thing, but every configuration needs a different foil setup. Performance in shallow-draft boats is the key to getting more people out sailing."