FutureSailing: West Coast Wood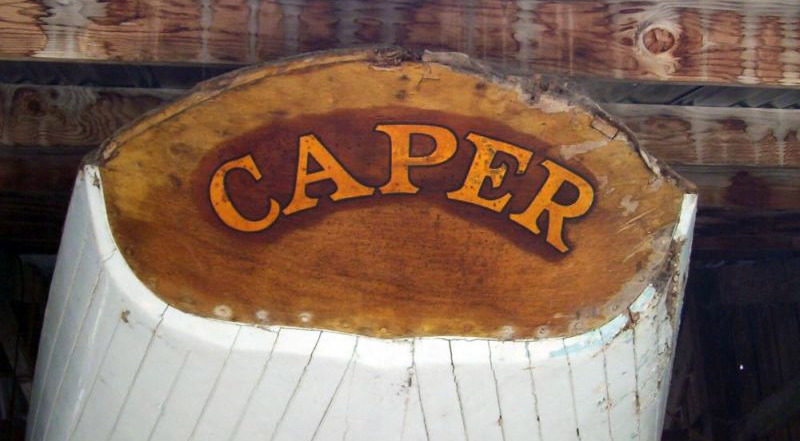 Giant, wing-masted trimarans in the America's Cup, hydrofoilers busting 50 knots in the Med, these innovations open a window onto a gee-whiz future that turns me on. But they don't answer one question: Will we, or will we not in that future, still have with us the racing classics of yore?
For every Dorade that inspires another and then another deep-pockets hero to step up and bleed money for the luster of being the trustee du jour, there are who knows how many boats that just get lost in the shuffle. They are the disappeared.
I don't want a future without the classics, and that goes for a lot of other people, apparently. America's only celebrity sailor, Dennis Conner, has been into classics of late, and so has designer Doug Peterson, while attracting less attention than The Dennis. But these guys are plugged into high-end circuits. The world is bigger than that. I'm thinking now of a loosely-organized (or disorganized, but passionate) group of people on the Pacific Coast who are calling themselves West Coast Wood. They are called together because, as boats disappear, says Southern Californian Steve Barber, "We who love them are being overwhelmed by their abandonment."
Our case of the day is a sweet Rhodes 33 named Caper, partly restored, that needs a new project-home. Because—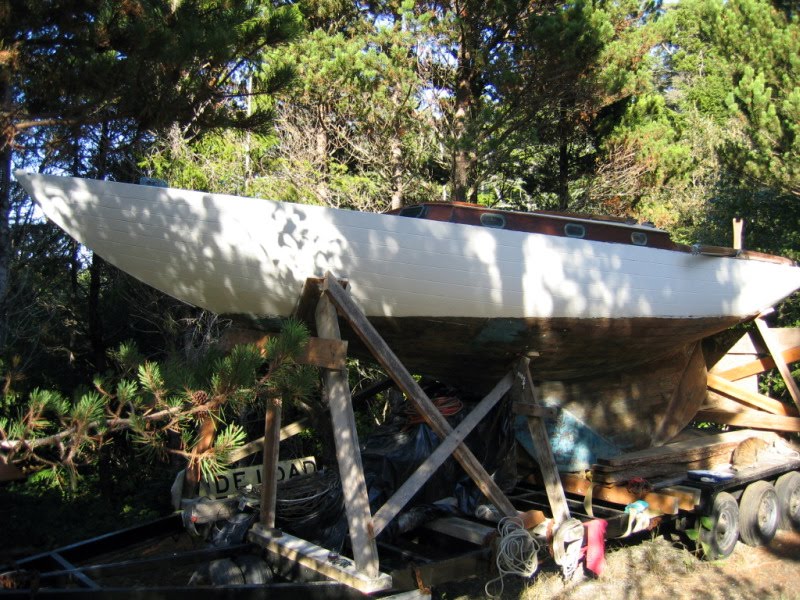 "Hundreds of wooden boats have disappeared," Barber says. "We are all familiar with the slow 'death by donation' cycle. Or the press of business pushes yards and marinas to not think about contacting anyone (if they know who to contact) until it's too late. We lost a New York 30 to this very problem last year; there was just not enough time to do anything about saving it. The yard owner failed to let me know what was happening regarding its ownership status until it was on the trailer to the landfill. He needed the space, and that was that. Then it was, "Oh, you were interested in that old thing? I didn't remember that."
West Coast Wood folks are presently compiling and collecting all the information they can gather about old boats on the left coast, the fruits of which will eventually be shared through a section of the Classic Yacht Foundation web site. In the meantime, here's a poster child, Caper, actively raced up to two owners ago, now needing a new owner because the fellow who more recently undertook the restoration has realized 1) It's not working out for him, 2) He doesn't want this boat to go "disappeared."
That would be Michael Bogoger, on the Oregon coast, who has thrown his heart into beautiful restoration projects, but on a smaller scale. You can read about that at his blog, dory-man.blogspot.com. Michael doesn't have indoor space for the Rhodes, so the work is weather-dependent, and then, every improvement is, ah, out in the Oregon weather.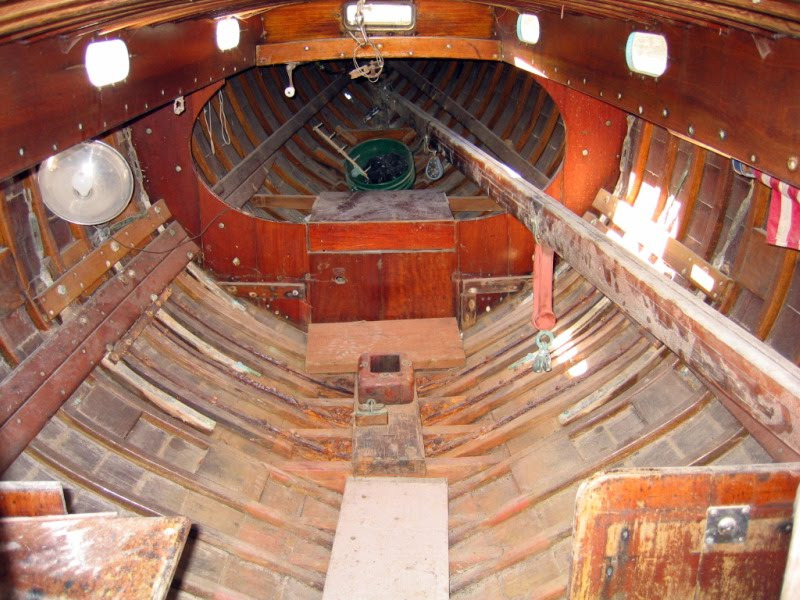 Caper was the boat/problem/opportunity that sparked the West Coast Wood conversation in the first place, months ago. Today, this old warhorse is still in need of a new home. Bogoger says now, "I am keeping her alive with infusions of TLC during the months that allow work outside. If I were a younger man, this fine old vessel would get a complete work-over. She is planked with African mahogany over oak frames. She deserves the best.
"I am making a renewed effort to pass Caper along," the man says. "I have limited space to store and work on boats and have decided that the Rhodes is just too much concentrated work for me at this time. I am looking for $2,000 to cover the costs of moving and storage, and I am willing to sell the trailer the boat currently sits on for an additional $1,000. The trailer is a home-built, three-axle unit designed for a boat twice as heavy as the Rhodes. It should have new tires, and maintenance on the bearings, before any long distance travel."
Last fall, fully enamored of the project, Michael displayed images of the boat and enthused, "Isn't she a thoroughbred? Just look at that custom-made hardware and rigging. That stick on the deck is a roller-furling boom. The boat also has a standard boom and all the fittings of an old racing yacht, including a bronze bell and two fine old compasses.
"Racing was once a stylish and genteel event, no wonder the crew all wore ties!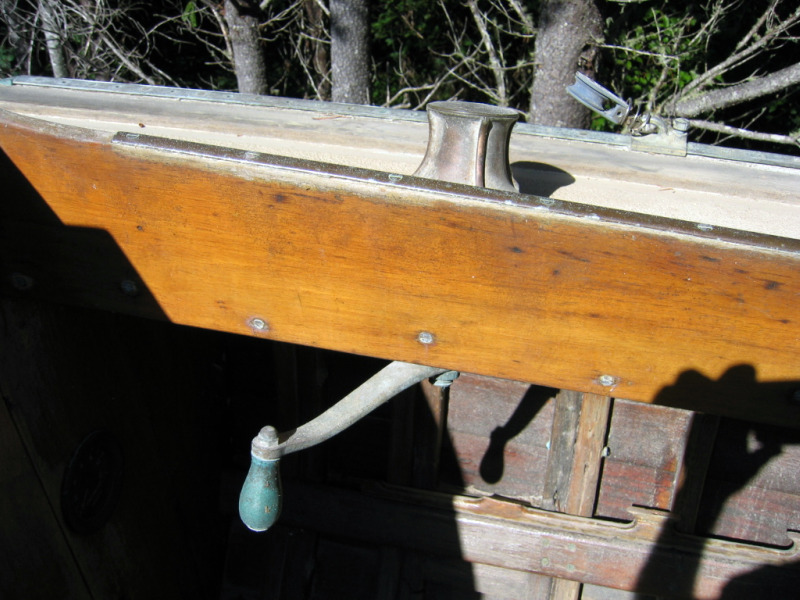 "The mast is forty feet of clear spruce and is also undergoing a face-lift. All old varnish and paint has been removed and the bottom three feet replaced by scarfing-in new wood where rot had taken hold: Mast step and mast butt, two eternal problem areas in an old wood boat. Caper also suffers from slacking at the turn of the bilge, another predictable problem area. Some sistered frames and new corking will solve that problem."
It's premature, but the boat has a new set of sails waiting.
Philip Rhodes designed the Rhodes 33 in 1938. The boats were built by the South Coast Boat Building Company in Newport Beach for short-distance and medium-distance class racing in Southern California waters, including overnighters (when the Southern California seabreeze shuts down and you spend the night with the mainsail rattling dew down the back of your collar every time the boat rolls, and whoever works hardest is half a mile ahead at first light). At least, in the Rhodes 33, you had a nice, deep cockpit for sitting in the "rain" and waiting for the beauty of the dawn, the slow gray coming of it, and the slant of the seabirds and the far-off cries, and off Southern California after a slow night, as the morning begins to warm, there are these small, ambulating lumps of a nearly-flat sea, with just a hint of wind-ripples teasing over here, teasing over there. But that's not your racing breeze and there's no use chasing.
Between Los Angeles and Catalina, just a few miles clear of the roar of the 405 Freeway, I have seen dolphins breaking the surface from horizon to horizon. It was amazing.
And lifelines weren't exactly standard while Rhodes 33s were sailing overnight races in Southern California, so yes, sitting in the cockpit while racing at night would have been acceptable. Time lurches on, but hey, somebody out there actually raced Rhodes 33's back in the day, which I did not. Who's got a story?
And who has a home for an honest chunk of West Coast wood.
Who has a home for Caper?
Or, perhaps, for the fully-restored Vixen, which would matter to Caper. Read on . . .
RHODES 33, 2010
In Newport Beach, Ralph Rodheim sails the beautifully-kept Rhodes 33 #41, Madness, and does his best to watch over the flock of 33's that remain. In his home port, he says, there also are #3, Lanaki, and #12, Mistress, "which needs a new home."
This is Lanaki sailing . . .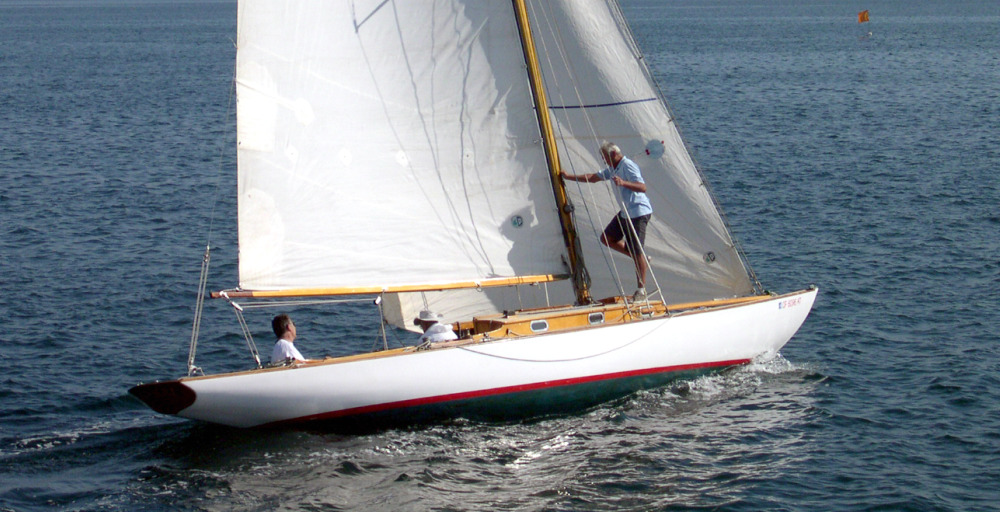 "Up in Port Townsend," Rodheim says, "there is Vixen, which has been totally rebuilt; just beautiful work. The owner would like to take on Caper next—the boat's not in terrible shape—but he needs to sell Vixen first."
Which fits your palate? A project, or a showpiece?
Rodheim has set himself up at rhodes33.com as a chronicler of the Rhodes 33 class. Anyone with information to contribute is urged to chime in. "There is one boat in Maine," Rodheim says. "That is Loki, and it was barely rescued, but now it's pristine; better than new. It's the only one on the East Coast. We think there's probably a boat in Ventura, and we think maybe there are two at Lake Tahoe, but we're not sure."
I love this factoid quoted from Rodheim's site:
Rhodes #34 was purchased new by Ray Milland, the movie actor, sometime just after WWII. It was in the Newport Harbor YC roster in 1950 or 1951. There must have been some other owner between Milland and Strat Enright, who named the boat Witch. He sold it to Paul Loveridge, who sold it to Gale Post in about 1963. Gale renamed her Therapy and painted her bright yellow.
Gale performed extensive restoration after Paul's "experimental" modifications. For instance, the mast was off-center since he wanted it to be more vertical on port tack. This was the favored tack going up the beach off Newport after a racing start.