Inside l'Hydroptere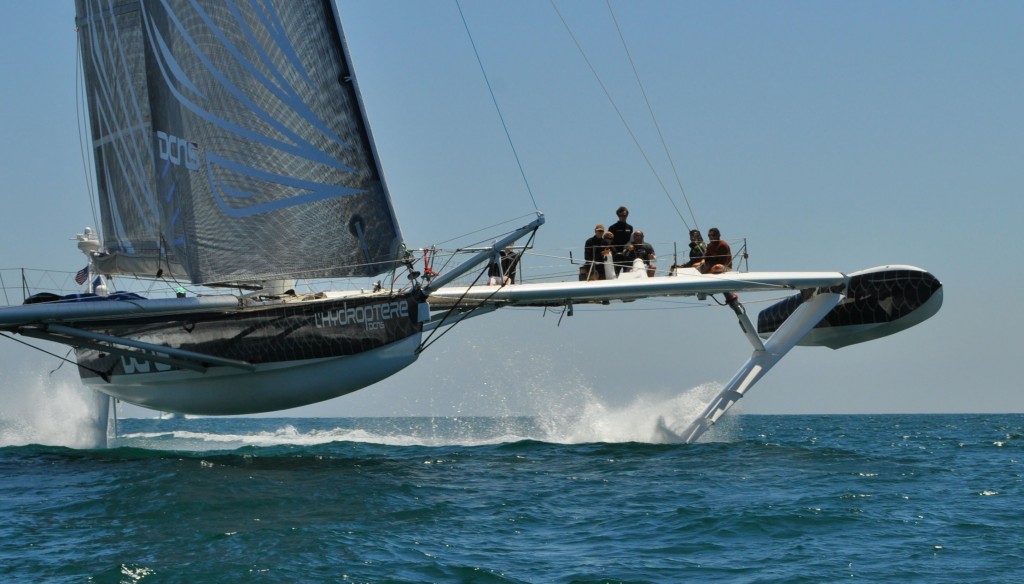 Photo © Kimball Livingston
When she's flying, the most prominent features of the French trifoiler, l'Hydroptere, are the angled foils that lift her clear of the water surface. When you get close, you see massive cylinders braced between foils and hulls and you might wonder, are those for adjusting angle? Nope, those are shock absorbers.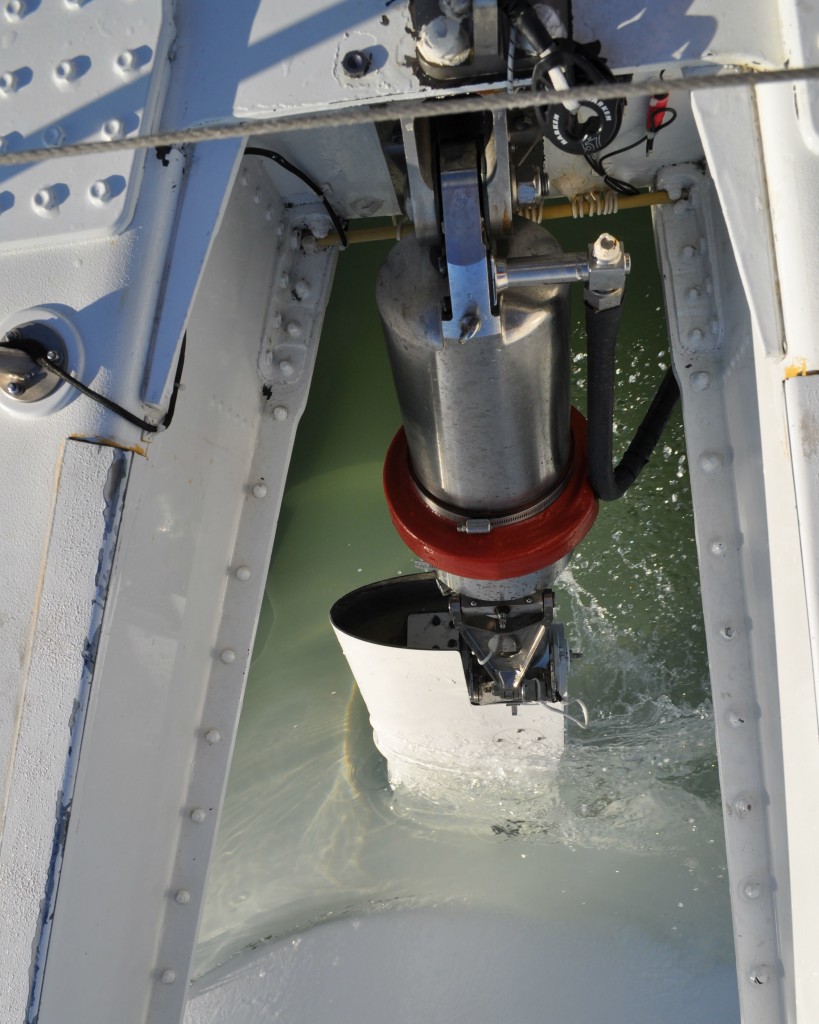 Port shock absorber. Photo © Kimball Livingston
And the boat doesn't look like other boats, under the water, so you'd expect some differences in maneuvering. Still, you might be surprised when it turns out that standard tacking procedure is to roll the headsail, put the boat into the wind, and then sail her backwards until you're on the right angle for sailing forwards. Why rush? There's no other 59-foot trifoiler to race around a course, and there's a reasonable chance that if l'Hydroptere and her crew of five or six succeed at their upcoming Los Angeles-Honolulu record attempt, they might gybe a time or two, but they won't be tacking.
And son, going into a gybe, you first turn down, and slow her down down down. If you just turn, at speed, you could fall among the vertically challenged.
The adage among the crew: The boat's 19 years old, and it's still the future.
I found l'Hydroptere tied to the dock in front of Gladstone's Long Beach with team techie Jeff Mearing puttering with the sort of things that techies are all about. I asked about the shock absorbers. "They're carbon fiber," he said, "loaded with nitrogen to a pressure of 14 tons, because the loads on the foils are that big. We have strain gauges all over—shrouds, forestay, crossbeams—and we log the data and send it to the geeks in the lab, but this thing is so well tested now that we don't really need that."
As for the broken something (rudder bearing perhaps?) on Wednesday's dash out to Catalina and back, perhaps there was impact with an object in the water. What I got from team spokesman Thomas Lesage went, "Nothing really serious; more stress than hurt, actually. I have to wait for the technical team to give info but there is no change on the record attempt."
Which is still on hold for a stronger tradewind pattern on the south side of the Pacific High. At this point, designer-skipper-obsessed mastermind Alain Thébault has yet to join his co-skipper Jacques Vincent (eight circumnavigations) in Long Beach, aka the windiest sailing spot in Southern California.

l'Hydroptere has a steering wheel on each "wing," port and starboard. On each, there is a stick to the right of the wheel for manual pitch control. To get through an ocean crossing, however, there's a lot to be said for automatic pitch control, which has been developed in this latest iteration of a project first modeled in 1984. Mearing explains, "The inertial unit feeds a constant stream of information to the processor, which makes calculations in real time. It's the same system that is used in submarines and such, where you can't tolerate delay."
While automatic pitch control worked well on the day that I was aboard, (Vincent made what I believe was one manual pitch adjustment while I was driving.) I hear from Transpacific Yacht Club Commodore Dave Cort that, two days earlier, there had been teething issues in the form of porpoising and, um, sudden stops. I'm glad I got my ride, not Dave's ride.
As you might imagine, it takes a strong electric motor to automatically control pitch via that very large, pivoting rudder-with-winglets. "We're hoping the wind generator will turn out enough power to drive the shaft," Mearing said. "It's not as though you don't have plenty of apparent wind on this boat, and we're very happy with our new Air Breeze. It's the lightest generator on the market, and it likes 25 knots."
At this point we were going slow enough for François Cazala to install the Air Breeze. Photo © Kimball Livingston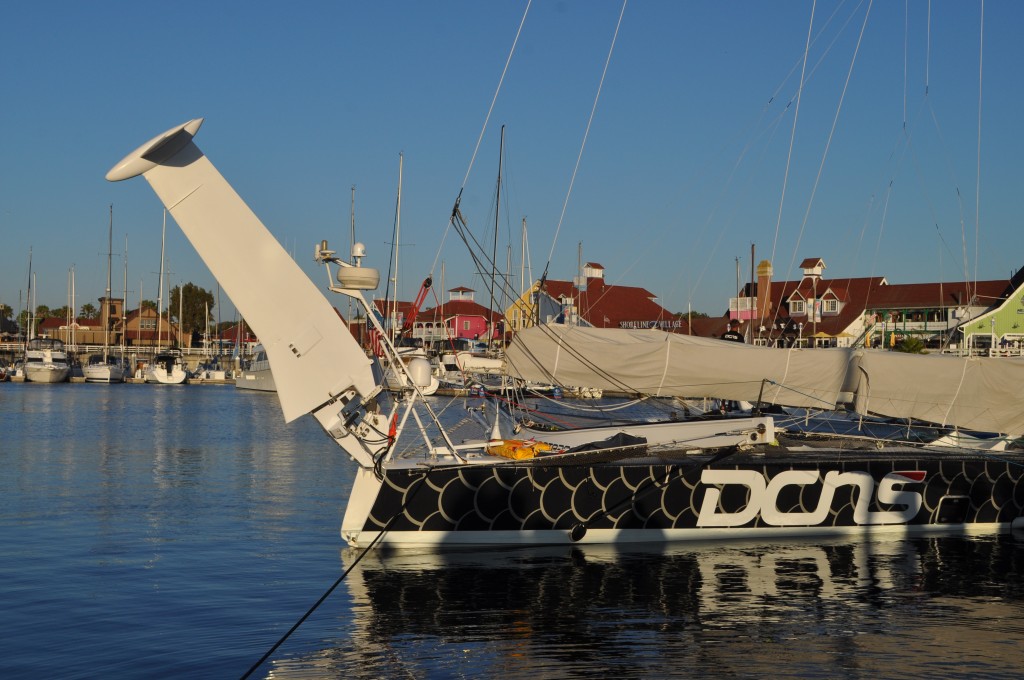 Airing the rudder at the end of the day. Photo © Kimball Livingston
Going below probably gets easier with practice, but most boats I sail aren't equipped with a small, round, seaproofing hatch leading to one heck of a big step down. The accommodations are typical for a combat mission.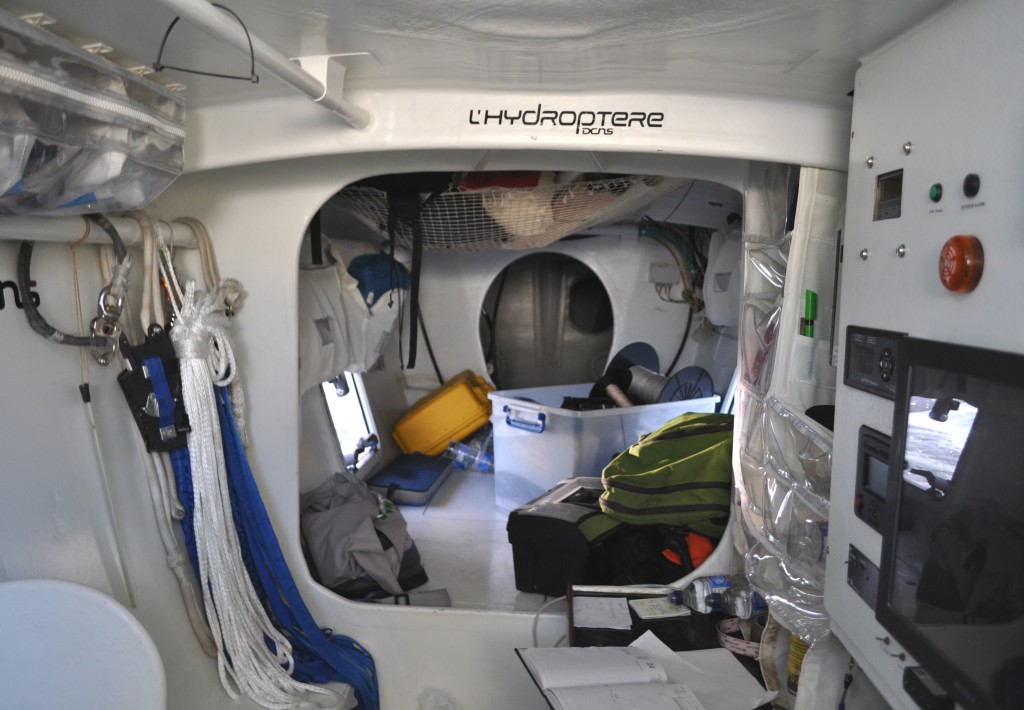 All dressed up for the boatshow, not. Photo © Kimball Livingston
There's enough cabin sole to throw down a pad for one person sleeping, or two who are really really really really tired. The navigation systems occupy the starboard face of the hull and (naturally) the seating consists of a thin carbon shelf molded into the port side opposite. Can't say as how I identified any cooking equipment, but hey, they're planning to make Honolulu in three days from Point Fermin, with the Transpac Yacht Club handling formalities at each end.
When and only when the Pacific High gets its act together.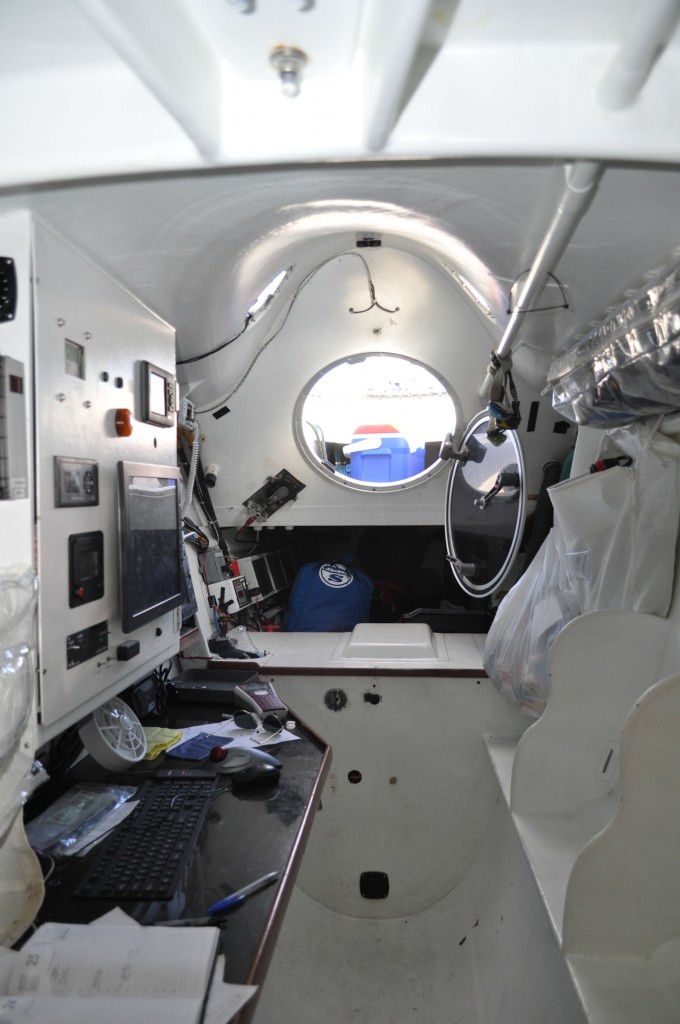 Photo © Kimball Livingston
Mearing had gremlins to deal with—some of the wind readouts weren't matching reality—so I left him to go about his business . . .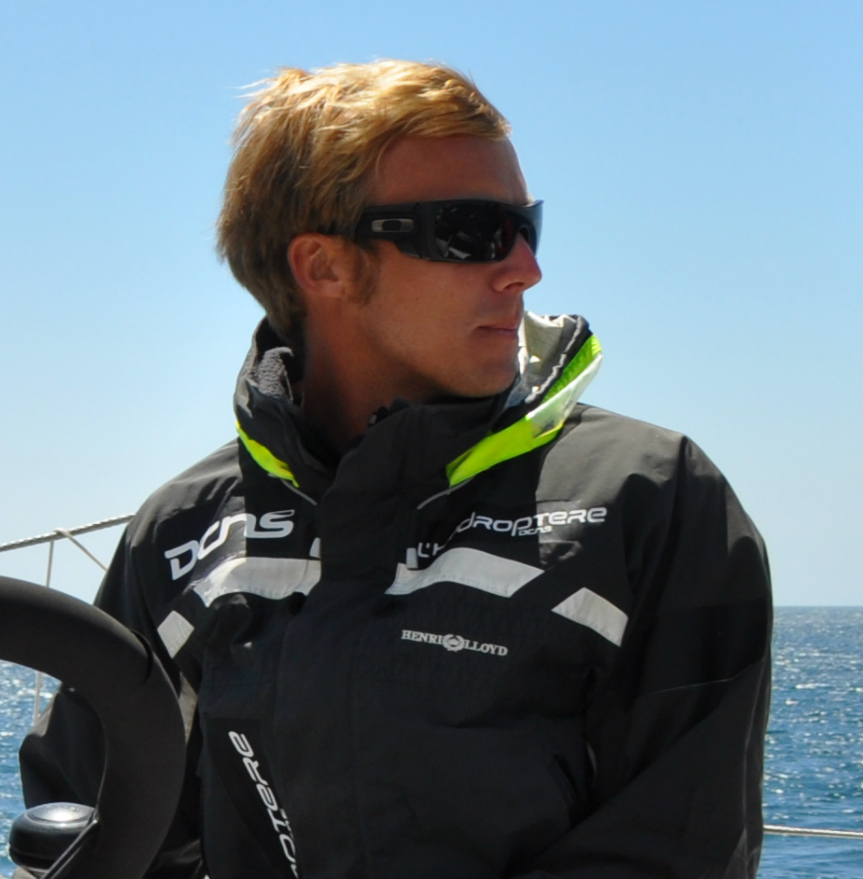 Jeff Mearing under sail on l'Hydroptere. Photo © Kimball Livingston
But first I asked, "What about you. Are you going on the Honolulu run?"
Jeff answered, referring to boat captain Warren Douglas:
"Right now Warren and I are arm wrestling for the sixth spot, if there is a sixth spot. So far, it's five superstars, but I think they just might need a techie. That's why I'm trying to make this look so hard."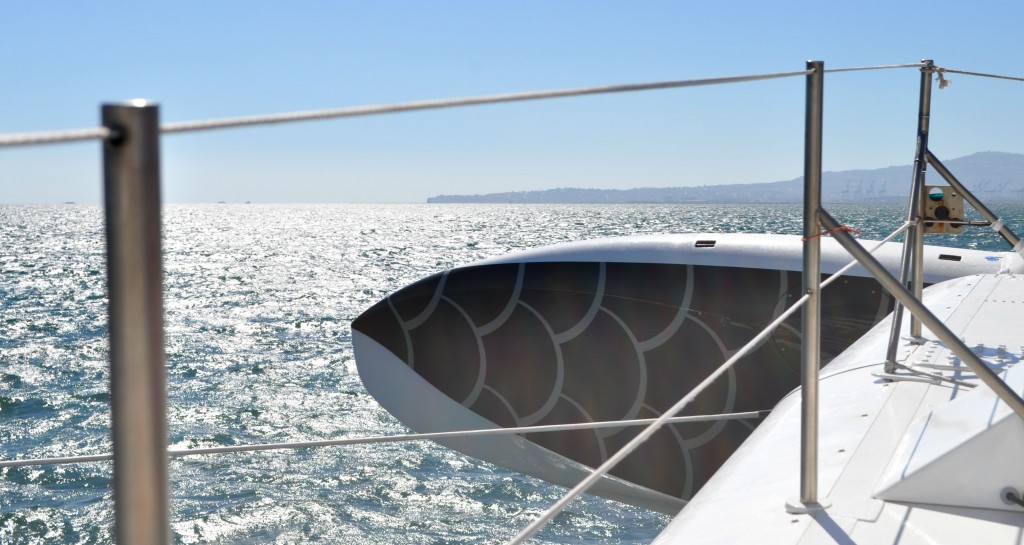 Point Fermin in the background. If you've sailed Transpac, or lined up for a record run on the Transpac route, you will always know that outline. Photo © KL