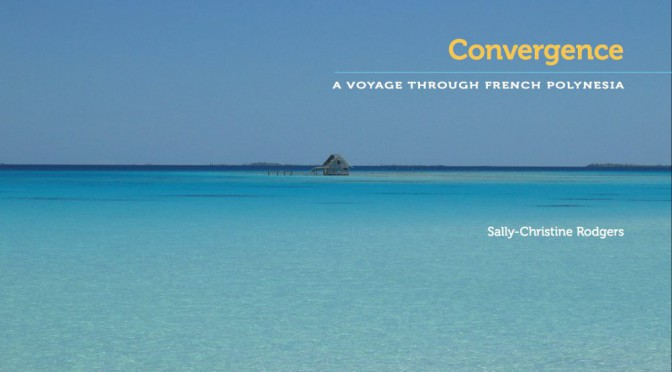 "Is It Always Windier On My Watch?"
By Kimball Livingston Posted April 27, 2015

Convergence is a book about sailing to Tahiti, and sailing in Tahiti, and breathing in a lifetime of dreams and tales, glittering imaginings, gritty realities, and indelible wanderings.
I read the book, or a lot of it, at 36,000 feet flying the opposite direction from California, en route to the Caribbean and St. Barth. Maybe that's backwards, but hey, time happens on a plane.
Being acquainted with Sally-Christine Rodgers, the author, and with Convergence, the 66-foot Wylie-designed cat ketch that she sailed to Tahiti along with three children and three other adults, including her husband, West Marine founder Randy Repass, I was inevitably "along for the ride." And I don't propose to do a book-review-thingie here. Instead, I'm just going to tell you that the subtitle is A Voyage Through French Polynesia. It's a good book, with a heart. It's a book written by someone who grew up on tales of the South Pacific told by a father who lived it, loved it, romanticized it and never tired of sharing his memories. It's a book by someone who longed to go there — her father had planted a seed — and then went there the hard way, on a yacht that most sailors would envy, as wife, mother, accomplished sailor and neophyte voyager.
Anyone can enjoy reading Convergence. I am "anyone" and I am none of the people who fall under the following categories. That is, those to whom I would most recommend this book are, in ascending order, first-time voyagers, voyagers inbound to Polynesia, women who are first-time voyagers, women who are mothers and wives and first-time voyagers, women who are mothers and wives and first-time voyagers heading into the Pacific and Polynesia. Women who are not The Skipper.
Sally-Christine paints it as it is, from the point of view of wife and mother. Any given passage can be beautiful, or not. The experience can deepen a strong relationship or quickly fracture a relationship fraught with fault lines. It can transform ordinary children into special creatures. It can mean the world. But it's not a month of Sundays. It's a month of hard-puttering Sundays.
Convergence sailed out of Santa Cruz, California and made straight for the Marquesas, covering 3,000 miles in 15 days. Kent-Harris Repass was nine years old at the time. On passage, in her journal, Mom wrote:
"Mothering is no picnic when you're on the verge of throwing up."
And I think the best way to write this un-review is to lift a few more lines from the rich feast that Rodgers provides. There was a special complication, but I'll let you read that in the Prologue. So here we go, fast-forwarding, as Convergence heads out to sea:
"I feel once again like a child curling my toes over the edge of the high dive, hesitating before my first jump."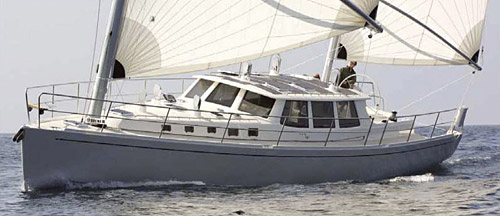 "Sparks of phosphorescence look like ships on the horizon. But night after night, the radar holds us in the center of its universe. We are alone."
"Randy dismisses my anxiety. He is ecstatic about Convergence's performance. While he concentrates on keeping the boat moving, I concentrate on staying sane."
"Why is it that the men we trust so completely also fuel our deepest fears?"
And then . . .
"A strange phenomenon occurs at sea. Life happens one day at a time."
"At 429 nautical miles from our goal, moonlight dapples a gentle sea . . . tonight, I embrace the whole experience . . . I am different than I was 3,000 miles ago . . . I am hesitant to give up this state of transformative isolation."
"After fifteen days, Kent-Harris is so accustomed to being at sea that the idea of land holds no meaning. Randy carefully hands him the night-vision scope. 'Can you see land?' Randy asks. 'Nope,' he answers, tilting his head back, 'but I can see a trillion stars.' "
"My child was severely dyslexic — reading about the world was not for him. He needed to be in the world. The experience of travel gave him more than any book could have taught him, and has made an amazing difference in his self confidence, intellectual curiosity, compassion, tolerance and global understanding. Frankly, every one of the cruising kids we met out there was extraordinary."
And so, there they were, in the Marquesas, and eventually on to Tahiti, and I think you get the idea. Unlike one-week charterers, those who voyage have an opportunity to get to know the locals, and certainly to get to know each other. It's all there, in the book. And, Convergence being not a novel, I believe I do no harm by skipping to the almost-end because, if you're going, this is what you need to know:
"Watching our gathering, I realize that our time in French Polynesia is quickly becoming a memory. When asked, if you had it to do over again…" my first inclination is to pause and express gratitude that I had this opportunity at all. But to tell the truth, I think I would have taken more time."
***
Paradise Cay Publications: 2014. Proceeds are donated to marine conservation.
A note to our readers: Yr humble author is himself off to the South Pacific on a much more programmed program than that enjoyed by the crew of Convergence. Considering the pace of events, and the pace of internet connections on small islands, it is likely that I will let this post ride until I return some time in the merry month of May.
Meilleures salutations—Kimball