Kiss My Tail Lights Goodbye
Not long ago I wrote a hackneyed but accurate phrase about imagining the America's Cup "dragged kicking and screaming into the 21st century." Judging by what's popped up on the forums since Monday's announcement that the 34th match will be contested in 72-foot wingsailed catamarans, I had the kicking and screaming part right.
The conditions of the 33rd match are irrelevant. I ask, why are some people incapable of perceiving the night-and-day difference between 1) a wingsailed trimaran and a hugely different softsailed catamaran sailing a 19th century-designated slog "twenty miles to windward and return" and 2) closely-matched boats designed to a tight box rule sailing short legs on a tight course with lots of roundings and more passing opportunities than we've ever before seen in an America's Cup contest.
It's only a pipe dream, but I'd love to know how many of the people who this week pronounced the America's Cup "dead" have pronounced it dead before. Debunking the Cup is a tradition as old as the Cup itself. You're welcome to it, but you can kiss my tail lights goodbye.
Our sport deserves a reliable, premier event to place before the world, and this week Larry Ellison/Russell Coutts/Vincenzo Onorato opened the door. There is absolutely nothing they could have done to return America's Cup racing to a time when Commodore So & So's nephew would work the bow between semesters at Yale.
In 1983 I watched Australia II (a 12 Meter) win the Cup in slow motion. In 1987 I watched Stars & Stripes (a 12 Meter) win the Cup in medium-quick motion with a foot of water running down the decks. In 2007 I watched as Alinghi (a V5 ACC) defended the Cup, barely, in a final race with one bizarre twist after another. 2007 was a great match, but I've moved on. Last February I watched USA 17 turn on in almost no wind and pounce. Flintstones generation I may be, but ossified I ain't. I was turned on too.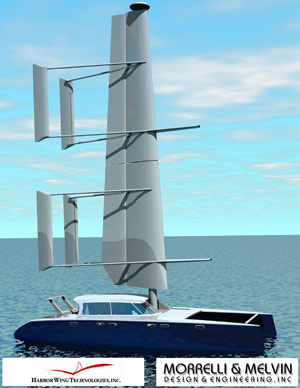 I also know that Morrelli & Melvin are hot to trot, and have been for a while, on wingsailed ocean-going multihulls. As designers, they have worked with both BMW Oracle Racing (Pete Melvin presented the 72-footer at the Valencia press conference and is developing the class rule) and with Harbor Wing Technologies, my source for the concept boat pictured here. I also have it on pretty good authority that a Contour 50 trimaran may soon be retrofitted with a wing using Harbor Tech technology. Late last year, on assignment for SAIL Magazine, I interviewed Gino Morrelli in a long, freewheeling conversation. The story ran in January as Ruling the Rules of Physics. One of Morrelli's points went like this: "The technology is pretty do-able as a means to produce a neat boat with shorthanded sailing capability, a lot of rig, and the ability to depower instantly. That gets you past the limiting factor for big multihulls, that we can power them up for performance, but we can't depower fast enough when there's trouble. The Harbor Wing approach uses a computer-monitored rig that spins, so it can depower in an instant. That technology is a game changer. It's wide open right now to how far you want to automate, and it's in need of a special client who's willing to jump the curve."
ARTICLE 12
As much as I want to see the city of San Francisco benefit from a fully-realized makeover of the southern Embarcadero—the waterfront where America's Cup teams and a public interface would be housed—I can see as clearly as anyone else that it won't happen in time for a 2013 match unless all the ducks line up, quacking and saluting with a vigor and discipline that are not generally part of the San Francisco political experience. I'm believing it can happen. I'm not betting the farm that it will.
So let's revisit Article 12 of the Protocol released Monday:
Article 12:
(d) if there is a single Venue for the Match, the winner of each race in the Match scores one point, the loser scores no points, and the winner of the Match will be decided by the first yacht to score at least five points after applying any penalties;
(e) if there are multiple Venues for the Match, the format will be announced before or with the announcement of those Venues.
With this, the event is no longer committed to a long event at a cup village. That would be a shame, but when I think back to the Moet Cup on San Francisco Bay—way back, so far back that Larry Ellison and Ernesto Bertarelli were buddybuddy—Ellison was envisioning a traveling circuit that would have no need for massive outlays on infrastructure. He's re-opened that door, I believe.
Which brings us to the objections that always come up, that it would be inherently unfair to have the Challenger qualify in one part of the world, in one set of wind and wave conditions, and then race the Defender in another. But the message from the team is clear that they are in touch with at least one other potential American team, and we just might have a Defender elimination series for the first time in a long time. If the Defense candidates sail the same circuit as the Challengers, and eliminate on the same waters, then everybody has the same problem, don't they?
Mind you, I want to see an Embarcadero makeover, and I honor the tradition of the long match in the Defender's home waters. But I'm flexible on everything except defending America's Cup in America. And I have to admit, it would be fun to watch the Italians go nuts over a Challenger trials in Italy.
Just blowing smoke rings.
And Now Down to Reality
If you'll excuse me, it's time to get in touch with the Rolex Big Boat Series, edition 2010. Switching on my headlights . . .