Korea Advances, China Cocoons
Posting a $200,000 performance bond is no guarantee that Team Korea will be on the starting line of the Louis Vuitton Cup with an AC72 catamaran, but post they did this week, and they say they intend to be exactly that — on the starting line for the America's Cup challenger eliminations when racing starts on July 5, 2013.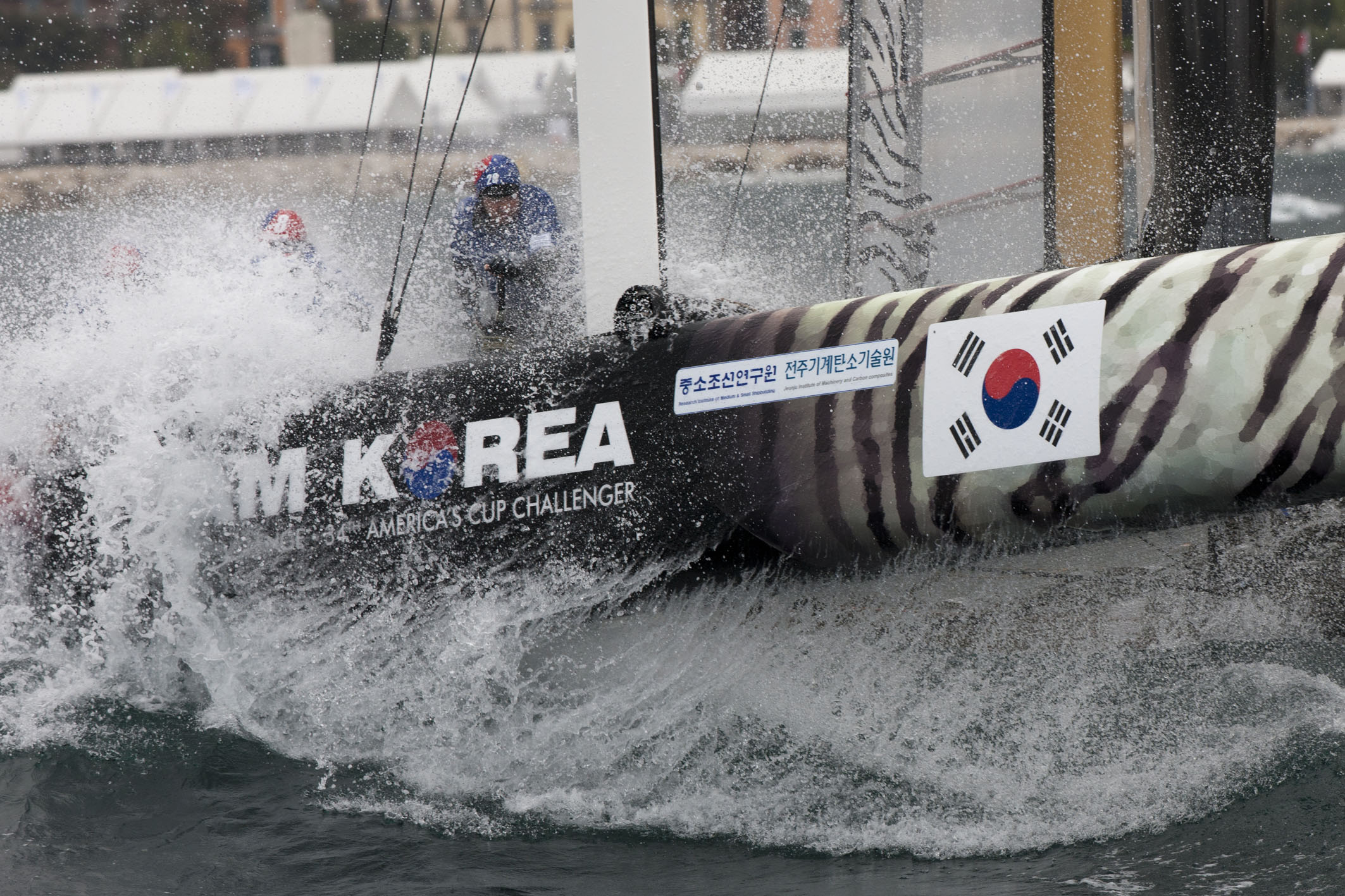 Photo © Gilles Martin-Raget
China Team, meanwhile, will be a no-show in Newport for AC World Series racing this month and is iffy for San Francisco in August. China Team is perhaps retreating to become a junior team, with all-Chinese sailors, to compete in the Red Bull Youth America's Cup. As an alternative to blowing away like dust, that's a smart transformation. Logistically, it seems doable, and it would give China Team a marketable presence in one segment of an America's Cup season in San Francisco. The city with a Chinese-American mayor. The, um, "Gateway to the Orient."
That would leave a line-up of challengers including Artemis, Emirates Team New Zealand, Luna Rossa, Team Korea and—wait, Energy Team (France) keeps saying they're in, but they have not yet paid the $200K.
The teams voted to extend the commitment deadline to August 1, so Loïck Peyron's group is still alive going into the America's Cup World Series racing in Newport.
America's Cup Race Management CEO Iain Murray explains, "June 1 was a firm deadline for the $200K, until the competitors came to us and asked to change it, which they can do. August 1 is a firm deadline until they change it. I imagine the French would rather be looking at September, because in their opinion that's the absolute deadline for starting to build a boat. But, the TV people need to be able to clarify a schedule, so we'll have three schedules sitting, waiting [different eliminations scenarios for different numbers of challengers] and one of them will kick in on August 1."
Can you really design and build in that time frame, considering that Oracle will already be in the water, New Zealand will already be in the water (probably launching July 26) and Artemis would have been in the water except for one inky winky wing failure.
"There's not much runway after August 1," Murray says. "You'd have to subcontract a lot."
Team Korea is not exactly top heavy with native Korean sailors (team founder Kim Dong-Young calls this a learning experience) but the country is on the move in sailing. As for Australia-born skipper Nathan Outteridge, it tells me something that he could win back-to-back 49er world championships, with different crew, and he's done OK so far in the AC45.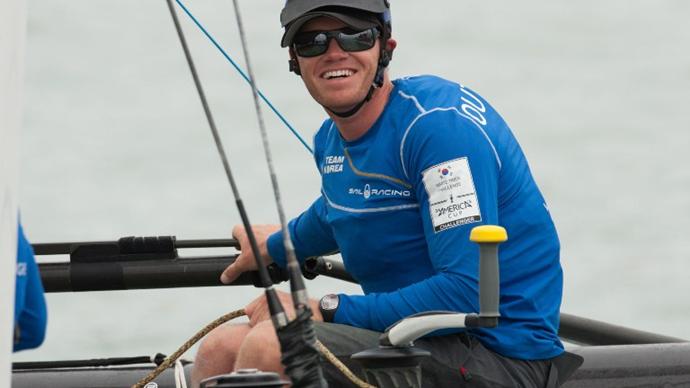 Photo © Gilles Martin-Raget
And you kinda got to love a guy whose home town is Wangi Wangi.
And you kinda got to love a leader like Kim Dong-Young who is not beyond noting that, if the challenger count numbers four, his boys have a very good shot at making the quarter-finals.
YOU DON'T HAVE TO KNOW, BUT
We note that the capital of Korea, Seoul, is not a natural port city, but the recently-completed Gyeongin Ara Waterway gives Seoul a direct link to the open sea at a published cost of US $1.9 billion.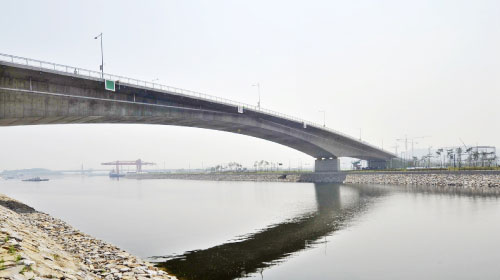 I suppose a cynic could read that number as, don't tell them it cost $2B.
The canal, which can accommodate ships up to 4,000 tons, uses a section of the Han River, and 11 miles from its origin meets the Yellow Sea off Incheon's Oryudong.