Match Racing Expandinggg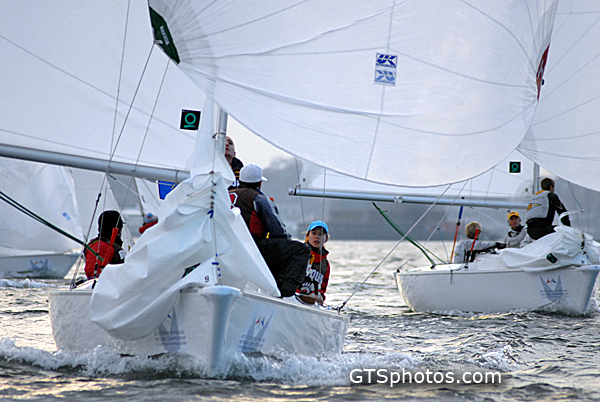 COLLEGE SAILING jumped onto the match-race bandwagon this year, and the inaugural national championship wrapped up memorably on Sunday in the chilly waters of the north shore of Long Island Sound. Kings Point Merchant Marine Academy was the host, and Boston College was the winner, dominating and dispatching St. Mary's—a team that opened the series on a roll—in a 3-0 final day.
Taylor "anyone can win a race" Canfield skippered for Boston College, and I note that his crew included 2008 US Junior Doublehanded Champions Tyler Sinks and Bianna Provancha, who presumably have toughened up on New England winters in their college years (after growing up in balmy San Diego).
Brown had a 2-0 day to take third place over Tulane.
By way of Alice Leonard, the ICSA representative, we have a little perspective on why the dinghy nationals moved to a match racing format in Sonar class keelboats: "The keelboat nationals were a fleet race that wasn't very popular. We were at a crossroads and as an experiment decided to go with match racing to build on the excitement that match racing has generated. We hoped to re-energize this event, and we couldn't be more pleased with the way it has gone."
No question, though, match racing comes with its own demands. For example, ten on-the-water judges to keep the action moving.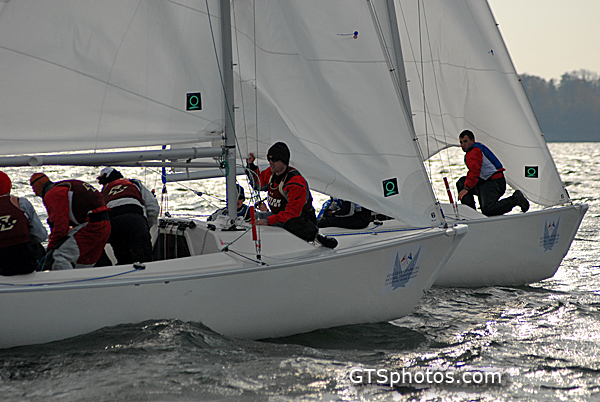 KUDOS
A press release from the company—
Finn and Alek Nilsen, 49er sailors from Fairfield, CA, have been announced as the 2010 winners of Clever Pig's "Best Sailing Web Page" contest. Team Nilsen's web page was selected from more than 100 pages that were created by sailors using the Clever Pig site during the past year. The winners will receive a $500 grant toward future campaign expenses.
Team Nilsen was recognized for creating an attractive, up-to-date web page using the web builder feature that Clever Pig offers as a free online tool to sailors. Brothers Finn and Alek, who have been sailing a 29er together for several years, have recently graduated to the 49er and will aim for the 2012 and 2016 Olympic Games. Clever Pig and the Southport Sailing Foundation are proud to support and encourage Team Nilsen in their quest.