Name Freakin'
Where I live, the game of name freaks was pursued avidly by our most famous newspaper columnist (RIP) in the heyday of newspapers (RIP) and I recall the time fondly, but that meant nothing to my intention to not cover the Rolex Sydney Hobart Yacht Race from my more or less antipodean outpost.
Until I discovered that the long awaited decision—it took a protracted protest hearing involving two of the smaller boats in what turned out to be a slowish race—gave the overall IRC time allowance win to a Beneteau First 40 named . . .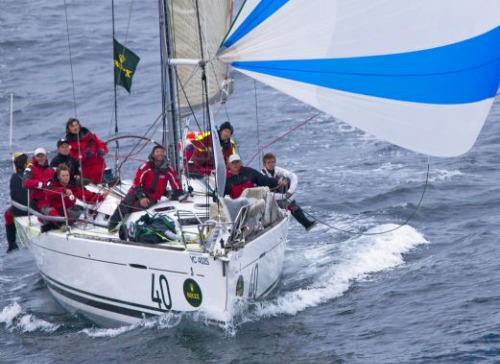 Photo: Rolex/Daniel Forster
Two True.
Think two-plus hours in the room talking about a leaving-Sydney-mark collision amidst a stack-up of boats.
And finally, the jury ruled in favor of Two True.
And ruled against the Inglis 39, She's the Culprit.
The incident is described in the RSHYR media release as part of "a crush of boats" attempting to round the mark. She's the Culprit was holed and retired. She took her damage directly from Two True, so yes, that was her protest, but Two True argued that she had been forced into the incident by yet another boat, the Beneteau 47 Kioni. The protest committee went with that, penalising Kioni, exonerating Two True, and also disallowing a protest against She's the Culprit. So maybe it's time to change that name?
If there's anything more thankless than serving on race committee it's serving on protest committee. But it's not only love that makes the world go 'round.
Note: This version improves upon an earlier-published write-through based upon a thinner flow of information.
The official release reads this way:
Two True, one of the first new Farr-designed Beneteau First 40 stock production racer/cruiser to be imported into Australia, won IRC overall by 42 minutes from another new First 40, (Mike Welsh) after a close race-long duel in which they followed a similar strategy – stay well east of the rhumbline.
Ian Mason's Sydney 38 Next, in third place, another 1hr 19min behind, was similarly pushed by close competition in the six-boat Sydney 38 fleet racing one-design, as well as on IRC handicap. Another Sydney 38, Swish (Steven Proud) from the strong Sydney fleet, was fourth and Tony Kirby's Jeppersen X-41 Patrice Six, fifth.
In sixth place was the 2009 Rolex Fastnet Race winner Ran (Niklas Zennstrom), from the UK.
Two True, from the Cruising Yacht Club of South Australia, is the first yacht from South Australia to win the Tattersall's Cup since Kevan Pearce's win with SAP Ausmaid in 2000. The South Australians continue to be strongly committed to the Rolex Sydney Hobart Race, sailing 1000 nautical miles just to get to the start.
Owner-skipper Andy Saies said he was absolutely elated at the win after being in the surreal situation of not knowing the outcome until after the protest hearing. "Obviously we are very happy with the jury's decision. We believe we did everything in the circumstances to avoid significant damage to the other boat. We gave our intention to protest, we did a 720 (degree penalty turn), though the damage to the other boat was minor and superficial."
"I respect the decision of the skipper of She's the Culprit not to continue racing in those circumstances, but obviously we are very happy and delighted with the outcome."
He thanked his crew, which raced the two prior Sydney Hobart Races on his previous boat True North, a Beneteau First 40. "The Rolex Sydney Hobart Yacht Race cannot be won without a great team, a great boat and an ounce of Sydney Hobart luck. Our team are fabulous guys. We have worked together for the past three years on my previous boat True North." Saies particularly thanked Brett Young, his team and boat manager. "Energetic, tireless work ethic, great understanding of the rules."
He said the race was a physical endurance event over 628 miles. "The wind was in, the wind was out, we drifted, we went backwards, we lost internet access, we didn't know what was going on until the last few minutes. It was a classic Rolex Sydney Hobart event and we were in it up to our back teeth and it came our way in end."
Much more, including accounts of the cant-keel maxi Alfa Romeo's line honors race, can be found at rolexsydneyhobart.com.