No Sacred Cows
Win the Day, Not the Race?
Oracle AC45s coming to San Francisco Bay in June, see below
With history's second prolonged, spirit-killing America's Cup court battle still ebbing from the collective bloodstream, I can honestly say that I've never seen the future of America's Cup racing more in play. And with it, the future of the sport.
Love it or leave it, and yes, you can sail happily every day and never need to think about it, the America's Cup is our signature event, our face to the world. And the people creating AC34 would not be who and what they are if they were risk averse. So I put the question to Iain Murray about this TV-friendly 45-minute limit on races—might that be expanded when we get to the America's Cup finals, I asked—and the CEO of America's Cup Race Management replied:
"I'm keeping an open mind. Originally I had thought an America's Cup race might be 60 minutes, or 90 minutes, but there's no magic in those numbers. In our trials sailing here in Auckland we've settled nicely into 20-minute races. It shows us that we could take the route of tennis and push three races into whatever time period we select for the racing. That would be a different way to decide the day.
"America's Cup 34 is a work in progress."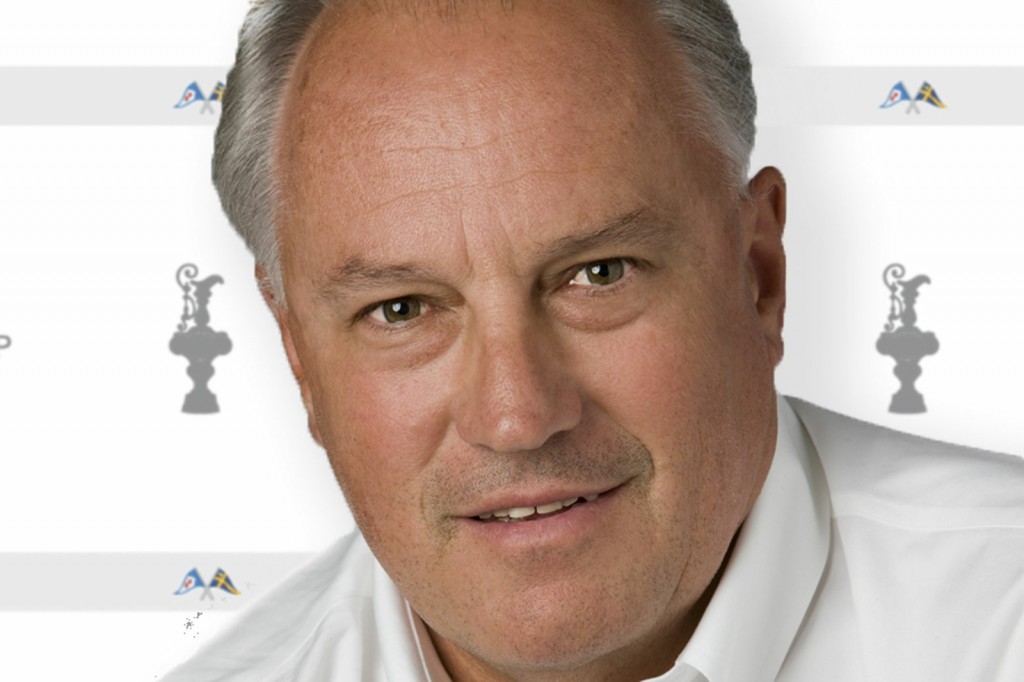 Photo © Chuck Bradley/ACEA
Murray confirmed what I've been hearing around, that Oracle Racing will have a pair of AC45s sailing on San Francisco Bay in June. They're due to arrive in week two. Might as well be cranking, after all. This is where the big show will be, even though we won't have World Series racing until the second half of 2012, when the 45s are intended to race, between AC72 races, in whatever the youth event turns out to be.
In further noodling on the progress of the trials, Murray added, "We're just starting to get comfortable with the course boundaries, and we're beginning to feel adventurous with new course configurations. We're thinking we might want to do away with square start lines and make the leeward end very biased, to encourage the port-tack boat to take on the right-of-way boat."
Again, a work in progress.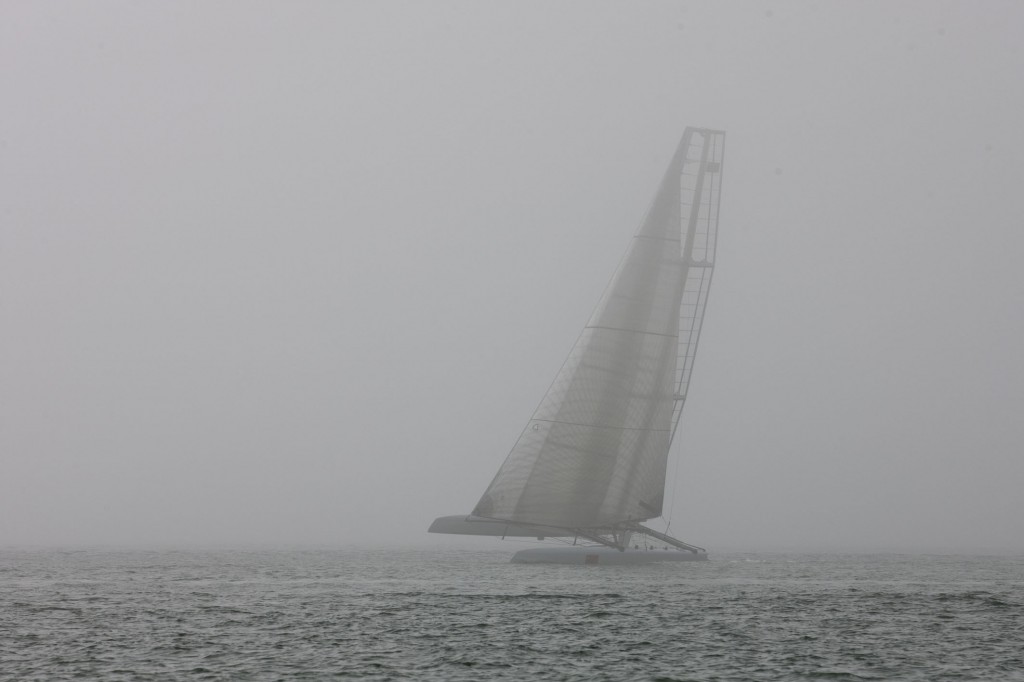 Frankly, I think the future looks bright, but the details are misty. This was shot in a very light breeze, btw. Photo © Gilles Martin-Raget/ACEA
With the first round of the trials now complete, the focus is set to move to the TV technology side in the next round. A while back, Artemis helmsman Terry Hutchinson quipped, "These boats are going to eat a lot of people," and Murray allowed as much: "It's fair to say that from 12 knots on, these boats are extremely demanding. The more elderly members of the America's Cup community could survive on the type of boats we used to sail, but we're seeing a lot of new faces now. And even the young guys, when they come in and wash the boats down, are ready for a lie-down. John Bertrand [Australia II helmsman in 1983] went out, and he said, 'It's like trying to tame a bucking bull."
And that resonated with me. Back in the 1980s, when the celebrated Mr. Murray was himself a young buck (he was Jethro to the 18-foot skiff class, where he won six worlds in a row with boats designed and built by his Colour 7 team) the Eighteens made their first foray to the USA, to see if they could light a spark here. They raced first on San Francisco Bay, and then I made the trek with them to Newport, Rhode Island for the second stage. Blame the John Travolta movie, Urban Cowboy, for the mechanical bull that we found in the first honkytonk we walked into. For my friends from Down Under, it was quite the cultural experience to watch these New England types mount up and try their chances. On a setting of three. Maybe an adventurous four. Eventually, of course, Our Aussies had to try it for themselves.
Set to ten.
Full throttle.
Along with his later success in big boat design and sailing, "Jethro" has done well in waterfront development in his native Australia, so he has all the chops to run America's Cup Race Management. As to the big-job bureaucratic process under way to make the Embarcadero, shall we say, shovel ready, Murray says, "We're not going the route of Auckland or Valencia. We're looking toward mostly temporary structures. What the city is doing right now by way of environmental review has never been done this way before in San Francisco. I have never, ever seen such an extensive environmental review."
A GOLDEN ANNIVERSARY
On Quattro de Mayo I was in a meeting on the cityfront where the assignment was to ponder the impacts of AC34, and how to respond to the pressures upon our little yachting community. When I heard the guns announcing Wednesday Night Racing, I didn't even explain why I was walking out of the meeting. I just took my camera and went. This was the 50th anniversary edition of a local tradition, Wednesday night racing, race one of 2011.
First away was a fleet of four IODs (we have'em, but this is not IOD country), followed by the ever-lovin' Knarrs. This fleet successfully mixes wood and fiberglass hulls, meaning you don't have to have one to beat the other. Note to nonlocals: You're looking north from the San Francisco cityfront, toward the Marin County shore, and yes, there is a lot less breeze on the water over there. Call it normal . . .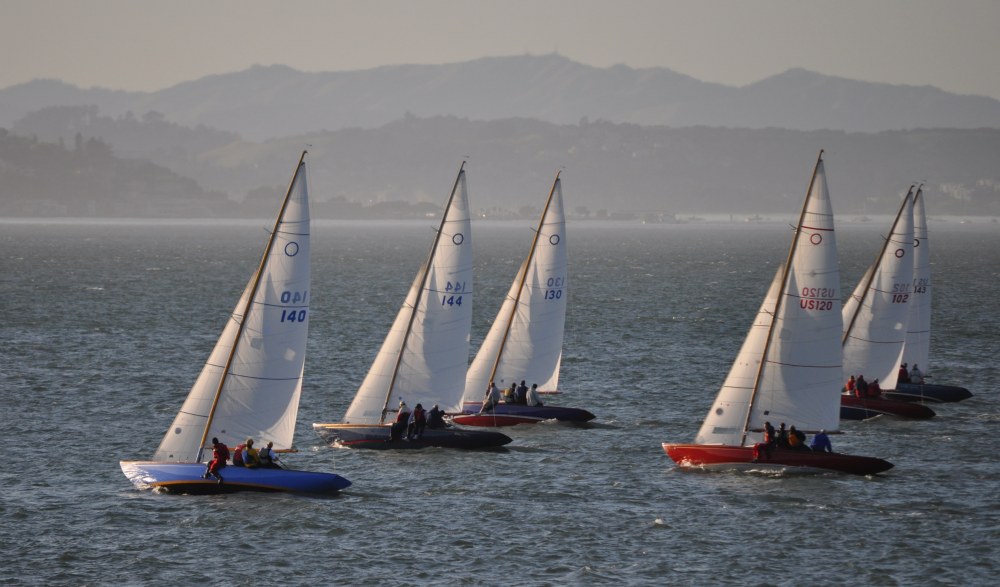 It was a golden, mild evening on San Francisco Bay, with a thin fog from the ocean sneaking in as far as the Golden Gate Bridge. As the Knarrs closed on the layline to the Blackaller Buoy, they were joined by contraptions never imagined at the inaugural, in 1961. A windsurfer. And two kites . . .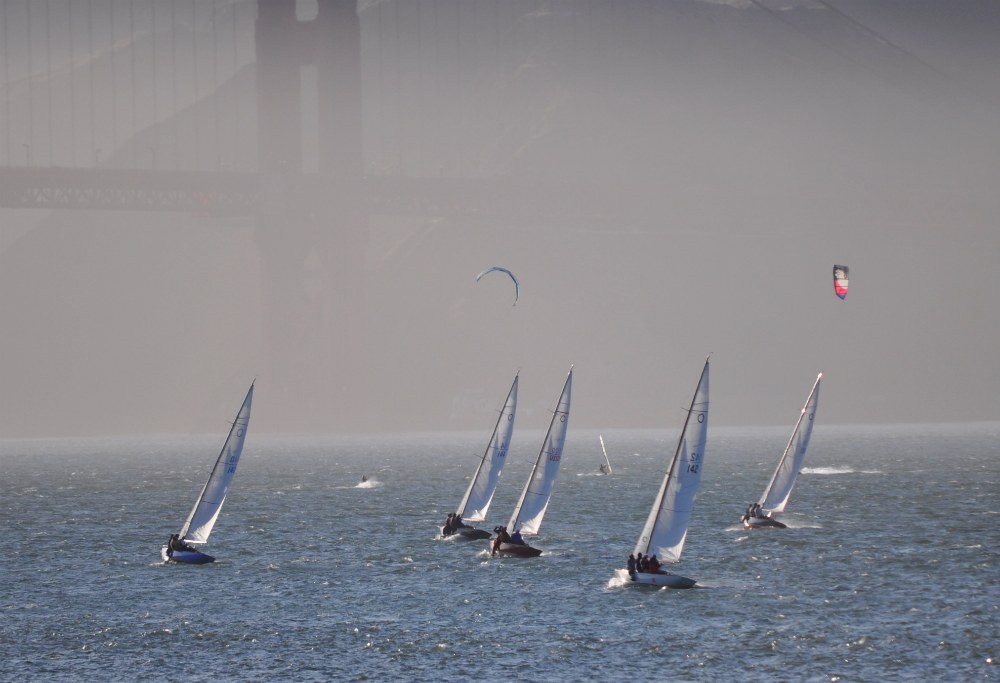 Last away were the Folkboats. Back in the day, they got this thing started . . .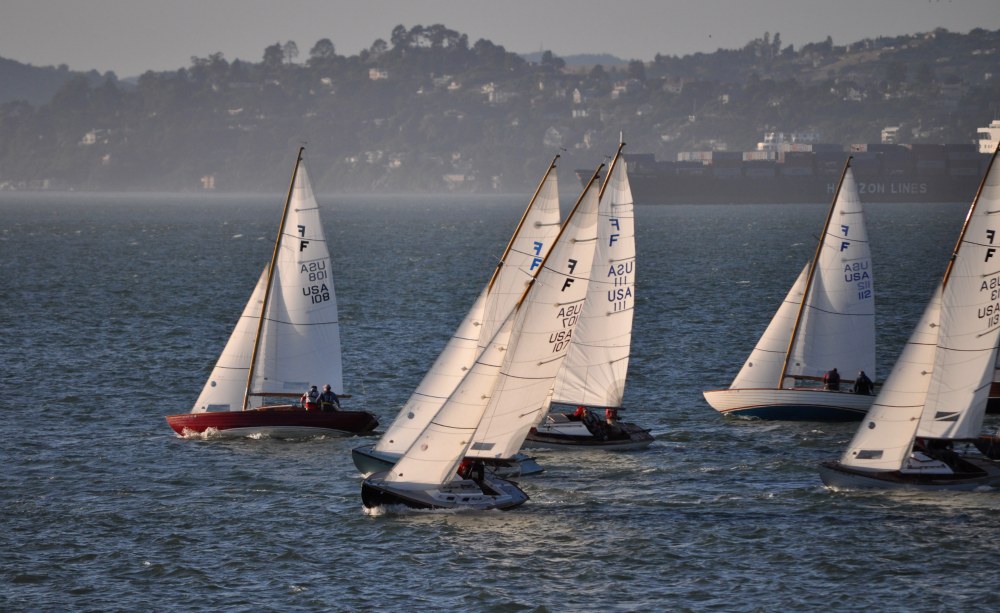 Sigh. Back to the meeting.
.