Not Exactly Black and White
oooKAY. Today I got a press release on behalf of the African Diaspora Maritime regarding its legal action against the Golden Gate Yacht Club, Defender and Trustee of the America's Cup.
Said press release describes the situation as, "one man's two-year attempt to integrate the upcoming 34th America's Cup."
Which doesn't go far toward building Charles Kithcart's case for being a viable organization, not an individual with a few associates and a bug up his tail. But they (cisionwire.com, press releasers extraordinaire) said it, not me.
When Martin Luther King marched on Selma, "integrate" and "de-segregate" were functionally the same. Are we being told that the America's Cup is segregated? It's very white, we know that, but if Mr. Kithcart's legal team from the vast firm of McDermott Will & Emery LLP is going to argue that the Golden Gate Yacht Club turned him down as a potential fellow Defender along with Oracle Team USA over the color of his skin, rather than because he didn't have a snowball's chance in hell of succeeding, he and his mysterious financial sources face a long road to the promised land.
So far, Mr. Kithcart has been very good at implying just that, without tripping over himself by saying it. He also does not acknowledge the distinction between accepting any Challenger that meets the standards of play, versus accepting into the fold a would-be Defender and giving him a badge so he can go raise money.
Come to think of it, though, that's not a bad idea. So I hereby put the Defender on notice: The Journalistic Diaspora Maritime-USA, all of us Fourth Estaters who have been scrambling for crumbs since the $$ shakeout of '08, demand to be allowed to enter AC34 and build an AC72 and race for the honor of America. I can sail, and so can my friends. Commodore Bajurin, I expect your positive response within 48 hours so I can start making calls. Team JDM-USA is ready to roll.
Jimmy Spithill, be very afraid.
According to the Monday press release, oral arguments will be heard on June 27 in a high court in New York City. While I don't know what representations may have been made by GGYC or representatives, Mr. Kithcart in interviews in March at sailrevolution.com claimed that he had jumped through all the relevant hoops but was rebuffed: "This is all going to come out in the court case."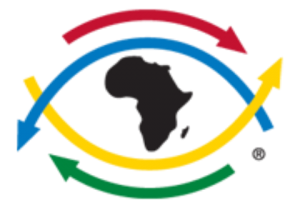 On the newly-launched web site of African Diaspora Maritime, Mr. Kithcart has many things to say that make me want to wish him well. He writes: "What's very exciting for me is arriving at a point in time where there is undoubtedly a convergence of events unfolding for African Diaspora Maritime. "For one, the black mariner does have a significant place in history, having brought to several shores and nations a unique culture, exotic people and unexampled influence. One of our goals is to present published authors who have researched, documented and uncovered exciting stories and revealed the adventures of seafaring, dark-skinned travelers.
"If you're curious about our colorful logo, it was designed to represent the journeys these mariners took from one continent to the rest of the world.
"I'm excited about the layout and information our website is going to provide as it expands not only to cover maritime history, but to expose a remarkable industry that few African Americans are aware of and have an opportunity in which to participate. Our educational roster will include presentations on identifying skills and opportunities to work in today's maritime industry, particularly in design, engineering and construction where African Americans are rarely visible.
"This brings us to another important goal we are challenging: participation in the America's Cup. I've posted press coverage on the website that explains my attempt to communicate and the actions taken that some in the racing industry feel are not worth the effort. However, support in this year-long endeavor has brought us to the New York State Supreme Court to present our arguments. This will change not just the history of the America's Cup, but the history of America."
The press release &#151:
African Diaspora Maritime Takes America's Cup Trustee to NY
Supreme Court
AFRICAN DIASPORA MARITIME, Plaintiff
v.
GOLDEN GATE YACHT CLUB, Defendant
Supreme Court of the State of New York, County of New York
Oral Arguments Scheduled June 27, 2012
Index No. 653419/2011
>RALEIGH, N.C., June 11, 2012 (GLOBE NEWSWIRE) — In what is being
>compared to a "David vs. Goliath" battle (Sailing Anarchy), one man's
>two-year attempt to integrate the upcoming 34th America's Cup (2013 San
>Francisco) will now be heard in oral arguments before the Supreme Court
>of the State of New York on June 27, 2012.
>The "David" of this reality story is Charles M. Kithcart, Executive
>Director of African Diaspora Maritime (ADM) who has filed suit against
>The Golden Gate Yacht Club (GGYC), current trustee of the America's
>Cup. ADM is being represented by international law firm, McDermott Will
>& Emery, LLP, New York.
>
>"The America's Cup is the premiere sailing competition in the world and
>what we will do is crew a predominantly African American/African
>heritage team of experienced, international sailors to compete in an
>upcoming Defender Selection Series," says Kithcart a veteran mariner.
>The "Cup" is governed by a deed (Deed of Gift) dating back to 1887 that
>call for friendly competition between foreign countries. ADM sought to
>participate by (manifold, involute and diligent preparation in spite of
>being excluded from the competitor's forum) timely filing the required
>application with the trustee.
>"GGYC was obligated to do two things: review and accept applicants that
>have the necessary resources and experience to have a reasonable chance
>of winning," the lawsuit alleges "They breached those obligations by
>rejecting ADM's application for purely pretextual and ever-shifting
>reasons."
>ADM sought to compete in a Defender Selection Series against GGYC's
>clearly preferred representative; Team Oracle Racing led by Larry
>Ellison, billionaire CEO/Founder Oracle Corp.
>ADM is the only team from the United States who applied to compete
>against Team Oracle Racing for the right to become Defender.
>About African Diaspora Maritime (ADM)
>African Diaspora Maritime is a non-profit corporation, created to
>compete in various sailing regattas (namely the America's Cup) with a
>mission to motivate, inspire, and teach problem solving and cooperation
>by introducing early disciplines of maritime knowledge. Exploring and
>teaching this great subject which includes mathematics, physics,
>science, engineering, languages, and competition. "We have a mission to
>make history and teach history by introducing the extraordinary yet
>unheralded legacy of the black mariner as well as the complex math and
>science behind hi-tech America's Cup sailing." Charles M. Kithcart,
>Executive Director.
TRENDING NOW
While Artemis in Valencia scrambles to repair its broken AC72 wing—and figure out what went wrong, because it's high time to start building wing number two—Oracle Team USA is scheduled to receive its wing on Tuesday, June 12 at Pier 80, Port of San Francisco. The hulls for Oracle's first boat have been built at Pier 80. Now the pieces are coming together. The wing, built in New Zealand at Core Builders Composites in Warkworth, hit the road to make a ship . . .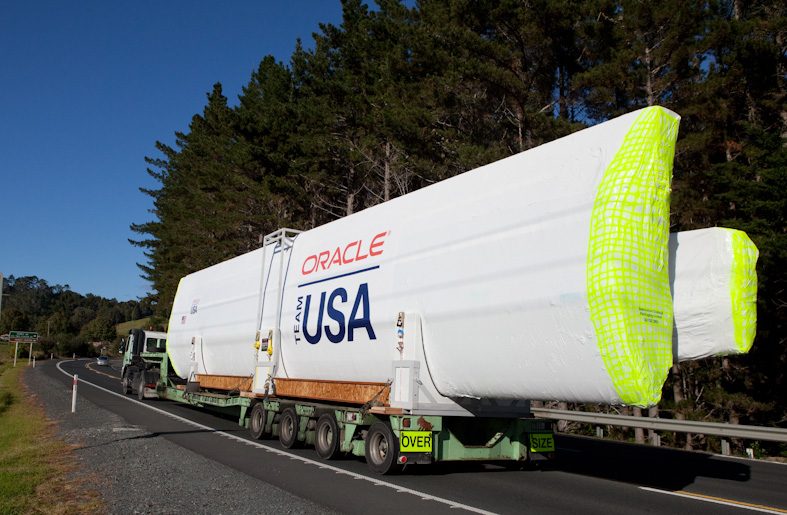 The Cap Vilano has/had a sked to make the Port of Oakland in the predawn hours on Tuesday.
The crossbeams, as they are calling the horizontal elements of the wing, will be trucked to San Francisco from Oakland, presumably across the Bay Bridge. The 131-foot vertical element, the primary structural component (the part that failed on Artemis) will have to come the long way, all the way around the South Bay via San Jose, to reach Pier 80. All set for the morning, one time or another.