Old (fast) Dogs
In the prognostications I saw, Phil McGain wasn't even listed as a contender for this week's Windsurfing National Championship. Why would he be? McGain blew off the racing circuit years ago in favor of a more recent obsession, running and competing in marathons and triathlons. Heck, the only board he owns is that six-year-old thingamajig that's been hanging around the garage and—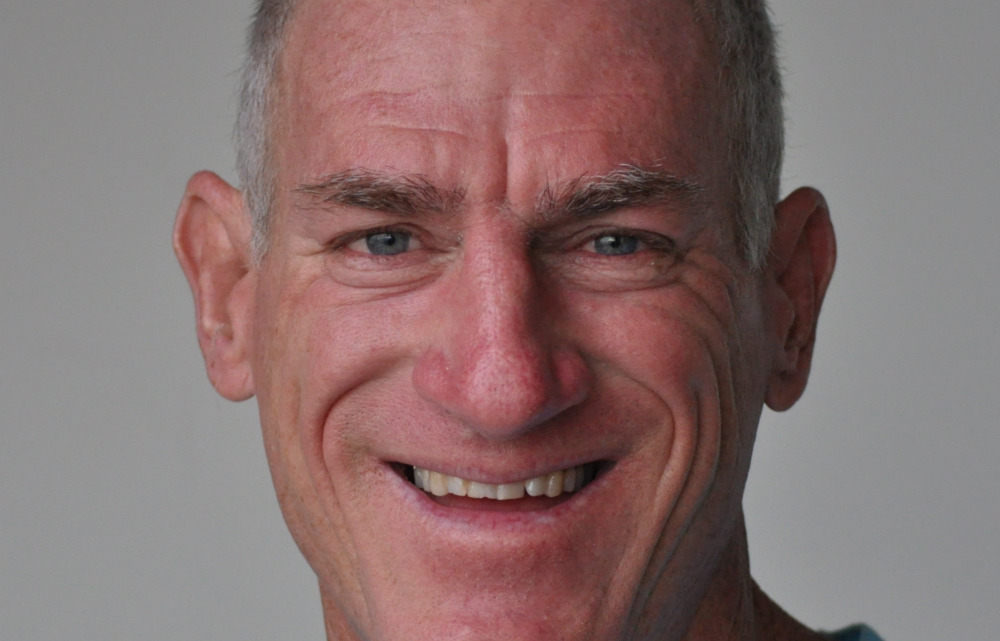 No to overdo it, Phil McGain is president of Maui Sails, and it's not as though he ever quit putting in time on the water. It's not as though he ever quit thinking about sailing fast. But the 1989 world champion in course racing really did drop out of serious competition circa 2005. He came to San Francisco Bay for the Nationals with no particular expectations except to fly his sailmaking brand, and then found himself and that six-year-old board in second place after two days and seven races. "I think everybody's surprised," he said. "I'm a little bit surprised, myself. It's been a while, but I feel as if I haven't skipped a beat.
"I'm 47, and I'm racing guys in their twenties, but my fitness level is probably the best it's been since my own twenties."
The Formula boards that are being raced through Saturday along the San Francisco cityfront—right where I figure the America's Cup match will be sailed circa 2014—have been through quite an evolution in McGain's time. "If you go back twenty years," he said, "the equipment was 12.5-foot boards with daggerboards and sliding mast tracks. I think our biggest sail was a 7.4 [7.4 square meters]. Go forward from that and there was a time when the boards were 27 inches wide. Now they're 36 inches wide and our biggest sails are 12 meters. The idea is to have super-high performance in the light air that most of the world sails in. But I live on Maui, where we see a lot of 20 knots and 30 knots, and here we are beating ourselves up on San Francisco Bay."
He wraps up with a grin as if to say, but of course.
Brazil's Paolo dos Reis was the series leader after two days and clearly the man to beat for the overall title. McGain in second was a few points back with a lead of another few points over five-time Brazilian national champion Wilhelm Schurmann. Except that when you separate out the concurrent Grand Masters category, McGain—he's Aussie by birth—is sailing in a category of one, with a double-digits lead on points.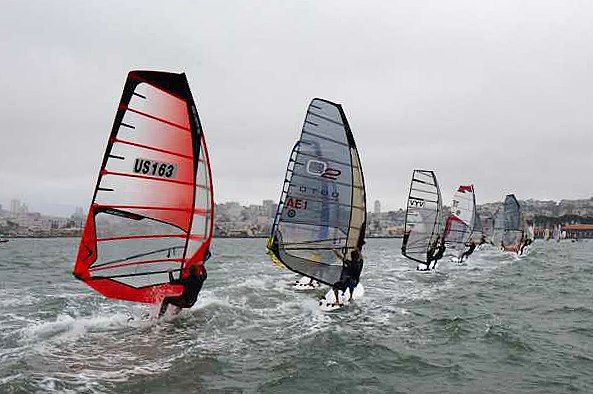 Photo by Richard Ressman, Photosurgeon
There was that one race on day two when McGain got "a killer start" but then was afraid that he had killed himself by being over the line early. To be safe, he went back, re-started deep, and then climbed all the way through the fleet to finish first and ask himself, Did that just happen?
The races are being run by St. Francis Yacht Club, which has adopted an aggressive approach to re-defining windsurfing in the USA. A year ago the club bought itself a fleet of Techno 293s and set about building a junior windsurfing program. The Techno Worlds will be sailed in these waters a year from now, with the expectation of an international fleet in the hundreds of young windsurfers. The U.S. windsurfing rep at the Qingdao Olympiad, Ben Barger, conducted a youth clinic here last week. Here is what the man had to say: Ben Barger on youth development
As noted by USA 4, Steve Bodner, it's been winter wetsuit weather on San Francisco Bay. The marine layer dropped a few hundred feet on Wednesday, to "only" 2,100 feet, and will probably clear further as the week goes along. With any luck there will be sunshine at Crissy Field for the wrapup racing on Saturday, and maybe a bit of freestyle competition as well. The racing also counts for men's, women's, and age-category titles of the Formula Windsurfing North American Championship. You can find the event website here.