One Standing
When Emirates Team New Zealand launched its first AC72, observers allowed she was built for stout. By lightweight, carbon fiber standards, anyhow.
When the boat went full-foil on sailing day five, it fulfilled a lot of expectations (Luna Rossa's Matteo Plazzi: "We'll all have to try it") and promised a bit more, considering that ETNZ is, we might say, the one man standing.
Artemis trialed a wing months ago on an ORMA trimaran and broke it. Quite possibly, the next meeting was a long meeting for the engineers. They have not said publicly when they expect to sail an AC72.
Oracle last week launched its first AC72 and bailed after two hours with what the team described as a "daggerboard failure." Quite possibly, the next meeting was a long meeting for the engineers. An upcoming media day was quickly postponed, and today Oracle Team USA announced a follow up "in the coming weeks."
It's ridiculously early to draw any implications for the outcome of AC34, and Guilain Grenier captured this smiley pic . . .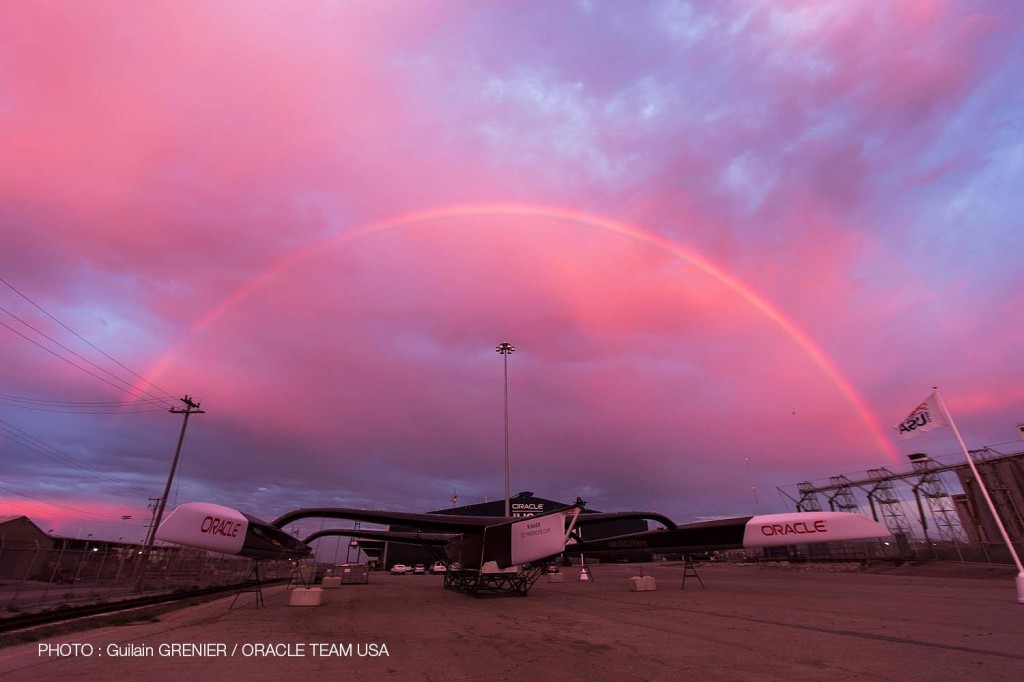 But the Kiwis just have to be feeling better about life than their counterparts. Much of their design work came out of Morrelli & Melvin, the company that also produced much of the input for the AC72 rule, the one that prohibits trimmable winglets and makes pitch control especially "interesting" on an AC72. (Gino's sailing this week in the multihull division of the Rolex Big Boat Series on San Francisco Bay, which kicked off in a Marina del Rey's worth of breeze, so it can only get better, right?)
Suddenly there is considerable footage circulating of ETNZ on foils, but this would be my favorite to date: ETNZ on TVNZ. You can hear the chase boat adding revs to keep up when the leeward hull lifts.