Only in San Francisco
Okay, most places where people sail, you wouldn't see this mix of geography, seabreeze, and sailing types. Beyond that, the quiz of the day goes, why is this truly, Only In San Francisco?
As seen from Crissy Field, Andrew Koch (kite Blue #19) has just tacked short of the rocks and is setting up to dig for speed. Eric Drue (Red #8) is cranking out on port tack and is just about to give up hope of crossing Gerard Sheridan's starboard-tack Elan 40, Tupelo Honey . . .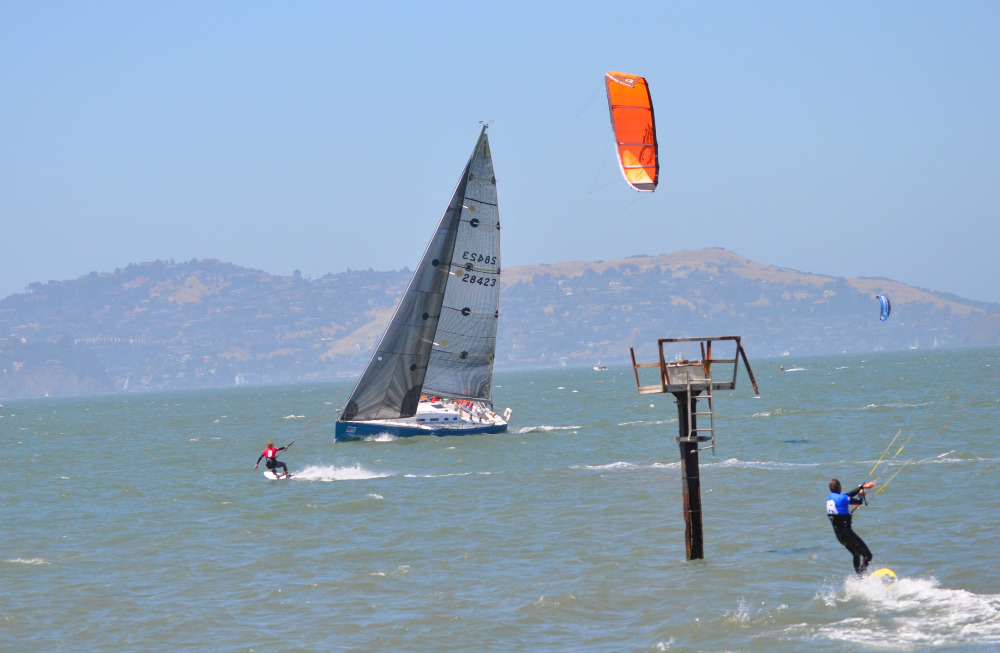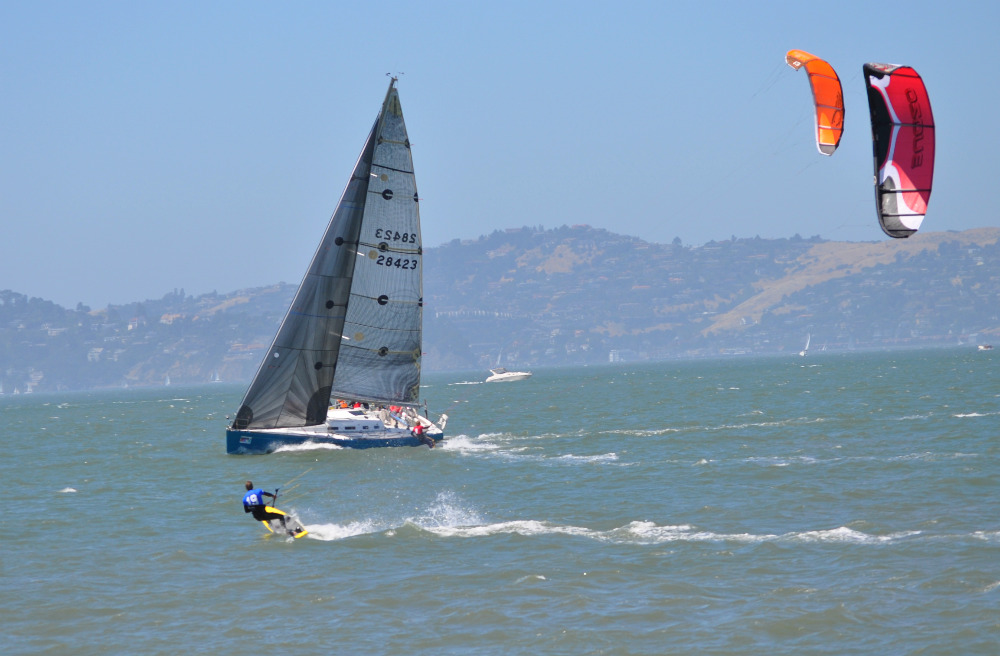 Koch is realizing his own situation . . .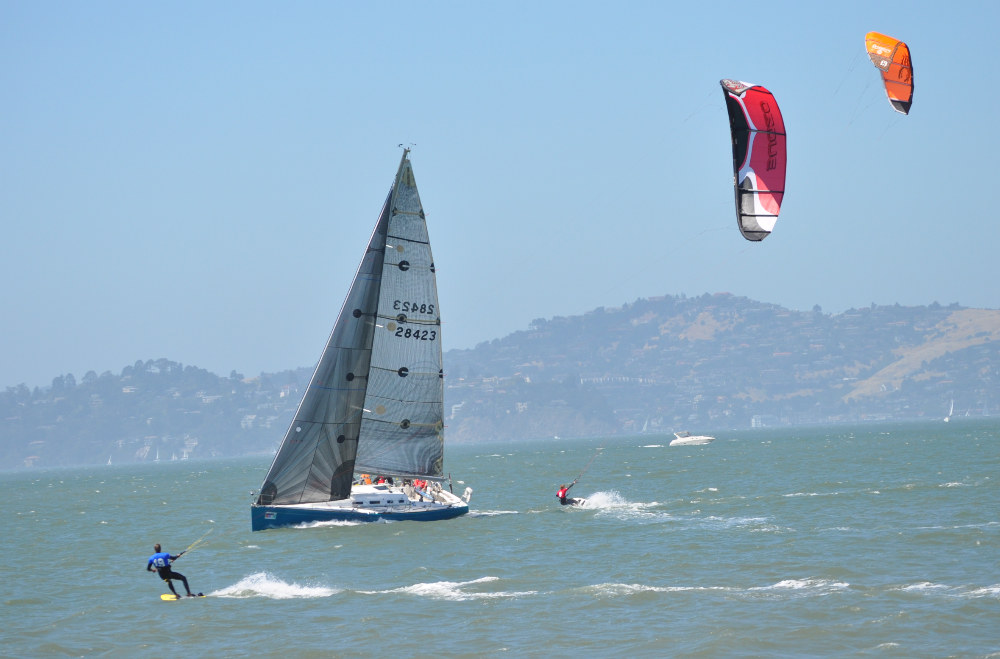 But why do I feel entitled to say, only in San Francisco?
Because these people were all racing in the same regatta.
Not all against each other, no. He who could handicap that would truly have climbed the mountain.
But all in the same regatta. The Sperry Topsider NOOD, staged over the weekend out of St. Francis Yacht Club on three race courses, with 176 entries and 55 race committee volunteers per day (note the ratio) had 17 divisions as different as F18 catamarans versus wooden Folkboats, and kiteboards versus IRC keelboats.
IRC? There's a reason why the NOOD is the "NOOD" and no longer an acronym for National Offshore One Design, even though the June 26-27 event's 17 divisions included such usual one-design suspects as Melges 20s and 24s, J/24s, Lasers, and Finns.
The Finn Gold Cup (btw) is coming to these waters towards the end of August, but for this regatta we were looking, not at an international fleet of 2012 Olympic hopefuls, rather at sailors from the Masters end of the spectrum. There, the guys have been beating up on each other for decades, and the bonds have grown deep, and you find people like veteran campaigner Henry Sprague. And you find people like Andrew Casey, who won the series over Erik Lidecus on a tiebreaker. Yep, Andrew Casey, a guy who would do his little walk-up to the sign-up desk, study the form, form a little grin and fill in BOAT NAME as Henry Should Retire.
Further btw, Henry Sprague finished third and may well be contemplating a boat-name change.
Ironically, while grownups were parading around San Francisco Bay in neoprene suits and proudly bruising their buns, across town there was the 40th edition of a very different event that once was "only in San Francisco."
But that applies no longer . . .
SAN FRANCISCO BAY-HANALEI BAY: THE LONG WALK
From the posts of Solo Transpac sailors at the SF Bay SSS web site, here is an excerpt from medically-retired young Marine, Ronnie Simpson. Most of his entry is about difficulty here, difficulty there, and then, after a week at sea, being finally able to set a spinnaker aboard his 30-foot downwind flyer, Warrior's Wish—
"After we were nice and settled, the swell began coming more from the stern and the breeze picked up. SURF CITY. We were surfing all day long. It was, without a doubt, the most fun 6-8 hours of sailing in my life. My iPod was crankin', the sun was out and I had a water bottle and a couple Clif bars readily accessible so that I didn't have to leave the helm."
After that, more s***, but if you don't know by now that we live for those rare, special moments, my friend, you have a lot to learn. And I'm not talking to Ronnie when I say that. The man has seen more as an early-twenty that most people do in a lifetime.
Now, if you will excuse me, I must find my next moment.
Too late for this one, though, for me . . .
AMERICA'S CUP DEFENDERS ANNOUNCE YOUTH CONTEST
The Golden Gate Yacht Club today announced a contest for under-28-year-olds to innovate video techniques to make sailing look exciting on-screen. Here's the word from BMW Oracle Racing headquarters, which still operates out of the base it used for AC 32 and 33:

VALENCIA, Spain (28 June 2010) – Do you have what it takes to supercharge the media production of the America's Cup?
So asks a video posted today on the official 34TH America's Cup web site, americascup.com, that launches the America's Cup Video Production Competition.
Transforming the video output in a way that excites and engages the biggest ever audience is a primary goal for the 34TH America's Cup. Fresh thinking for video production is being sought from Generation Y. The America's Cup Video Production Competition is open to anyone so long as they're less than 28 years of age.
All that is required is a clip of any length that illustrates production techniques and exciting, new perspectives that could boost coverage of the 34TH America's Cup. "Transforming television is the single-most important change we can make to this magnificent competition," said Russell Coutts, CEO of BMW ORACLE Racing, winners of the 33RD America's Cup.
Ambition is the main requirement for entry. Naturally, content must be original and 100-percent rights-cleared. Clips may be of any sport or activity and any combination of camerawork, editing and production. The 28-year age limit is in place with a view to blending new talent with the best and most-experienced specialists in sports broadcasting.
"We're looking to the next generation to help bring the screen alive," Coutts said. "We expect this competition to open our eyes to some creative concepts that will increase the event's appeal to younger audiences."
A panel of extreme sports and social media leaders will review the videos. Producers of the most interesting videos posted by 12 July 2010 will be flown to Valencia, Spain, to participate in the 34TH America's Cup Media & Race Evaluation Trials slated for the end of July.
The ultimate competition winner, to be announced at the end of September, will get to choose from prizes that include a top of the range Apple MacBook Pro, installed with the latest video editing software, to a high-end, HD camera. Other finalists will receive BMW ORACLE Racing official team gear.