Pacific: Beginnings and Endings
Consummate veteran Skip Allen, who has won California-Hawaii races crewed, doublehanded, and solo, maintains that doublehanded is the hardest, harder even than singlehanded because when you're alone, you know you have to make compromises. Doublehanded, he says, "You feel obligated for your partner's sake to keep pushing as hard as you can."
The quote is approximate, dredged out of memory, but accurate, I believe, to the intent.
I was thinking about it as I watched four doublehanded entries lead the Pacific Cup fleet out the Golden Gate Strait this morning, bound for the islands where three of fourteen Singlehanded Transpac entries—Hecla, Idefix and Warrior's Wish—have so far arrived at Hanalei Bay, Kaui after a June 19 start from San Francisco Bay. Of the boats still out, three have more than 600 miles to go, so they are racing to make the awards dinner on Friday.
The Pacific Cup is headed for a different island, for Kaneohe Bay, on the opposite side of Oahu from Honolulu. Up front at the start, with at least a reasonable shot at staying there against the doublehanded fleet, was a sweet-looking Cal 40 from San Diego, Nozomi, with Rowena Carlson and Robb Walker aboard. It occurs to me that, when Stan and Sally Honey did the Pacific Cup doublehanded on their Cal 40, Illusion—combining considerable expertise in boathandling and routing with the light weight of a short crew—they set a time-allowance record.
Carlson and Walker nailed the start and were on their way . . .
Friends and family were out to see them off from the cityfront start. There are more divisions leaving on mid-day ebb tides on Tuesday, Wednesday, Thursday and Saturday.
After the doublehanders came the Division A start for fully-crewed boats, where the threesome of Ed Mattson, Garrett Coonrod, and William Martin ignored the starboard-tack approach, barging-on-the-ebb tide gang to port-tack the fleet with Mattson's Laser 28, Mega Hurts. Great attitude, guys . . .
Also with a threesome aboard was the Wyliecat 30, Nancy, with Pat Broderick, Michael Andrews, and (seen below) Gordie Nash . . .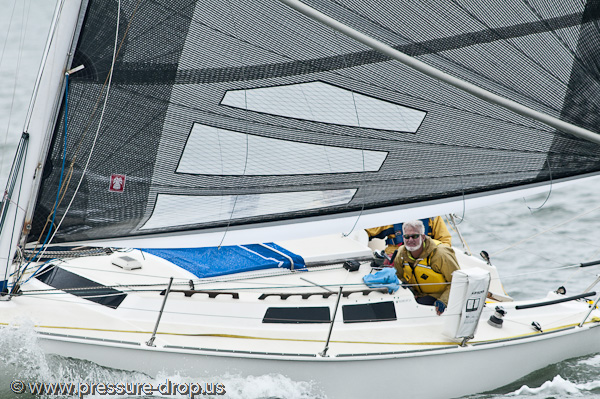 Photo by Erik Simonson

The entire California coast is covered in a thick marine layer that is likely to last the week. It looks as if the Pacific Cup fleet will have to work through light air and sloppy seas to reach the wind that's farther out to sea. As of mid-afternoon Monday, NOAA buoy Station 46026, 18 miles off San Francisco, was reporting 3.9 knots gusting to 5.8, with seas from the south-southwest at 5.9 feet.
It's a robot. It thinks in decimals, even if "sixish" is my 5.9.
BUGS TO BUG LIGHTS
There's not much news coming from the Solo Transpac finish line. I imagine Adrian Johnson and Ronnie Simpson are still sleeping it off.
First in was Jeff Lebesch with the 54-foot trimaran, Hecla. Johnson arrived as first monohull to finish with the Olson 30, Idefix.
Personally, I think we're well beyond the day when the Singlehanded Transpac was controversial, but the participants maintain the self-deprecating tradition of seeing themselves as not exactly mainstream. George Lythcott on the Express 27, Taz, writes from sea, "We're 'Bug Lighters' because someone said awhile ago that the SHTP race is like a bug light for sailing's weirdos. These guys don't seem weird to me at all. I guess that says a lot about me."
Having his own way with that theme, here is Jeff Lebesch relating his arrival at Hanalei Bay: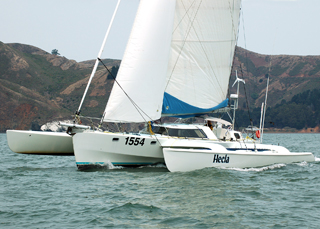 "I made my final gybe onto port and came in hot, 12 knots, pointed directly at the breakers crashing on the cliff. I was more nervous at that moment than at any other time in the race, though once across the line there is plenty of room to turn down and depower.
"I never even saw those breakers in my 2008 night-time finish! After 13 days of seeing nothing but water, sky, and 4 other vessels, that was a sensory overload.
"This is likely the last race for Hecla and me. She is for sale. I am moving to another Chris White design, an Atlantic catamaran, and plan to do some serious cruising. I do love the svelt lines and relative lightness of being of Hecla, compared to the loftier catamaran, though the cat makes for a more comfortable platform for guests. Hecla is a solid and swift ocean crossing companion and will make a comfortable performance cruiser for a couple or small family, or for other racing adventures.
"Not that I am finished with the SSS or Transpac. I have swallowed that damn bug and remain attracted to the buglight.
"Help me!"