Patience Please (BUT)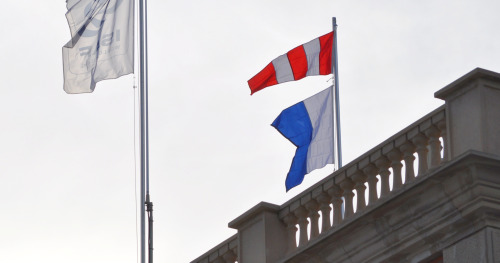 Read my flags © KL
Define slow news day.
Paul Cayard walking around the media center with a EuroSport microphone interviewing journalists.

Define buzz.
Media Center staff walking through at noon with the surprise words, "We're racing. We're racing."

Define letdown.
Three minutes later this screen comes on . . .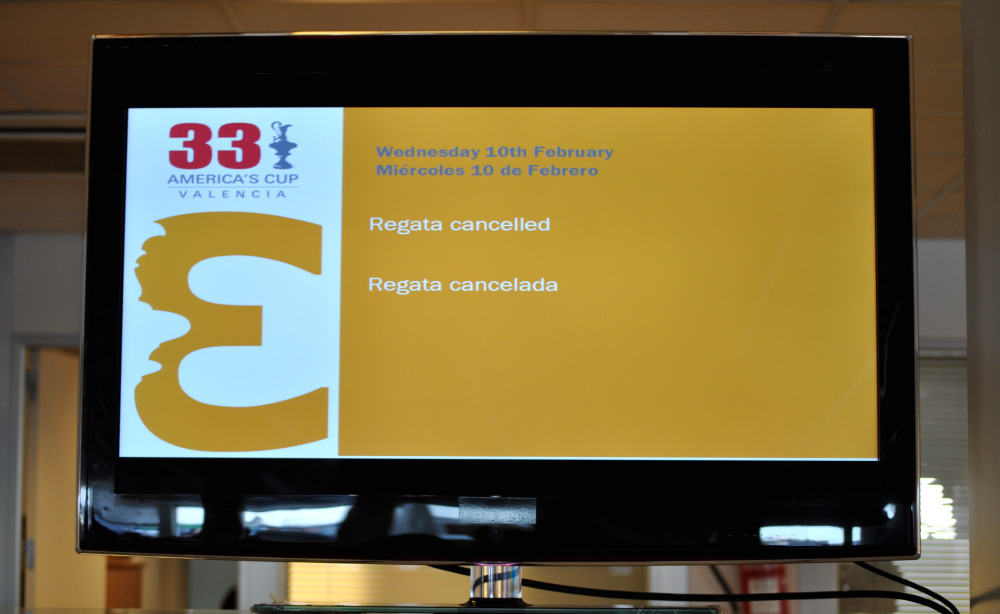 Read my screen © KL
Gee whiz.
Yup, those were my very words.
Except, the flags we see flying above race headquarters are AP over A, meaning "Races not started are postponed." To say, "Regata cancelled" (sic) is pretty scary, and we can all go home. Maybe the communication system needs a communicator?
Thus was the second attempt to sail Race One undone. So much for Wednesday. This time it was about too much seaway left over from an offshore blow the night before. The Sailing Instructions (not the Deed of Gift, as an official announcement claims) say we don't get to try again until Friday.
[So, should I stress over the fact that at the moment it is not possible to download the regatta documents? I need to reread the NOR and it's not available at 33rdamericascup.com, nor are the SI's]
Up today: A quick status update, a look at some very cool kit, the inevitable fustigation for you diehards who read to the bottom, and an announcement about the next evolution in the Blue Planet Times.
What could be so interesting?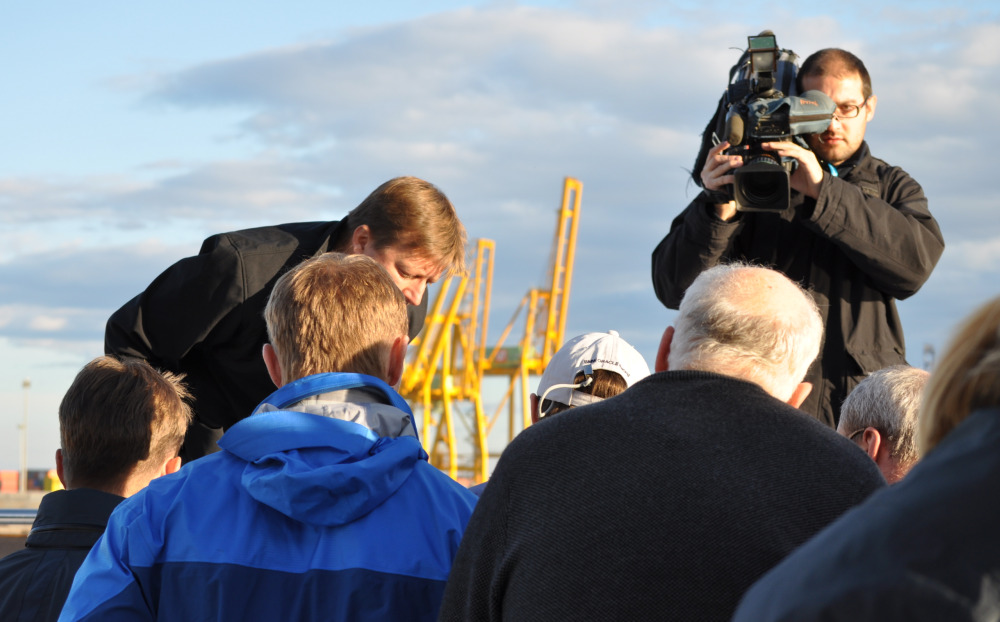 What is it? Read on. © KL
According to Alinghi strategist Murray Jones, "The waves were the biggest problem today. I think they were about 1.3 meters average size in the start area. That means we could've had a peak of 1.8 meters. There was a swell coming from one direction and waves from an offset of 90 degrees to that. We've been out in conditions not quite that bad, but it's heinous. I think they've done the right thing by not sending us out there."
BMW Oracle Racing skipper Jimmy Spithill's take: "We were keen to go. I think 1000 was the window when we could have got a race off. Later in the day, in the shifts, no. But we have full faith in (PRO) Harold Bennett. He has to make the hard calls. I'd much rather sail than run the races."
oooKAY. Thank gawd when they throw a SuperBowl they start on time. But we wouldn't want to risk popularizing this thing, would we?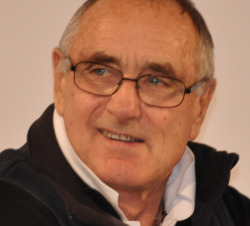 Bennett put the wind at 17-18 and said, "I wouldn't have had a problem with that." But he took a powercat to the starting area 24 miles off the beach, surfing occasionally along the way, he reported, "And when I turned the boat around we were putting the boat under. I think I turned everybody pretty green.
"People are just going to have to be patient."
Bennett gets weather reports and forecasts from experts on both teams. And does he get the same forecast?
"No."
C-o-ol K-i-t
If we ever get to race, there will be plenty of gee whiz. Forgetting the big machines themselves, there are two pieces of kit on the BMW Oracle Racing trimaran that we haven't seen on a racecourse before—the Racer's Edge Laser Wind Sensor, for example, and Jimmy Spithill's glasses with the heads-up display.
Laser wind sensors have helped helicopter pilots judge high-wind gusts and wind shear at landing and takeoff and ought to soon show up at commercial airfields. But the technology has never yet gone sailing, hunting for breeze. (Our friends in the picture above were watching a demonstration.) The heads-up display in Spithill's glasses is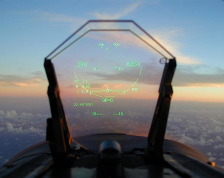 fundamentally no different from those long used by fighter pilots, allowing them to look where they want to look while reading critical performance and target data superimposed on their field of vision. The technology has already crossed over into commercial aircraft and some automobiles.
Racer's Edge Laser Wind Sensor
She's a pricey piece of kit but sexy as heck. The product went public on December 5, and the manufacturer, Catch the Wind, Inc. had a contract with BMW Oracle Racing a week later. Do the sailors really believe in it?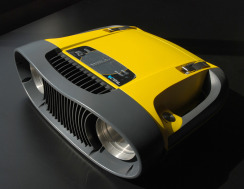 The thing weighs 18 pounds, and it's on the boat.
They believe in it.
The company first developed its pulsed laser technology to enhance the productivity of wind farms, then came aircraft applications, then sailing. Racer's Edge® LWS can measure wind speed and direction up to 1000 meters away. That's almost two-thirds of a mile in any direction. It can be strapped around the neck or mounted on a tripod with a Bluetooth feed to onboard computers.
According to the company, "This fiber-optic device is ruggedly designed to handle the challenges of a maritime environment, even operating in degraded visual conditions. The device has no moving parts, is water-resistant and Class 1M eye safe and functions in a wide range of temperatures." A company rep told me that they have tested it to 2000 meters but limit the power for the sake of eye safety: "We'll get wind spotters out of the rig and into the game."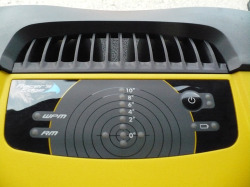 Even sweeter from the point of view of a racing sailor managing a wing 223 feet tall—the machine can generate images of both planar and vertical profiles. If I'm getting this right, the BOR team has found that, yes, there might be more wind (almost always) at 200 feet than at sea level, but there might be a band of lesser wind in between, and they want to adjust one or more of their nine vertical sections to account for that.
And obviously, it's not a bad thing to know about a shift before it arrives, or a hole before you fall in. This item is an absolute essential, but only for certain people. Team Alinghi has been in discussion, "But I can't talk about that." I've heard pricing up to $150,000, but ask about a $90,000 introductory price.
Heads up display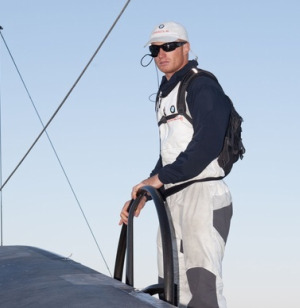 Harold K. "Mike" Vanderbilt raced his yachts without wearing a backpack, but he didn't need a battery pack for a heads-up display. Here's a shot by Gilles Martin-Raget/BOR of Jimmy Spithill with his heads-up glasses and battery backpack.
One aspect that won't require monitoring is the friction-reducing discharge that was being loudly argued a couple of weeks ago. The International Jury OK'd it, but, "We ran out of time to get the system working 100 percent," Spithill says. "We decided to take the system off." Certain apertures in the floats have since been filled.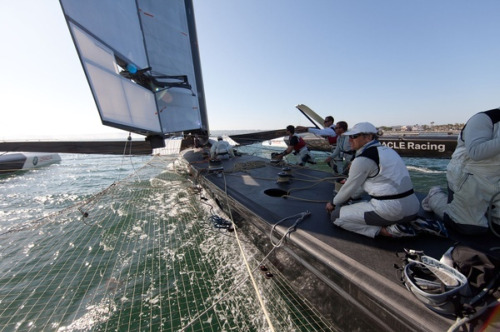 Gratuitous shot of BOR in practice. Photo by Gilles Martin-Raget/BOR

Spithill has met with the press twice in the last two days. A few highlights:
"The main reason for the center hull is to share the fore and aft loads. Also, you can move the mast if you decide you need to."
"Speed? We can go 1.5 to 2 times the speed of the wind, upwind."
"The wing was always planned to have the added top section. It's more efficient when you look at induced drag . . . an advantage of a wing over a soft sail is that you can adjust it through a wider range, tune in the twist and camber you want, and it doesn't flap. There was a lot more that we wanted to do—maybe add a third element—but we had to keep it simple. It's an awesome tool."
"The 'wing caddy' [Aussie Joey Newton] helps Dirk de Ridder [wing trimmer] with twist and camber and tidying up ropes, and he can look at the wing from the low side. It's one of the busiest jobs on the boat."
"Most of the damage a wing will ever suffer happens when you're taking it down or putting it up. That's even true in the C-Class."
"With the wing there is less load than with a soft sail in that last bit of sheeting-in. That helps us trim more and steer less."

Tomorrow: Let's talk Alinghi for a change
AND NOW FOR A PARTNERSHIP
Boats.com and YachtWorld.com partner with BoaterMouth
Market-leading Web sites, joining forces with industry-leading journalists to create unique online venues with "All the boats, all the stories, all the opinions, all the time"
02.10.2010 – MIAMI—Today, the world's leading marine Web-based resources, Boats.com and YachtWorld.com, both divisions of Dominion Enterprises, announced a long-term agreement that will connect their comprehensive, searchable boat listings with extensive editorial content from 12 of the best marine journalists, including Kimball Livingston and his Blue Planet Times.
This partnership recognizes and leads a paradigm shift," said Ian Atkins, vice president and general manager of Boats.com and YachtWorld.com. "People who love the water are online now, looking for boats and high-quality editorial content to go with them. Teaming up with a crew of 12 writers who have the credentials of the BoaterMouth group is an outstanding enhancement for visitors to our sites—and a privilege for us."
Articles by BoaterMouth's marine journalists can be seen at www.boats.com/boat-content/boatermouth/ and will cover a range of topics, from power and sailboats to fishing, mega yachts, marine electronics, chartering, cruising, racing, and advice on maintenance and equipment. Boats.com and YachtWorld.com will utilize their established online technology to pair this expanded editorial content with related new-boat and brokerage listings, offering the BoaterMouth team's writing to an average monthly audience of 3.5 million boating enthusiasts—more than the combined circulation of every U.S. marine magazine.
BoaterMouth.com was launched in November 2009 by Imagine Media LLC and is owned by longtime marine journalist Kim Kavin. She is among the 12 BoaterMouth writers, who include Lenny Rudow, Ben Ellison, Diane Byrne, Pete McDonald, Tom Tripp, Zuzana Prochazka, Jeff Hemmel, Charles Doane, Kimball Livingston, Matt Trulio, and Ed Sherman.
"My hope when I conceived BoaterMouth was not only to work with the colleagues I respect most as marine journalists, but to do so in a way that helps move marine publishing forward in the digital age," Kavin said. "The team at Boats.com and YachtWorld.com shares our vision of connecting with boaters using rich editorial content in new online formats, and we'll be working with them to apply our industry expertise across digital platforms as they continue to evolve."
By integrating BoaterMouth-branded sections, Boats.com and YachtWorld.com will provide the ultimate boater experience online, such as offering boat-spec information and expert insights, connected and cross-referenced. The partnership will also utilize an existing and growing array of social-networking sites, including Facebook, Twitter, LinkedIn and YouTube.