Pointing the Way for Sailing
Worry all you want about growing sailing.
I rest my faith in those who just have to sail.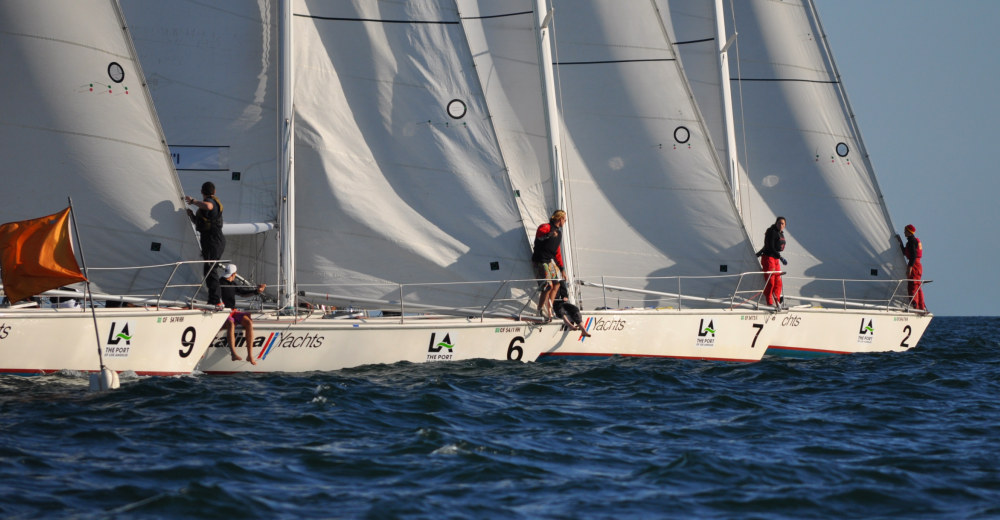 A Harbor Cup start. Photo by Kimball Livingston
Today's example: The Chapman University Sailing Team, which has showed very well in Harbor Cup racing—seven person teams in Catalina 37s—out of the Port of Los Angeles. The nub of it would be two seniors, Max Moosmann and Aaron Krugman, who decided four years ago, in their freshman year, to start a sailing team.
Then discovered it was hard.
Then made it happen.
As he faces graduation and a new phase of life, Moosmann reflects, "I'm a member of a fraternity, but there are only so many close friends you can have out of a hundred guys. The fact is, Aaron and I had a vision, but what has grown out of it is completely different from what we imagined. The sailing team is sort of a big family, and I can say with confidence that my friendships on the sailing team are the ones that will last a lifetime."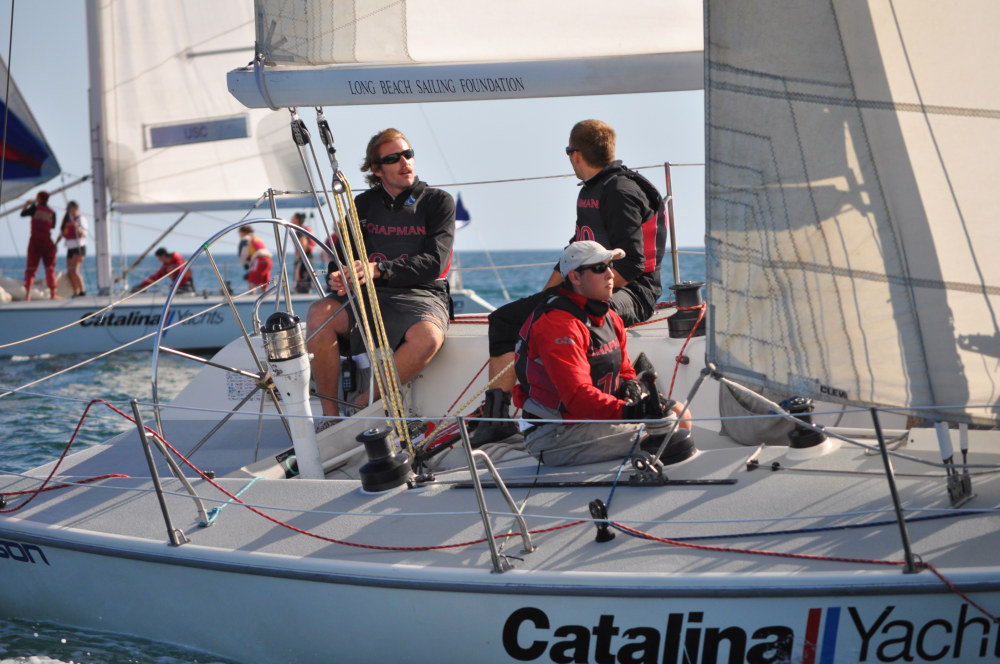 The Chapman team. Photo by Kimball Livingston
The Chapman sailors reveled in the Harbor Cup competition—USC was the winner—which all the team members identified as a favorite event that gets them out of FJ's and into a different form of racing. The three-day invitational, the only big-boat collegiate regatta on the West Coast, is a collaboration of the Port of Los Angeles and Los Angeles Yacht Club, with the California Maritime Academy as the inviting school. It's also part of a network of events that helps build relationships with the sailors from other teams. Liz Nihill, who turned 21 on Saturday, hails from Long Island, New York. She says, "I would never have seen as much of the West Coast if not for the sailing team, but this is the regatta I look forward to all year."
Why argue with that assessment. We had people sailing in t-shirts and shorts, and yes, I could see snow on distant mountains, and Catalina looking alluring over yonder to the west. The team from Maine Maritime Academy, winners two years in a row, sailed well enough on Saturday to move into the top four, which is where they stuck as racing completed on Sunday. Meanwhile, back home in Maine it's rainy, windy, barely above freezing. Thanks for asking.
In three days of racing, each day ended with a different leader. Navy opened on Friday with two firsts but had an OMG day on Saturday and faded. Cal Maritime had a good day in Saturday's five races, 1-2-6-2-1 in winds in the high teens. The academy is located in Vallejo, at the mouth of the Sacramento River, so these people sail a lot on windy San Francisco Bay. CMA, with helmsman John Gray, went into the final day with a thin lead over USC, which has some backstory at this regatta.
Two years in a row, USC led the standings going into the final day, but didn't win.
This year, a steady and conservative game plan payed off for helmsman Chris Vetter, with finishes of 3-3-2 on Sunday, good enough for a two-point win over Cal Maritime. Bowman Brock Kraebel said, "As long as we stayed with our game plan we were good. At the starts, everybody else was trying to win the pin, but we were ducking transoms and looking for a lane where we had some room to leeward to accelerate. The whole idea was to get into the course with options."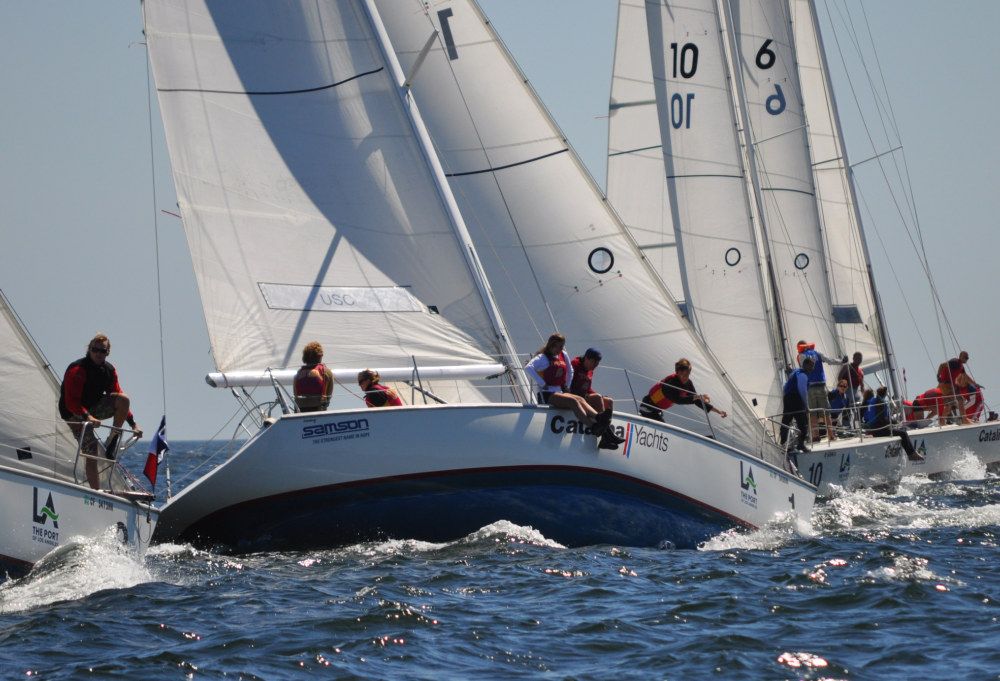 Number 1 was number one, USC. Photo by Kimball Livingston
Done. There were ten races in three days, and the photo above shows USC in the mix in Race Nine.
After the awards, Chris Vetter played superhero with the Harbor Cup, which Los Angeles Yacht Club staff commodore Jim Morgan was careful to point out is "nine inches taller than the America's Cup."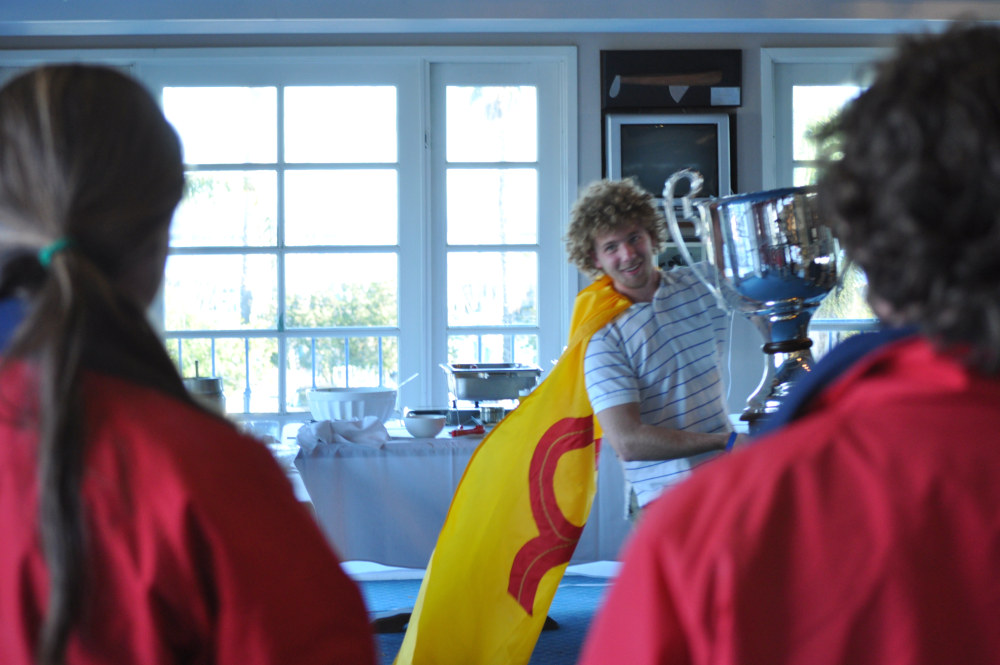 Chris clowns for the gang. Photo by Kimball Livingston
HEY, LET'S START A SAILING TEAM
"At freshman orientation at Chapman, they said how it's so easy to start a club, how the school is really good at starting new things," Moosmann recalls.
So when his old friend Krugman called to say, "Let's start a sailing team," it was natural to say yes. The two had known each other since elementary school days. But they had yet to meet the Risk Management Office, or hear statements labeling sailing, "either a moderate or a high risk activity that has to go through risk management. There's driving to and from campus, obviously activities taking place off campus, and with the sailing team there's water involved, which is always a high risk because of the possibility of drowning."
Yeah, this for example . . .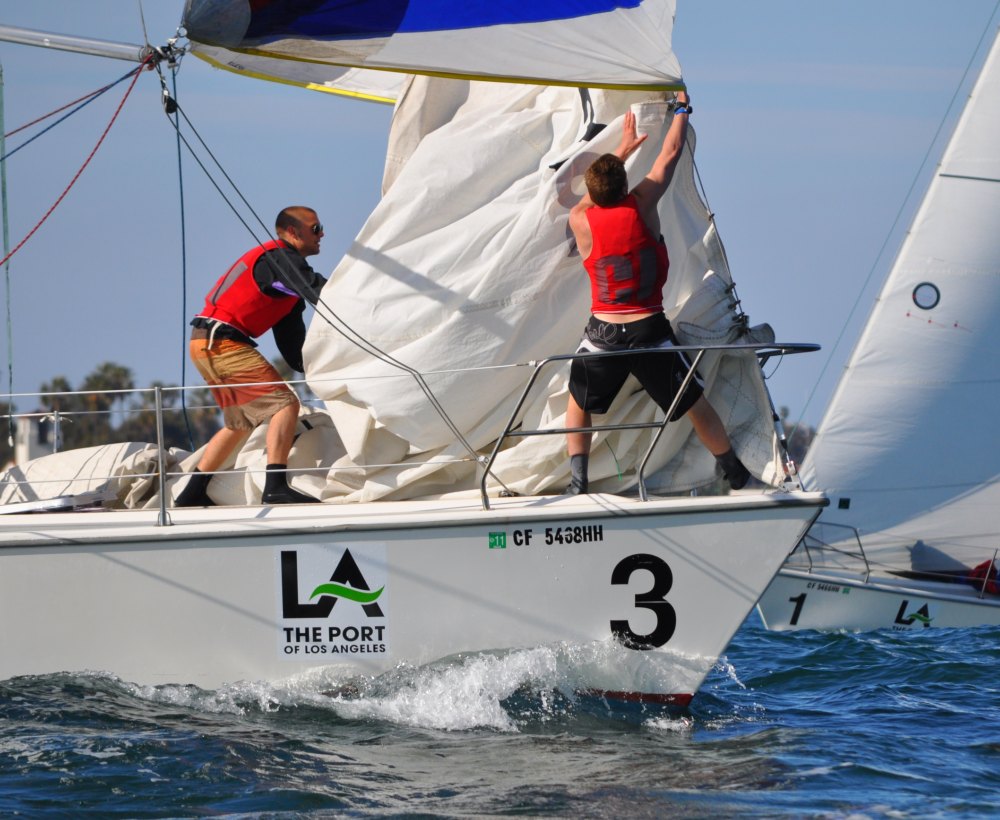 Warning, high risk. Photo by Kimball Livingston
After months of trying to go through proper channels, trying to do everything right, jumping through hoops and "submitting a 100-page constitution," Moosmann says, "I was so frustrated that I called the president of the university directly and told him, 'This is ridiculous. We're trying to do something for the Chapman Community.' The next day the athletic director—the guy who had pooh poohed everything up to that point—called and said, Hey, let's start a sailing team."
Leaving only organization, recruitment, fund raising, boat selection, maintenance, travel, and training.
Early donations (it helps to have family) made it possible for Max and Aaron to buy three FJ's for $800. As Aaron says, "We scavenged parts off two of the boats and made the third one work."
That was 2006. By 2007 they were officially a Chapman sporting club—along with la cross, they're the only sport that competes against division one schools—and they've expanded with more boats, thirteen members, and a slot at the Scouts' Sea Base in Newport Beach. Max says, "It's a great place that gives us access to all the boats we need: FJ's, 420s, and Shields."
Max did the driving in 2010. Aaron held down the bow. Maybe they became slightly enraptured of one of the marks on Saturday, but hey, merde occurs, and when we got to the shouting, Chapman had a third-place finish to show for themselves.
You can find the Chapman Sailing Team online at Chapman Sailing.
And by the way, Max, at 6′ 7″ how did you ever fit in an FJ?
LOOKING BACK
Thanks to sponsorship from the Port of Los Angeles, and thanks to the dedication of LAYC volunteers, the students who come to race have only their transportation to think about. Once they arrive, they are housed and fed, and the boats are provided. It can't get much easier than that, from the competitors' side at least.
On Friday, the Harbor Cup practice starts shared the waters (literally, up close and personal) with the Islands Race fleet from Newport Harbor YC, outbound to round Catalina and San Clemente islands. There was Stark Raving Mad . . .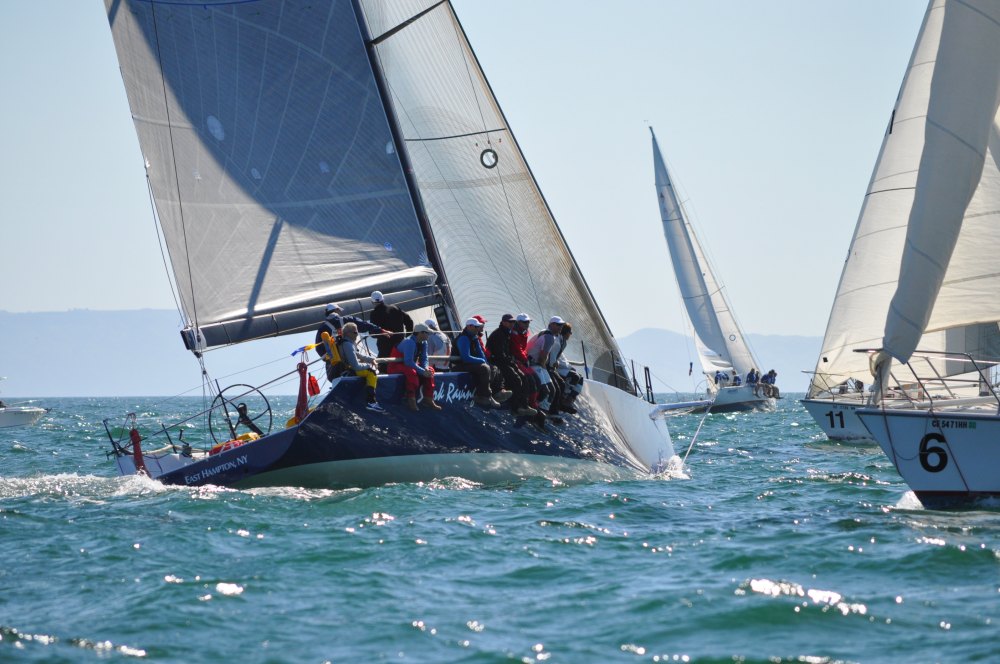 Bound for Catalina, in the distance. Photo by Kimball Livingston
And for something quite different, good ole Ragtime . . .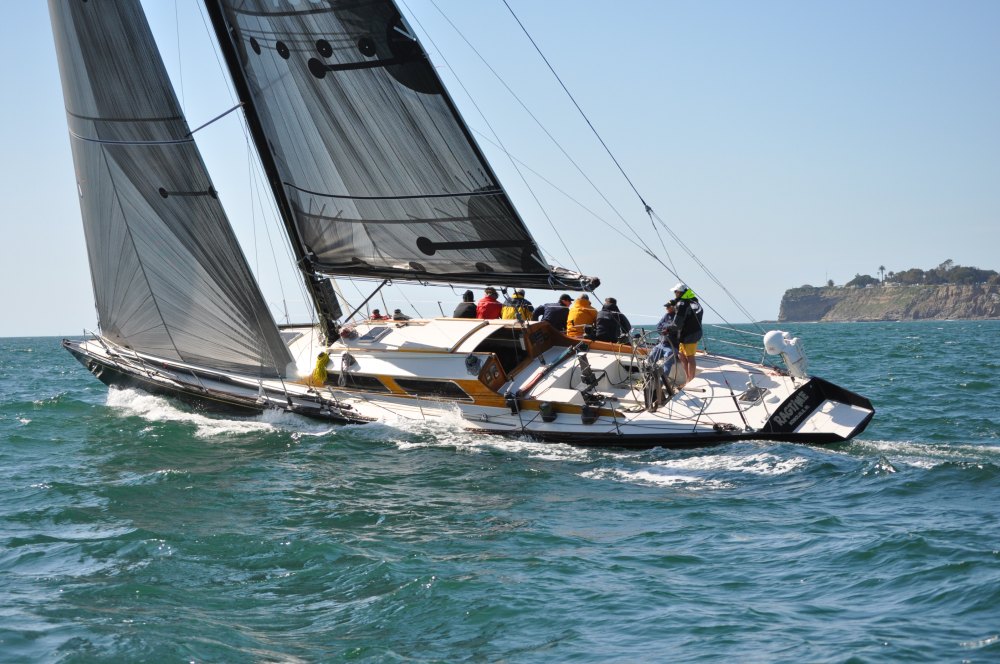 Ragtime with Point Fermin in the background. Photo by Kimball Livingston
And for something quite new, howzabout some very hard chines on an Antrim Class 40 named Yippee Kai Yay . . .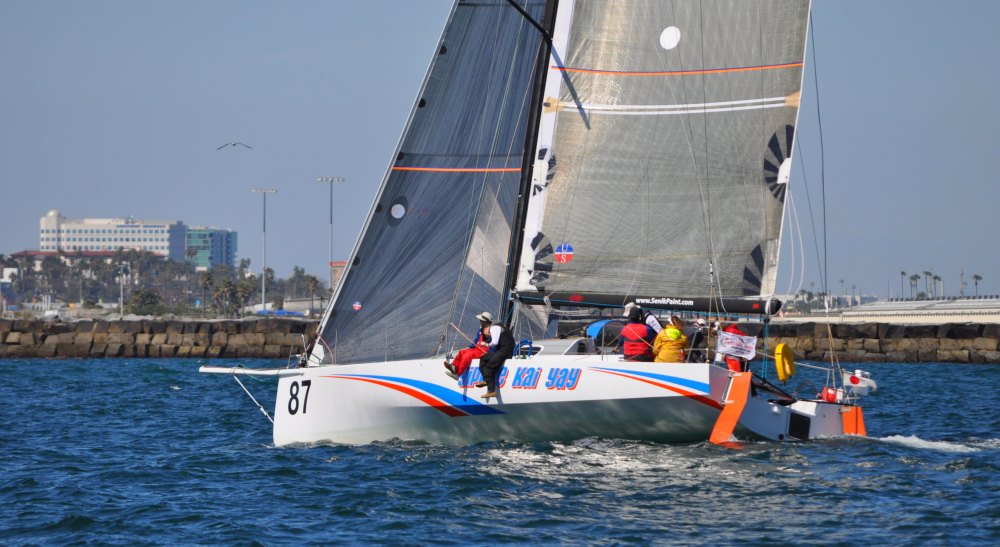 For the record, Paul Casanova's Santa Cruz 50, Flaca, was the overall winner.