Polaris Low on Horizon
What could be finer than to wake up at Les Voiles de St. Barth (good mawnin' tradewinds!) and find on top of my inbox a note from the Mayor's office a few thousand miles away in San Francisco, advising that Supervisor Ross Mirkarimi has introduced a resolution to the Board of Supervisors, which goes on and on in the congratulatory manner of official whereas's but caps off with the bottom line that it should be:
FURTHER RESOLVED, That the Board of Supervisors urges the City and County of San Francisco to work diligently, and with enthusiasm, to develop a worthy plan for a San Francisco waterfront venue to host the 34th America's Cup.
Not only do I like the sound of that, but Mikarimi was on my question-mark list the last time I wrote about this subject. Now he's off, big time. So is Carmen Chiu, who responded with a message of positive support, but after the earlier piece had already gone online. That brings us to six of eleven sitting Supervisors who are on record:
Thumbs up to AC-N-SF.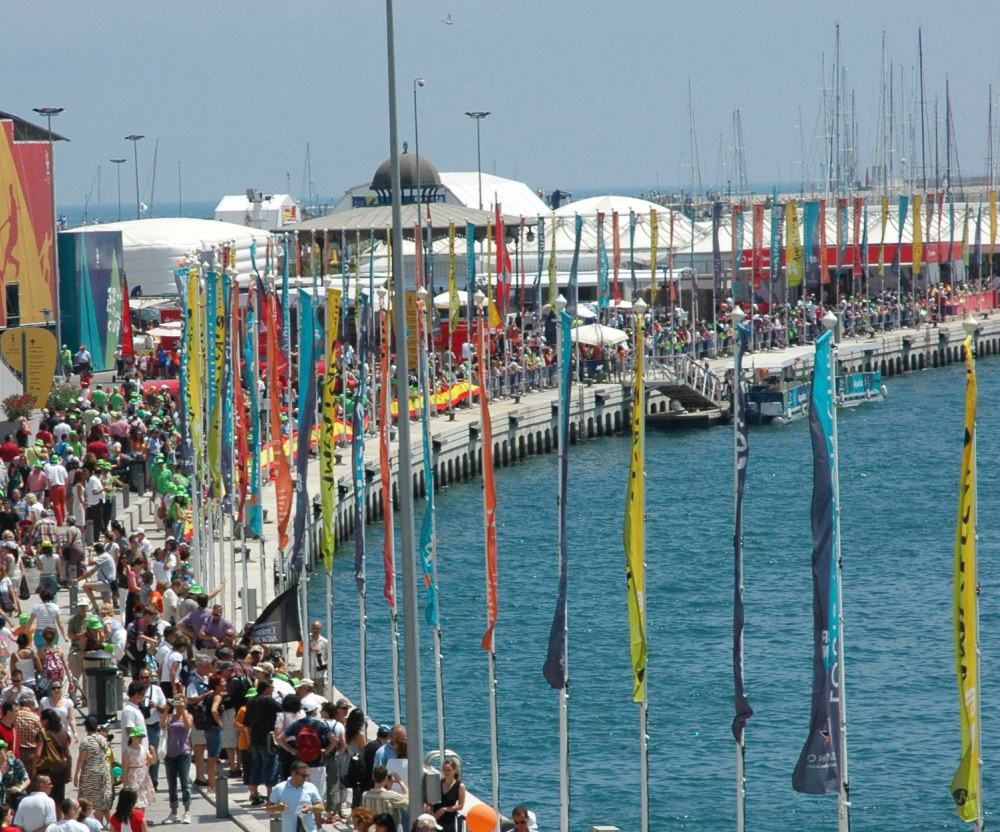 The SF Embarcadero? Valencia 2007? Photo by Kimball Livingston
According to a spokesperson in the office of Mayor Gavin Newsom, "Supervisor Mirkarimi expects broad support." The resolution could be adopted next Tuesday. Also news to me: "Supervisor Mirkarimi grew up in Rhode Island, worked as a deck hand on some of the AC boats as a youth, and knows firsthand what hosting the Cup could mean for the San Francisco Bay Area. It is a real boon to the City's effort to have Supervisor Mirkarimi as an early advocate."
The question I keep asking, "How many construction jobs would come along with building an America's Cup village?" is always referred to the Mayor's Office of Economic and Workforce Development, which comes back with something on the order of, " We're being thorough and measured in our approach," which means, be patient and expect to see some data points in a few months.
So I'll tell you myself. There will be lots of construction jobs.
I'll also tell you, looking at an election in November, it will be hard to campaign against those jobs.
Meanwhile, here at 18º north, Polaris was low to the horizon last night, sure enough, and we could see the loom of St. Maarten across the way. My pulse is still cranked from the landing (small plane, shave the mountaintop and jam it down, baby) or maybe it's from driving the rental in the only way possible, trying to stay ahead of the local riding my bumper on winding, precipitous roads too narrow for opposing traffic—but here they come—and I'm wanting to stand on the brakes on the down-and-round but apparently that's not part of the local culture. Then you get to wherever you're going, and it's island time again and none of those people are in a hurry anymore.
Overheard on the quay: "Look at that next plane coming in, getting ready to dive, getting ready to dive . . .
"I wonder if my bag's on that one."
This is the inaugural Les Voiles de St. Barth, a Caribbean edition of the well-established Les Voiles de St. Tropez. Apparently, it helps to be a saint if you want some boat races named after you.
And it was a windy one. California boy Greg Dorland won the multihull section of the opener with his 52-foot cat, Escapade, and crew Jim Diepenbrock hit the dock and Facebook at the same instant with, "Time for 800 mg of Motrin and 6 beers." These guys even set a new standard for, ah, thin competition. George David's Rambler won in what's called the super yacht division, Caribbean local Robert Velasquez led racer/cruisers with a Beneteau First 45, L'esperance. Antiguan James Dobbs led the racers with a J/122, Lost Horizon, and American Donald Tofias won the bathing beauties contest (classics) with his lovely Wild Horses.
EHANOL AND YOUR MARRIAGE . . .
. . . could be related, depending on how your spouse feels about your boat. Today, Boat U.S. released the following:
This summer, the Environmental Protection Agency (EPA) will decide on whether to allow a 50% increase in the amount of ethanol in the nation's gasoline supply, from the current E10 (or containing 10% ethanol) up to E15 (containing 15% ethanol). However, with testing data on the new "mid-level" ethanol formulation to be completed on only a small group of 2001 and newer model vehicles by this time frame, consumers with older cars, boats, non-road vehicles or gas-engine powered equipment may find that the fuel is not compatible or safe for use.
Boat Owners Association of The United States (BoatUS), the nation's largest boat owners group, is concerned. "Some of our members have advised us of performance, compatibility and possible safety issues with the current E10 blend," said BoatUS Vice President of Government Affairs Margaret Podlich. "To add 50% more ethanol to every gallon of gas without first knowing what it will do to the older vehicles and other gasoline engines we currently own, is simply irresponsible," she added.
The US Coast Guard Office of Boating Safety has also raised concerns about higher levels of ethanol and the lack of independent testing. Ethanol, a strong solvent, can accelerate the deterioration of fuel system components such as fuel lines, causing them to fail and increasing the level of risk for fire or explosions. You can read the full text here.