Reporting In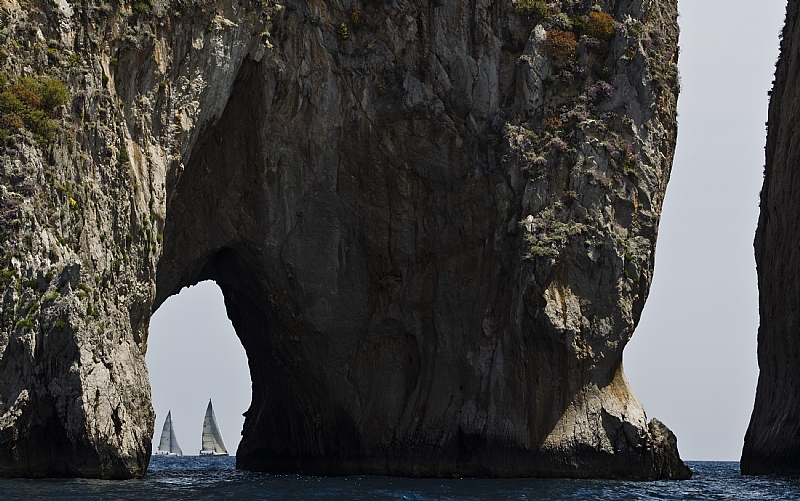 Island scenery © Rolex/Carlo Borlenghi

What do shifty winds and currents, mobs of day trippers, rock star sailors, the jewel-box island of Capri and Rolex have in common?
For an answer try Rolex Capri Sailing Week.
After some unseasonal cold and rain over the past ten days, Capri has uncorked some balmy sailing weather to greet the beginning of the racing season in the Med. Wednesday was sun-drenched with about 8 knots of breeze for the first two races. A 90-degree wind shift then forced the race committee to reset all marks, and a third race was achieved before 6 PM. Thursday's breezes permitted the mini maxies to set off for the 30km round trip to Ischia, while the Myleus, Comet 41 and 45 classes raced to the jutting rocks of Fontelina and back, half way 'round the Island.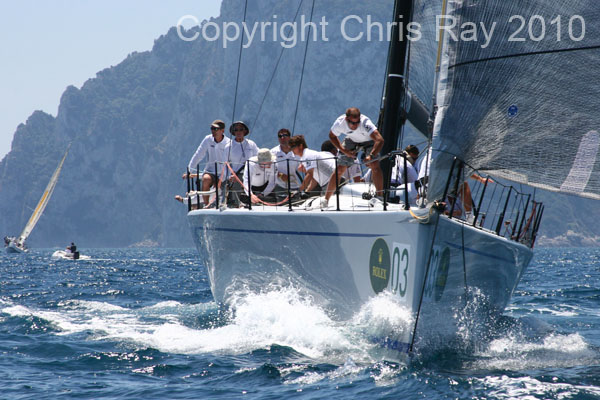 I do love an owner-driver rule, which the mini maxies have adopted. We have four of them here. Nine will be racing for their championship in the Med by summer's end.
Shorts and t-shirts were the outfit of choice, a welcome change for those of us used to full foulies on San Francisco Bay. [Where it's raining sideways today: Ed.] The Farr 40s were supposed to be here, but a snafu with a container ship apparently forced them to cancel at the last minute—Chris Ray
Further editorial comment: There doesn't seem to be a regatta web site as such, though media duties are being performed by regattanews.com. Meanwhile—
Still in Italian waters, but over in La Maddalena, in a race against Mascalzone Latino the Artemis team finally slipped on a banana peel (or a blown spinnaker, take your pick) and lost its first race in five. That would be Paul Cayard skippering and Terry Hutchinson driving, with Terry no doubt still wearing his silver-frame Kores. I shoulda' stocked up when I had the chance.
WOMEN'S COLLEGE NATIONALS LIVE
There you have the look of the racing—thanks, Glennon Stratton—and the racing is also being streamed live (and archived) from Lake Mendota and the University of Wisconsin at collegesailing.org.
The racing happens in full view of race fans and potential fans munching down at the Student Union building. And hey, I know some of those people in the boats! This is pretty cool.
Charleston came out the gate fast on Thursday and racked up early wins, but Texas A&M nailed the start and the finish in Race 6A, and Brown had the lead in the next race as I decided I just had to stop watching . . .