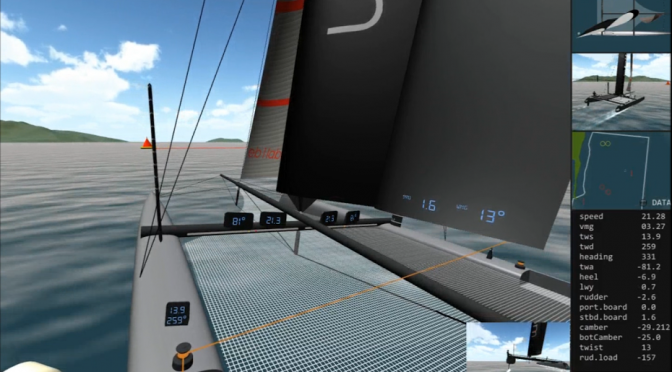 Sailing in My Head + eb1 Labs + Oculus Rift
By Kimball Livingston Posted May 6, 2014

Wanna have some fun? Jump under an Oculus Rift immersion headset and skipper an AC45 in virtual reality, with audio, with gyro, with accelerometer. Understanding, meanwhile, this is just a rudimentary exercise in proof of concept. A "soft interface" in the parlance.
You're presented with a gaming console? As helmsman, you should have a real wheel.
You're alone? Your trimmer should be "alongside," though not necessarily physically in the same room—or on the same continent.
You're sailing an AC45 instead of an AC62 in-development for America's Cup 35?
Well, all these compromises are in place only because the two former Oracle Racing software engineers who are developing driRun needed a KISS starting point, and they needed to go generic and open-source to open a conversation about bringing, to sailing, computer simulation equivalent to what aviation and motorsport take for granted. Their vision of where to go reaches beyond compromise, believe me.
We met Joseph Ozanne and Kevin Borrows, aka eb1 Labs, in part one. Borrows tells me, "We're at a point where the technology can move quickly. We went to the Virtual Human Interaction Lab at Stanford, and it's impressive. There's a real opportunity to put sailors into a virtual environment, even in just a soft interface with immersion goggles, put them under stress, work on game mechanics and strategy and at the same time, from their reactions, decisions, outcomes create a database that becomes its own new building block."
From an engineer's point of view, Ozanne says, "Wings are very predictable. But when sailor meets wing, he has to rid himself of twenty years of what's been working for him with soft sails."
Ozanne started with Oracle in 2004, under Chris Dickson, with monohulls. For the 2010 match and again for 2013, he was primarily engaged in developing VPPs and VPP targets and attempting to be a link between the technical team and the sailing team. That is to say, between two different languages.
Borrows says, "This project started from having a new paradigm. The guys weren't able to use their experience to optimize the boats."
And, Ozanne says, whenever Oracle's first AC72 was broken and off the water, "We were paralyzed."
So the demo uses available gaming technology, but what's in play here is a very big game called the America's Cup, and the opportunity to develop a highly detailed simulation to integrate design development, crew training, and engineer-sailor interaction. "Nathan Outteridge gave it a try," Borrows relates, "and one of his reactions was to say that he always wondered what would happen with an AC45 if he slammed the tiller hard-over in the pre-start. His people told him he'd break something, so he never tried it. Well, that can be modeled. A simulator is the way to answer questions like that, by working with globally-simulated loads rather than generic load cases. In France, at Toulouse, Airbus has a full one-to-one mockup, with hydraulic rams loading the system in response to input from the pilots. They run tests and do training in a way that you would never do in actual flight."
Ozanne and Borrows are out to convince not less than one team that what their eb1 Labs can produce is a game changer, an inflexion point, the ultimate counterpoint to the Cup's historic low of computational fluid dynamics, 1974, when Britton Chance put garbage into the computer design of 12-Meter US25,Mariner, and got garbage out. The data told him he should square off the stern like a barn door. The boat was built. But, instead of tricking the water into thinking the boat was longer than it was, with less wetted surface, the lopped-off stern sucked in the wake in a rumble to rival Niagara Falls. US25 was stuck, stuck, stuck in the water, and skipper Ted Turner in the light of reality turned to the designer and declared, "Goddamn it, Britt, even a turd is streamlaaaaned at both ends!"
It is widely understood that the design of a foil-born catamaran is a tradeoff between speed and stability, and that Oracle, for AC34, started at the speed end of the continuum while New Zealand started at the stability end. And both teams worked toward each other from those extremes. "By the end of the match," Ozanne says, "New Zealand was probably less stable than we were. For both teams, the process was highly empirical, which is just not well suited to the technology of a foiling catamaran. You saw the results of that on September 7, race one. We were dreadfully under-prepared."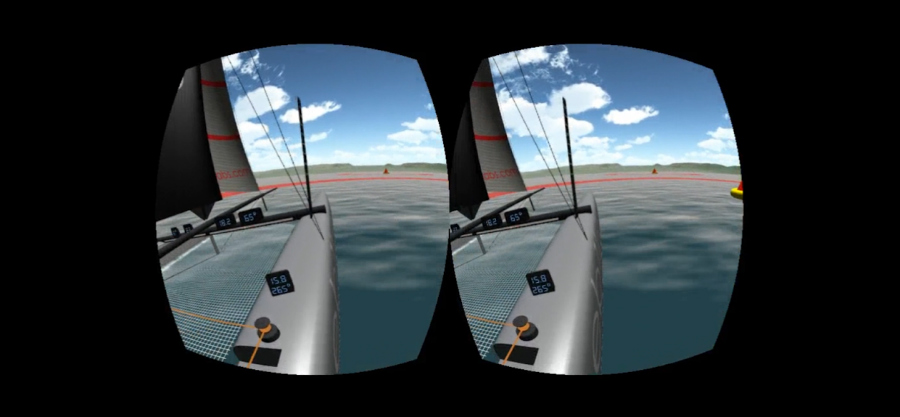 Compared to aviation, sailing has added complications. There are two fluids, not one, and the crew is responsible for managing dynamic stability. All the more reason, Ozanne and Borrows would argue, for integrating the engineering team and the sailing team.
So there we were, with Joseph and Kevin rigging me up in positional-tracking Oculus Rift immersion goggles and explaining that I could look left, go left, look right, go right, look up at my wing trim, head up, head down, adjust for speed, yes it's possible to capsize and, by the way, watch out for the boundaries because they come up fast—
And then I was off in my new world, with the roar of the wind and a lot of things to adapt to in a hurry. It looked like the screen shots here, except that I was in that world, and it was all around me, and when I figured out that I was stalling the poor beast, and I headed off, here came the speed and, YeeHaw, this could be addictive, as well as instructive.
I never asked how I did, compared to Jimmy Spithill, because I think I don't want to know.
And I didn't stay "aboard" long enough to begin to master the thing. This was a sampler, but just to get under that headset, with positional head tracking, while Oculus technology is still a developer's adventure, was almost as cool as getting my first ride on an AC45. Almost.
And unlike that ride with Jimmy, where I got to drive upwind, this time around the track, I got to drive downwind too.
Oops, I think Im supposed to be steering from the other hull . . .

The trimmer, meanwhile, would be focused here: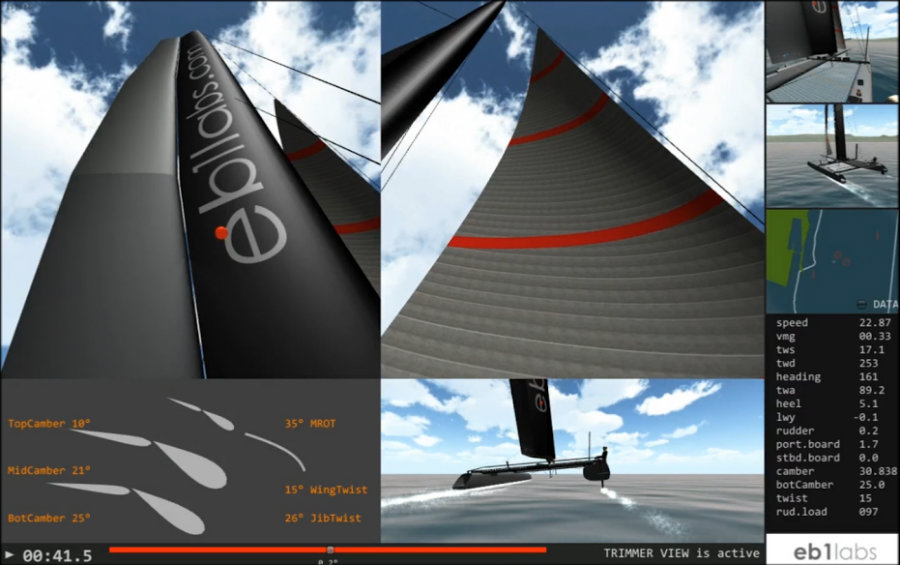 Find video here. Anybody else remember 14-baud modems?