State of Play
Capsize, anyone?
Beyond aerodynamic efficiency, wings bring one special, not so obvious quality to multihull sailing — flotation. The forward element and each of three flaps in the aft element of an AC 45 wing are airtight and buoyant. As long as the wing stays in place, the boat will not turn turtle. Think thin, clear plastic film heat-shrunk over super-light, Nomex-cored carbon frames.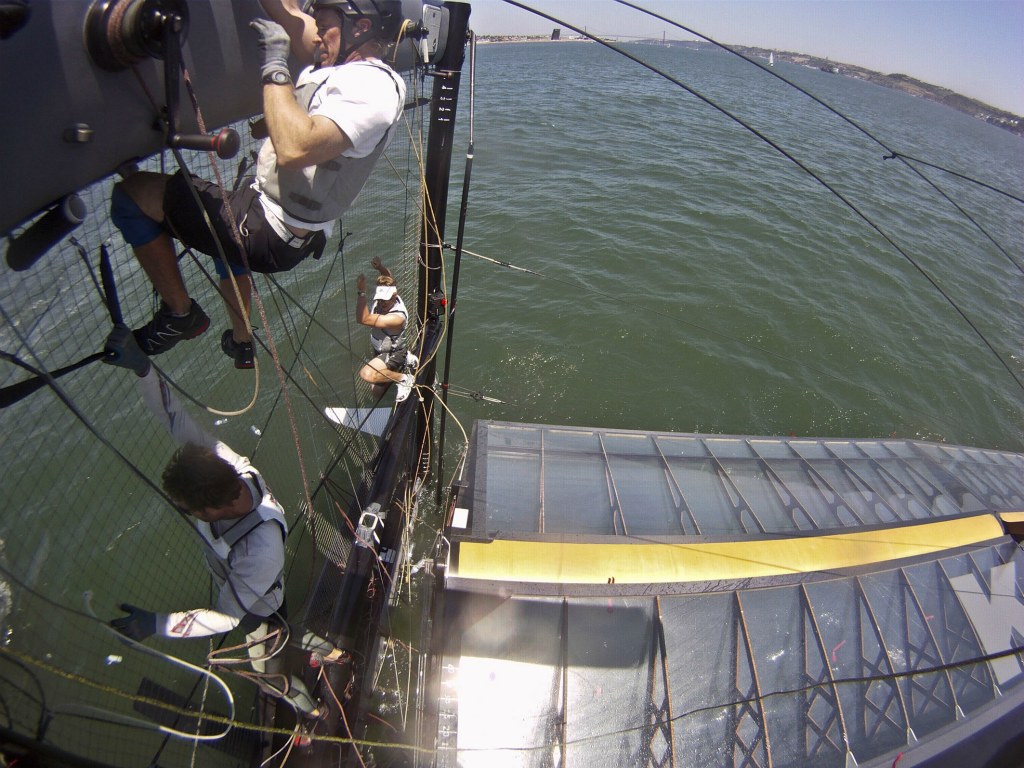 The preferred play in an AC45 capsize is to hang on and don't pull a Russell, as in dropping through the wing. And it does look like a long way down. Here, Chris Draper and his mostly-British Team Korea explore the limits. They righted the boat and continued sailing. Et tu, Gilles? Photo © Gilles Martin-Raget/ACEA
I'm figuring the rest of America's Cup 34 floats, too, but that's not for lack of doomsayers on the sidelines.
Fair to say, there is a collective holding of breath as we approach the August 6 opener of the new-look America's Cup, seven days of fleet racing, match racing and speed trials in Cascais, Portugal in one-design AC45 catamarans. The inaugural event of the World Series tour will set expectations.
Competition begins in an atmosphere rife with speculation over the future of teams that are betting on the come. One, Venezia Challenge, was recently scrubbed for failing to pay deposits and failing to pony up the $1.1 million or so to pay for an AC45, making it two-for-two down from Italy. The got-a-billionaire-in-our-pocket teams — Oracle Racing and Artemis — we take for granted will be on the line with custom AC72s in 2013. The commercial teams, the ones that actually fit the espoused model of a professionalized circuit, are not to this point rolling in sponsorship dollars. Nor is the World Series tour. Nor is the Event Authority. Cascais needs to be, not just a good show, but a great show.
Here are the Team Korea crewmen on their feet . . .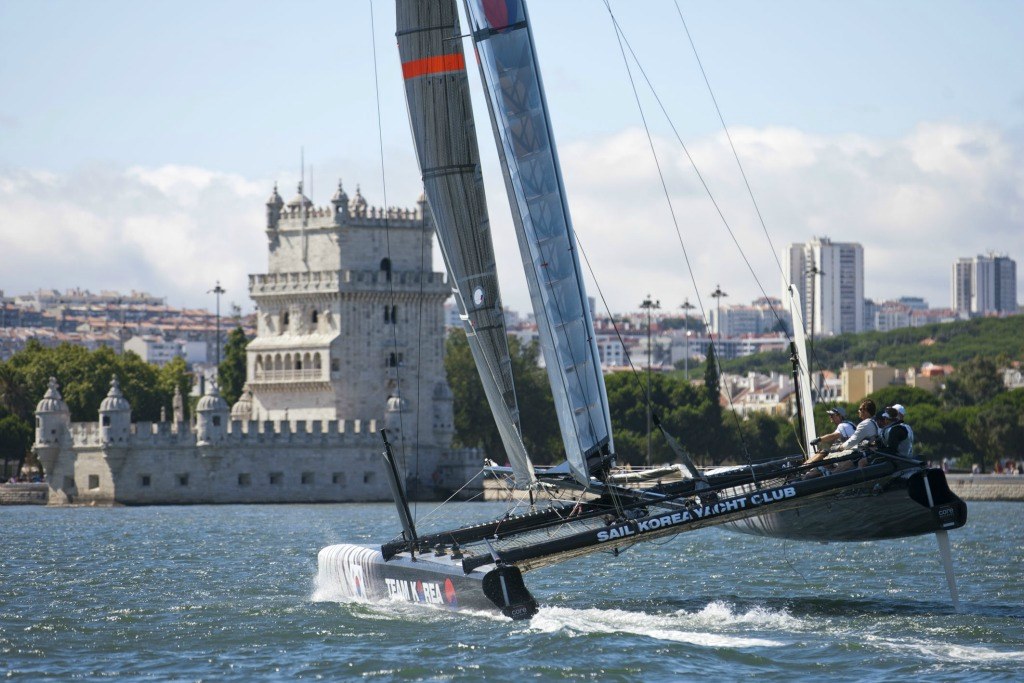 Photo © Gilles Martin-Raget/ACEA
We are well beyond the honeymoon phase with the new architecture, if there ever was a honeymoon phase, and Event Authority bashing is gaining a life of its own. Despite the best efforts of a few players who do not fit the ACEA employment profile of widely-scattered and San Francisco-blind, there is no warm-and-fuzzy, so-glad-you've-come-to-town aura around America's Cup Event Authority. As to the future, much depends upon results on the water. I'm figuring that ACRM, America's Cup Race Management, has done its work to give the Event Authority and the commercial teams something to sell. The sailing in Cascais should prove that pudding or not. Then it depends upon results in the boardroom.
We'll be looking to the salesmen for results, won't we.
And it's early, of course, to expect things to all come together, just so.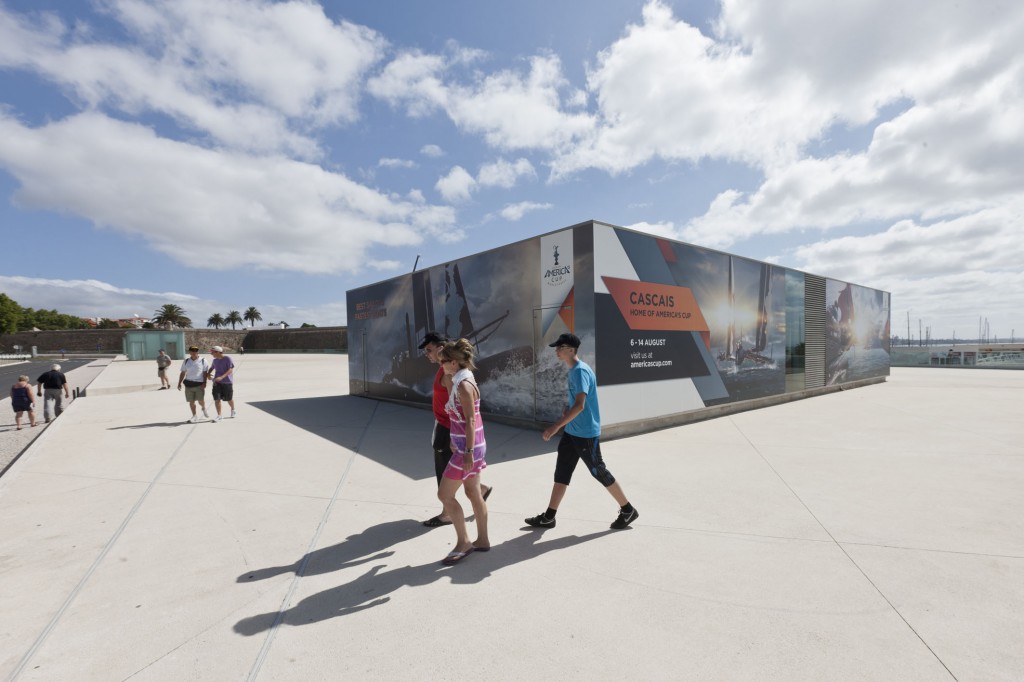 Photo © Gilles Martin-Raget/ACEA (Dang, Gilles, however did you lens-set those clouds? It seems not quite a fish-eye. And for the rest of us, I note, this is an example of what separates a Photographer from a shooter)
Among those who keep a nose pressed close to the glass, I observe considerable grumbling about the Event Authority's grasp for control of media and distribution, and I am reminded of Valencia, 2007, when the Defender, Alinghi, informed one Bob Fisher that he could not include the words "America's Cup" in the title of his definitive history, An Absorbing Interest.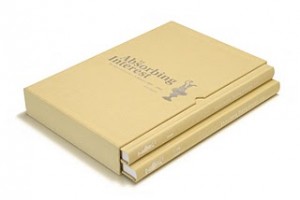 The result?
One resounding, Hah!
And I hear that Fish is working on an updated edition of:
An Absorbing Interest
The America's Cup, A History
1851-2007
Well, every sport is entitled to its silly season, and no Cup goes unfustigated, and no Defender goes un-assailed. Russell Coutts and Larry Ellison have gone to the wall to reinvent everything with America's Cup 34. It's still early in the ride. And the AC45s are a helluva ride. We expect no less of the AC72s that will be the vehicles of Cup competition.
I did not observe the reaching-start experiments conducted either in Auckland or in San Francisco, but a reaching start is exactly the choice that has been made for the Cascais opener. In a conversation a few days ago with Oracle Racing wing designer Scott Ferguson, I asked about this, and Scott made clear that this is not really his area, "but I think the choice was made because the boys figured that, even with a very short windward first leg, one boat could win the start and defend to the mark. This is about putting the race into downwind mode, and opening it up, right away."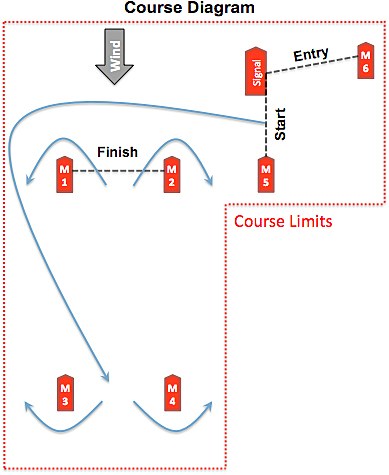 Note top gate and bottom gate, all about opening things up. Course boundaries are created and monitored electronically using the souped-up GPS system developed by Stan Honey and friends. To achieve accuracy it employees an RTK or carrier-phase GPS receiver integrated with a fiber optic gyro-based inertial navigation system and a very high sampling rate. At first it was just for the TV cameras, then it turned out to be good enough for electronic umpiring. In Cascais, the show debuts in real racing. It's not a test event, this time.
The two (one too many?) French challengers, Energy and Aleph, spent recent weeks testing and training in Lisbon along with Team Korea in more wind than they wanted for the getting-to-know-you phase of sailing an AC45 with a wing. Energy's Loïck Peyron said of the experience, "What we have here is a classic aerodynamic question, as with any sail, except this one is rigid. A bit more powerful, with a lot less drag, which is really the revelation. In fact, this boat never stops. It's strange, but even heading straight into the wind, we continue to make headway, as the giant wing sail generates much less drag than a normal sail and so we never stop. On the first day, we sailed with just the wing, and we tacked without any problem in spite of the absence of a headsail. That would be nigh on impossible on the sort of multihull we're used to."
To the question of readiness, this master of every other form of multihull sailing remarked, "We're bound to be three months behind, but we're making huge progress each day. We're one of the smallest teams in terms of the number of people involved and the means available. It's going to be OK—for a first attempt."
Here in the Oracle Racing zone in Cascais we find a reminder of why 45-foot catamarans can be shipped in 40-foot containers . . .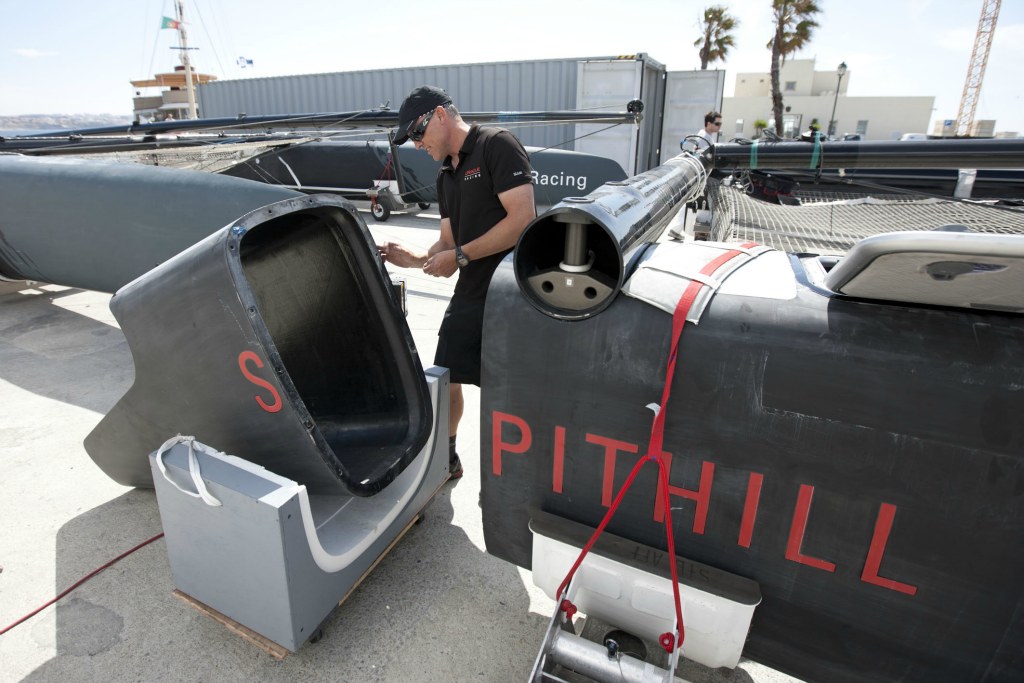 Photo © Gilles Martin-Raget/ACEA
China Team has been setting up in Cascais, where it was rumored last week that the team was packing up and leaving. On that note, I queried their VP of Sales & Marketing, Noelle Gahan-Smulders, who replied:
"I heard that rumor as well. We had a small delay to get our sailors on the water, but we are full on & will be starting to sail shortly. The rumors were probably caused by the delay to our planned start-sailing date."
Reportedly, China team will be out on the waters of Cascais this first week of August, along with Oracle Racing, Artemis Racing, Emirates Team New Zealand, and the rest of the fleet, now moved down from Lisbon.
Not that China Team is looking very Chinese at the moment. For Mitch ("I'm the helmsman, which is probably the only thing I'm capable of doing on these boats") Booth and his handpicked team, the assigned task is to learn how to race an AC45, bring in and train Chinese teammates, and work themselves—or as many of themselves as possible—out of a job. Booth, a two-time Olympic medalist with ten world championship titles in multihulls, is an international who has gone from being Australian to Dutch to, now, semi-Chinese.
DOUBLING UP
There is no sense that Oracle Racing or ACEA care to nourish the rival Extreme 40 catamaran circuit (Ernesto Bertarelli, Alinghi, has an investment there), but the other two of the "big three" in the AC lineup are sending teams to England to race in the Extreme Sailing Series that begins at Cowes on (coincidence?) August 6.
Quoting from the Artemis Racing, Challenger of Record, web site, re. the Extreme 40 event:
The fleet of 48 top professional sailors have amongst them competed at 30 Olympic Games. In addition there are 82 World Championship titles amongst the fleet, 57 Records Broken or Held making it the strongest ever line-up seen in the five year history of the circuit.
We take the following from the Facebook page of ETNZ, which doesn't cotton to the Event Authority's requirement of hosting the ETNZ web site at americascup.com and so leaves it pretty much vacant (as in, the last update was the June 30 announcement that New Zealand is challenging). ETNZ gets out the word through social networking:
Glenn Ashby, Ray Davies, Winston Macfarlane and Dean Barker will represent New Zealand at Cascais, racing the team's AC45 catamaran against nine other yachts.
At Cowes, Adam Beashel will race with Chris Ward, Richard Meacham and Andy McLean in the Extreme 40 catamaran.
Here's the team readying Mr. Barker's ride . . .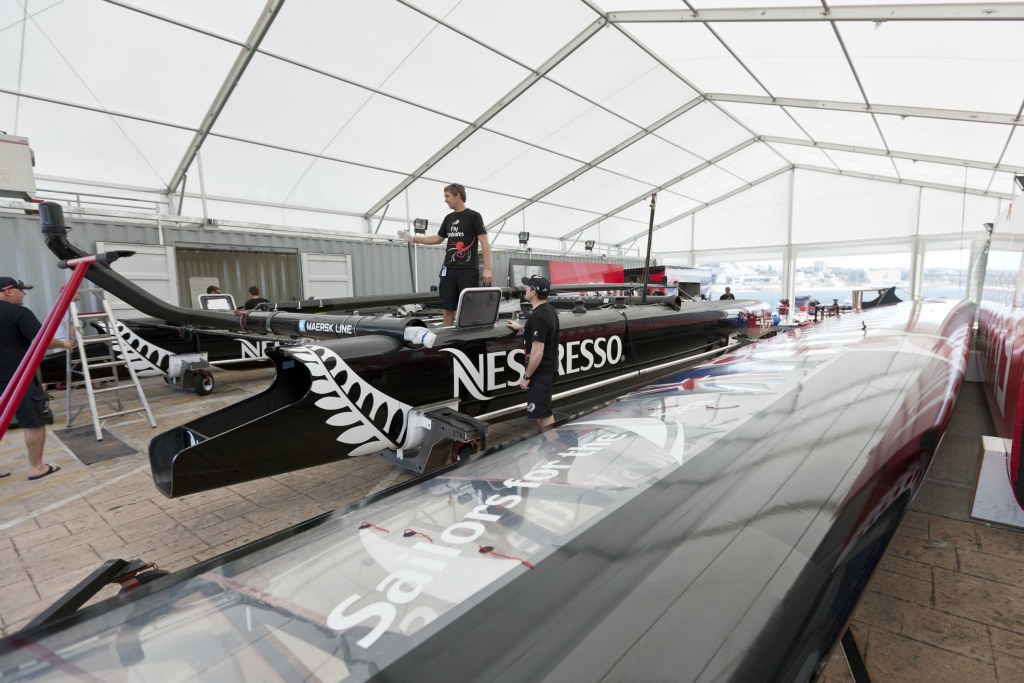 Photo © Gilles Martin-Raget/ACEA
The Defender, Oracle Racing will double up by fielding two AC45s to race in Cascais. Russell Coutts skippers AC45 5 and Jimmy Spithill skippers AC45 4. These are the boats we saw testing and training in June on San Francisco Bay.
Coutts dragged down heavy publicity for auguring-in before the cameras in the Alcatraz Channel in June, but, the Extreme 40s were the darlings of the internet during a pitchpole fest at their windy regatta in Qingdao in April. I'm under the impression that Coutts et al considered Extreme 40s for the World Series but rejected them because they can't stand up to the wide range of wind conditions in-demand for World Series racing.
But they're bell ringers for crash-and-burn.
And so, it will be a duel for column inches and broadcast minutes.
In case you've lost it, the Qingdao thingie looked like this on Day 3: Crash & Burn
And the first installment of America's Cup Uncovered looks, much more professionally, like this: Episode 1