We Came, We Sailed, Mexico Delivered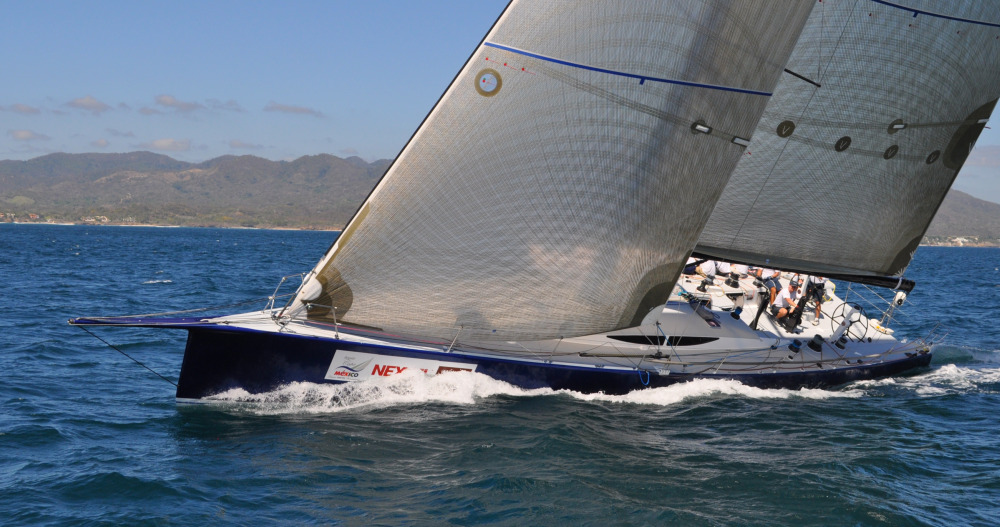 Peligroso, aka a training camp. Photo by Kimball Livingston
Regata Copa México is important because it is not. That is, whether it was the MEXORC series for big boats just completed or the J/24 racing soon to be under way on Bahia de Banderas, there is nothing here to re-chart the course of boat design or competitive technique. What we have instead is an example of just how fine sailing can be, for the sake of bringing family and friends together simply in the name of sailing, and I submit to you that this is good.
In Mexico there is no conversation about "Saving Sailing." The 15 boats up from Acapulco are sailed by family teams. That's the way they do it. And I keep hearing people around me remarking "world-class event" which is exactly what the organizers set out to achieve in the Edición Nextel Bicentenario.
And—I guess you had to be here to fully appreciate the accomplishment of Olympic Laser sailor Tania Elias, sailing her Laser from Cabo to the mainland as one component of Regata Copa México. To see the tired in her walk and the light in her eyes. Sure, it's a silly stunt on the one hand, but she had escort, and despite the escort she packed her own food and water, "rested" only on the Laser, and completed a 65-hour journey—300 miles through the water—entirely on her own.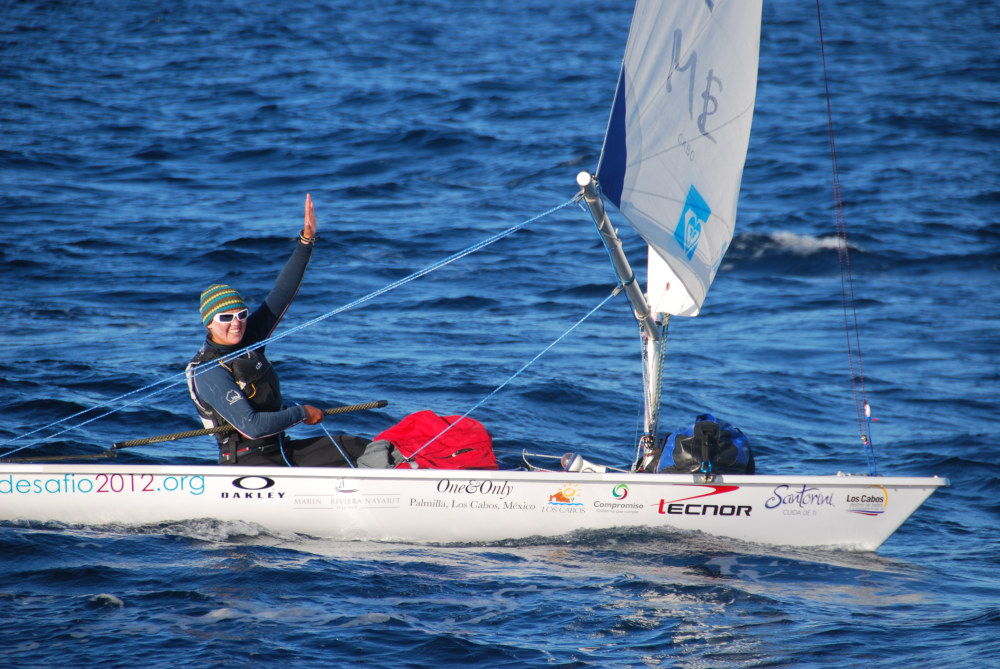 Tania Elias after 300 miles. Photo by Tania Fichtner
Think ambition, guts, and a sincere desire to attract attention and encourage people to come on down and train with her for the 2011 Pan Am Games on Bahia de Banderas. The standing, shouting ovation Tania Elias received in the MEXORC tent required no prompting.
The winning MEXORC entry, Flojito y Cooperando, wasn't purchased because owner Bernardo Mincow was heavily into sailing, rather because he had family members addicted to the game. The boat is a Farr 40 that was raced in the class worlds on San Francisco Bay in 2004 and then sold into the Farr 40 diaspora (which may be coalescing in Acapulco; more on that later).
Lorenzo Berho's Kernan 68, Peligroso—winner of the San Diego-Puerto Vallarta Race—did not figure in the MEXORC standings but continued as a platform for training promising young Mexican sailors for offshore competition, which was Berho's goal when he bought the boat last year. And let's slip it in here that the president of Mexico sails boats and has directed his Navy to buy boats and train enlisted (yes, enlisted) men to sail. Look beyond the headlines about the horrific "drug wars" (which are a consequence of stupid American laws, but let's talk politics later) and Mexico is happening, baby.
Boats came in from the USA by way of the PV Race (SDYC RC guy Jim Thompson says, "We race down here to race some more") where everybody had a fast and memorable ride, including Artie Means, navigating Alchemy, who snapped this quickie from out on a limb . . .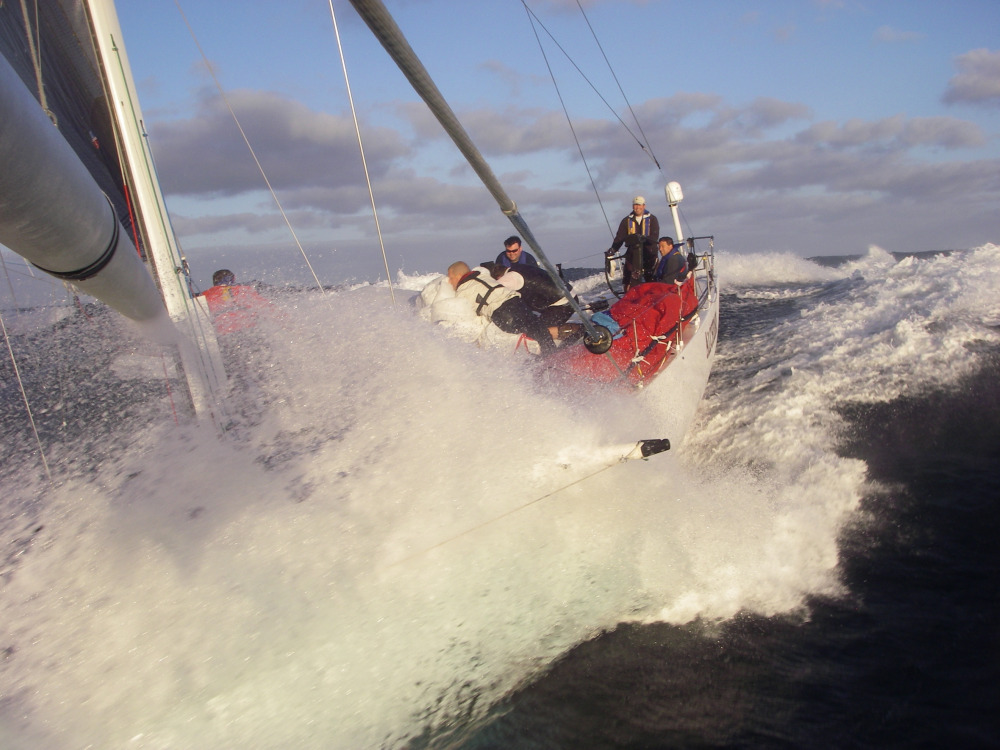 Alchemy cranking. Photo by Artie Means
Boats also were trailered down from Texas and California. J/24 competitor Mike Makami sounded typical and on target with his comment that, "It was a three-day tow from San Diego, quicker than getting to Key West, and I like it here better." Kevin Hayes drove the Melges 32, Mojo, down from Houston, Texas and his take went: "The first two thirds were easier than I expected; the last third was harder. Mountain roads with no shoulder and no pull-outs, and trucks passing trucks on the curves."
And there are all those crosses by the side of the road, but just the same I see a trend. J/24s had a successful world championship here recently, so their 50-plus entries are already "trained" to Bahia de Banderas and the environs of Puerto Vallarta.
Two years ago Ernesto Amtmann, the architect who launched MEXORC thirty-plus years ago, was called in to rescue an event that had lost its way. Two years ago he succeeded, then used the energy (and pesos) going into Mexico's bicentennial year to build something even bigger this time.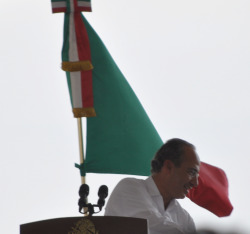 President Felipe Calderón came to the regatta twice and made a speech once, not a bad ratio for a politician with two state governors by his side. Tourists are returning to Mexico after the H1N1 panic, important changes have been made to make life easier for people traveling with boats, and it is a no-brainer to see the next "place" as La Cruz de Huanacaxtle, tucked into the northeast corner of the bay. The anchorage is comfortable, and the dredge inside Marina Riviera Nayarit operated 24X7 through January to work the harbor deep enough (most of the time; not all of the time) for the likes of Alchemy, Pendragon VI, and Medicine Man. Only Akela moored out. La Cruz is still a fishing village, but no longer remote and rustic. That's the good news and the bad news all in one package.
So in one tent we have the president of Mexico making speeches, and if we look over our shoulder, left or right, we see the preparations for BoatShow Latin America, March 11-15. Yachting is growing in Mexico. For people in the marine industry, there are opportunities here.
The kite racing took place down the road from La Cruz at Bucerias, with big names including Bruno Sroka and Sean Farley . . .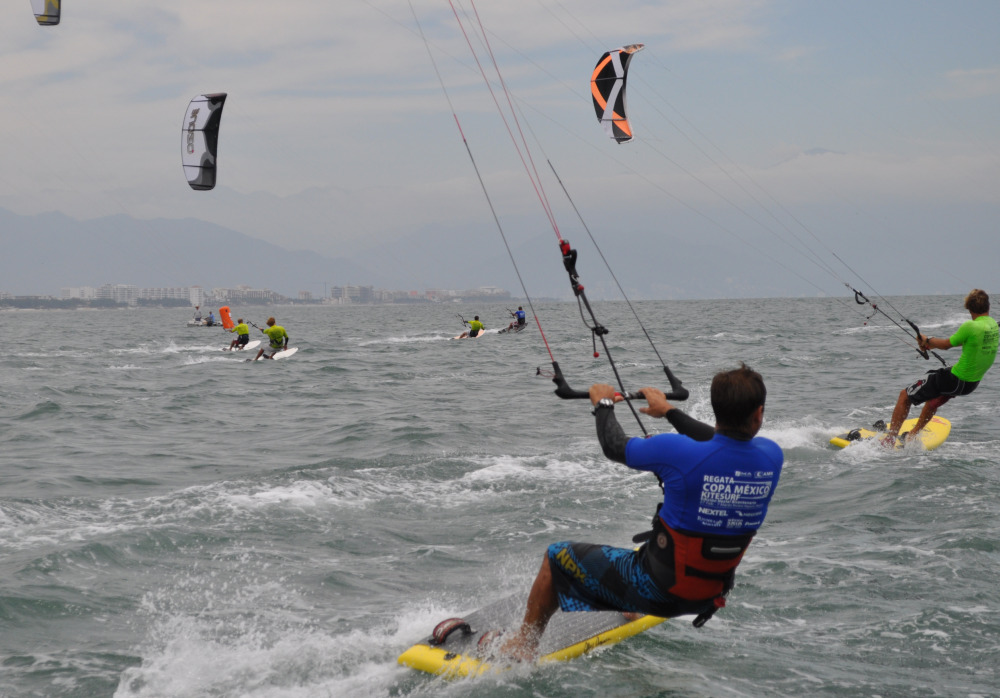 Kiting Bucerias. Photo by Kimball Livingston
Was it perfect? Well, a cloud cover (!) came in on Friday and Saturday and shut down the seabreeze. Apparently it's true that no matter where you go in the world, it's never like this. It also is true that winter, worldwide, just won't let go. Past freestyle world champion Adam Koch won the kite racing title on a series abbreviated from twelve races to nine. Also in the minus column, in one race of MEXORC there was a miscommunication among race committee members (true compass course versus corrected) that led to a miscalculation of results under ORR, requiring a re-calculation. Most positions remained the same, but a few boats moved. And that, really, was the only flaw in this edition of what we will always call MEXORC, far cry though it be from the Mexican Ocean Racing Circuit of yore, and a circuit not hardly.
For the record, Class A, Alchemy, Class B, Flojito; Class C, Velocidad 2; Class D, Piet Hein.
Some people might think I boat-hopped this regatta, but the fact is I sailed the entire MEXORC on Quintessence with the family Saenz. In the image below we see just three Saenz—Becky, Eduardo, and Jemena—snapped as Eduardo nailed the start of Race One. The mast came down about six minutes later, so yes, I sailed the whole regatta . . .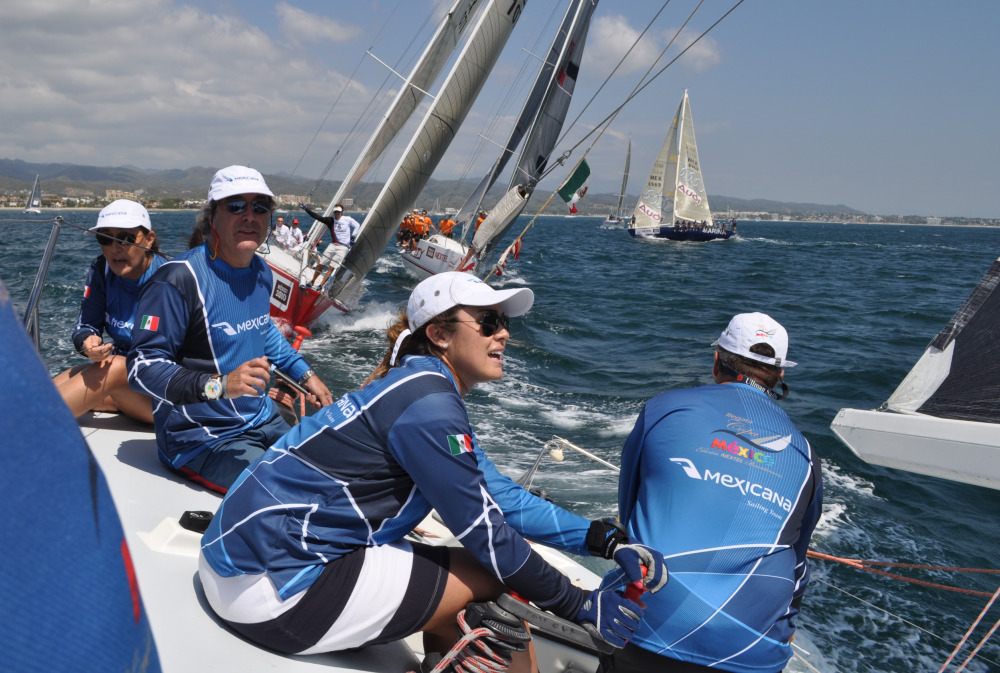 Sailing a la Saenz. Photo by Kimball Livingston
Now Eduardo has donated Quintessence to the Navy, and he is thinking about replacing it with a Farr 40 and believing that a few people might follow along so that Club de Yates de Acapulco could end up with seven or eight of these 40-foot one designs. For ages, Acapulco has been the place that preserved the IOR fleet (Quintessence for example) and I should emphasize, this Farr 40 thing is not a done deal. I'm just saying . . .