Welcome Artemis 72
You probably don't need to know who "won" the practice race of the America's Cup World Series, but you might want to know there was another Luna Rossa capsize, and China Team went down too, and it was not exactly a rip-roaring day, and the hot media pool is booking on how many boats will still be sailing for the final fleet race on Sunday.
Action Wednesday 2 pm – 4 pm.
Meanwhile, elsewhere on San Francisco Bay—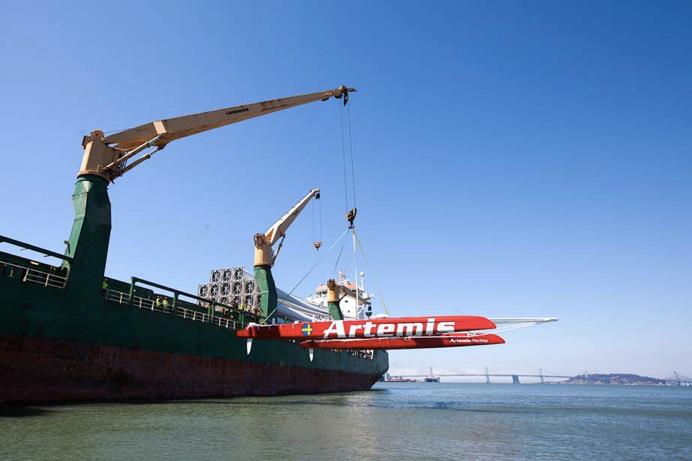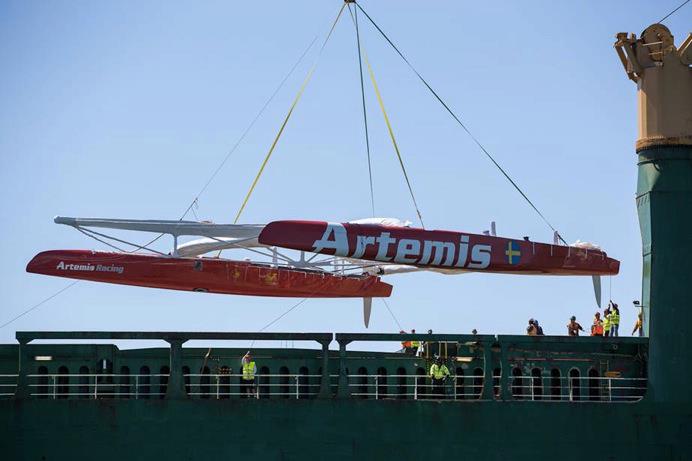 Photos from an Artemis Racing posting on Facebook.
And I'd be remiss to not report that l'Hydroptere sailed through the Golden Gate at about 0400 Tuesday and just might take a nibble at SF Bay later this week. Here's what they had to say about themselves:
l'Hydroptère DCNS arrived today in San Francisco Bay at 4.00 am (local time). Delivered under her own power from Long Beach by Jacques Vincent, Emilie Monthioux, Luc Alphand, Jeff Mearing and Warren Fitzgerald, the flying trimaran joined the port of Tiburon where she'll be hosted by the Corinthian Yacht Club. The boat is likely to put in her first tacks around the bay on Thursday on the fringes of the AC World Series.
l'Hydroptère DCNS will be visible to the public around the fringes of the AC World Series. The programme detailing time out on the water and events on shore will be communicated over the course of the week. The training programme and the various imperatives linked to the Transpacific record attempt remain the crew's priority however.
.