When Good Comms Go Bad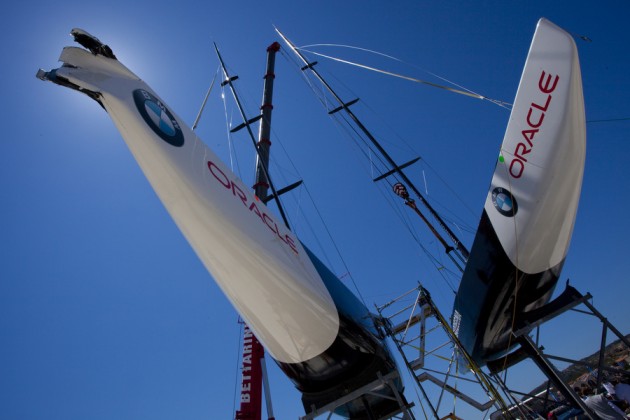 © Paul Todd/OutsideImages.CO.NZ
Aleph team skipper Bertrand Pacé wanted the left side and went for it in pre-start maneuvers against Francesco Bruni and Azzurra—generally in these situations, you assume that the bowman communicated to Pacé that he could go—but the evidence suggests that it was a bad idea.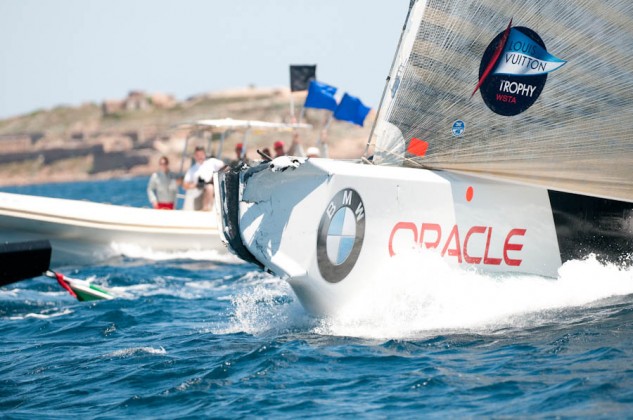 © Paul Todd/OutsideImages.CO.NZ
The setting was La Maddalena, currently host to the Louis Vuitton Trophy series. Aleph, in the instant of contacting Azzurra's stern, went from being the star-is-born early performer of the regatta to the OOPS story of the week.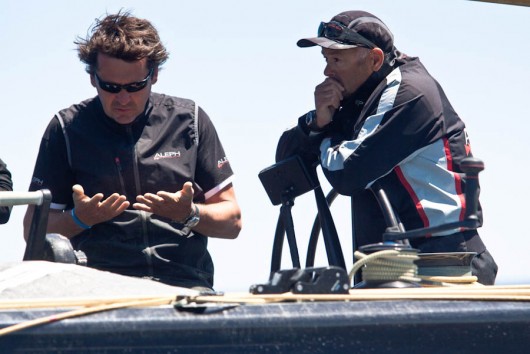 Bertrand Pacé contemplates his new status. © Paul Todd/OutsideImages.CO.NZ
Unless you're a team partisan, there's not much reason to care who wins these matchups. What does make the game catchy, however, is following the ups and downs of Presumably-The-Best and seeing how hard it is for any team to dominate when the boats are evenly matched. At La Maddalena, a small island near Italy's Porto Cervo, what you have are two boats from the BMW Oracle stable of 2007, re-tuned to become twins, plus two boats from the Mascalzone Italiano stable of 2007, likewise re-turned to become twins. The teams rotate through these boats, which are chartered to the regatta organizers. Only twins race against each other (USA98 and USA87 were in the collision), so this is as close to one-design competition as big-boat match racing can be, and it's giving new and veteran America's Cup teams alike a workout forum, pending the next
evolution.
And yes, BOR's James Spithill and John Kostecki, coming off their deep dive into giant trimarans with wing sails, profess to be a bit "rusty" at 0-3 in the early going.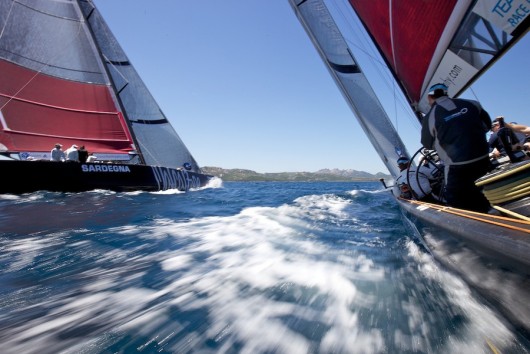 Slowing down the shutter speed. © Ian Roman
I like this quote from the press release: In a day filled with surprises, the fledgling Synergy Russian Sailing Team beat the long-established Luna Rossa, while the undefeated Swedish boat Artemis continued her winning ways with a victory over winless BMW Oracle Racing Team. Emirates Team New Zealand went down to Luna Rossa as American Ed Baird, skipper of the Italian boat and former coach for the Kiwis [and, ahem, 2007 helmsman for Alinghi-Ed.] dished out another lesson to his old pupil Dean Barker.
Yes, this is quite the little club.
The Oracle boats may or may not be back in action for this regatta (I'm believing they will; remember, one boat is useless for match racing without the other) and the dancecard for the two Italian boats just got a lot more complicated.
LVC kingpin Bruno Troublé put a smiley spin on things, saying, "In Nice, one boat was damaged in a collision on the eve of the regatta, while in Auckland we had great racing with only one pair of boats. We will continue racing using the Mascalzone boats, while waiting for our very experienced team of 25 boatbuilders to complete repairs."
Provisional win-loss leaderboard after Flight Twelve, Race One
1. Artemis, 3-0, 3 points (Sweden, with Americans Paul Cayard, skipper, and Terry Hutchinson, helm)
2. All4One, 2-1, 2 points
2. Azzurra, 2-2, 2 points
2. Synergy Russian Sailing Team, 2-0, 2 points
2. TEAMORIGIN, 2-3, 2 points
6. ALEPH Sailing Team, 2-2, 1 point *
6. Emirates Team New Zealand, 1-1, 1 point
6. Luna Rossa, 1-3, 1 point
6. Mascalzone Latino Audi Team, 2-1, 1 point *
10. BMW Oracle Racing Team, 0-3, 0 points
It's early. Racing continues to June 6. Catch video of the incident here or check into the media-rich event site at Louis Vuitton Trophy.
AND, CAN'T RESIST
By way of the Bad Astronomy blog at discovermagazine.com we have this compelling example of the Ponzo illusion.
I shouldn't have to define Ponzon illusion for you. Just try to prove that one of these red lines is longer than the other. And when you can, my friend, you're hired to write the next great handicapping rule for keelboats.