Whither Whether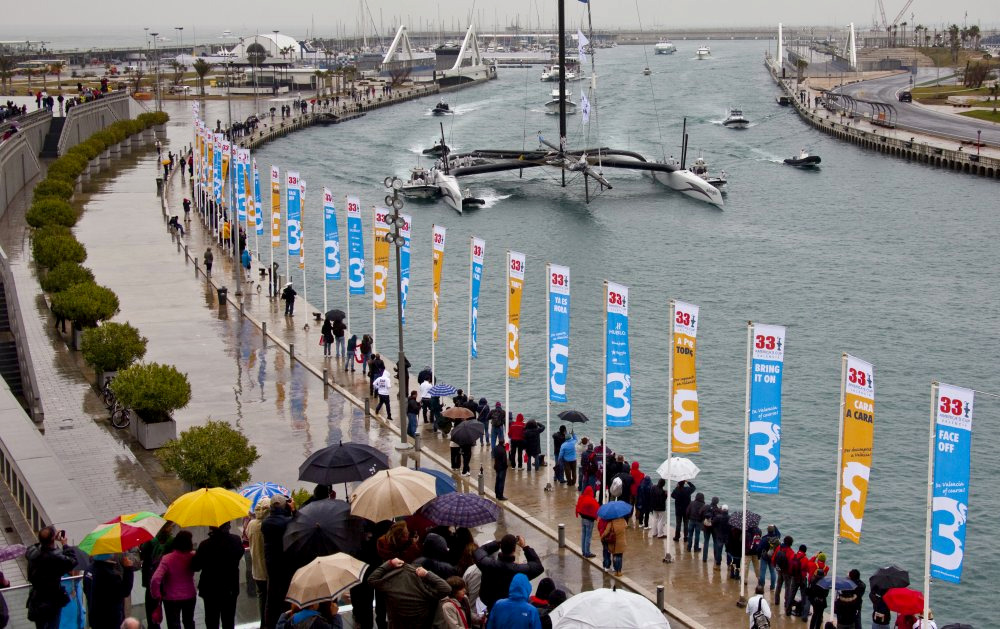 Right of way, eh? Alinghi 5 fills the channel as she returns from the first attempt at Race One, AC 33. Valencia has since dried out. Luca Butto/Alinghi
Hand it to our two billionaires. At a time when a lot of big money is low-profiling, there's none of that going on here.
The America's Cup Defender, Ernesto Bertarelli, has a new boat in-build to replace his 155-foot Feadship, Vava, which fits comfortably (apparently too comfortably) into superyacht marinas. Details of the replacement are murky, deliberately so, but people who spend their time tracking these things the way I track sailboat racing believe that a certain Project 55—the builder's designation—is meant to be launched at 315 feet as Vava's replacement. Project 55 along with a smaller boat, for the Aga Khan, was in-build in England at DML when the company was sold to Babcock Marine, which dumped its superyacht division. Other parties then stepped forward to take over. If—and this is only if—Bertarelli is the new owner of a superyacht builder, he wouldn't be the first guy to buy a boatyard to complete his boat.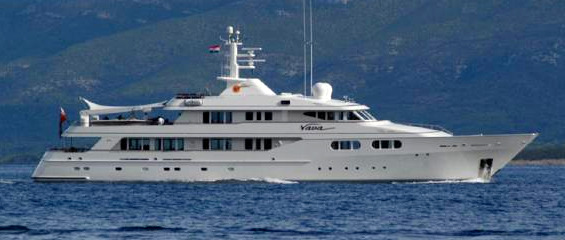 Ernesto Bertarelli's Vava
Challenger Larry Ellison, meanwhile, recently bought the 1851 mansion in Newport, R. I. that at its height belonged to the Astors and therefore served as the official-as-it-gets royal seat of American society. Beechwood would be a more-than suitable headquarters, should Ellison win the Cup and choose to return it to historic waters.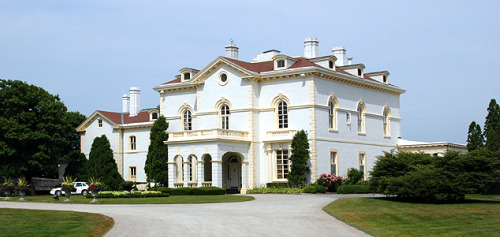 Beechwood, once the Astors' and now Larry Ellison's
The largest of Ellison's several yachts, Rising Sun, does not fit comfortably into most superyacht marinas but doesn't have to. One of his lesser yachts is sometimes seen at home on San Francisco Bay, where it looms over all, which could hint that SF Bay is just not big enough . . .
And of course, building a giant multihull and racing for America's Cup is a pretty high profile means of flaring off extra income.
My second Valencia assignment for SAIL Magazine is as different from the first as I expected. Winter versus summer. Compressed versus extended. Fractious rather than (much of the time) upbeat. Already, with just one race day lost, there are conversations around me about who will have to leave, and when, before a best-of-three match ends.
Camp followers all, we will someday gather again for America's Cup 34, which is certain to be an America's Cup with a new face. The Defender has spoken of defending in the future, if he wins here, in multihulls, but if so, I figure the criteria would not be wide open. The Challenger has spoken of putting pre-events on tour in fast monohulls and instituting independent management.
A few days ago I sat down with a fellow pundificators, and because the session was more organized than the usual banter, it was also more focused. I was part of a so-called Cocktail Hour video at Sailing Anarchy—it runs more than an hour, proving you can't just let journalists talk—along with US Women's match race champion Genny Tulloch, Sail-World's Richard Gladwell, Valencia Sailing's Pierre Orphanidis, and the redoubtable Bob Fisher. Certain points bear repeating here and—
You gotta love the Fish. To the prospect of an Alinghi victory he says, "Heaven help us." To the prospect of a BMW Oracle Racing victory he says, "Who the hell wants independent management?"
Giving Fish the floor:
"Let's do this with a proper yacht club, that is the holder of the Cup, managing it correctly. This is not meant to be about profits, it's meant to be a match between two yacht clubs. If Oracle wins and if Oracle has their brains set they will go to the Royal New Zealand Yacht Squadron and ask them to be Challenger of Record, because RNZYS has shown they know how to do it."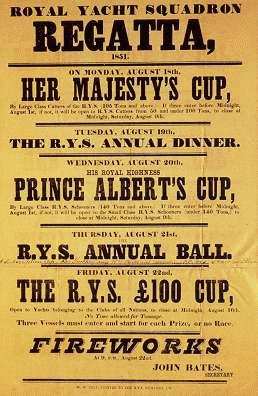 For my two cents, I suggested that we have "crossed the Rubicon" on such matters, and we now have an America's Cup that is too big for a membership club to actually manage. For example, you could argue that the best thing that ever happened to the New York Yacht Club was being set free of the greatest prize (and weight) in yachting in 1983, after 132 years. You could easily argue that Ellison's wholly-owned BMW Oracle Racing Team overshadows the Golden Gate Yacht Club, a small, popular organization on the shores of San Francisco Bay whose flag it carries. Normal business at GGYC consists of running a mid-winter series on weekends for the Manuel Fagundes Seawood Soup Trophy.
I was a bit lonely out there, though. I passed the microphone to Gladwell of sail-world.com to hear him say: "The weakness in the Deed is in the transitions, as you flip from one match to the next. If Alinghi had picked a club that actually ran yacht races [instead of appointing newly-minted CNEV as Challenger of Record] they could have put the same protocol in place and no one could have done anything about it. No one could have gone in there and looked at what the word "having" means and all that sort of thing."
(It's not in our video-recorded conversation, but I doubt that a strong and viable yacht club/challenger would have agreed to such a protocol as was first published by the Société Nautique de Genève in July, 2007. I usually short-hand CNEV as a lapdog challenger. But Richard is correct that, if a viable club agreed to it, the protocol would stick.)
Richard again: "In my world, what I would do is have a Transition Committee composed of former Trustees. They would sign off on the protocol for the next event, so the Defender would not have an opportunity to grab all of the Challengers' rights. Flick back to 1987 when Conner won the Cup in Australia. If they had put independent management in place in 1987 would that company have survived? Probably not. The Cup has survived all these years because there is a built-in tension."
Whither the venue?
Since Pierre Orphanidis runs valenciasailing.com we know he has a bias in favor of Valencia when he asks, "Do you disagree with what Alinghi has done in Valencia over the last four years?"
(AC 32 reportedly boosted Valencia tourism by 30 percent; the city was looking for a signature event to boost it into international consciousness and it found one.)
To which Gladwell responds, "The Deed is set up to have the winning club defend the America's Cup in its home waters. Bidding the venue is absolute nonsense."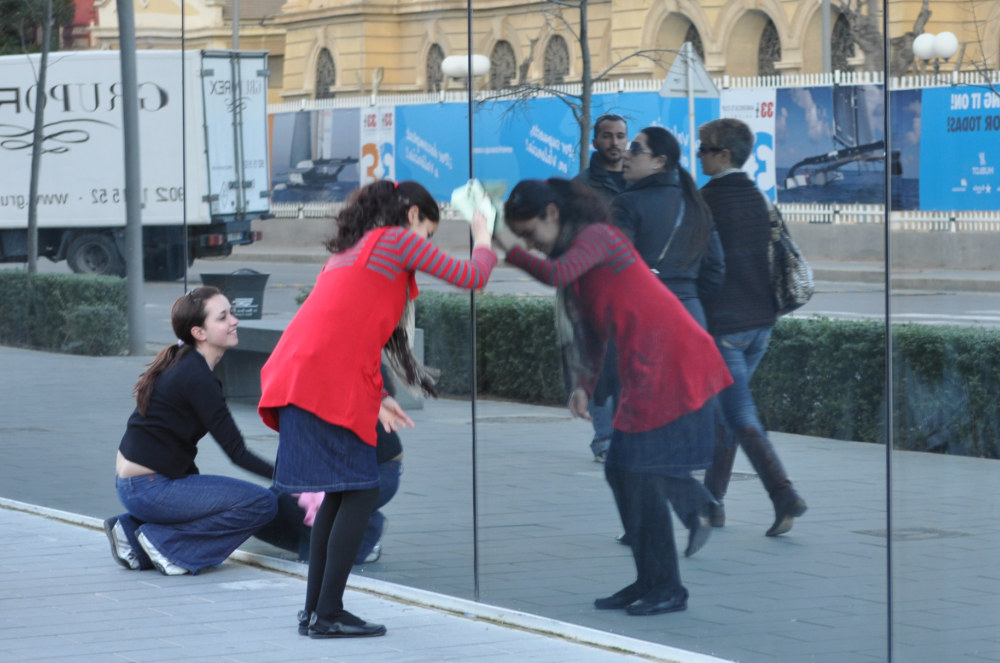 Polishing the glass at GreenComm, either Alinghi's preferred Challenger of Record or an elaborate ruse © KL
And there we were. It was a great conversation, and I wish I lived in a world as Bob and Richard describe it. But from my side of the Rubicon, I see only two versions of the next reality.
1) Alinghi wins and bids the venue, and we won't be surprised if we're off to a small country east of here that is radically different, culturally, and more known for minarets and camels than for tapas and sangria—but like Valencia is eager for international attention. Yes, there probably would be pre-events in other locations. Technically, of course, the winner is La Société Nautique de Genève, but we already know what that means.
2) BOR wins and the good old days of Louis Vuitton return. I see little interim difference whether Royal New Zealand Yacht Squadron, for example, becomes Challenger of Record or Mascalzone Latino Audi's Reale Yacht Club Canottieri Savoia. There would be pre-events in select locations, and by holding eliminations along the way it would be possible to structure the finals so that a compressed America's Cup match could be held in San Francisco Bay. Not four months of eliminations that would choke the shipping lanes of what is really a small patch of water, but a tightened wrapup, and you wouldn't have to build Cup City at a cost of umpteen millions. Technically, of course, the winner is Golden Gate Yacht Club, and becoming a Cup challenger has been great news for GGYC, but I don't see anybody there bossing Larry Ellison around.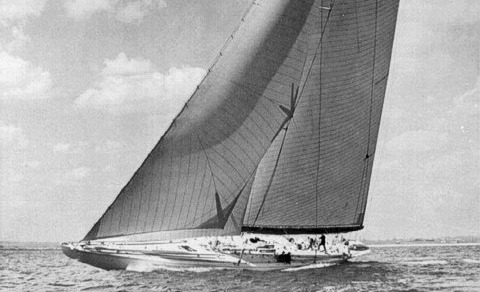 Vanderbilt's Ranger, 1937
Which means that Ellison could choose to run an AC match on Rhode Island Sound, right where old man Vanderbilt used to sail his J-boats. I just found a note in my Inbox from artist Will Sofrin in Newport—" I know all of Newport is in anticipation of getting to host the cup again!"—but I find it easy to agree with Richard Gladwell that a winning club should defend on its home waters. And I'm not even biased.

Race One, Attempt Two; Wednesday, February 10; 1000 Valencia.