Wishful Thinking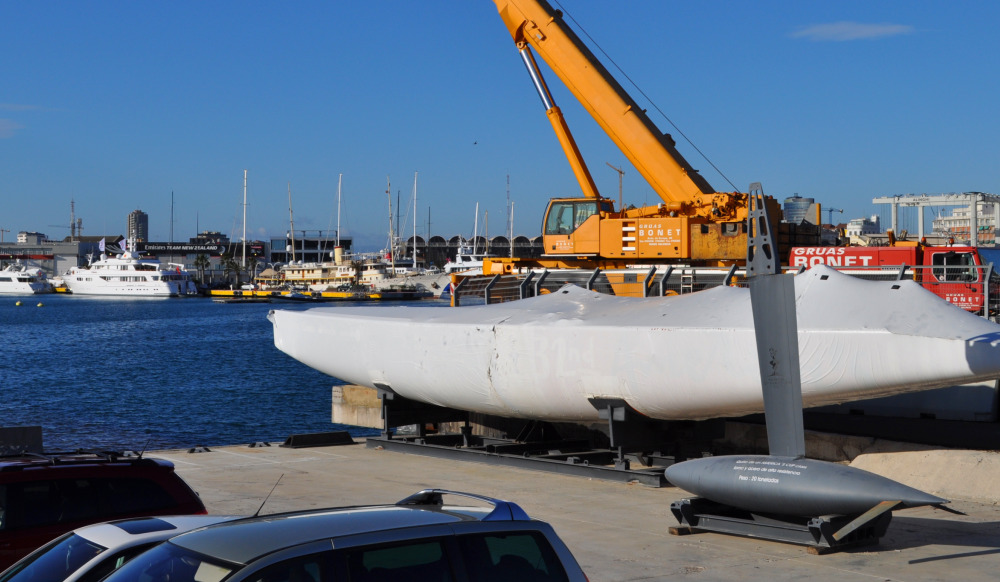 One of many shrink-wrapped ACC boats, and Bertarelli's yacht, Vava, background. But don't feel sorry for Ernesto. A bigger replacement is coming.
I have a theory, soon to be tested, that the 33rd defense of America's Cup launched and lived as an exercise in wishful thinking.
That you could farm-raise a pet challenger. (Sorry, CNEV)
That Larry Ellison's hostile alternative challenge would blow away. (Not yet)
That you could turn down a compromise offer and no one would remember. (October 2007)
That you wouldn't have to build a big multihull to race against the trimaran. (February 8, 2010)
That it's irrelevant that North Sails literature says 3DL sails are "built in Minden, Nevada." (To come, depending, on February 25, courts of New York)
And we have to wonder how to weigh the ability—and willingness?—of Société Nautique de Genève's Race Committee to influence the outcome of the match.
That's the ticking bomb. Perception versus reality versus perception versus infinitum.
Forget the silly wind limits in earlier versions of the Sailing Instructions (you mean you built an unseaworthy boat?) but tossed out by the International Jury in favor of placing the responsibility to signal a start, per tradition, on the shoulders of the Race Committee. And it's not new or strange to see members of the defending yacht club on the Race Committee, which is what we're going to see. Though we started down a different, more independent path in 2007, there is ample precedent in the way that New York Yacht Club managed Cup affairs for rather a long while. The AC committee was formed out of NYYC. Simple. What's catchy now is a phrase in Article 8.6 of the SI's stating:

". . . the Race Committee may abandon any race prior to the first boat rounding the first mark where in its opinion there is a permanent wind shift of 30° or more from the course direction advised by the Race Committee at the Warning Signal."
When you're talking about a twenty-mile beat in the unstable weather of a Mediterranean February, you'd be hard put to ever get in a first beat without a 30-degree shift. Heck, we had a 180-degree shift on the final beat of Race Seven, 2007, and that was in the "stable" seabreeze conditions of summer.
8.6 says "may" rather than "shall." Professional PRO Harold Bennett, a Kiwi, has a reputation as an independent straight shooter, but it's not clear that he will be in charge of all decisions, and we know about perception, don't we?
Perception versus reality versus perception versus infinitum.
Asked how he, as a competitor, would like to see the Race Committee interpret and effect 8.6, Bertarelli replied, "As a competitor I would have liked to be racing in the stable winds of Ras al Khaimah." His skipper Brad Butterworth added, "8.6 was agreed by both teams, a rare case of mutual consent."
In a separate moment, Bertarelli said that Ellison had "succeeded in reducing some of the Defender's advantage" by taking him to court repeatedly. He said, "If you throw enough pebbles you'll eventually get a hit."
As in, eight out of nine?
Returning to 8.6, it's possible that I'm working myself up over nothing, so I'm going to talk to Harold Bennett to see what he has to say. Maybe it's the permanent in "permanent wind shift" that makes this not worth stressing about. So, define "permanent." What I know is, I'm not going to break this story open again. The PRO gets his own space.
COUNTDOWN
It blew like stink last night. My little hotel on the beach was making six knots.
Morning was crystalline, and there across the Darsena was the familiar base of the long-gone China Team, rising like a city of the Anasazi after the people have disappeared. I think it was Cory Friedman who gave me that line. In a certain state of jetlag, things run together.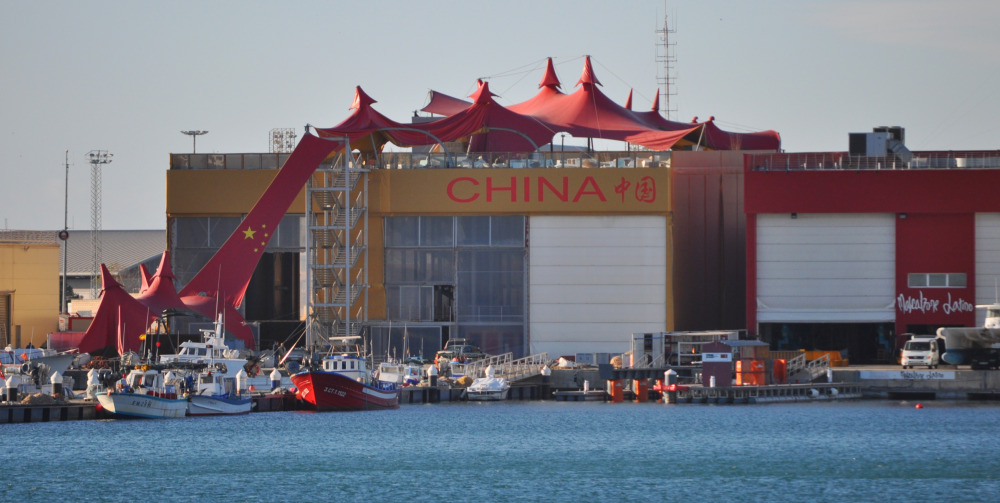 Ghost town, with boat parking
The 33rd defense of America's Cup needs a fraction of the port space of AC 32, because only two players are here, and it's the dead of winter, so you don't exactly have the crowd scenes of yore. Consorcio Valenciana was cranking up to draw people in over the weekend, however, and there was a notable uptick in police presence this a.m. What was a huge media center in 2007 has been moved to the ground floor of the handsome Varadero Publico building, which also houses SNG, the Race Committee, and the Jury. A short distance away, the Alinghi base had traffic. A5 was in the shed, with a work team crawling over it, but there was body painting for the eight year olds . . .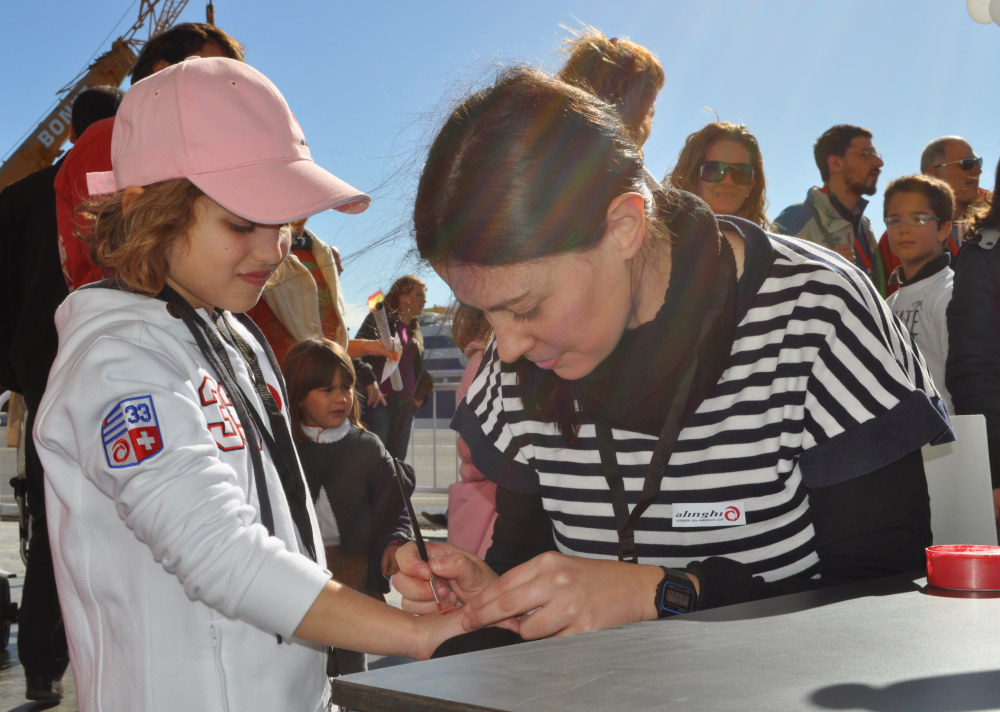 While others apply their war paint
And it's hard to resist snapping a pic of a giant, curved daggerboard such as you've never laid fingers on before . . .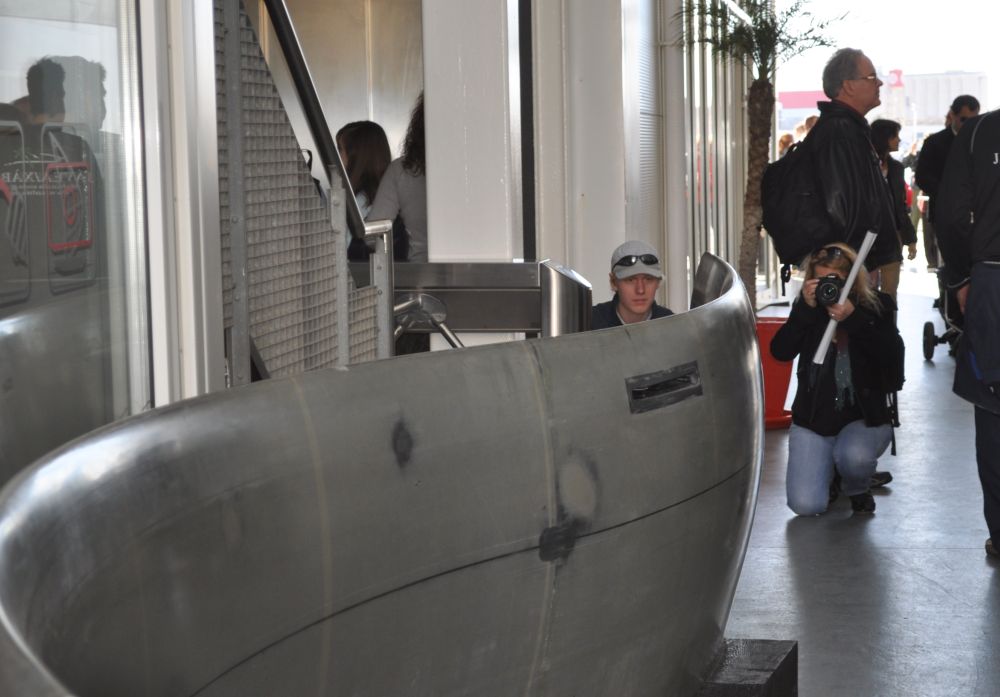 Once part of the boat, now a daggerboard exhibit
Following Friday's night's Estrella Dam party . . .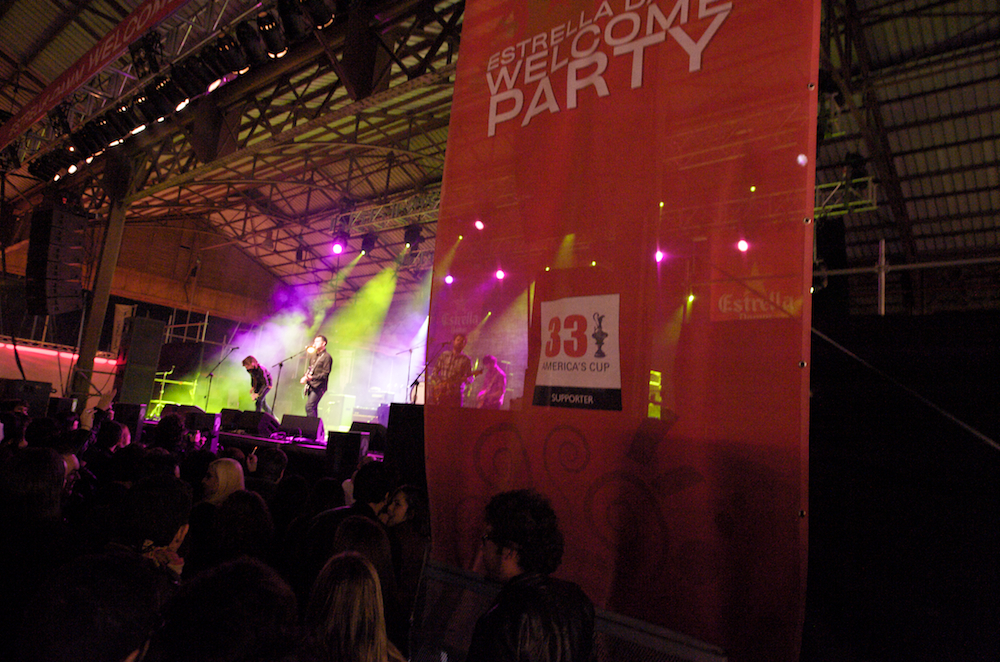 Photo by Linda Wright
This once exhibit-packed pavilion was deserted . . .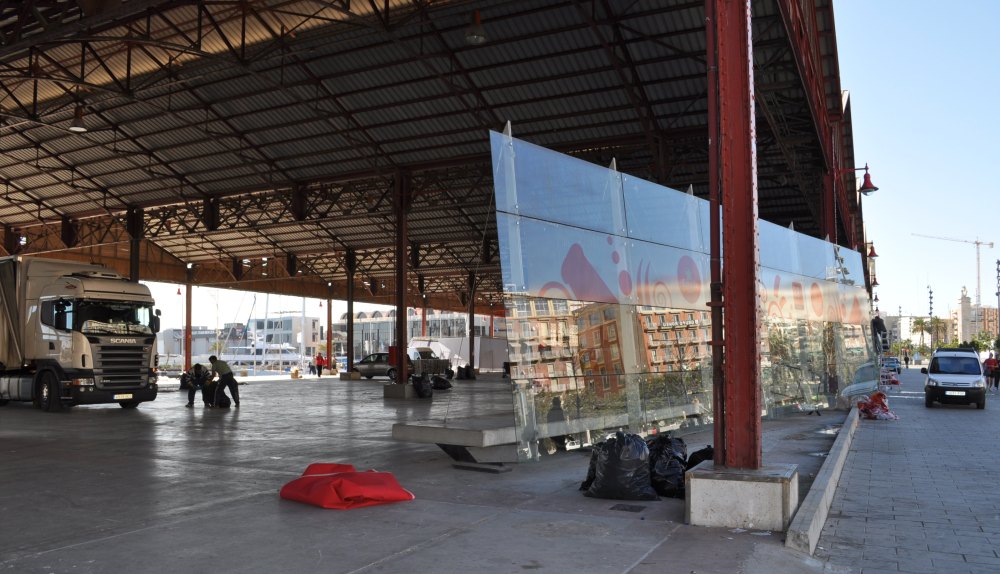 The aftermath
But signage was still going up . . .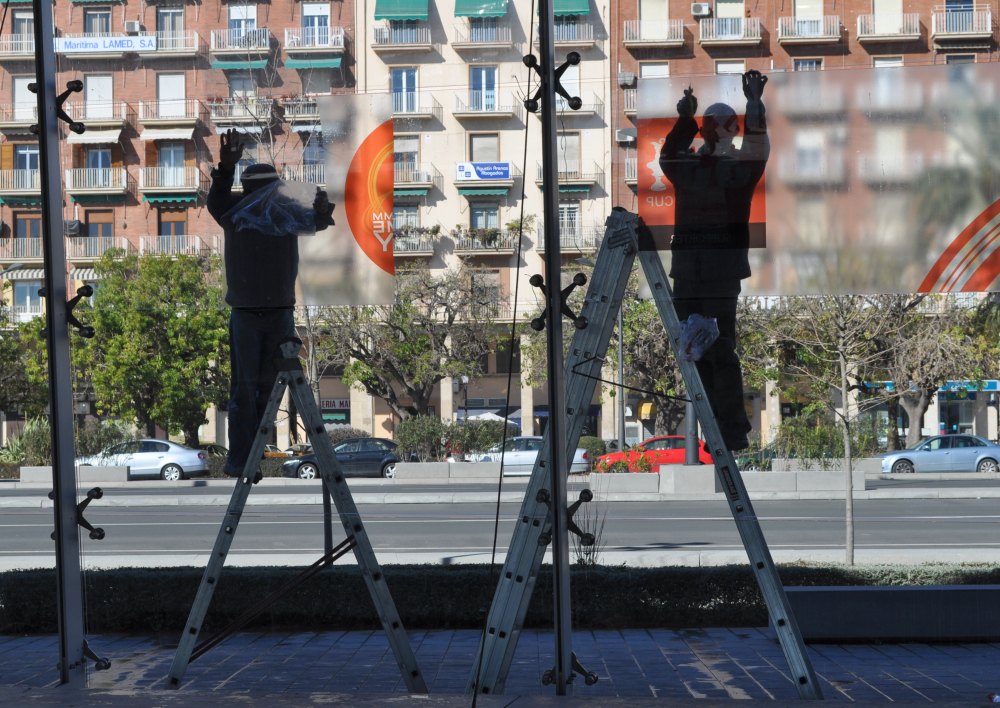 Last minute decorating
And, sorry, but I just don't have good memories of the phrase, Bring it on . . .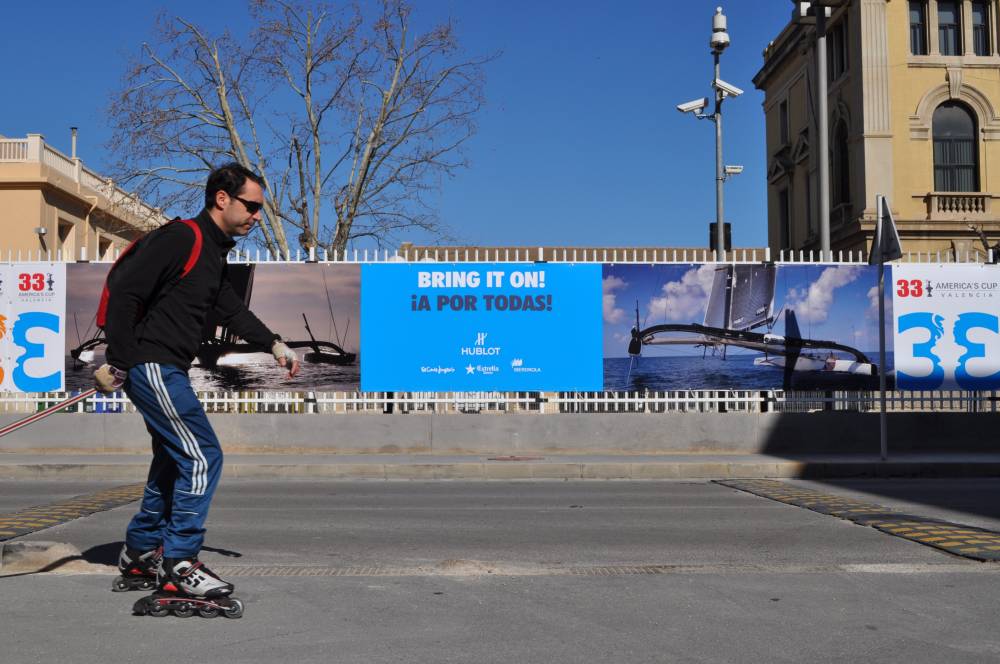 Photo by Kimball Livingston
Back in the Media Center, Paul Cayard and Cam Lewis were plotting out their broadcast for Eurosport TV, which won't be available in the USA. The Fish was off to a long and probably liquid lunch as Dave Pedrick blended quietly into his laptop, and here amongst my notes I found this quote from Russell Coutts: "There's been a lot of talk about speed and safety, but you have professionals aboard these boats. You expect them to be able to drive their boats to fine tolerances. It's like Formula 1. Those cars go fast, and they're close. If you suggested to Formula 1 drivers that they shouldn't get too close, because it might be dangerous, they'd look at you like you were crazy. I think if you say the same thing to Jimmy Spithill you will get the same look."
Then came the Owners' Press Conference, where all were anxious to see if Larry Ellison would follow through on his threat made last night, to not appear. His claim: "Russell Coutts has been explicitly excluded by name, and if Russell is excluded, I don't think I have the time to show up."
The regatta organizers claim that the original invitation was for owners only. BOR claims it was for the owner and three team members, less Coutts.
Me, I'm reporting the fact that these are the claims, and this was the look of the Owners Press Conference.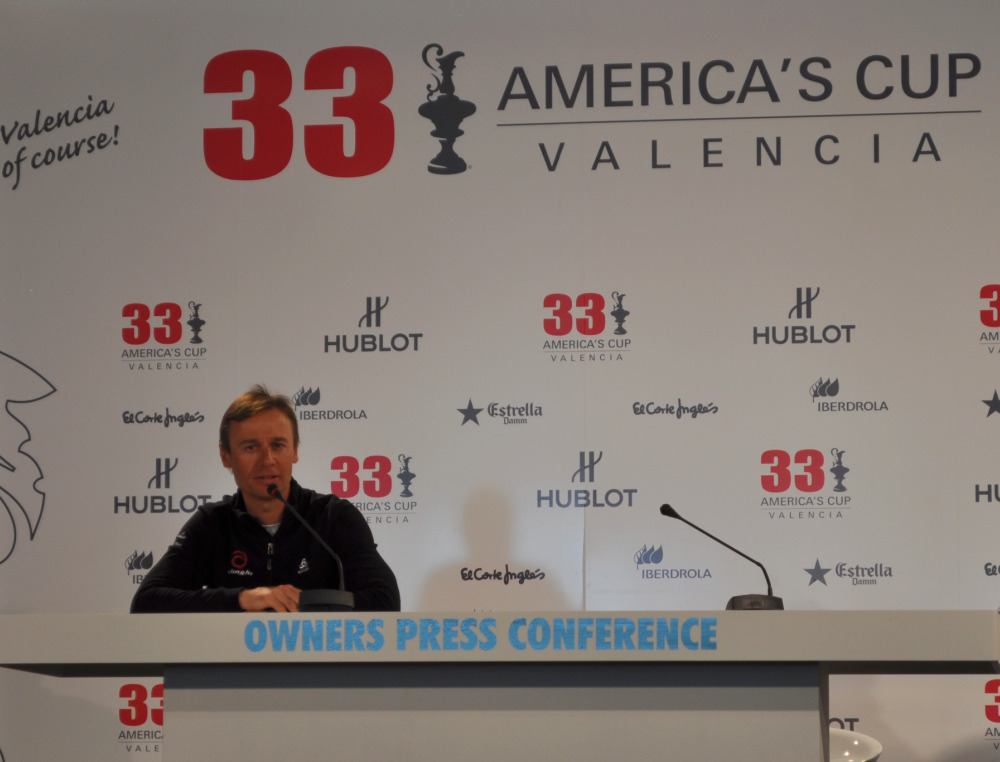 Owners Press Conference, February 6, 2010, Valencia
But I'll tell you, I have updated and altered this story again and again. Now I find that BOR has no documentation for their claim regarding the original invitation, and the documentation they do provide applies only to a 24-hour-old request to substitute Coutts for the owner.
Which means to me, Ernesto gets stiffed, and so does the press corps.